Rolling Stone Magazine has picked their favorite CBD pain relief product. Discover why Uncle Bud's CBD recovery solutions could become your favorite too!
Table of Contents
Rolling Stone's #1 Pick – Uncle Bud's CBD Roll On
Uncle Bud's CBD Pain Relief Topicals
CBD and Pain Relief
The quest to find relief from both chronic and common types of pain is a huge part of the health and wellness communities. There are countless ways to treat pain ranging from simple exercise and over-the-counter pain-relievers like Ibuprofen to powerful pharmaceuticals which can be addictive with serious side effects. People who suffer from common types of pain like aching joints, muscle soreness, and arthritis usually try to find pain relief strategies and supplements that are effective, safe, and free from side effects. That journey has led many to discover one three-letter supplement has emerged and become perhaps the most popular solution: CBD
CBD is an abbreviation for Cannabidiol, and it is one specific compound found in the Cannabis or hemp plant. When the botanical oil from the hemp plant is extracted and purified to specifically include the compound Cannabidiol, it's called CBD oil. CBD oil is then used as a base ingredient in many different kinds of wellness products, including products called topicals that are rubbed onto the skin to help provide pain relief. The ingredients in the topical creams, including CBD oil, penetrate the skin and infuse the muscles and joints below.
Importantly, CBD products do not contain THC, the specific compound found in some strains of the cannabis plant known to have psychoactive properties. CBD oil and products made from CBD are THC-free, and you will not experience any kind of psychoactive effect from using them. Products made from CBD oil are completely legal to buy and use in the U.S., and CBD continues to grow in popularity as a nutritional supplement, with more people every day making it part of their own wellness routine.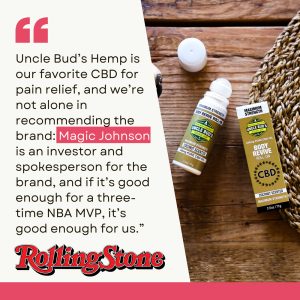 "Uncle Bud's Hemp is our favorite CBD for pain relief, and we're not alone in recommending the brand: Magic Johnson is an investor and spokesperson for the brand, and if it's good enough for a three-time NBA MVP, it's good enough for us."
Does CBD help relieve pain?
How exactly CBD assists pain relief is an ongoing discussion, and it should be noted that CBD is classified as a nutritional supplement, and not a medically recognized pain relief solution. Still, millions of people use CBD topical products for pain relief, and the supplement's popularity and availability continue to grow. Hemp oil can be combined with over-the-counter pain relief supplements such as trolamine salicylate to create a unique blend of ingredients with pain relief properties.
Hemp seed oil contains naturally occurring anti-inflammatory ingredients. Anti-inflammatory substances reduce the swelling of tissues and consequently can reduce pain by curbing the body's inflammatory response to injury. Common over-the-counter pain medications like Ibuprofen help to reduce pain by lowering inflammation. Hemp pain relief solutions sometimes combine known anti-inflammatory compounds like trolamine salicylate to enhance hemp's existing anti-inflammatory properties. Many topical pain relief products use trolamine salicylate as an analgesic (pain-relieving) additive which helps provide relief for common pain types such as muscle and joint pain, arthritis, and back aches.
Uncle Bud's CBD recovery products use a blend of CBD oil, trolamine salicylate, and other ingredients to form the base of topical pain relief creams and balms that are rubbed onto the skin. Trolamine salicylate is a proven over-the-counter pain relief compound that works to reduce inflammation and swelling to ease muscle and joint pain. In addition to the anti-inflammatory compounds, CBD topical solutions contain a multitude of nutrients that are beneficial for the body and skin and are free from harsh pharmaceutical compounds. CBD recovery topicals are mild, non-addictive, and are used widely in the wellness community as an alternative pain relief strategy.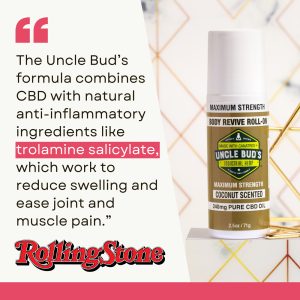 "The Uncle Bud's formula combines CBD with natural anti-inflammatory ingredients like trolamine salicylate, which work to reduce swelling and ease joint and muscle pain."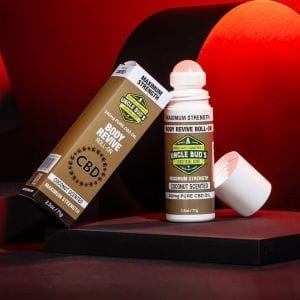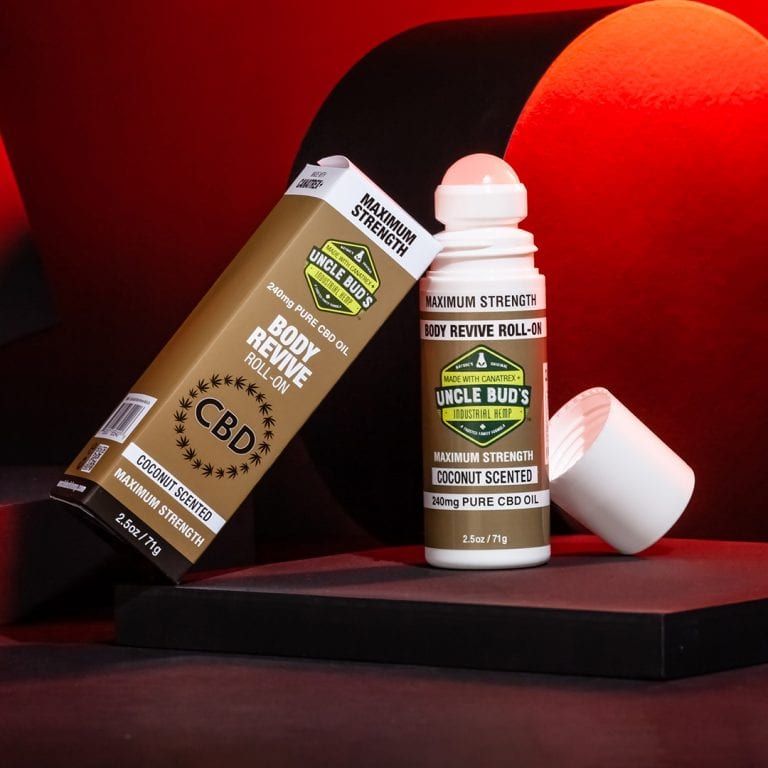 Rolling Stone has picked their favorite from Uncle Bud's family of topical pain relief solutions. Uncle Bud's Body Revive CBD Roll-On delivers maximum strength CBD recovery with a convenient, no-mess, roll-on applicator. This topical recovery solution uses a roll-on applicator for a no-mess way to get our strongest infusion of pure CBD. Featuring the same light coconut scent as our other CBD topical solutions, the Body Revive Roll-on contains 240 milligrams of pure CBD oil.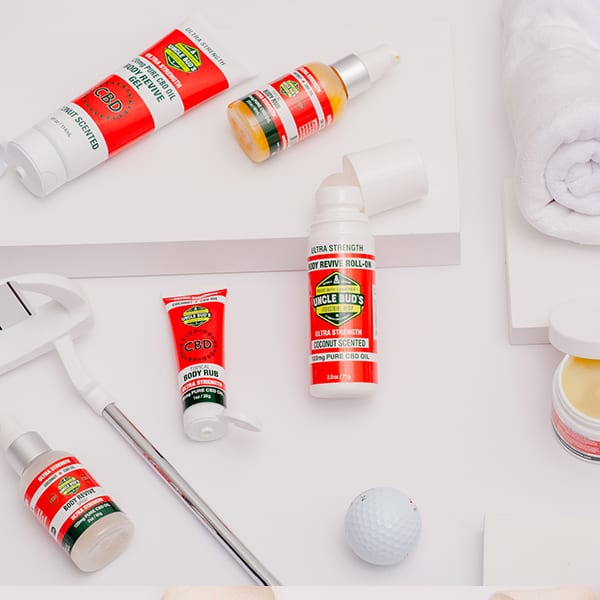 Rolling Stone picked Roll-On as their favorite 'CBD pain relief product', but there are many more CBD products in Bud's family of topical pain relief products. If you suffer from common types of muscle and joint pain and are seeking a premium CBD solution, Uncle Bud's has a complete line of CBD products, including both ultra-strength and maximum-strength solutions.
Uncle Bud's CBD Topicals is a family of creams, balms, roll-ons, and rubs that contain a proprietary blend of pure CBD oil. Uncle Bud's pain-relief solutions are applied directly to the skin, back, knees, shoulders, muscles, and joints. In addition to an infusion of CBD, our pain relief topicals are full of ingredients that benefit your skin like vitamins and moisturizers. All Uncle Buds Hemp and CBD products, including our CBD recovery solutions, are completely safe to use and are guaranteed to contain no THC.
---
Uncle Bud's Hemp has built its reputation on creating and selling high-quality, pure, premium Hemp-derived products. Our Hemp and CBD products are lab tested to ensure purity, potency, and quality.
The CBD content in milligrams is listed on every product label. While we can ensure the purity and maximum-strength potency of our proprietary CBD oil, we make no medical or therapeutic claims on any CBD product. Uncle Bud's avoids medical or therapeutic claims in order to maintain complete integrity, transparency, and trust with our customers.
All Uncle Bud's Hemp products are proudly made in the USA.
Disclaimer:
UncleBudsHemp.com articles are intended to provide helpful and informative content about the benefits of Hemp Seed Oil and CBD products.  Readers are advised to do their own research and make decisions in partnership with their health care provider. Nothing you read here should be relied upon to determine a course of treatment for any medical issue. All content found on the UncleBudsHemp.com website, including text, images, audio, or other formats were created for informational purposes only. Uncle Buds makes no claims as to the medical efficacy of any products. The site and its content are provided on an "as is" basis.