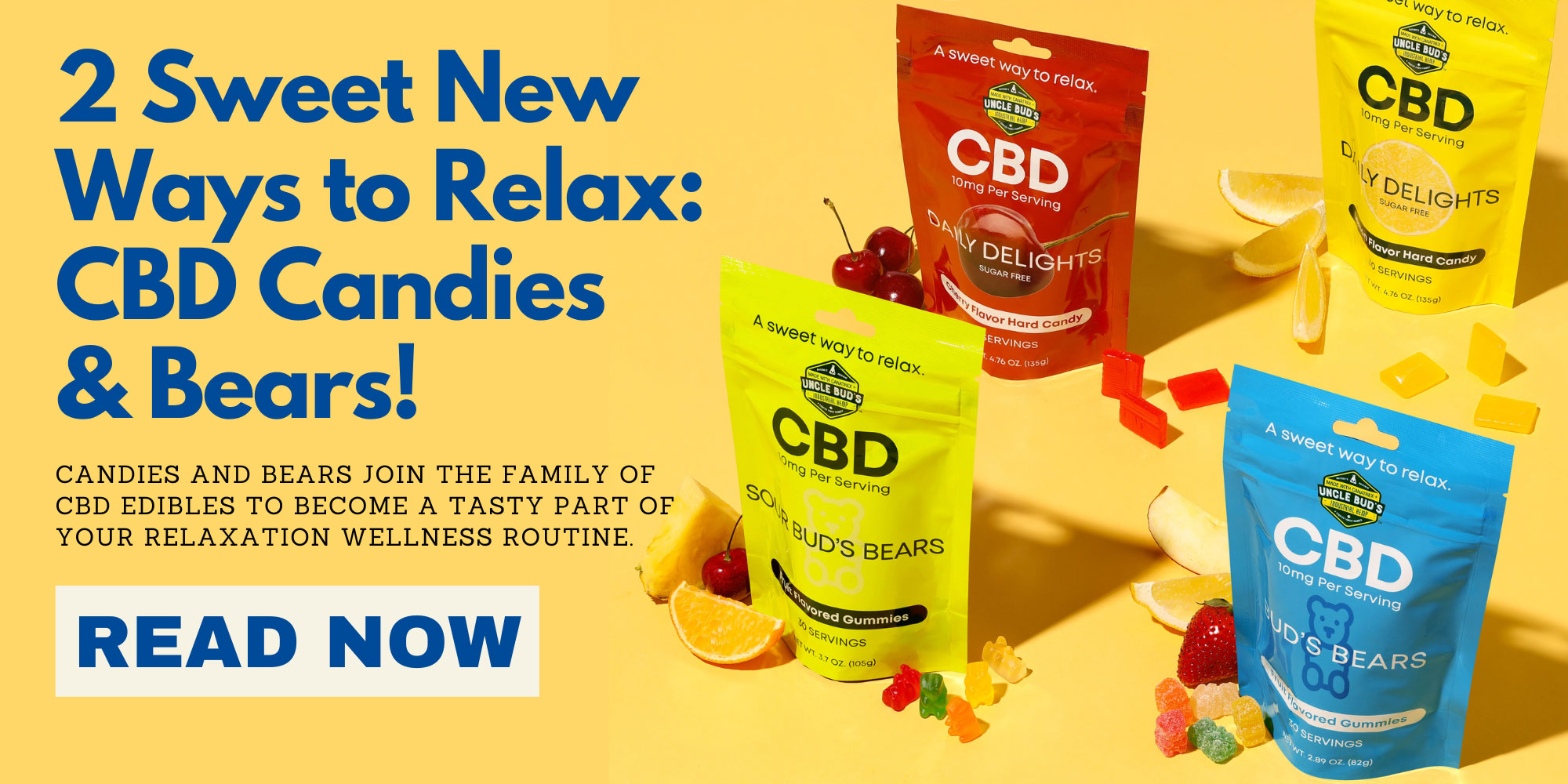 CBD Candies and Bears join the family of CBD edibles to become a tasty part of your relaxation and wellness routine.
Table of Contents
New Ways to Relax – CBD Candies & Bears
Cuddly and Delicious – CBD Fruit-Flavored Bear Gummies
Hard and Sweet – CBD Hard Candies
New Ways To Relax – CBD Candies & Bears
Uncle Buds introduces two sweet new ways to enhance your relaxation wellness routine! The shapes and flavors are new, but these CBD edibles have the same infusion of premium CBD as other edibles, making them a perfect part of a daily, morning, or evening relaxation strategy. Bears and Candies are two tasty additions to the growing family of Uncle Buds CBD edible supplements, and they offer an exciting new way to relax using pure CBD oil – infused into delicious and flavorful gummies and hard candies.
Cuddly and Delicious – CBD Fruit-Flavored Bear Gummies
With a popular line of CBD gummies already a wellness favorite, it was only a matter of time before Uncle Bud's added CBD Bud's bears, fruit-flavored gummies, to the family of CBD relaxation edibles. These cute and colorful bears are made from deliciously chewy gelatin for an anytime CBD treat. Do you like your bears sweet or sour? Bud's offers both so everyone can satisfy their craving for the beary best CBD relaxation gummies.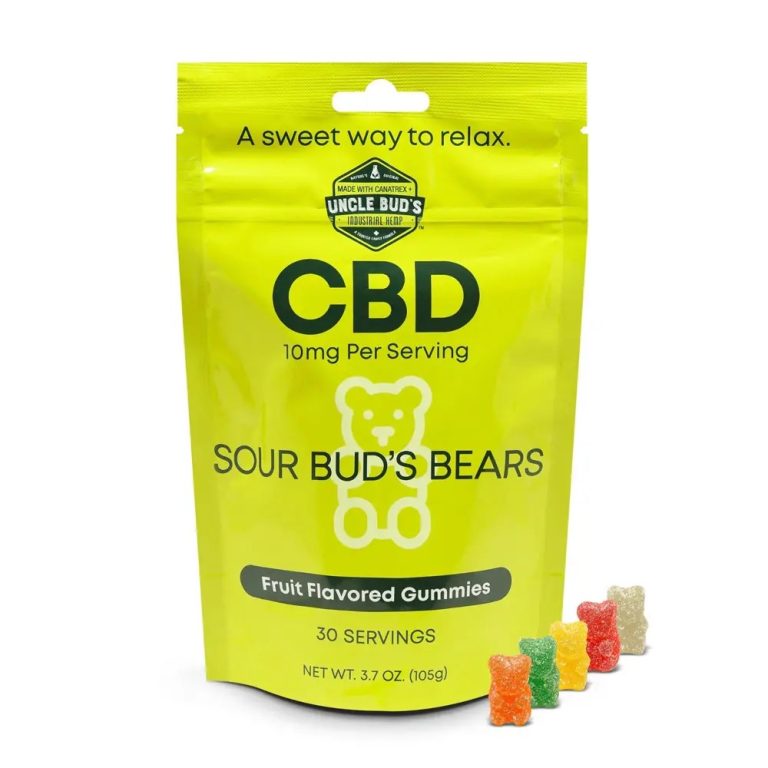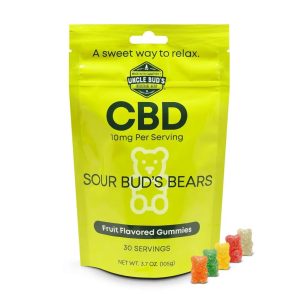 Pucker up and taste the tart and tangy twist of sour fruit with Uncle Bud's delectable CBD Sour Bud's Bears. Each sour fruit flavored gummy contains 10mg CBD. Sour fruit flavors include Pineapple, Lemon, Tangerine, Apple, Cherry, and Strawberry sour-flavored gummies. Take CBD Sour Bud's Bears in the morning, after a long day of work, before a workout, or whenever for an infusion of CBD relaxation!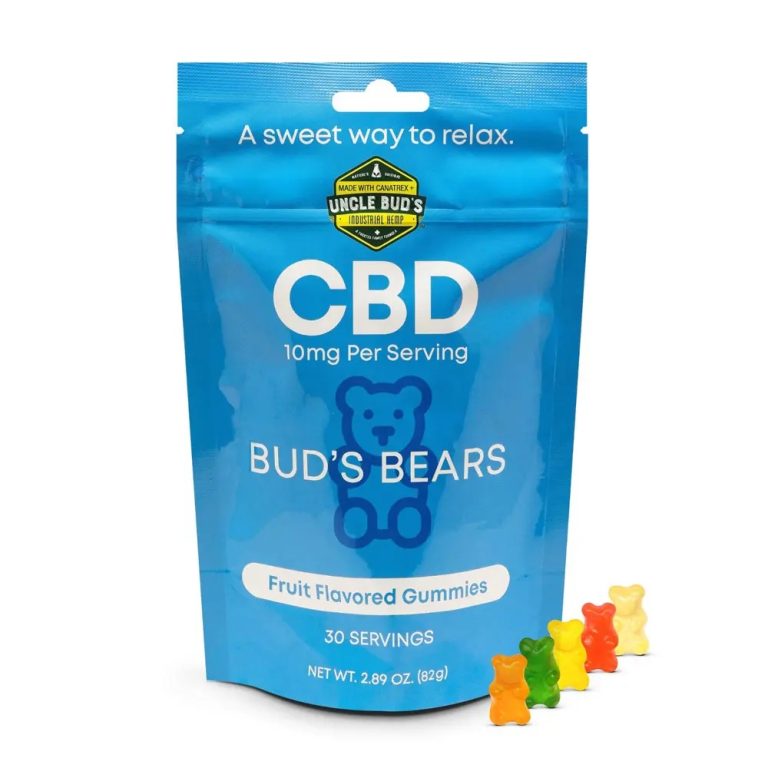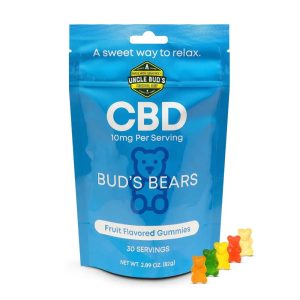 If sour isn't your thing, Uncle Bud's features traditional sweet fruit-flavored CBD gummy bears for anyone looking to add a little sweet relaxation to their daily wellness routine. Whenever it's time for a relaxing CBD treat, just pop one of these colorful and cute bears that come in six fun flavors: Pineapple, Lemon, Tangerine, Apple, Cherry, and Strawberry. 
Hard and Sweet – CBD Hard Candy
Life is easy with hard CBD candy supplements from Uncle Buds. These aren't gummies, but rather hard candies infused with CBD to create a delicious hard candy treat that promised to be an any time of the day or night favorite for your relaxation wellness routine. These deliciously sweet sugar-free hard candies come in two tempting flavors and are infused with premium CBD that you can enjoy whenever you like.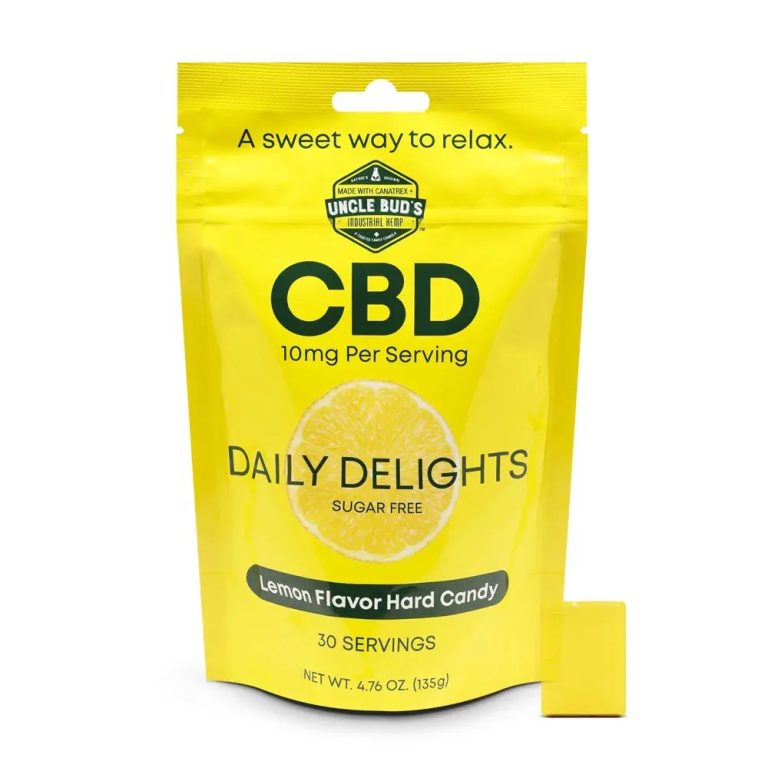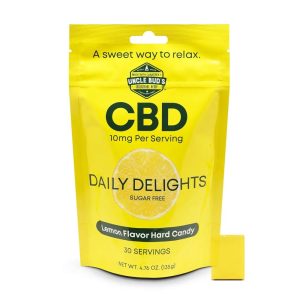 Satisfy your sweet tooth with a citrusy burst of lemon-yellow goodness with Uncle Bud's CBD Lemon Daily Delights. Each tasty, sugar-free, lemon-flavored hard candy contains 10mg of CBD. Take CBD Lemon Daily Delights in the morning, after a long day of work, before a workout, or whenever you like for a lemony-sweet CBD relaxation treat!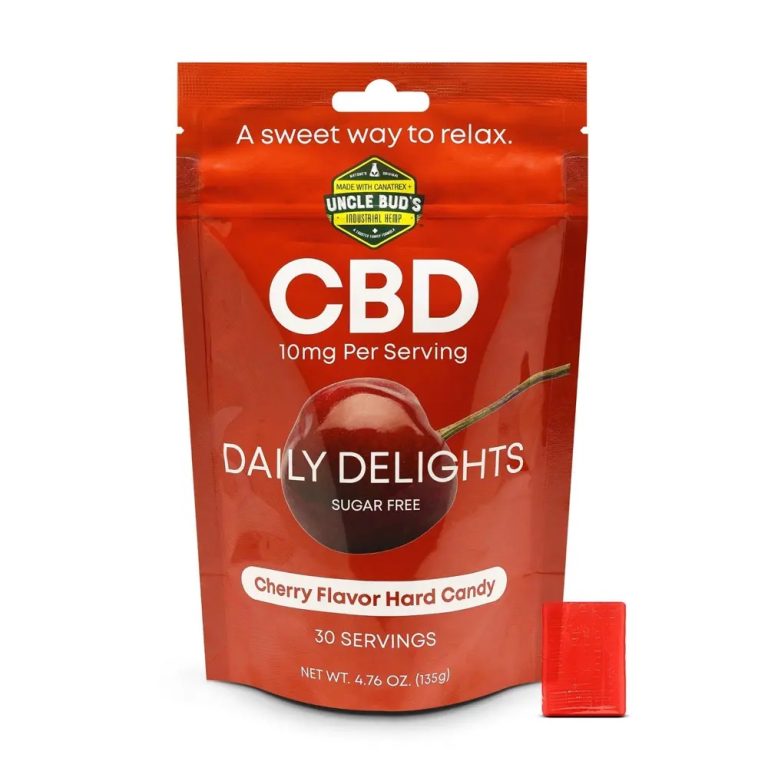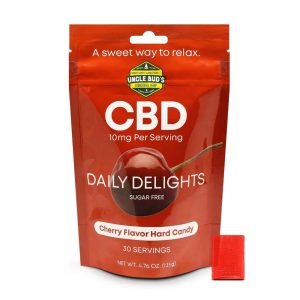 These cherries are the bomb! Uncle Bud's CBD Cherry Daily Delights are delicious cherry-flavored hard candies infused with 10mg of CBD. You'll be amazed at how much cherry flavor is packed into one sugar-free candy when you make these daily delights part of your relaxation routine.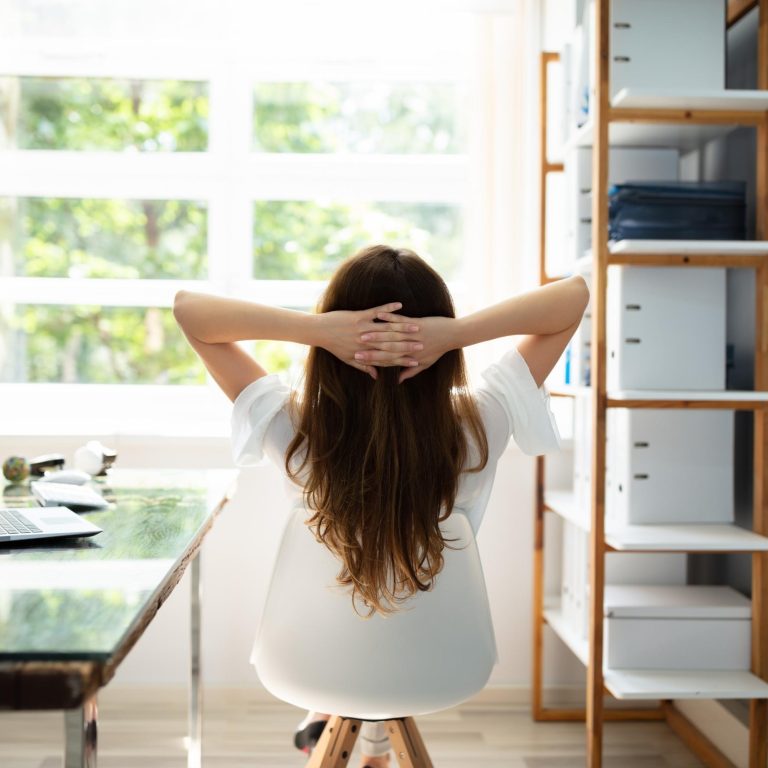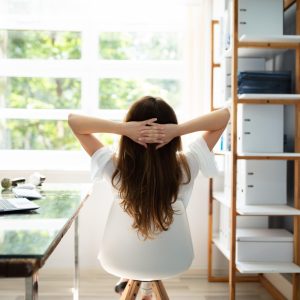 CBD Edibles: A Great Addition to Your Relaxation Routine
After a hard day, who doesn't like to relax and unwind? Whether it's after work, after working out, or after a day of fun, when it's time to relax, most everyone has a favorite way to unwind. The evening glass of wine is a classic evening tradition, but recently new strategies have emerged for those seeking a nutritional supplement to assist in relaxation. Getting exercise is a proven method to help relax, as are mental strategies such as meditation or even watching your favorite show. However, in addition to physical and mental strategies to relax, many supplements exist to assist in relaxation. 
Some natural supplements are associated with relaxation. Melatonin is a popular choice as a natural relaxation and sleep aid, but one of the newest strategies that people are using to relax is CBD. Many oral CBD items now exist that people use as part of a relaxation wellness strategy. Among them are sublingual tinctures, which are liquid supplements that are taken with a dropper. Edible supplements include flavorful gummies and candies, which also are a convenient and effective way of taking CBD. 
The benefits of CBD, and how exactly this hemp-based botanical compound affects relaxation, are the subject of ongoing study, and CBD should not be considered a medical treatment for stress or anxiety. Still, this large family of natural hemp supplements has been discovered by millions of people, who are using them as part of their relaxation strategy. Edible CBD supplements, such as candies and gummies, are some of the most convenient ways to supplement a relaxation strategy – plus they taste great!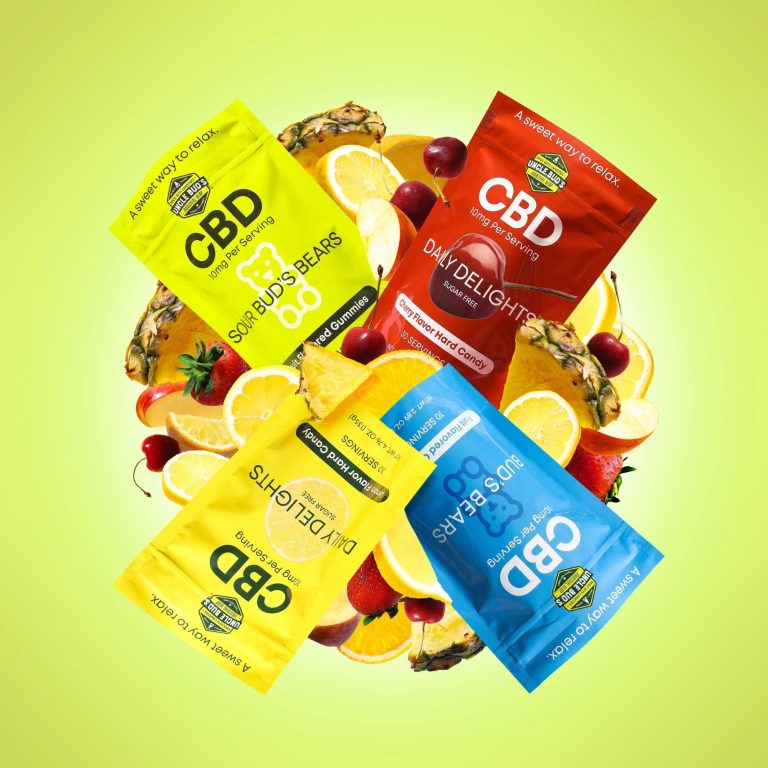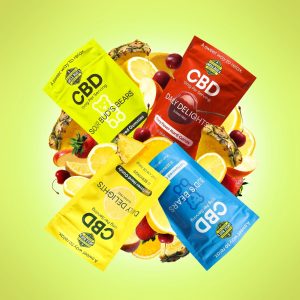 How do CBD Edibles work?
Infusing CBD oil into edibles like gummies and candies is an ideal way to capture the effects of CBD into a flavorful oral supplement that works quickly and tastes good. Gelatin and hard candy are both a nutritional matrix for gummies and candies that allows the ingredients to keep their potency over long periods without degrading. Gelatin gummies and sugar-free candy are also very easy to digest, allowing the ingredients to be quickly absorbed into the bloodstream, infusing the body with whatever is contained in them. Most substances, including CBD oil, don't react with the chemically neutral gelatin or candy base, which simply holds the ingredients until it is dissolved by the digestive system, releasing the ingredients into the bloodstream and carrying them throughout the body.
CBD edibles like gummies and candies work because they are an easy way to transport an infusion of CBD to the body using the oral administration route, which uses the digestive system to absorb the ingredients and transport them throughout the body using the bloodstream. The added benefits of being chewable and pleasant tasting make consuming CBD gummies and candies a more enjoyable way of using CBD oil. Also, placing CBD into gelatin and candy form is ideal because neither reduces the potency of Cannabidiol. 
---
Uncle Bud's Hemp has built its reputation on creating and selling high-quality, pure, premium Hemp-derived products. Our Hemp and CBD products are lab tested to ensure purity, potency, and quality.
The CBD content in milligrams is listed on every product label. While we can ensure the purity and maximum-strength potency of our proprietary CBD oil, we make no medical or therapeutic claims on any CBD product. Uncle Bud's avoids medical or therapeutic claims in order to maintain complete integrity, transparency, and trust with our customers.
All Uncle Bud's Hemp products are proudly made in the USA.
Disclaimer:
UncleBudsHemp.com articles are intended to provide helpful and informative content about the benefits of Hemp Seed Oil and CBD products.  Readers are advised to do their own research and make decisions in partnership with their health care provider. Nothing you read here should be relied upon to determine a course of treatment for any medical issue. All content found on the UncleBudsHemp.com website, including text, images, audio, or other formats were created for informational purposes only. Uncle Buds makes no claims as to the medical efficacy of any products. The site and its content are provided on an "as is" basis.