Discover invigorating hemp and CBD body wash
Table of Contents
Shower & Bath Time with Hemp
Bath time is as much a way to relax and invigorate as it is a way to get clean. Whether it's a quick, invigorating morning shower to start your day, or a sensuous relaxing soak in an evening bath, getting clean has never felt so good. Every shower and bath time routine is different, and the products we use to get clean are as varied as the people who use them, but one family of shower and bath products uses an age-old ingredient that regular products don't: Hemp.
You may wonder what hemp has to do with getting clean, but the multitude of ways hemp can help your skin has been known for a long time. Hemp seed oil is a botanical oil extracted from the seeds of the hemp or cannabis Sativa plant. This oil is mixed with other ingredients to create bath products that not only help your skin get clean but infuse it with moisturizers and other nutrients to keep it soft and healthy. Sensuous showers and luxurious baths are enhanced by skin cleansing and moisturizing products made from hemp, where it's just as much about a rejuvenating self-care ritual as it is about getting clean and caring for your skin.
Hemp seed oil is full of moisturizers and other skin-nourishing ingredients that help cleanse, hydrate, and beautify your skin. Adding hemp and CBD to your nighttime bath routine adds a luxurious new layer of wellness and can take any shower or bath time experience to the next level of relaxation and invigoration with whole body care. A hot bath or shower is the ideal way to prepare your skin to experience the therapeutic benefits of hemp. Immersion in warm water makes the blood vessels in the skin expand and draw close to the surface as well as opening the pores. Warm water causes flushed skin, which helps Hemp seed oil or CBD be absorbed quickly and easily, allowing you to benefit from its effects sooner and with greater potency. A calming bath or invigorating shower with hemp or CBD bath products will cleanse and moisturize your skin and can help you deeply relax before a good night's sleep, or wake up refreshed in the morning to face the day.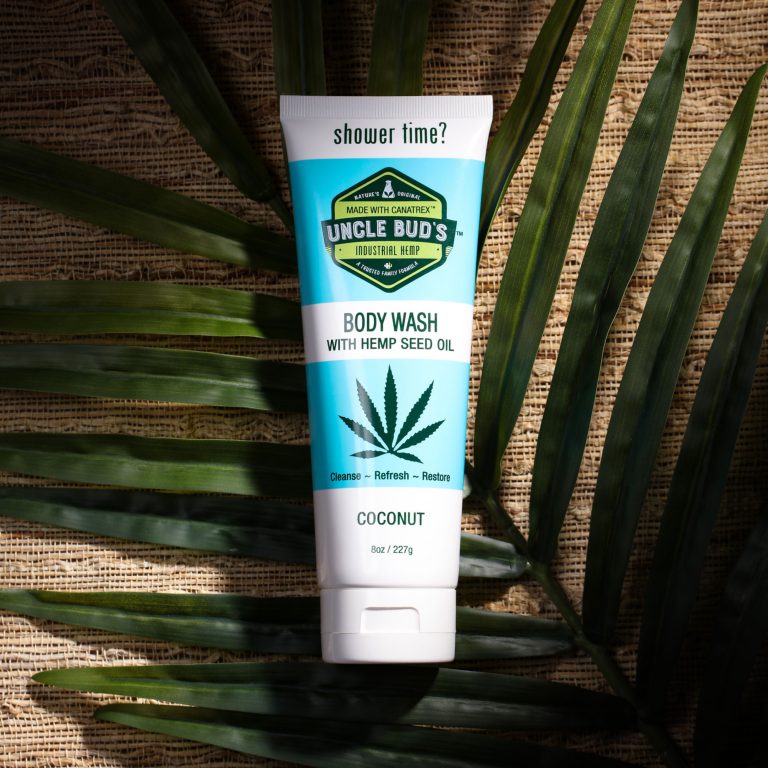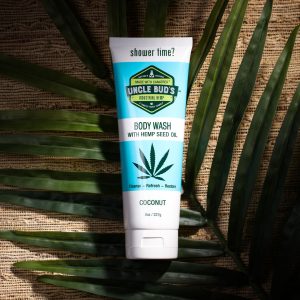 Hemp Seed Oil and Your Skin
Getting clean is only half of the purpose of showering and bathing. While it's important to remove dirt and impurities, your skin needs much more to stay healthy and do its job of protecting you. Your skin needs moisture and other nutrients, and detergent-based soaps can strip away moisture and vital nutrients. Moisture is the number one ingredient your skin needs to be healthy, and hemp oil is first and foremost a potent moisturizer. All hemp bath products feature nutrient-rich hemp seed oil that deeply hydrates dry skin to health as few other moisturizers can. Hemp seed oil resembles your skin's natural oils, and bath products made with hemp seed oil restore lost moisture and deeply hydrate your skin. Hemp seed oil is mild, gentle, and non-irritating, making it an ideal bath time ingredient even for those with sensitive skin.  
Hemp seed oil is a perfect supplement for bath and shower products because of how many different skin-benefiting ingredients it contains. Hemp seed oil is essentially a concentration of beneficial plant-based compounds like moisturizers, anti-inflammatories, fatty acids, vitamins, antioxidants, and omegas. A drop of hemp seed oil contains multiple skin-nourishing ingredients that combine to offer an amazing array of benefits perfect for cleansing, hydrating, and nourishing your skin during and after your bath or shower.
In addition to moisturizers, hemp seed oil contains numerous other supplements that promote skin health. The anti-inflammatory compound omega-3-6-9 found in hemp seed oil may help to minimize skin irritation, and redness, promoting healthy skin at the tissue level. Antioxidants, amino acids, and omegas are specific nutrients your skin needs to be healthy. Hemp bath products contain an ideal balance of these special compounds which work together to help the skin get essential nutrients and function properly. Hemp seed oil also contains high levels of Vitamin E, the most important vitamin for skin health. Vitamin E strengthens and protects your skin, helping it to retain its elasticity and resist the elements, sun exposure, and skin-damaging pollutants.
Finally, hemp seed oil is often mixed with other ingredients to form a gentle cleanser and body washes which are ideal for cleaning the skin from dirt, oils, and other impurities. Regular soaps and facial cleansers often contain artificial ingredients which can be harsh, irritating, and can strip away the skin's natural oils. Bath products with hemp seed oil gently cleanse the skin of dirt and impurities without synthetic irritants, making it an ideal cleansing and detoxifying agent for sensitive skin.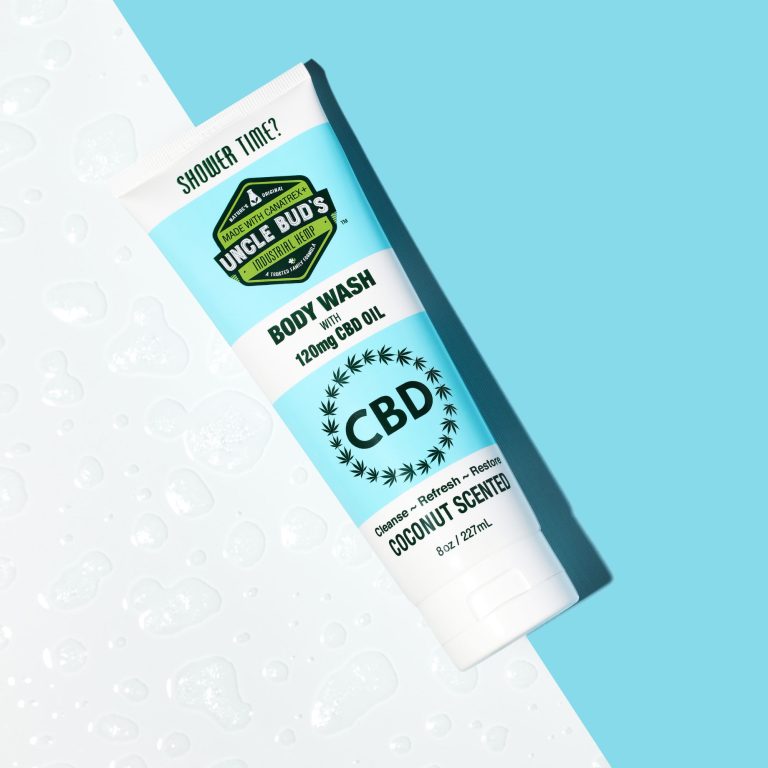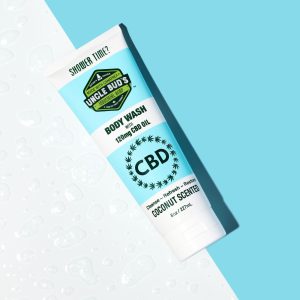 CBD Bath Products
CBD is an abbreviation for Cannabidiol, one of many specific compounds found in the hemp plant. Hemp is often specially prepared to isolate the CBD compound to create CBD oil. Products made with CBD oil are wildly popular and CBD has found its way into many kinds of self-care products, including bath and shower products. When it comes to CBD products it's important to remember: CBD is safe, legal, and does not contain any THC. Secondly, CBD products have all the same skin-benefiting properties as the same products made with hemp seed oil. The only difference is the inclusion of CBD, and each time you use a CBD product you get an infusion of CBD oil.
CBD shower and bath products are identical to their counterparts made with regular hemp seed oil – except for the infusion of CBD oil. They cleanse, moisturize, and deliver key nutrients to your skin in the same way as hemp bath and shower products. However, each time you use a CBD Body Wash or other bath product made with CBD oil you are getting an infusion of CBD absorbed through your skin. The skin is actually an excellent way to absorb CBD, especially in a shower or bath. Warm water opens pores and enlarges the tiny blood vessels close to the skin, allowing the CBD to be absorbed quickly, infusing your skin and your whole body.
Think of CBD bath products as everything good about hemp bath products, with a little something extra. When you add CBD product to your bath or shower routine, you're getting a premium skincare solution to help cleanse, moisturize, and nourish your skin, with the added bonus of an invigorating infusion of CBD. CBD bath care products might just be the ultimate way to raise your shower or bath routine to the next level of refreshed, relaxed, and rejuvenated.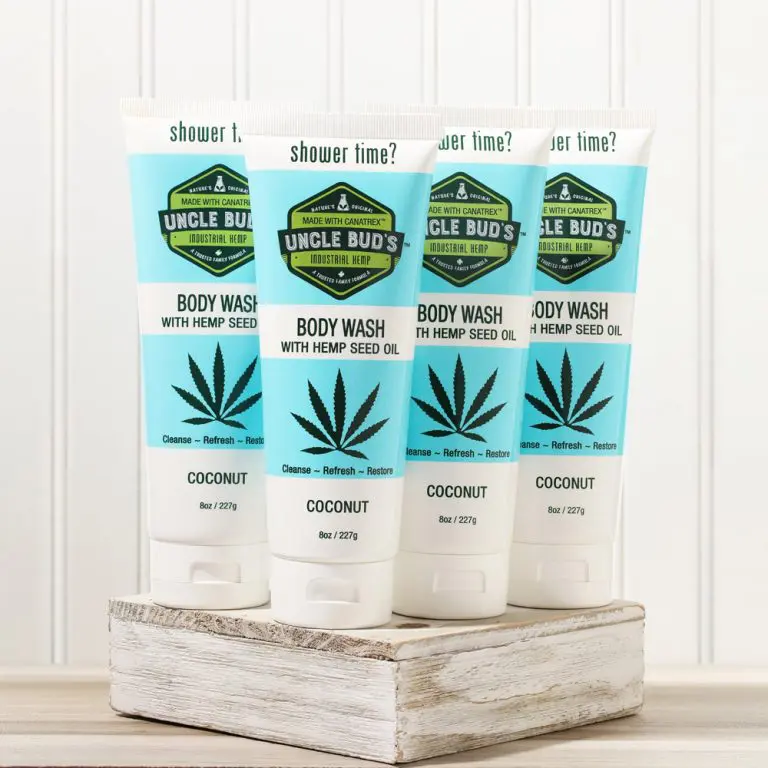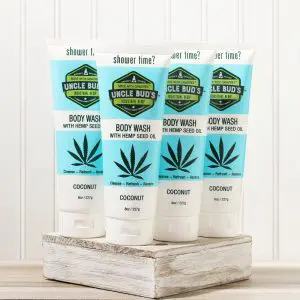 Add the magic of hemp to your shower or bath routine with Uncle Bud's invigorating Hemp Body Wash. Body washes are excellent for washing away the day's dirt and grime, and a high-quality hemp and CBD body wash can leave you feeling moisturized and clean all day long. Adding hemp seed oil enhances the body wash's beneficial effects on your skin thanks to hemp's naturally occurring nutrients, fatty acids, vitamins, minerals, and proteins that are essential for skin health and beauty. Hemp's natural anti-inflammatory, antioxidant, and anti-bacterial properties will leave your skin more beautiful and healthier, and the gentle, non-irritating skin cleansers will leave your skin refreshingly clean. 
Discover the benefits of pure Hemp Seed Oil with Uncle Bud's invigorating Hemp Oil Body Wash. Our coconut-scented formula is made with our proprietary hemp-infused formulation CANATREX full of supplements. Uncle Bud's Hemp Body Wash will leave your skin feeling fresh, radiant, and moisturized while your skin absorbs the powerful antioxidant ingredients.
A gentle formula suitable for all skin types
Powerful cleansing to feel and smell fresh all day long
Moisturizes skin with a wonderful coconut scent
Paraben-Free and GMO-Free 
Made in the USA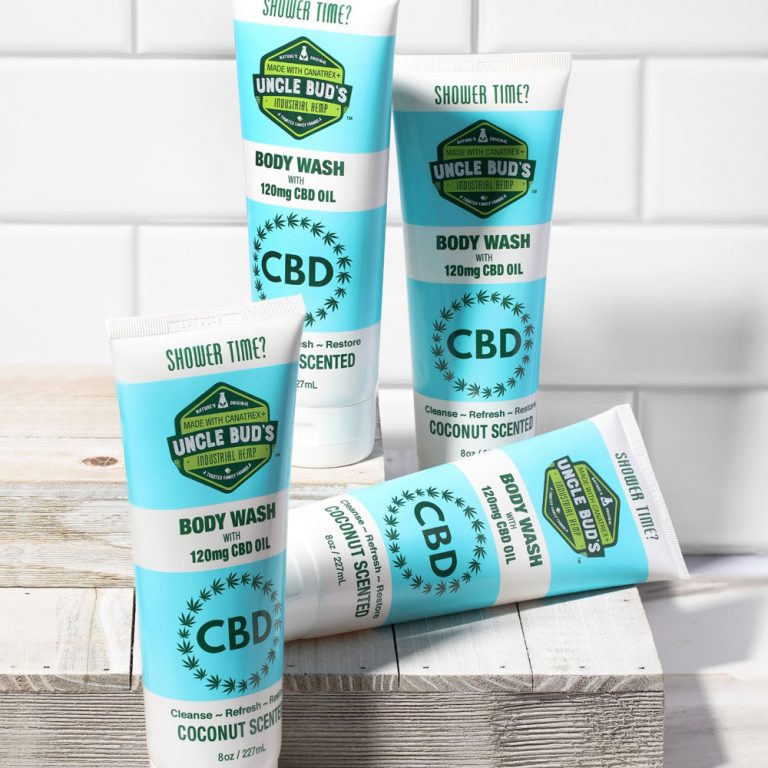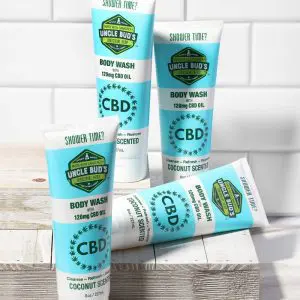 Uncle Bud's CBD Body Wash uses a gentle formula that makes you feel fresh, clean, and invigorated. Infused with 120mg of CBD oil, this CBD Body Wash is coconut scented and will leave your skin clean, moisturized, and radiant. If you are looking for a premium body wash with a little something extra, Uncle Bud's CBD Coconut Body Wash is the perfect product to add to your daily skincare routine.
In addition to premium skincare ingredients, what makes Uncle Bud's CBD body wash special is a 120 mg infusion of CBD. While most products only contain about 100 mg of CBD or less, Uncle Bud's 120 mg formula ensures you'll get every last drop of its effects. 
Contains 120mg of pure CBD oil
Cleans and moisturizes
Supplement Rich – high in Vitamins A, D & E
Omega Rich – Hemps to maintain healthy skin
Paraben and Sulfate Free
Contains NO THC
Made in the USA
---
Uncle Bud's Hemp has built its reputation on creating and selling high-quality, pure, premium Hemp-derived products. Our Hemp and CBD products are lab tested to ensure purity, potency, and quality.
The CBD content in milligrams is listed on every product label. While we can ensure the purity and maximum-strength potency of our proprietary CBD oil, we make no medical or therapeutic claims on any CBD product. Uncle Bud's avoids medical or therapeutic claims in order to maintain complete integrity, transparency, and trust with our customers.
All Uncle Bud's Hemp products are proudly made in the USA.
Disclaimer:
UncleBudsHemp.com articles are intended to provide helpful and informative content about the benefits of Hemp Seed Oil and CBD products.  Readers are advised to do their own research and make decisions in partnership with their health care provider. Nothing you read here should be relied upon to determine a course of treatment for any medical issue. All content found on the UncleBudsHemp.com website, including text, images, audio, or other formats were created for informational purposes only. Uncle Buds makes no claims as to the medical efficacy of any products. The site and its content are provided on an "as is" basis.