There's a perfect hemp therapy product for all of your parts.
Just about every part of your body can benefit from hemp. Uncle Buds has got you covered head-to-toe with our wide selection of hemp therapy products. Each is created specifically for the unique needs of each body part and contains our special proprietary blend of hemp seed oil and other supplements.
If it's a part of your body that can benefit from the moisturizing and skin-nourishing power of pure hemp seed oil, then Uncle Bud's has a special product just for it.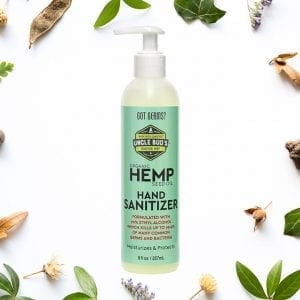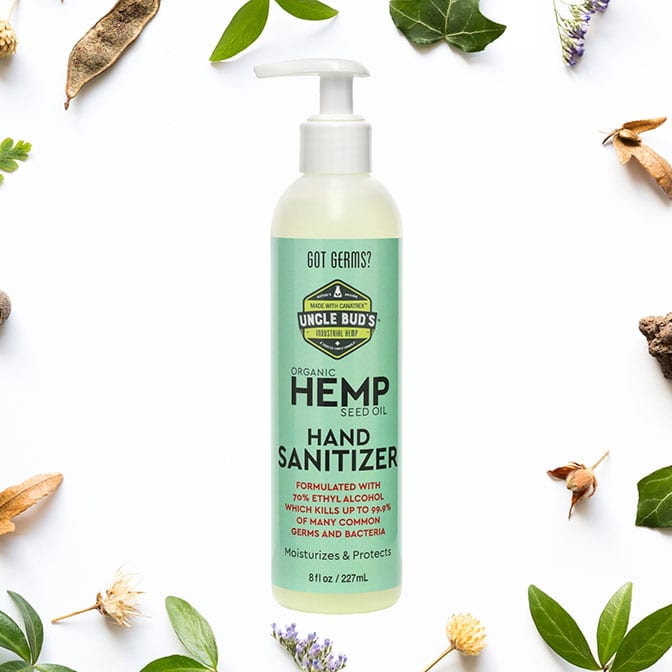 HANDS: Hemp Hand Sanitizer
Fight germs and bacteria with a powerful antibacterial weapon with our newest hemp product.
Uncle Bud's Hemp Hand Sanitizer protects you and your family against germs and bacteria while delivering the moisturizing and skin-benefiting properties of pure organic hemp seed oil. Our new Hemp Hand Sanitizer is formulated with 70% ethyl alcohol which kills up to 99.9% of many common harmful germs and bacteria without drying out your hands.
Kills up to 99.99% of many harmful germs and bacteria • Will not dry out your hands • Unscented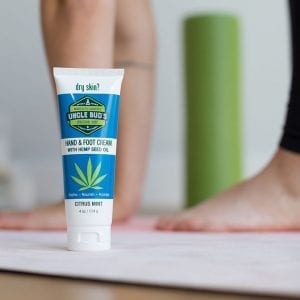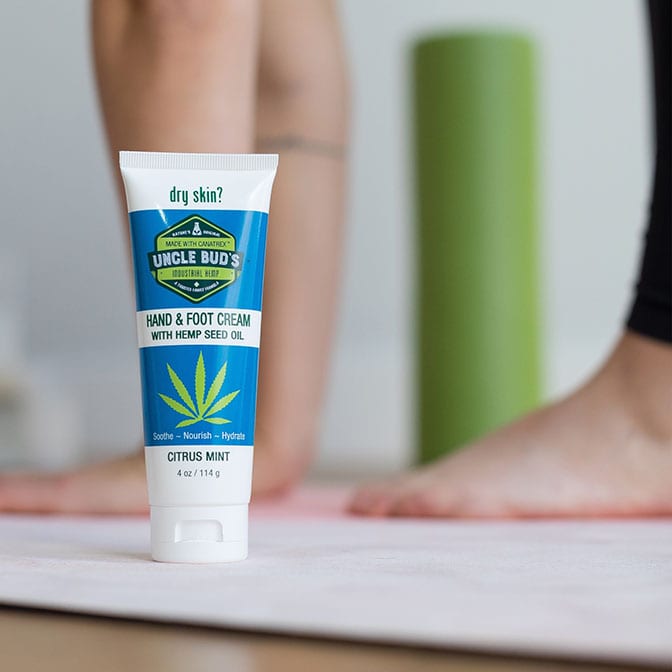 FEET: Hemp Hand & Foot Cream
Deep-hydrating hemp oil moisturizers will help protect and heal your dry feet with our Hemp Hand & Foot Cream. This fast-absorbing cream is specially formulated with moisturizing ingredients to help soothe and restore dry, flaky skin on hands and feet and elbows. The premium hemp seed oil blend infuses your feet with multiple skin-moisturizing supplements, essential vitamins, and natural oils.
Moisturizes & protects the skin • Fast absorbing & non-greasy • Light citrus-mint scent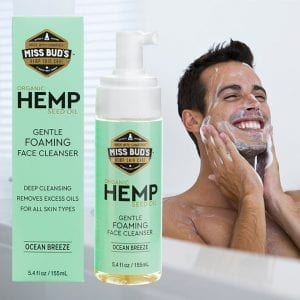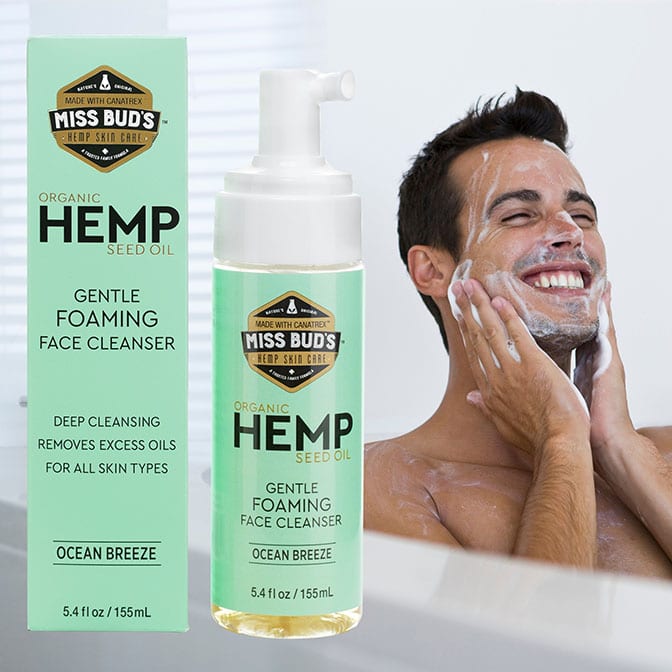 FACE: Hemp Gentle Foaming Face Cleanser

The delicate skin on your face has the perfect match with Miss Bud's Gentle Foaming Face Cleanser. This instant foaming face cleanser contains Saponin, native to the tropical regions, which provides an elegant foam that gently removes dirt, oil, and makeup without drying your skin.
Gentle Formula removes dirt, oil and makeup • Ocean Breeze scent.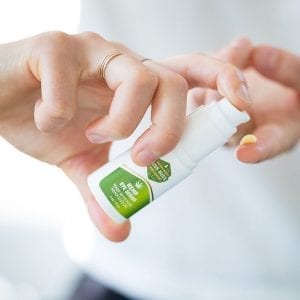 EYES: Hemp Eye Serum
Uncle Bud's Hemp Eye Serum helps reduce dark circles, puffiness, and tightens skin for brighter, more youthful-looking eyes. The serum contains pure hemp seed oil that moisturizes the skin while treating the delicate under-eye area to reduce dark circles and wrinkles.
Visibly reduce dark circles and puffiness under eyes • Unscented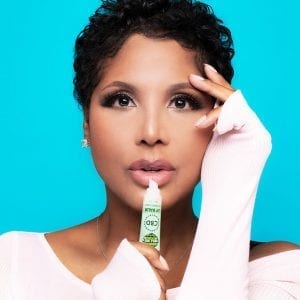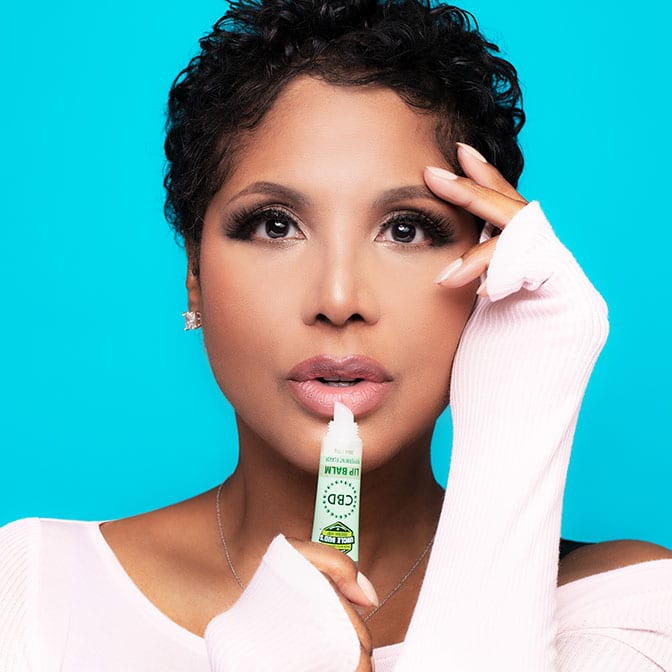 LIPS: CBD Lip Balm
Uncle Buds CBD Lip Balm provides heavy-duty hydration, leaving lips feeling soft, supple, and healthy.
It contains pure hemp seed oil that's rich in vitamins, omegas, and fatty acids, and works to moisturizes and protect dry chapped lips. This is a CBD product and each application contains a 5mg infusion of CBD.
Contains 5mg of pure CBD oil • Moisturizes and protects dry chapped lips • Peppermint flavored
_____________________
Disclaimer.
UncleBudsHemp.com articles are intended to provide helpful and informative content about the benefits of Hemp Seed Oil and CBD products.  Readers are advised to do their own research and make decisions in partnership with their health care provider. Nothing you read here should be relied upon to determine a course of treatment for any medical issue. All content found on the UncleBudsHemp.com Website, including text, images, audio, or other formats were created for informational purposes only. Uncle Buds makes no claims as to the medical efficacy of any products. The Site and its Content are provided on an "as is" basis.