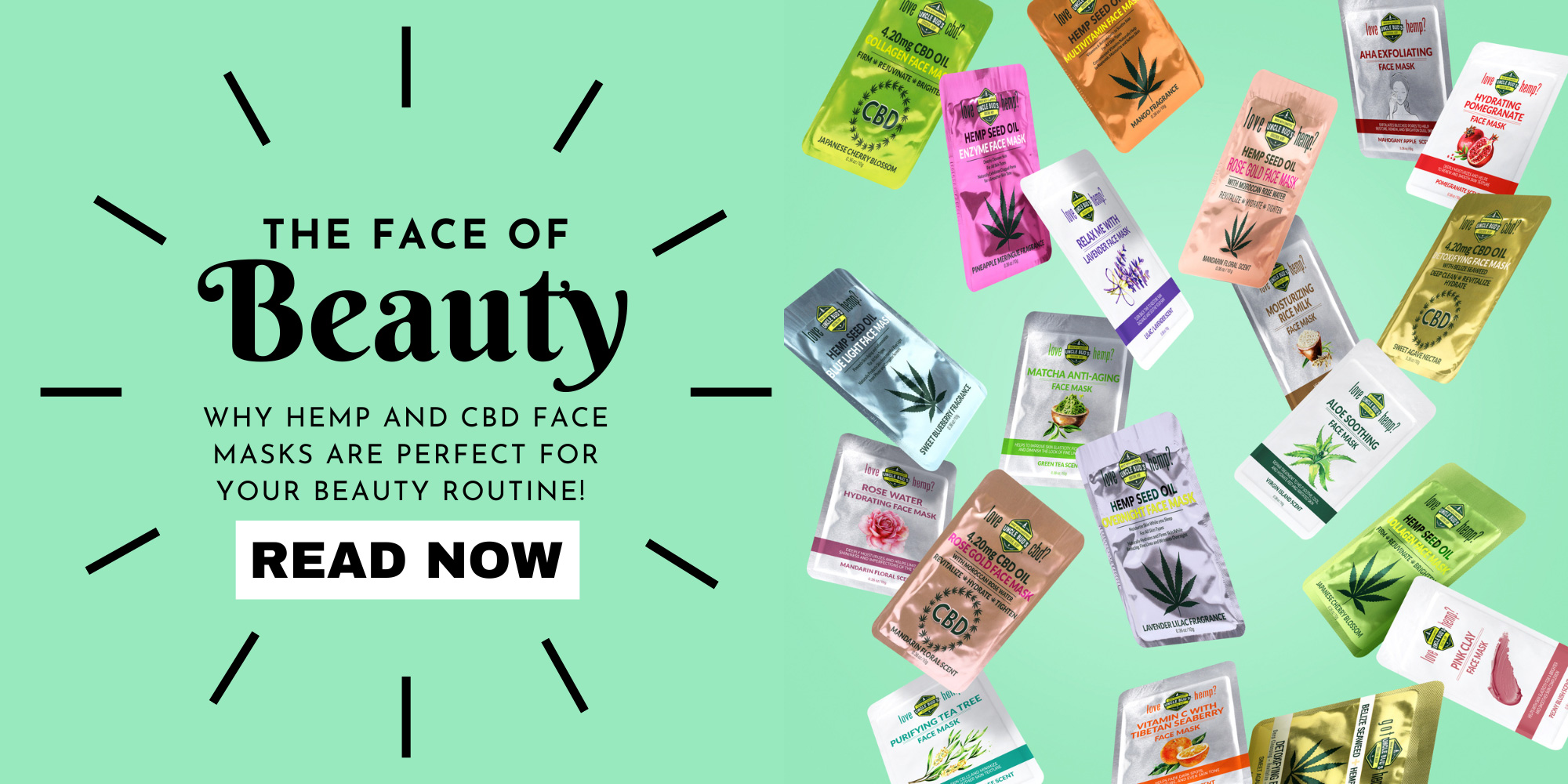 Why hemp and CBD face masks are perfect for your beauty routine!
Table of Contents
Why Hemp Face Masks Are Different
Why Hemp Seed Oil is Perfect for Your Face
How to Use Hemp and CBD Face Masks
Uncle Bud's Hemp & CBD Face Masks
Why Hemp Face Masks Are Different
When it comes to specialized care, no part of your body gets more focused attention than your face. Facial care makes up possibly the largest family of products in the beauty and skincare industry, and one of the most popular ways to care for your face is with clay face masks. A clay face mask is a layer of clay that is applied to the face and left for a period of time long enough for the ingredients to infuse and rejuvenate the skin. Clay face masks provide deep skin cleansing and intense moisturizing. They are used to keep the skin as healthy as possible, maintain a beautiful complexion and work to minimize the look of wrinkles. Clay face masks deliver focused skincare to the sensitive, delicate, and important skin on your face – but each type of clay face mask is unique, and different varieties do different things for your skin, depending on your unique skincare needs.
Hemp face masks add an additional ingredient – hemp seed oil. Hemp seed oil is a mild botanical oil extracted from the hemp plant, and it contains a unique mixture of compounds that are beneficial for the skin. Rich in moisturizers, antioxidants, vitamins, and all 21 known amino acids, hemp oil is abundant in nutrients that hydrate, protect and nourish the skin. Although they come from a plant, the ingredients in hemp seed oil mimic the oils our skin produces on its own, making hemp ideal for replenishing moisture and delivering essential nutrients to your face without causing irritation.
Regular clay face masks often use synthetic moisturizers and other artificial ingredients. Although synthetic elements are not always harmful, they can never duplicate the complex and unique therapeutic properties of hemp seed oil. Hemp seed oil is a nourishing botanical oil that comes with no artificial or synthetic ingredients. It comes from a plant whose medicinal properties have been known for centuries, making it a perfect base ingredient for specialized beauty care products designed for your face.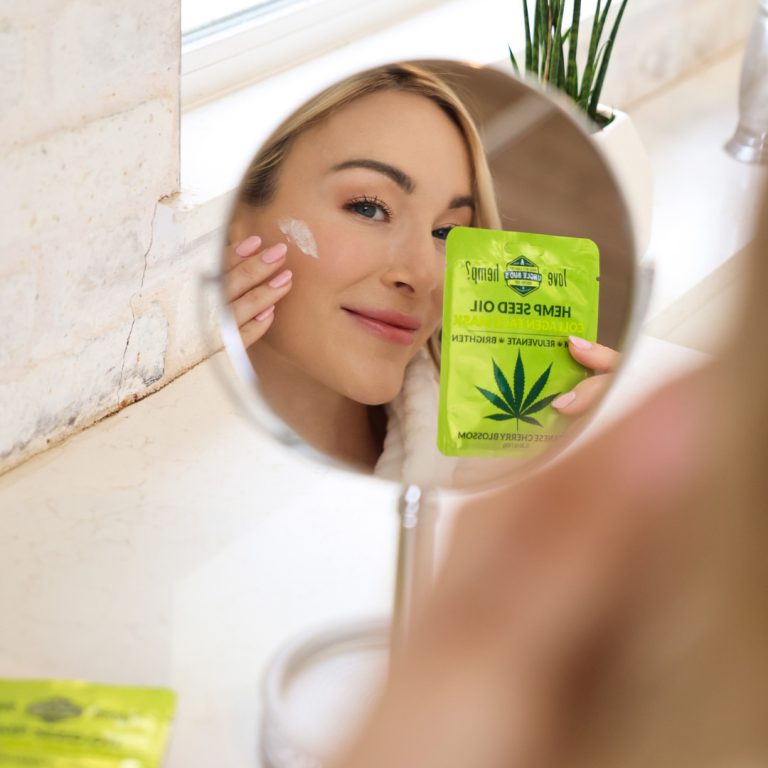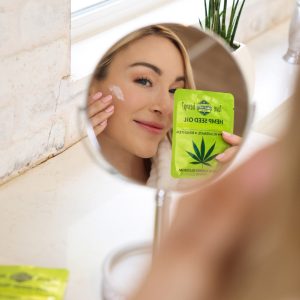 Why Hemp Seed Oil is Perfect for Your Face
As the skin ages, it loses moisture and elasticity, causing the formation of wrinkles. The delicate skin on your face is exposed to the sun and elements more than other parts of the body, and it's the most susceptible to wrinkles. Hemp seed oil and other ingredients in clay face masks can work to restore the skin's elasticity and smooth rough areas may minimize the appearance of wrinkles. Hemp oil contains vitamins A and E, the key vitamins for skin health that help the skin retain its strength and elasticity.
Hemp seed oil also contains anti-inflammatory ingredients that calm irritation and may help minimize swelling, redness, puffy eyes, blemishes, and other conditions caused by irritated and inflamed skin tissue. Hemp seed oil can also help balance the skin's oil production, removing excess oil and impurities and maintaining an equilibrium without becoming too oily or too dry.
The purified hemp seed oil in hemp and CBD face masks is a nourishing botanical oil rich in therapeutic compounds. Foremost among these compounds are moisturizers that deeply hydrate the sensitive and delicate skin of the face, without causing irritation. Hemp seed oil is very similar to your skin's own natural oils, so it is less likely to cause irritation than synthetic or artificial moisturizers. Finally, hemp seed oil is an oil that comes from a plant – a perfect choice for those seeking natural plant-based wellness skincare solutions.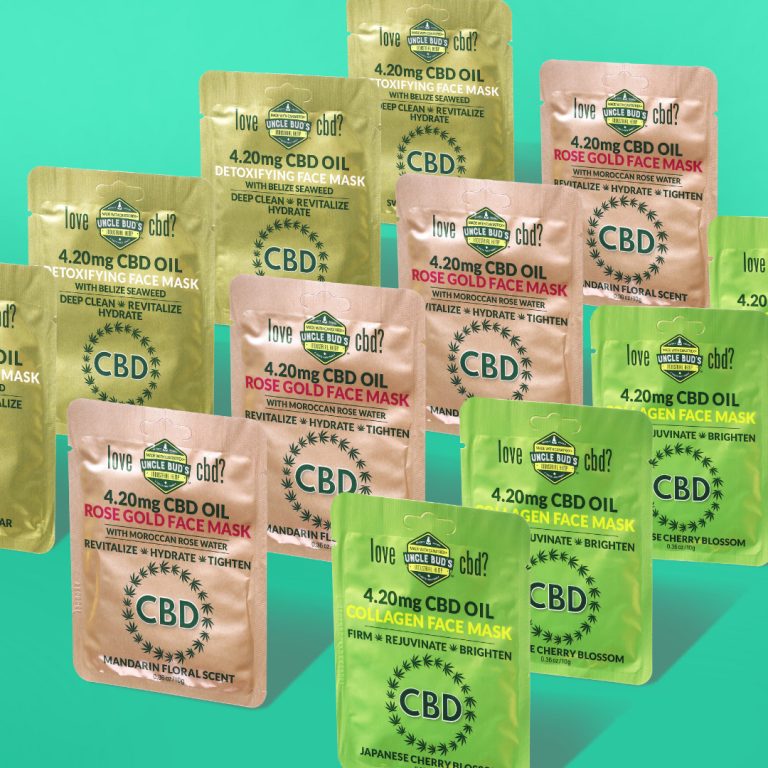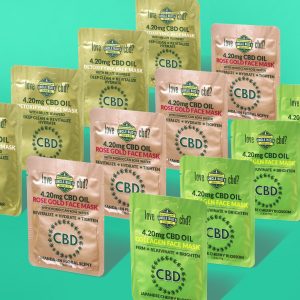 CBD Clay Face Masks
CBD clay face masks are almost identical to hemp face masks, with one important difference – an added ingredient extracted from the hemp plant called CBD. CBD, short for Cannabidiol, is a substance found in the hemp plant that is extracted and isolated into a unique hemp-based oil called CBD oil. CBD oil has become very popular and is now found in all sorts of therapeutic and self-care products. Hemp clay masks are made to be CBD-free, but CBD clay face masks purposely include it. The presence of purified CBD oil is the key ingredient that makes CBD face masks different from other beauty masks. Each time you use a CBD mask your skin receives an infusion of pure CBD oil in addition to the other moisturizers and skin-nourishing ingredients found in hemp face masks.
Like hemp clay face masks, CBD face masks contain the same skin-benefitting ingredients such as moisturizers, cleansers, and antioxidants, but also add CBD oil, a purified hemp extract containing Cannabidiol. A CBD mask infuses the facial skin with all the same rejuvenating elements as a hemp clay mask but also infuses the skin with some amount of CBD. Like traditional beauty masks, CBD clay face masks deliver intense cleansing, exfoliation, and hydration to the sensitive and delicate skin of the face, with the added benefit of an infusion of pure CBD oil. Importantly, CBD clay face masks do not contain any THC.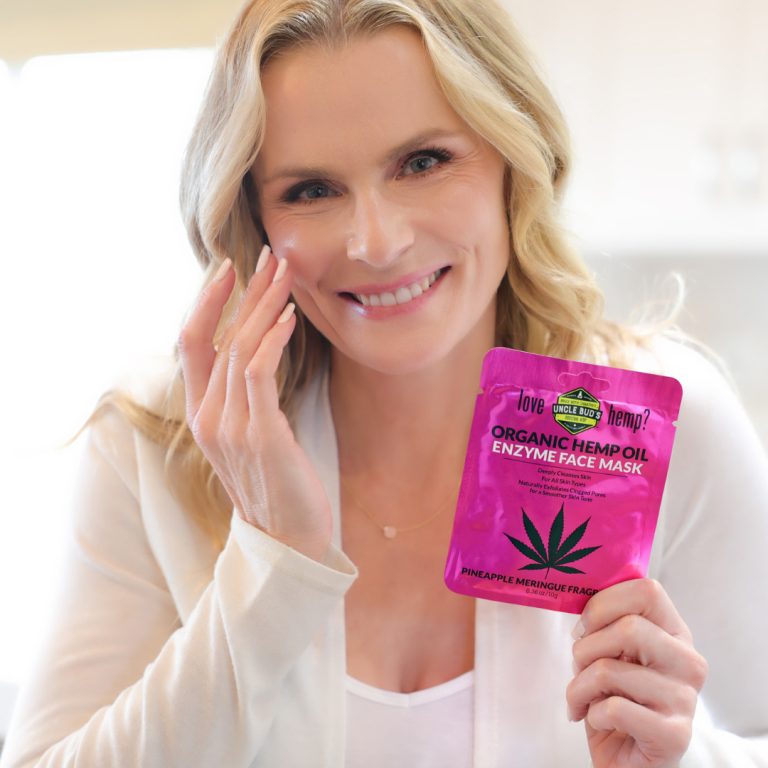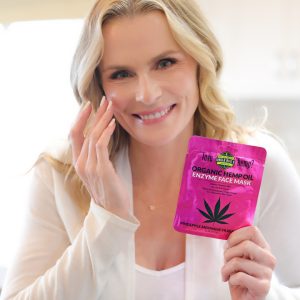 How to Use Hemp & CBD Face Masks
Face masks are applied using your fingertips to create an even layer of cream or clay over your face and left to sit for a period of time. While the layer of clay is in contact with your face, the ingredients infuse the skin, delivering moisture, nutrients, and focused therapy to the skin. After the therapeutic clay has done its work, it is washed off and dried, leaving the skin hydrated and rejuvenated.
Face masks are popular both they are not just a relaxing self-care ritual, they are effective. Face masks keep the clay or cream kept in close contact with your facial skin for a longer amount of time, letting the therapeutic ingredients penetrate deep into the layers quickly. The mask infuses the facial skin with rejuvenating elements while trapping moisture inside the skin to create greater hydration or exfoliation– depending on the mask's purpose. 
Uncle Bud's Hemp & CBD Face Masks
If you are ready to discover the benefits of Hemp and CBD clay face masks and make these luxurious self-care products part of your beauty routine, then you've come to the right place. Uncle Bud's Hemp specializes in premium quality clay face masks made from hemp seed oil and pure CBD oil. Our popular line of clay face masks uses only the purest and most nutrient-rich hemp seed oil available. All our premium Hemp and CBD clay face masks use a proprietary formula of pure hemp seed oil combined with other nourishing ingredients for maximum therapeutic benefits for your skin. Uncle Buds also offers mask gift sets you can get many of our most popular masks at exclusive discounts.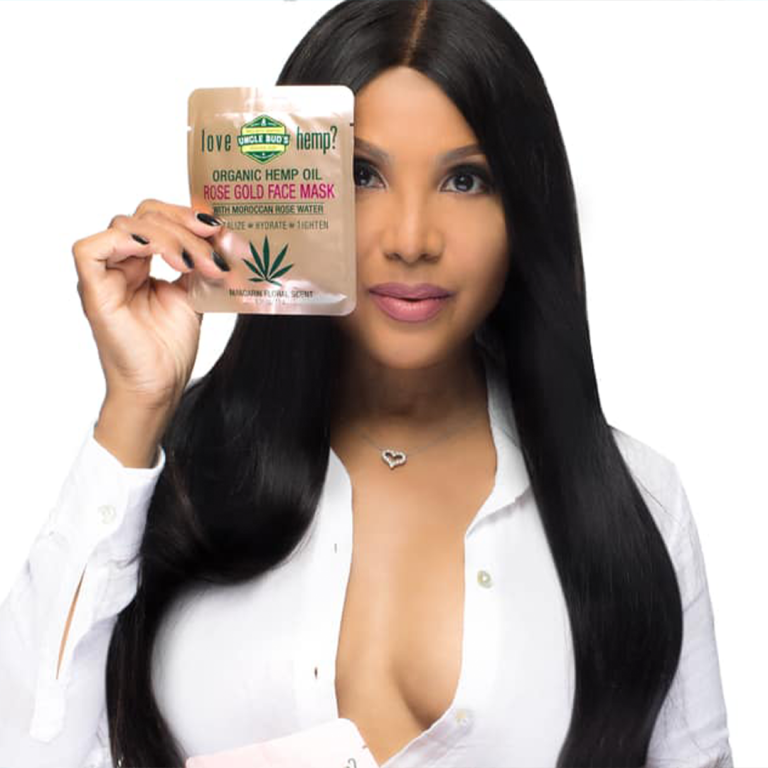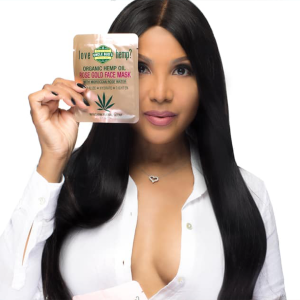 starting at only $2.50
Uncle Bud's wide selection of hemp and CBD clay face masks provide advanced moisturizing and nourishing skin therapy for a healthy complexion and beautiful skin. Every face is unique, so we offer 20 different clay face masks with unique and specialized ingredients.  Try one or try them all – one is bound to be the perfect beauty care product for your face! 

The 5-day hemp face mask kit includes 5 specialized masks designed to renew your skin's health and beautify your complexion with rejuvenating ingredients.
Face Mask Kit Includes:
1x  Hemp Rose Water Face Mask
1x  Hemp Moisturizing Rice Milk Face Mask
1x  Hemp Matcha Anti-Aging Face Mask
1x  Hemp Vitamin C with Tibetan Seabearry Face Mask
1x  Hemp AHA Exfoliating Face Mask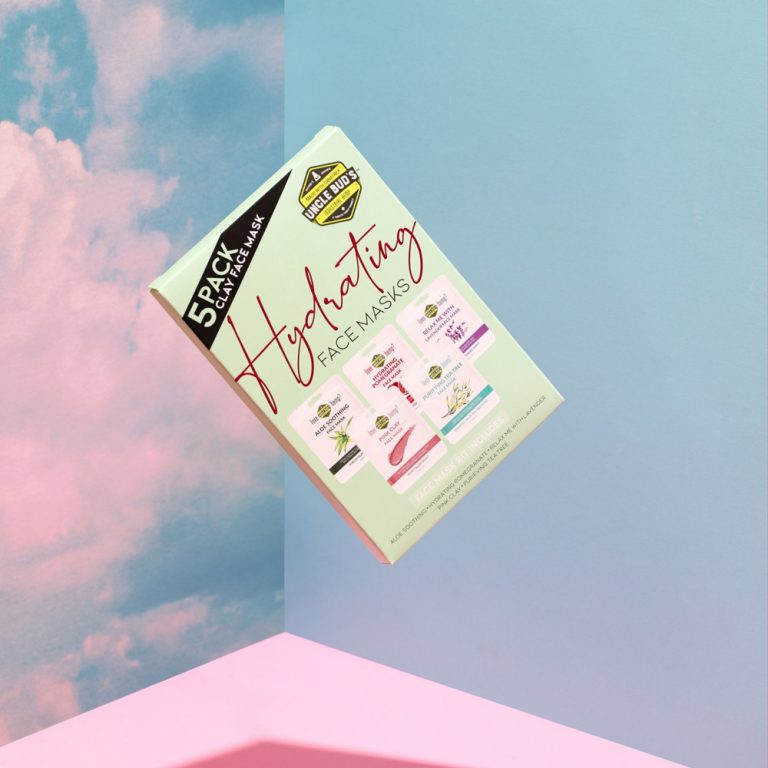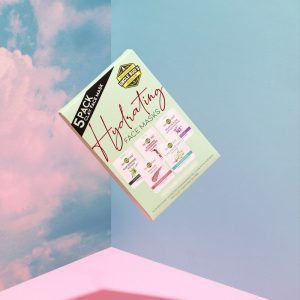 The 5-day hemp face mask kit includes 5 specialized masks designed to deeply hydrate your skin and restore essential moisture.
Face Mask Kit Includes:
1x  Hemp Aloe Soothing Face Mask
1x  Hemp Hydrating Pomegranate Mask
1x  Hemp Relax Me with Lavender Face Mask
1x  Hemp Pink Clay Face Mask
1x  Hemp Purifying Tea Tree Face Mask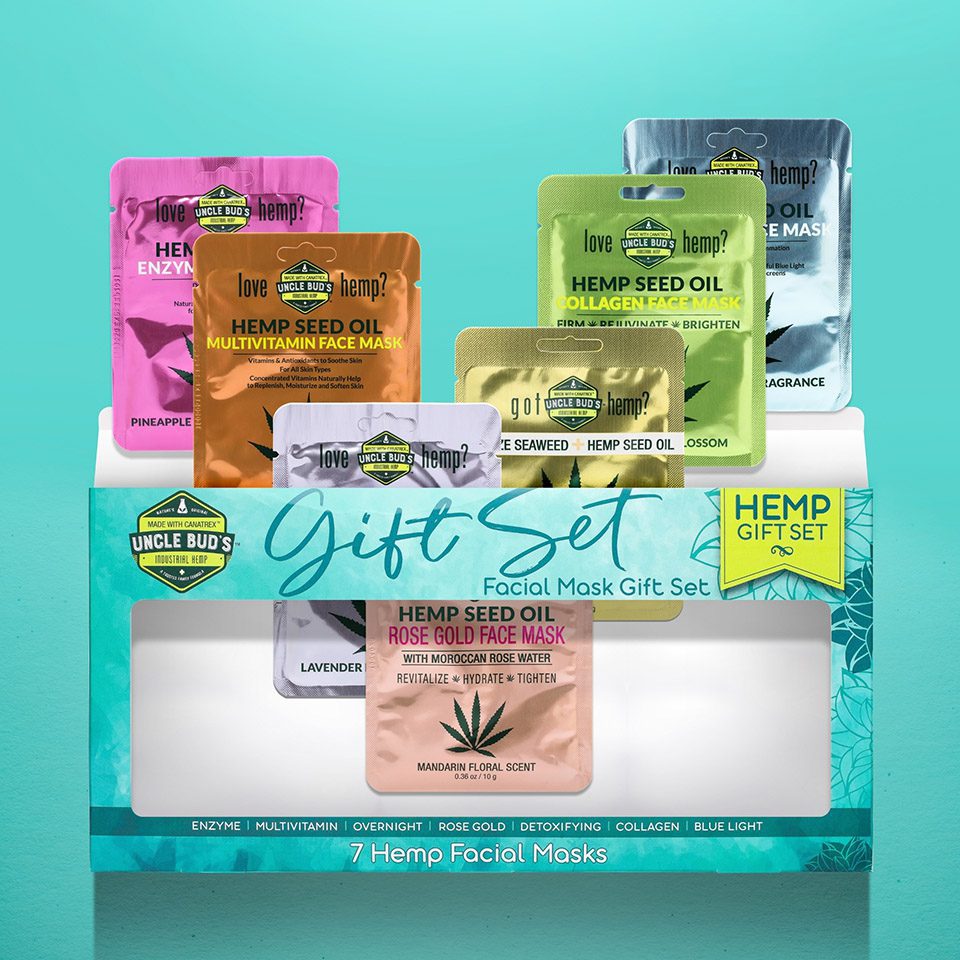 Several of our most popular hemp masks – all in one exclusive gift box! This face mask gift box features 7 unique hemp face masks, each infused with rejuvenating ingredients, exotic herbal extracts, and specialty supplements to restore moisture and youth to your skin. This exclusive gift box features a sumptuous sampling of our face mask collection – seven of our unique face mask varieties. 
Gift Box Includes 7 Unique Masks:
1x Collagen Hemp Face Mask
1x Rose Gold Hemp Face Masks
1x Detoxify Hemp Face Mask
1x Blue Light Hemp Face Mask
1x Overnight Hemp Face Mask
1x Multivitamin Hemp Face Mask
1x Enzyme Hemp Face Mask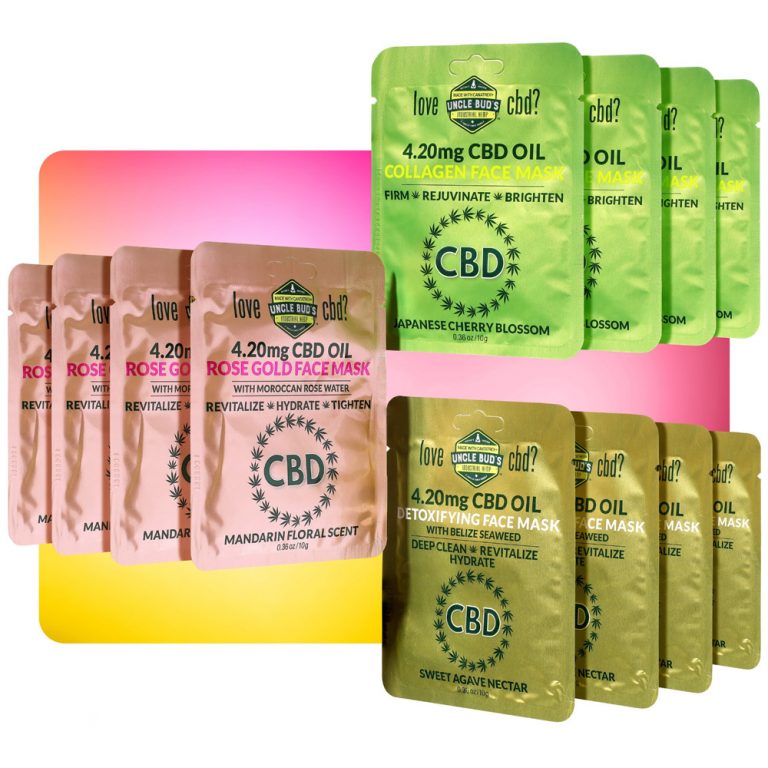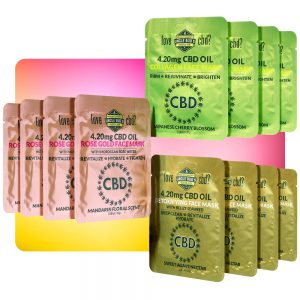 With this special set of 12 CBD face masks, you get a sampling of all our popular CBD masks. Each clay face mask is formulated with CANATREX Plus™, Uncle Bud's proprietary CBD-infused formula of hemp seed oil plus a 4.20mg infusion of pure CBD. Our popular CBD face masks are perfect for all skin types and are full of antioxidants and other skin-nourishing supplements.
Gift Set Includes 12 CBD Masks:
4x CBD Rose Gold Face Mask
4x CBD Collagen Face Mask
4x CBD Detoxifying Face Mask
---
Uncle Bud's Hemp has built its reputation on creating and selling high-quality, pure, premium Hemp-derived products. Our Hemp and CBD products are lab tested to ensure purity, potency, and quality.
The CBD content in milligrams is listed on every product label. While we can ensure the purity and maximum-strength potency of our proprietary CBD oil, we make no medical or therapeutic claims on any CBD product. Uncle Bud's avoids medical or therapeutic claims in order to maintain complete integrity, transparency, and trust with our customers.
All Uncle Bud's Hemp products are proudly made in the USA.
Disclaimer:
UncleBudsHemp.com articles are intended to provide helpful and informative content about the benefits of Hemp Seed Oil and CBD products.  Readers are advised to do their own research and make decisions in partnership with their health care provider. Nothing you read here should be relied upon to determine a course of treatment for any medical issue. All content found on the UncleBudsHemp.com website, including text, images, audio, or other formats were created for informational purposes only. Uncle Buds makes no claims as to the medical efficacy of any products. The site and its content are provided on an "as is" basis.