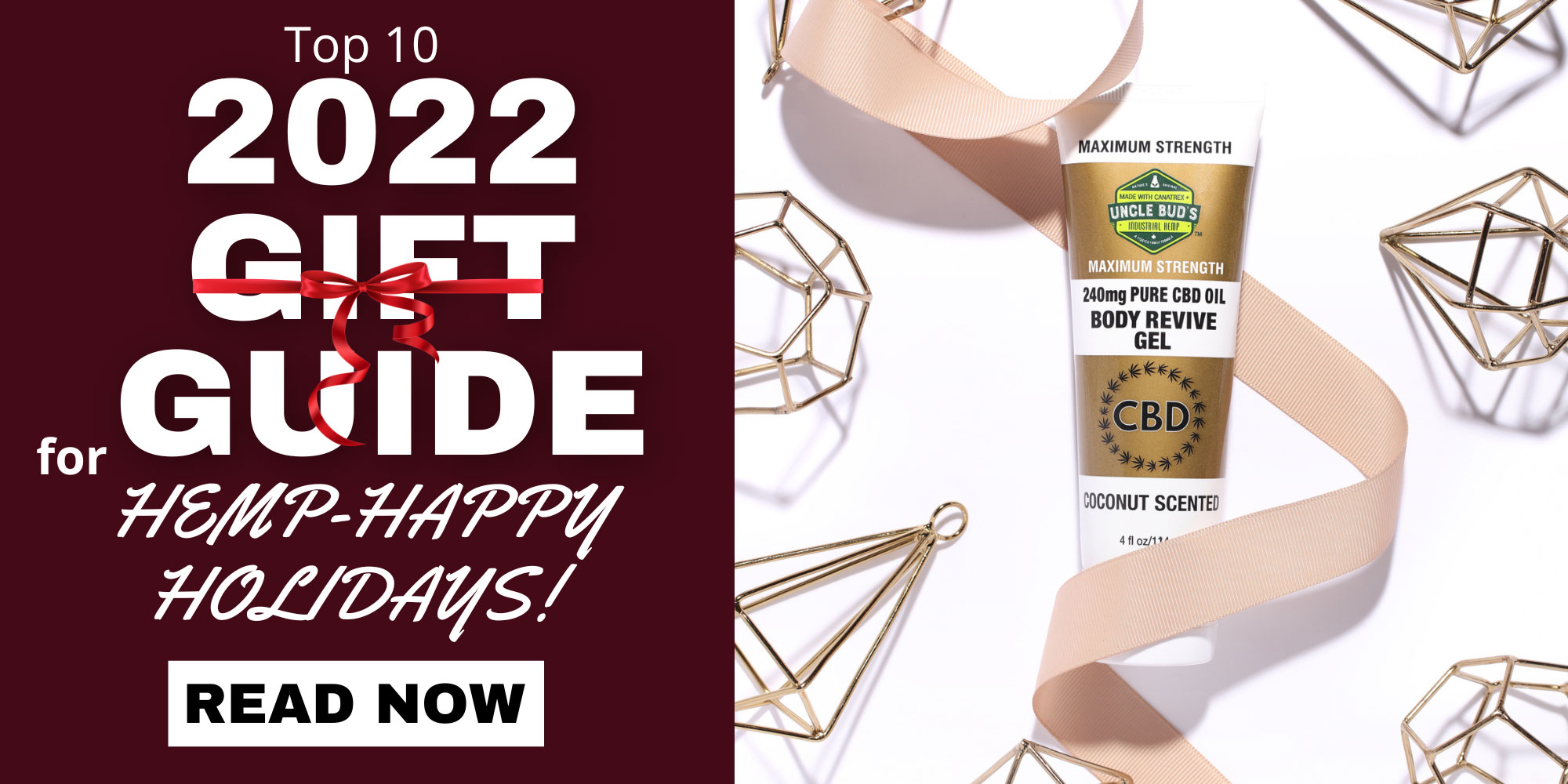 Hemp-Happy Holidays!
Spread the cheer with our Top 10 Hemp and CBD gifts.
Table of Contents
9. No More Aches and Pains Gift Pack
6. CBD Body Revive Roll-On Gold Box
Hemp & CBD Holiday Gifts
'Tis the season to be jolly, with some help from the very best holiday hemp products from the Uncle Bud's workshop. We've collected our top ten holiday products so you can spread some serious holiday cheer and warm winter good vibes with unique self-care products made from premium hemp and CBD.
Our Top 10 has something for everyone on your holiday list and includes many of our best-selling and most beloved hemp and CBD favorites. Make sure everybody on your list has a hemp-tastic holiday, with unique hemp and CBD gifts for every type and taste, and don't forget to get something for yourself when picking up the perfect hemp-inspired holiday gift. Here are our Top 10 hemp and CBD products which make great gifts for the 2022 holiday season:
---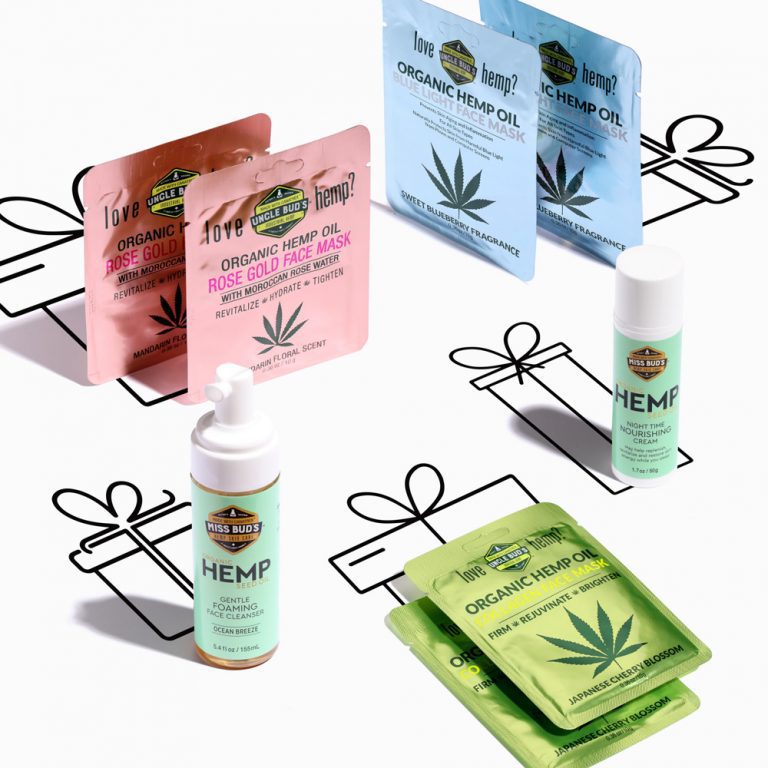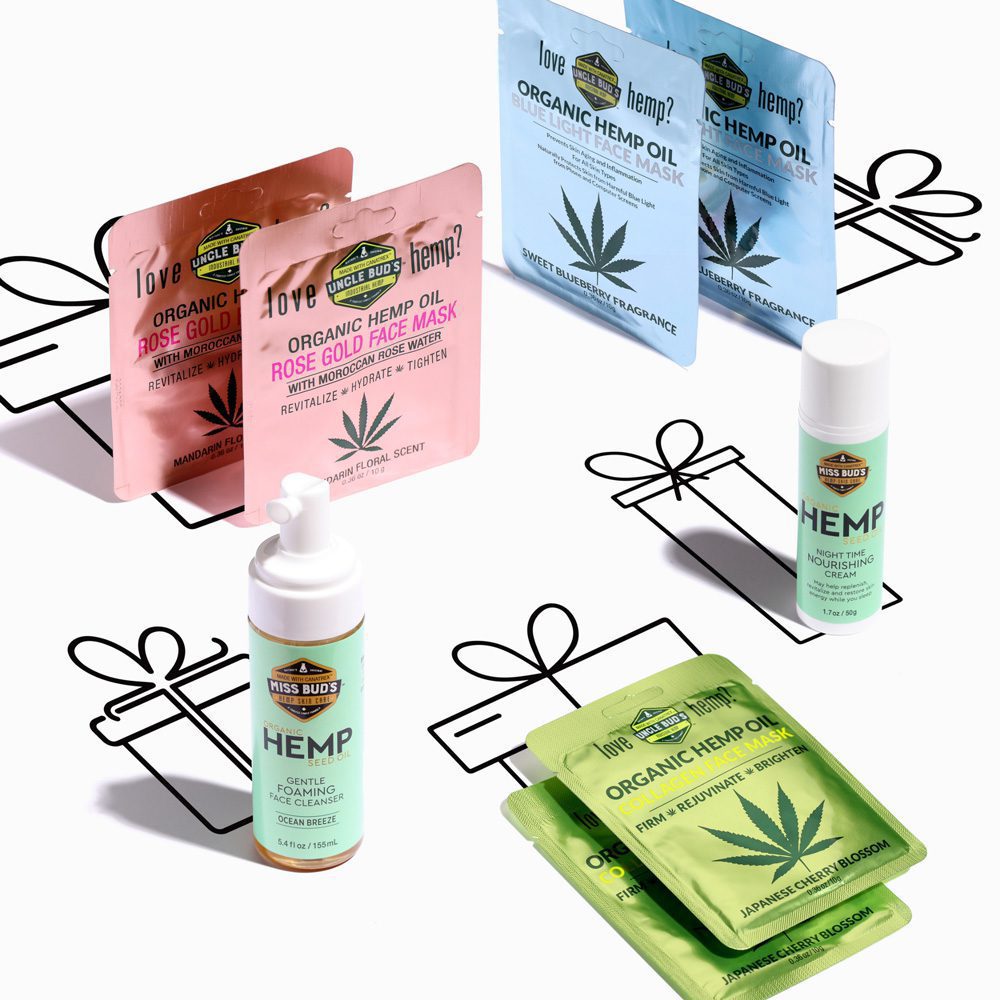 Our top ten list begins with the perfect gift set to face the holidays beautifully. Our Hemp Facial Care Set includes a sumptuous sampling of our signature facial care products to moisturize and help beautify your complexion. Our popular face-care line of products is on full display in this skin-rejuvenating gift pack that has everything you need for healthy and radiant skin.
Give your face the ultimate pampering with a unique gift set that includes several of our best-selling hemp facial care products, including a foaming cleanser, night cream, and clay face masks. Cleanse with our gentle foaming face cleanser, nourish with our rich night-time nourishing cream, and hydrate and rejuvenate with our premium hemp clay face masks. Each product is specially formulated to help moisturize, nourish, and beautify the delicate skin of your face.
---
Don't let the holidays become a pain. Uncle Buds has you covered with our signature pain relief gift pack, which features two of our most popular recovery solutions. This popular gift pack comes with one Hemp Topical Pain Relief Cream and one Roll-On Pain Relief. Apply these topical creams to the skin near any area affected by pain, stiffness, or soreness. The light, coconut-scented cream absorbs quickly, leaving no residue and working quickly. Hemp Pain Relief can be used after a round of golf, walking the dog, or before going to bed.
---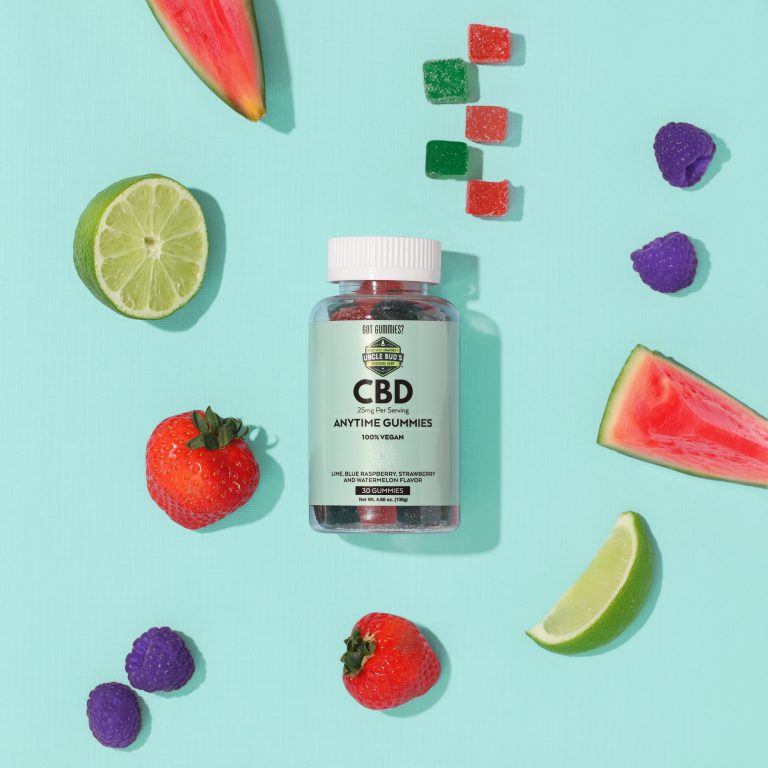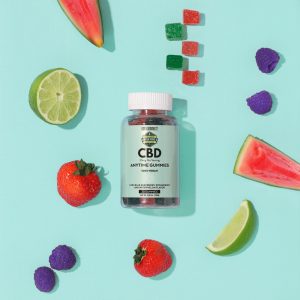 Nothing brings smiles and holiday cheer like CBD gummies! These tasty gelatinous CBD treats come in a variety of fun shapes, cool colors, and yummy flavors. They're perfect for on the go or at home, anytime you need some sweet and chewy CBD-goodness.
Uncle Bud's CBD Anytime Gummies are infused with 25mg of CBD per serving. Anytime Gummies are made with 100% vegan ingredients and include a variety of fruit flavors including lime, blue raspberry, strawberry, and watermelon. Take Uncle Bud's CBD Anytime Gummies in the morning, after a long day of work, before a workout, or whenever you desire. Each gummy serving contains 25mg of pure CBD oil.
---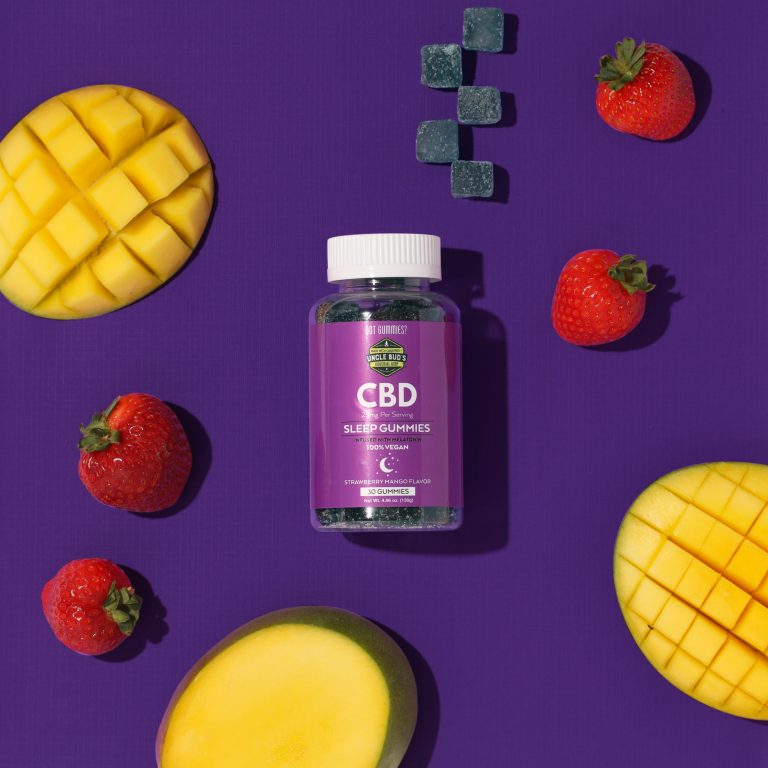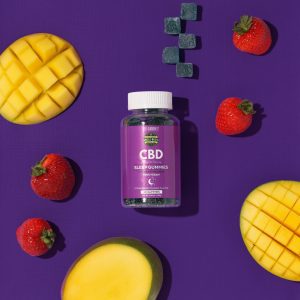 Ready to settle down for a long-winter's nap? Another special gummy is next on the list. CBD Sleep Gummies are the perfect bedtime ingredient for every day, Christmas Eve, New Year's Eve, or any Eve. These strawberry-mango-flavored gummies are specially formulated with Melatonin, a well-known herbal ingredient associated with sleep and relaxation.
CBD Sleep Gummies are soft gelatin chewables that taste great and include Melatonin as a sleep aid. Each gummy delivers an infusion of our proprietary CBD formula, plus Melatonin and other ingredients. These gummies are perfect for your bedtime routine, infused with 2mg of melatonin and 25mg of CBD per serving. Our Sleep Gummies are made with 100% vegan ingredients and have a tasty strawberry-mango flavor. Each bottle contains 30 gummies and 750 mg of premium CBD oil.
---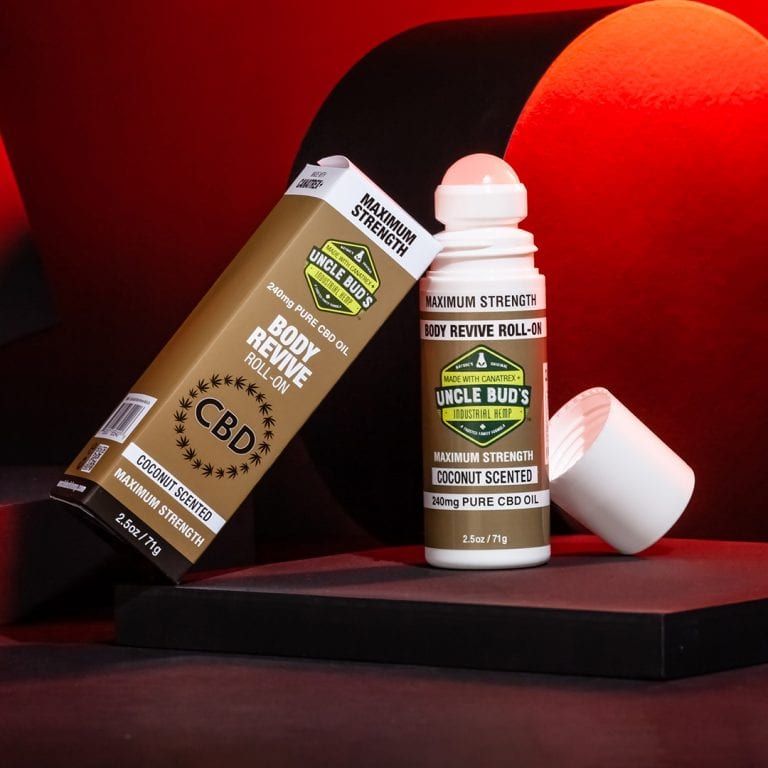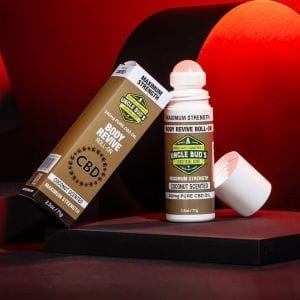 Put the sparkle of a little holiday gold in your stocking with Uncle Bud's CBD Body Revive Roll-on. Our gold-box line of topical solutions is Uncle Buds' strongest line of recovery products, with a maximum-strength infusion of CBD oil. Topical recovery solutions are rubbed onto the skin over areas in need of recovery including the muscles, joints, knees, back, hands, and feet.
Uncle Bud's CBD Body Revive Roll-On is a maximum-strength recovery solution that uses a no-mess roll-on applicator that glides on smoothly, without any hassle or residue. Uncle Bud's quick-absorbing gold label roll-on is coconut scented and infused with 240mg of CBD oil.
---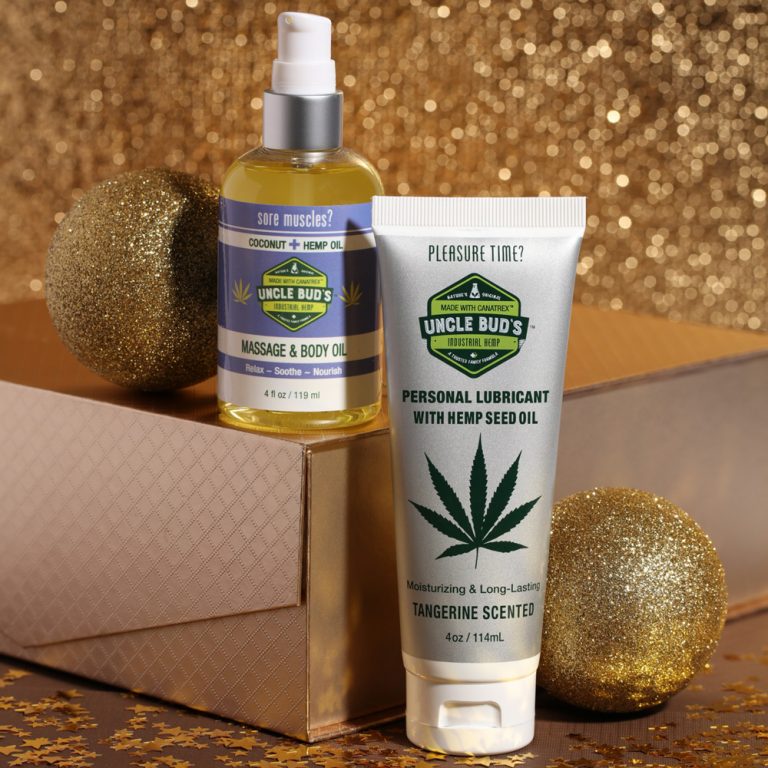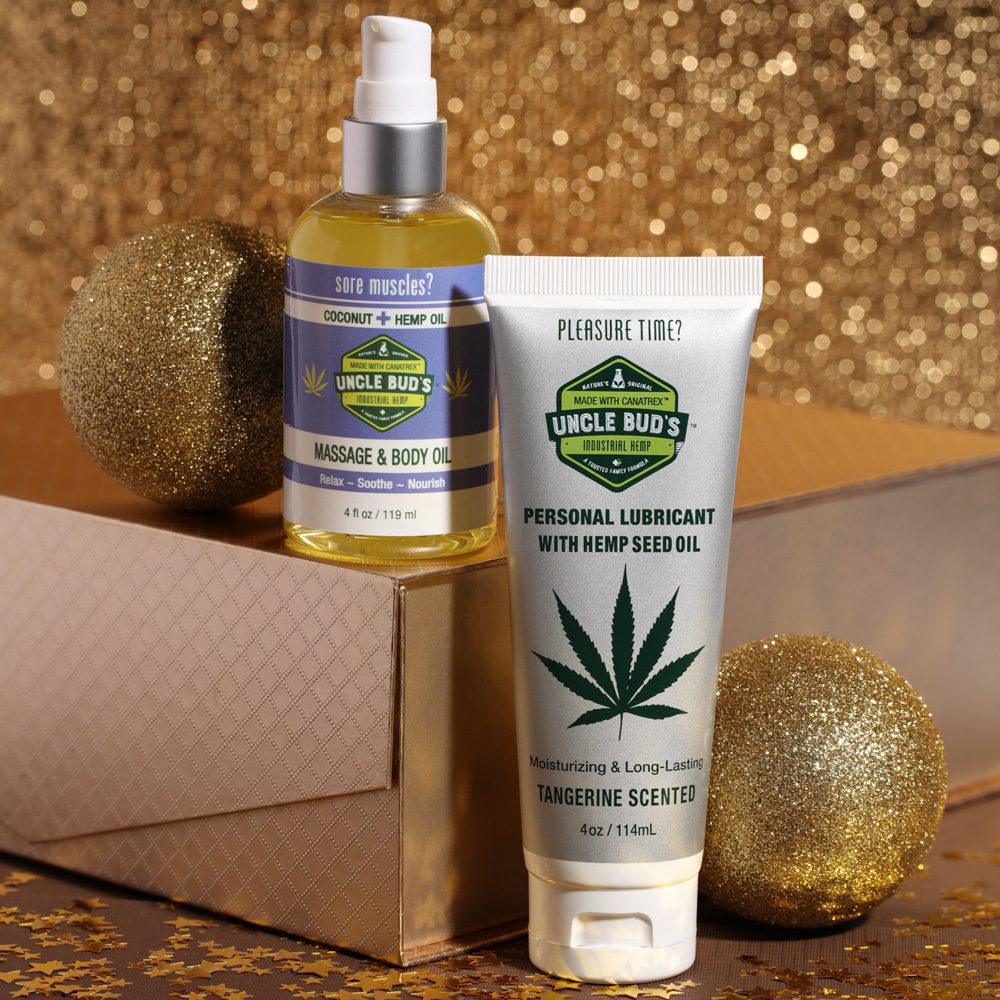 Even if it's cold outside, you'll definitely start a fire in the fireplace and heat up the holidays with our Hemp Pleasure Gift Pack. An unforgettable romantic winter evening is waiting for you and yours when you try the sensuous Hemp massage oil along with our premium personal lubricant – together in one exclusive gift pack. This hemp pleasure pack is designed with lovers in mind. It's the perfect ingredient for an evening of cozy holiday romance that might just put you on the naughty list.
The Hemp Pleasure Gift pack features two hemp products designed for seriously sensuous pleasure: one coconut-scented Hemp Massage & Body Oil, plus one tangerine-scented Hemp water-based Personal Lubricant.
---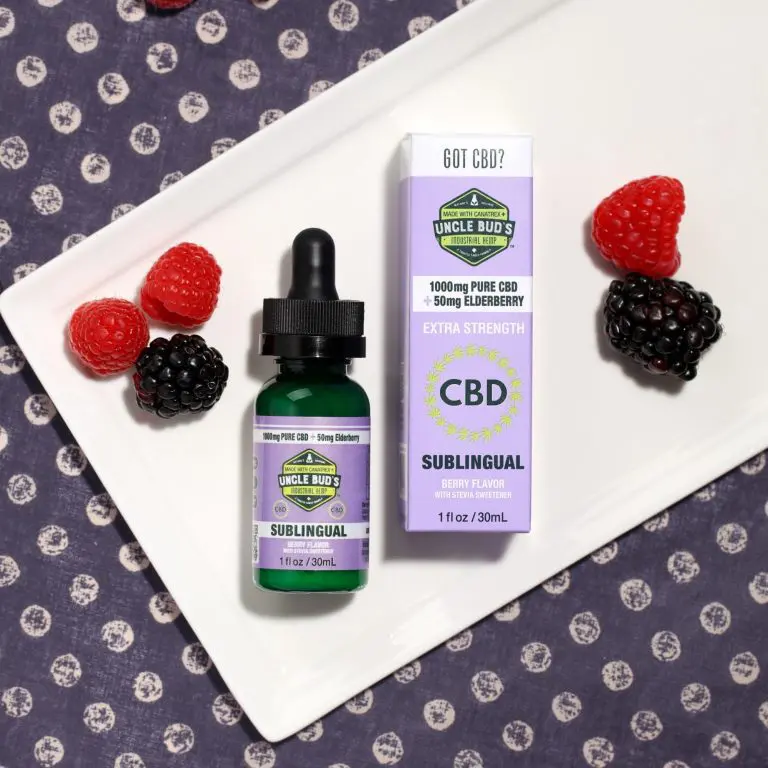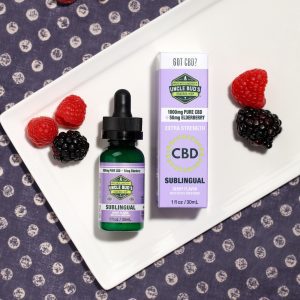 Forget about the holly berries, this CBD Sublingual tincture includes 50mg of Elderberry extract. Elderberries are packed with antioxidants and vitamins, and Elderberry is thought to boost the immune system and is associated with relaxation.
Uncle Bud's CBD Sublingual with Elderberry combines pure CBD oil with Elderberry and makes the perfect stocking stuffer. Each bottle of tincture contains 1000mg of CBD Oil and 50mg of Elderberry in each 1-ounce bottle. Take one full dropper around bedtime as part of an evening relaxation routine. You can also mix sublingual into a beverage or food. Uncle Bud's CBD Sublingual with Elderberry has a berry flavor with stevia sweetener.
---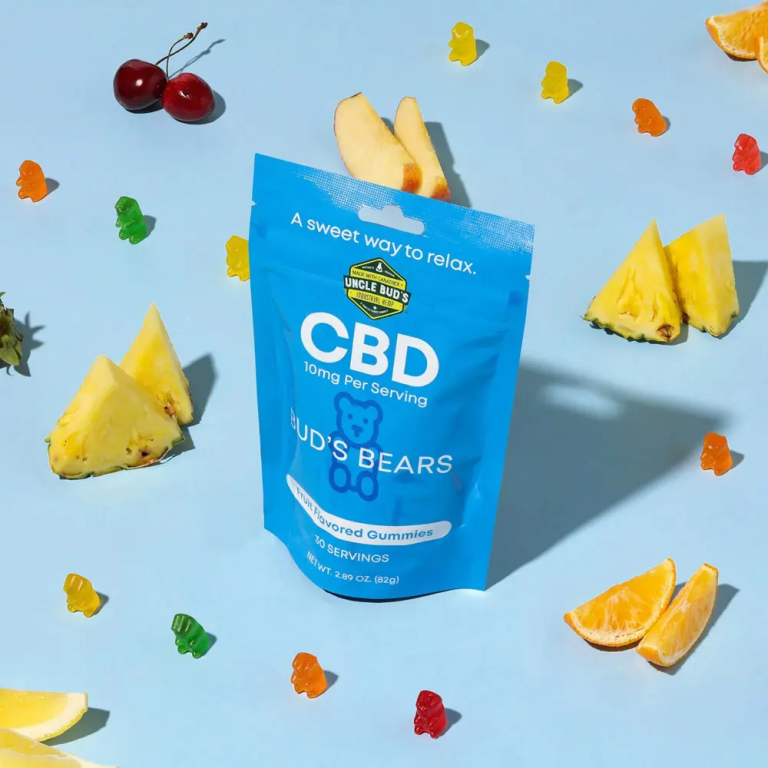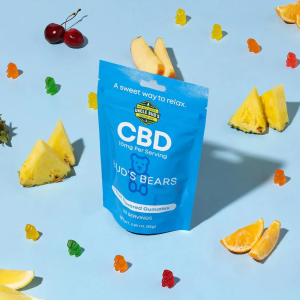 These cute and cuddly CBD bear gummies make the top 3 holiday products as the newest members of the Uncle Bud's edibles family. These colorful bears make an un-bearably adorable gift and are made from deliciously chewy flavored gelatin for an anytime CBD treat.
Uncle Bud's Calming CBD Bears come in a variety of fruit flavors and are designed with relaxation in mind, perfect for anyone looking to add a little sweet relaxation to their wellness routine. When it's time for a relaxing CBD treat, just pop one of these colorful and cute bears that come in six fun flavors: Pineapple, Lemon, Tangerine, Apple, Cherry, and Strawberry.
---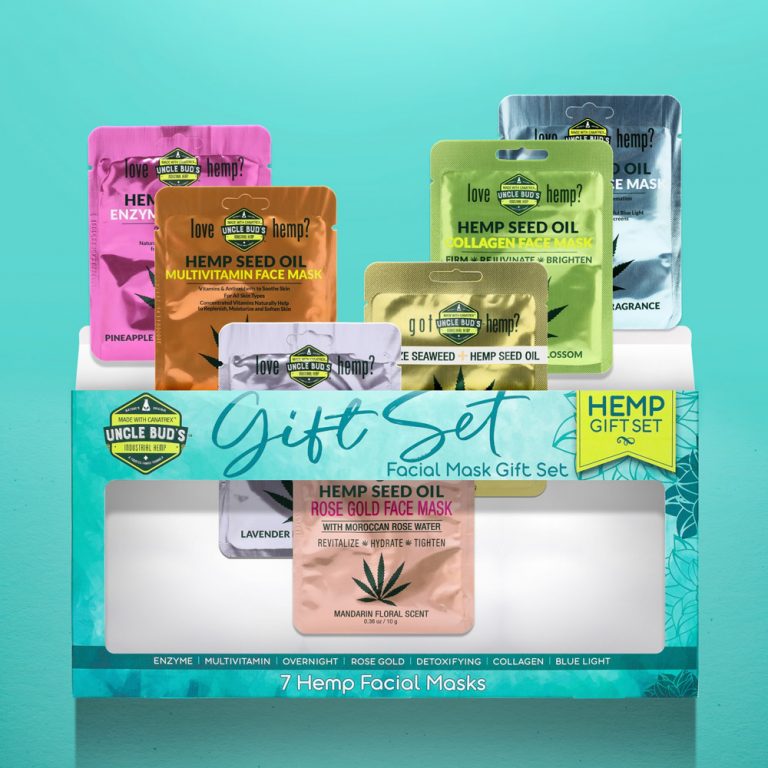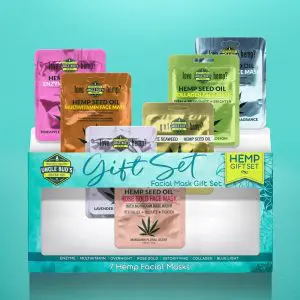 Uncle Bud's signature clay face masks lead our best-selling hemp beauty, product family. This face mask gift set comes in an attractive display box and features 7 unique hemp face masks. Each clay face mask is infused with rejuvenating ingredients, exotic herbal extracts, and specialty supplements to restore moisture and youth to your skin. This exclusive gift box features a sumptuous sampling of our complete face mask collection – with seven of our unique face mask varieties.
Gift Box Includes:
1x Collagen Hemp Face Mask
1x Rose Gold Hemp Face Masks
1x Detoxify Hemp Face Mask
1x Blue Light Hemp Face Mask
1x Overnight Hemp Face Mask
1x Multivitamin Hemp Face Mask
1x Enzyme Hemp Face Mask
---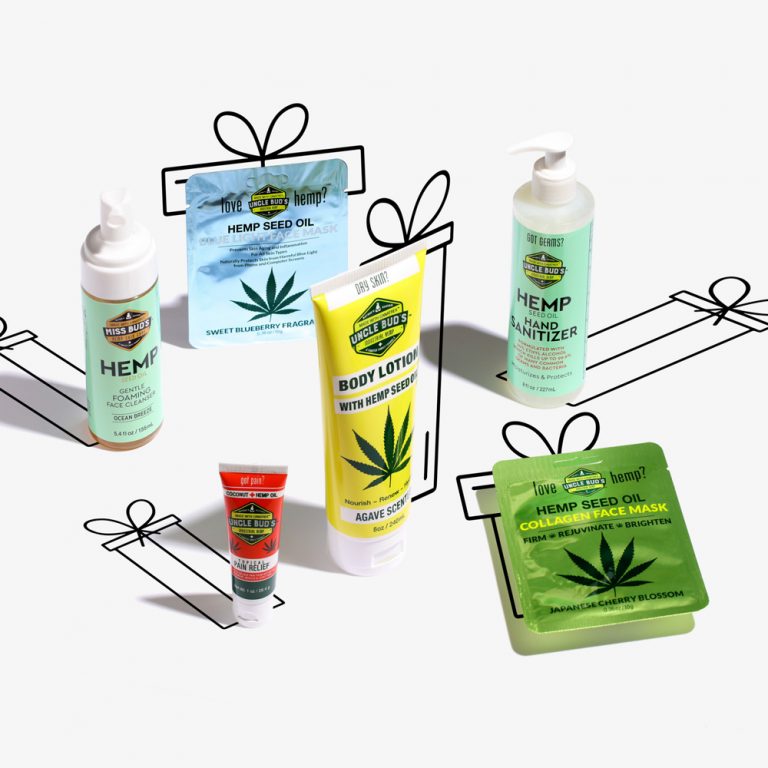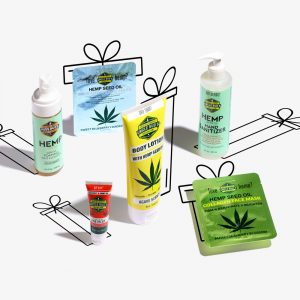 Crafting premium CBD solutions is what made Uncle Bud's famous, so it's no surprise that our CBD Variety Pack takes the top spot in our 2022 gift guide for the holidays. It has a little of everything and is sure to please any CBD wellness enthusiast.
Uncle Bud's CBD Variety Gift pack features a broad sampling of our most popular CBD products – all made with pure CBD oil. It's the perfect way to explore the great variety of CBD wellness products and find the one that's right for you. CBD can enhance almost any wellness product and this gift pack has it all.
Gift Pack Includes:
1 X Uncle Bud's Maximum Strength 120mg CBD Body Revive Balm
1 X Uncle Bud's 4.20mg CBD Rose Gold Face Mask
1 X Uncle Bud's 5mg CBD Peppermint Lip Balm
1 X Uncle Bud's 120mg CBD Coconut Body Wash
1 X Uncle Bud's 120mg CBD Hand & Foot Cream
---
Uncle Bud's Hemp has built its reputation on creating and selling high-quality, pure, premium Hemp-derived products. Our Hemp and CBD products are lab tested to ensure purity, potency, and quality.
The CBD content in milligrams is listed on every product label. While we can ensure the purity and maximum-strength potency of our proprietary CBD oil, we make no medical or therapeutic claims on any CBD product. Uncle Bud's avoids medical or therapeutic claims in order to maintain complete integrity, transparency, and trust with our customers.
All Uncle Bud's Hemp products are proudly made in the USA.
Disclaimer:
UncleBudsHemp.com articles are intended to provide helpful and informative content about the benefits of Hemp Seed Oil and CBD products.  Readers are advised to do their own research and make decisions in partnership with their healthcare provider. Nothing you read here should be relied upon to determine a course of treatment for any medical issue. All content found on the UncleBudsHemp.com website, including text, images, audio, or other formats were created for informational purposes only. Uncle Buds makes no claims as to the medical efficacy of any products. The site and its content are provided on an "as is" basis.