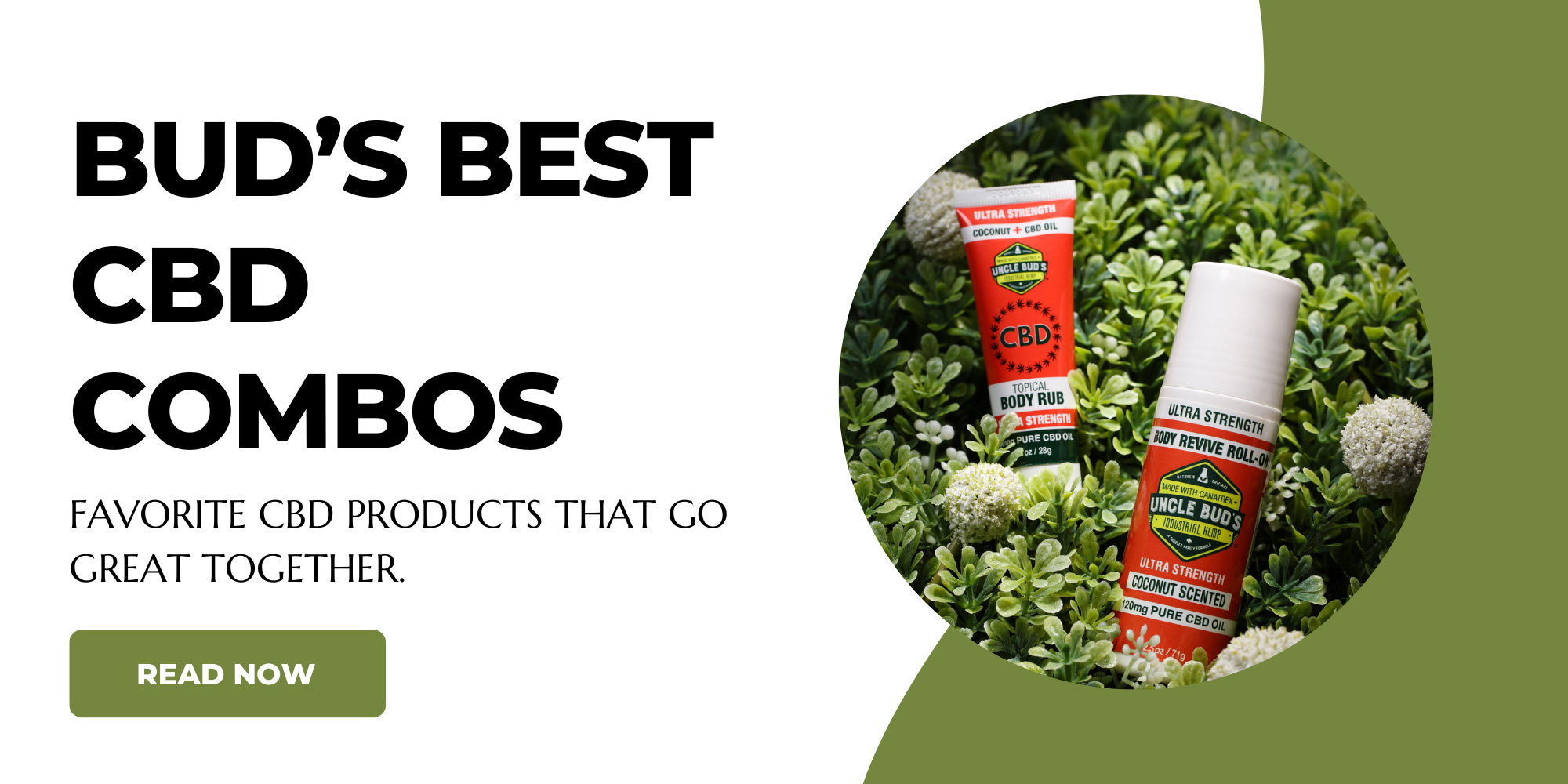 Favorite CBD products that go great together.
Table of Contents
Is it safe to use more than one CBD product at a time?
How much CBD can I safely take?
CBD Body Wash + CBD Body Lotion
CBD Massage Oil + CBD Personal Lubricant
CBD Topical Body Rub + CBD Body Revive Roll-On
CBD Lip Balm + CBD Body Lotion
Is it safe to use more than one CBD product at a time?
When it comes to CBD, is the more the merrier? We answer that question and more right here, in a conversation that's all about pairing up your favorite CBD products as part of a diversified wellness routine that incorporates different kinds of CBD products.
With many different families of CBD products, the ways you pair up CBD combo solutions are totally unique to you and your individual wellness needs. It could be combining a sublingual tincture with CBD skincare. Maybe it's CBD gummies paired with recovery solutions. The possible ways you can use CBD as part of your own wellness routine are endless, but there's one question you may have: Is it safe to use multiple CBD products at the same time?
CBD is an abbreviation for Cannabidiol, one of many naturally occurring compounds called cannabinoids found in the Cannabis Sativa or Hemp plant. Some strains of Cannabis are cultivated to contain THC, but CBD oil and Hemp oil come from a species of cannabis plant that has very little and close to zero THC (below 0.03%). Extracting and preparing the oil in a way that specifically isolates and concentrates the Cannabidiol produces a form of hemp oil called pure CBD oil. Pure CBD oil is added to various products ranging from sublingual tinctures to skin care products. Importantly, CBD oil contains very little or no THC. CBD is not a "lite" form of cannabis, nor will it produce any sort of psychoactive effect or "high".
While the potential health or therapeutic benefits are CBD are a field of ongoing study, CBD products are likewise legal to buy in the U.S.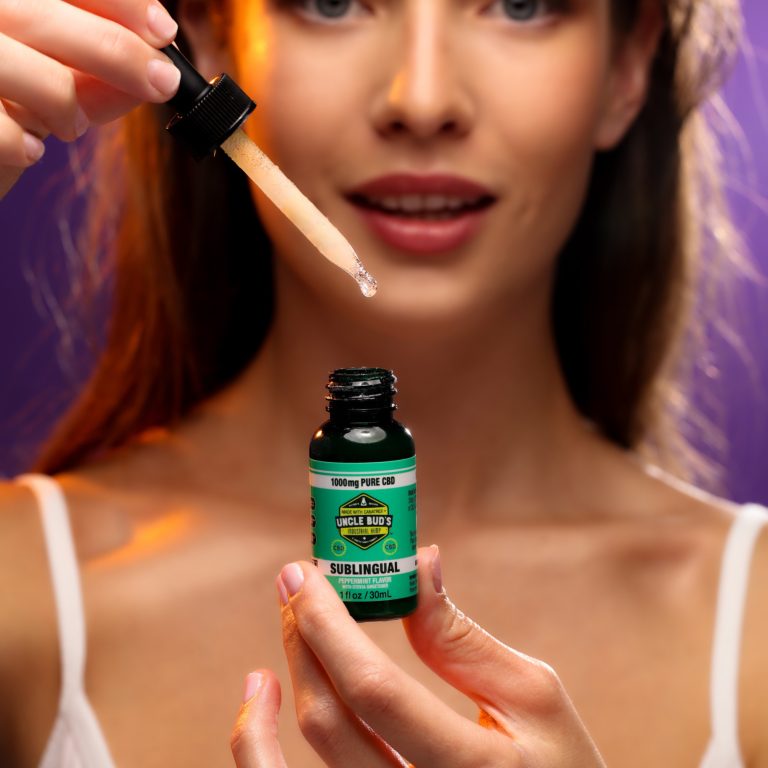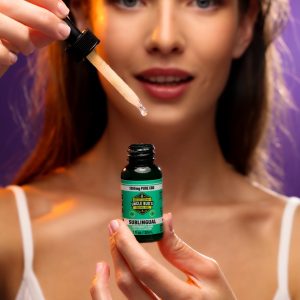 How much CBD can I safely take?
With any product, it's always best to follow the manufacturer's recommendations for proper dosage. This is true for everything, even products like vitamins and aspirin. Disregarding recommended dosages, and purposely taking too much of any product carries risks.
Most CBD products have small single and daily dosages in the tens of milligrams. You should always use CBD products responsibly, follow the recommended dosage amounts, and discontinue use if you feel any adverse effects. If you are on other forms of medication, consult with a medical professional about CBD use as part of your wellness routine. Always follow the recommendations on the product label to ensure a safe and satisfying CBD wellness experience.
---
Bath time is the perfect time to plunge into the wide variety of CBD skincare solutions. Whether it's a quick shower or a luxurious soak in the bath, CBD Body Wash pairs perfectly with CBD Body Lotion. Use them together to provide gentle cleansing followed up by intense moisturizing.
Cleanse, hydrate, and nourish your skin with this sumptuous bath time CBD combo featuring two premium CBD skincare solutions. Uncle Bud's CBD body wash has a light coconut scent, and our CBD body lotion has the fresh scent of agave. Full of vitamins and omegas, the CBD Body Wash and Lotion are infused with 120mg of pure CBD oil to invigorate your bath and shower time self-care routine.
---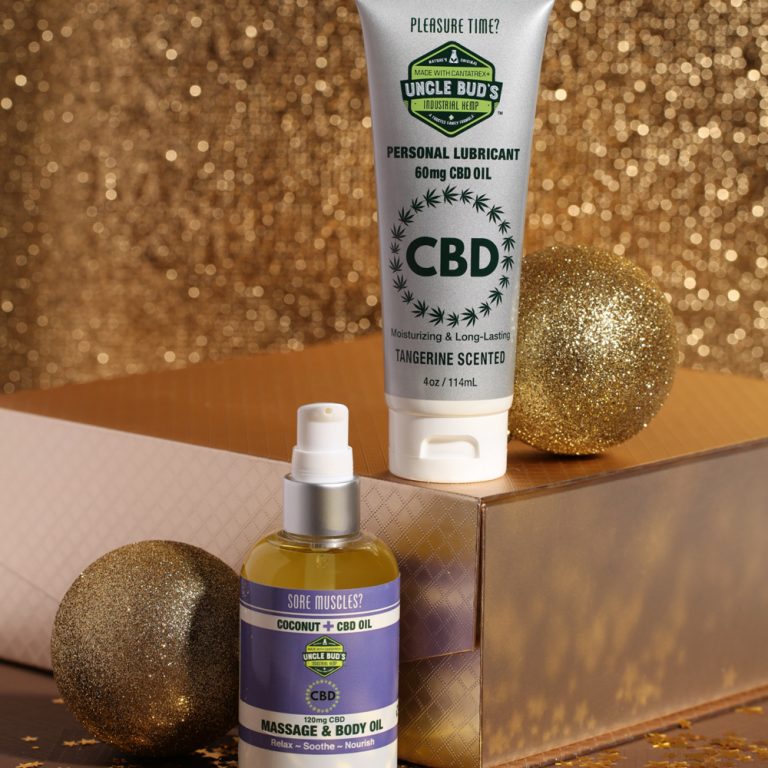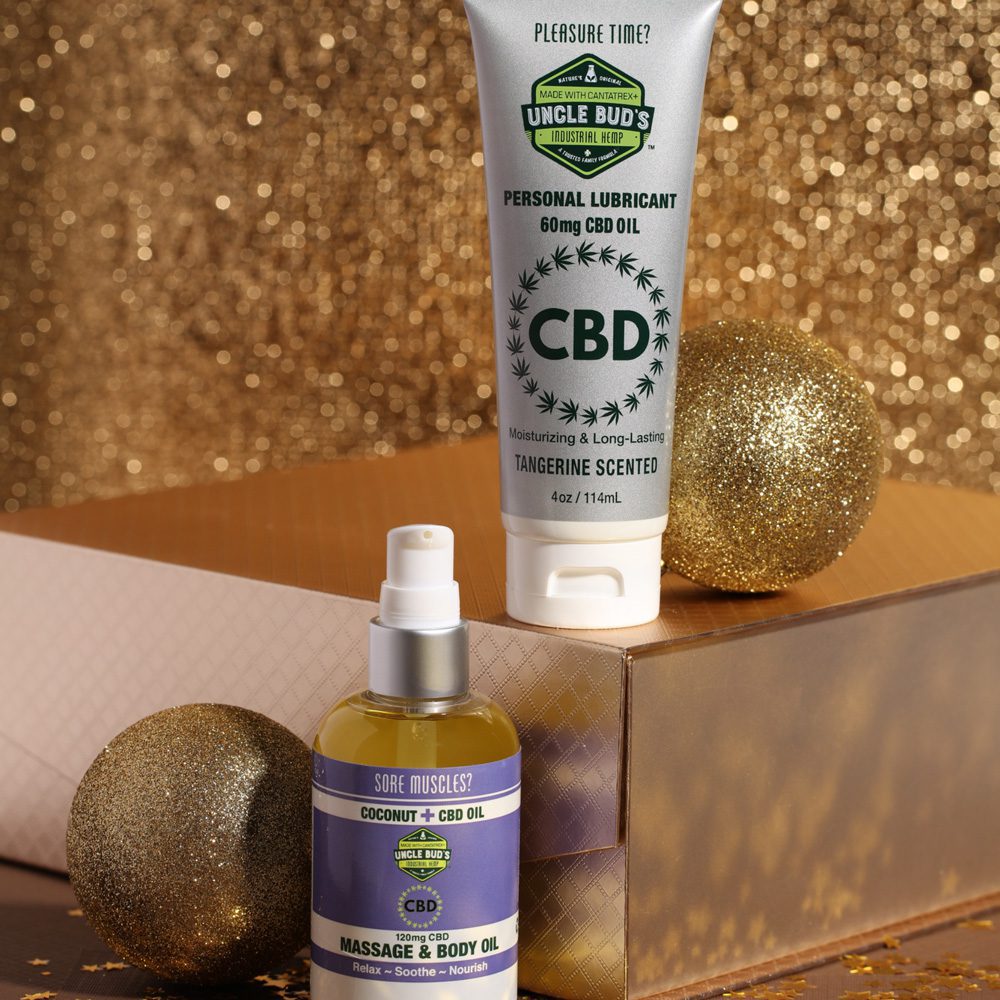 The skin is an excellent way to absorb therapeutic substances, especially if they are ingredients in intimate skincare produce like massage oil and personal lubricants. CBD is the perfect ingredient to add to a sensuous evening to elevate the excitement in this romantic combo featuring CBD Massage Oil plus CBD Personal Lubricant.
CBD massage oil is full of skin-nourishing ingredients combined with the added bonus of a pure CBD infusion that will take your sensual massage experience to the next level. CBD massage oil is unique from all other massage oils because of this infusion of CBD, which creates an exhilarating new massage experience. Use it to enhance a soothing and sensual massage that will leave the skin deeply hydrated, and the body infused with invigorating CBD.
For the same reasons CBD massage oil creates a uniquely sensuous massage experience, CBD personal lubricant does the same with intimacy – taking intimate moments to the next level of pleasure and excitement. CBD personal lubricant delivers the same benefits as a premium water-based personal lube, like smooth, friction-free lubrication with no mess or greasy residue. But CBD lube has one thing regular lubes don't – an exhilarating infusion of CBD, that will take your romantic romp to passionate new heights.
---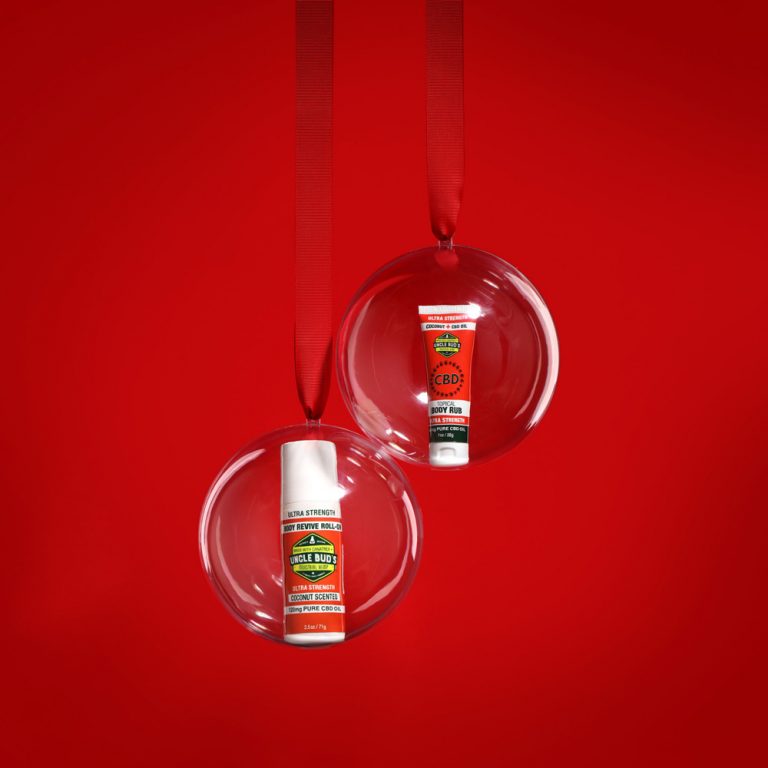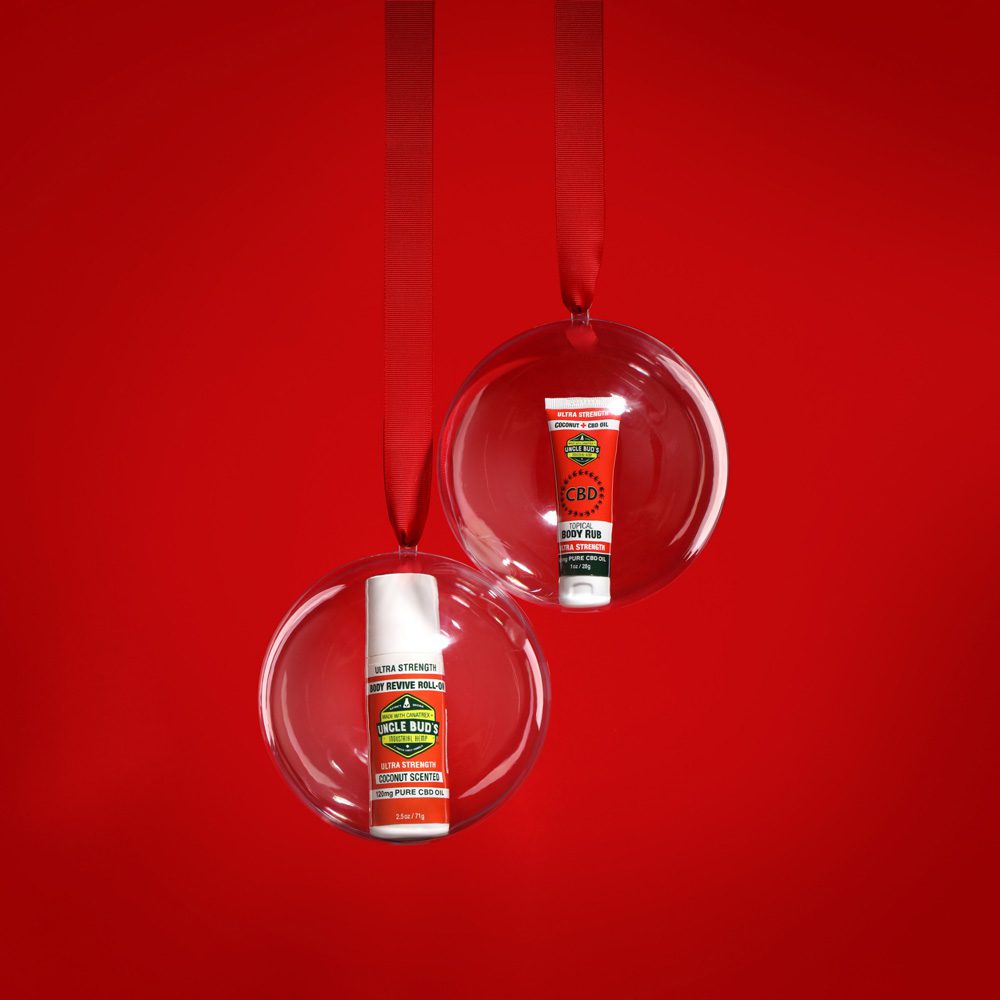 Topical recovery is a CBD category all its own. CBD topical products use proven soothing compounds plus CBD oil together to create powerful recovery solutions. CBD Topical solutions are applied to the skin around areas affected that need to be revived & recovered.
Two of Uncle Bud's most popular topical CBD solutions are our ultra-strength CBD Body Rub and CBD Body Revive Roll-On. The body rub is a rich cream while the roll-on uses a no-mess applicator to go on smoothly. This CBD combo pack comes with one of each and both products are infused with pure CBD oil, vitamins, and skin moisturizers. Apply these topical creams to the skin on the back, knees, arms, wrists, shoulders, forehead temples, hips, ankles, muscles, & joints. The light, coconut-scented topical creams absorb quickly and leaves no residue.
---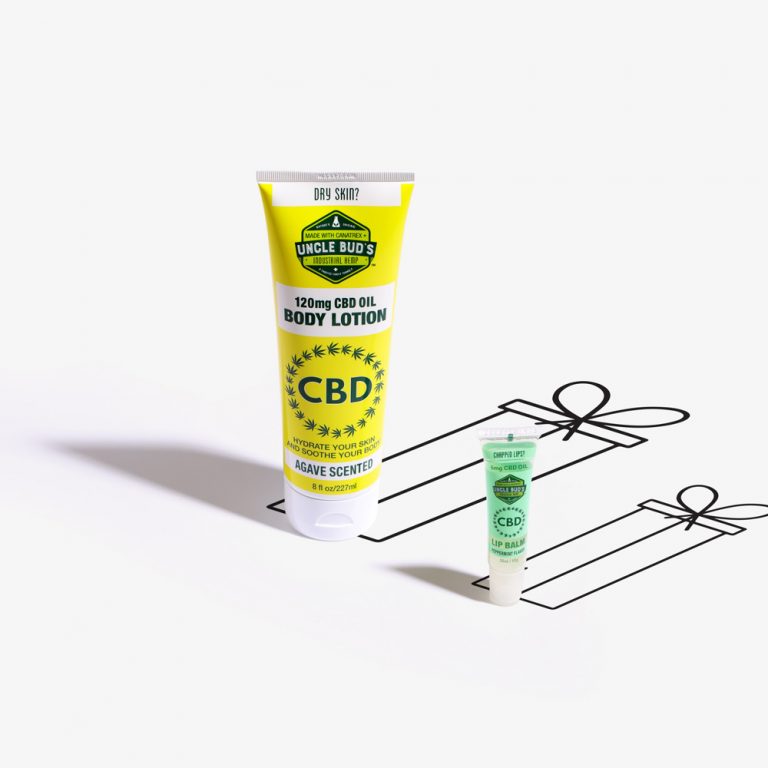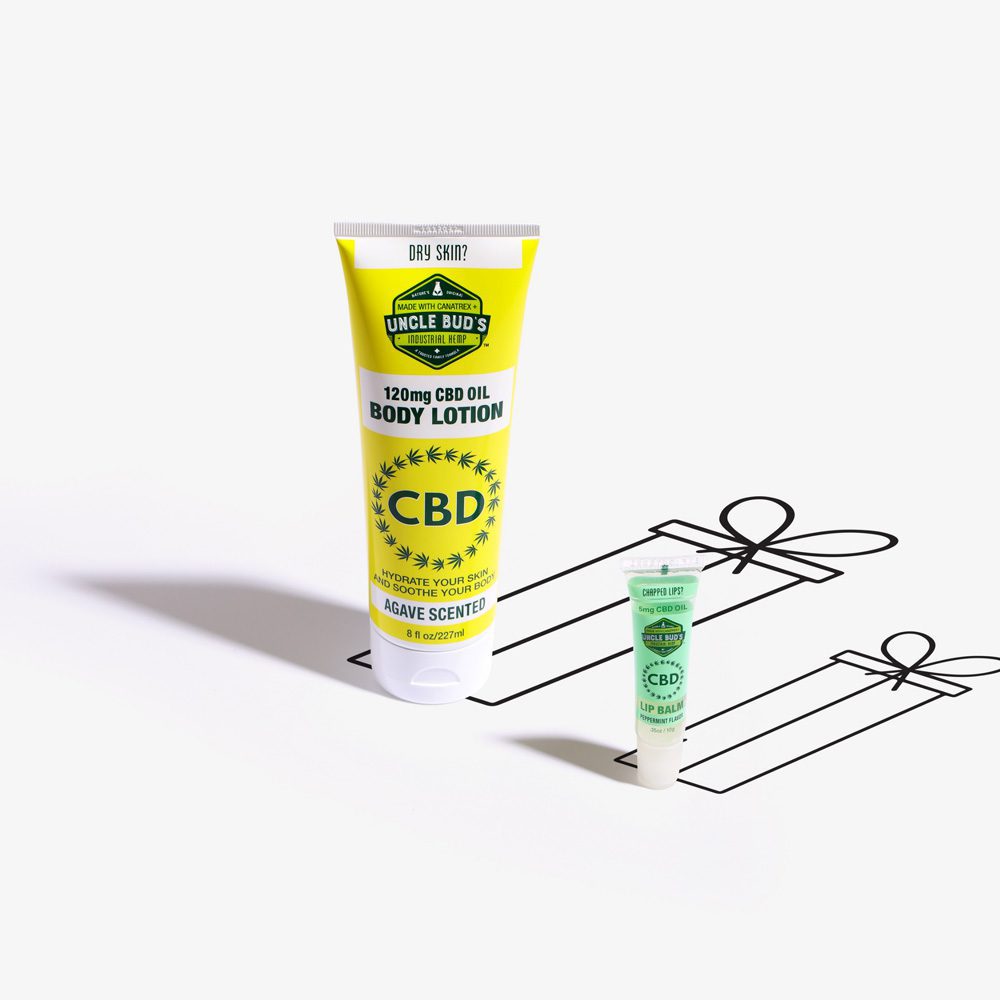 This pair of skincare products combine moisturizing skin protection with an infusion of CBD into one perfect dry skin care package. Prolonged exposure to the sun dries out your skin, depleting the natural oils and moisturizers that keep skin healthy. Your lips are especially vulnerable to dryness and chapping. Sun exposure also causes the skin to lose its elasticity, causing wrinkles that can worsen over years spent in the sun.
CBD Body Lotion helps to restore moisture that has been stripped away from your skin, and CBD Lip Balm will leave your lips wrapped in moisture. Infused with 5mg of CBD oil, the peppermint-flavored CBD Lip Balm delivers intense hydration to the delicate skin on your lips. The agave-scented CBD Body Lotion is infused with 120mg of CBD and completes this dry-skin package, delivering long-lasting hydration while leaving your skin soft and supple.
---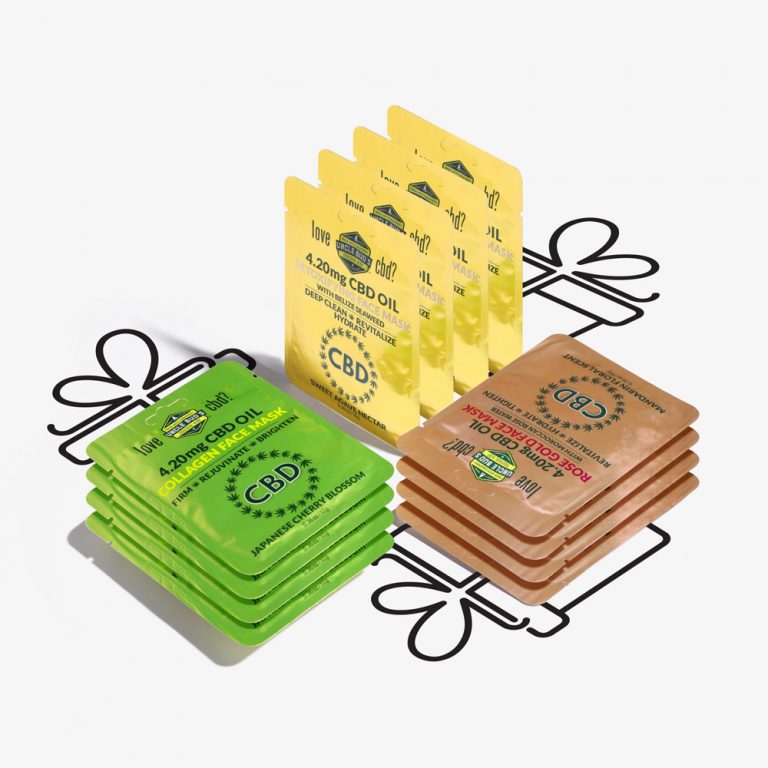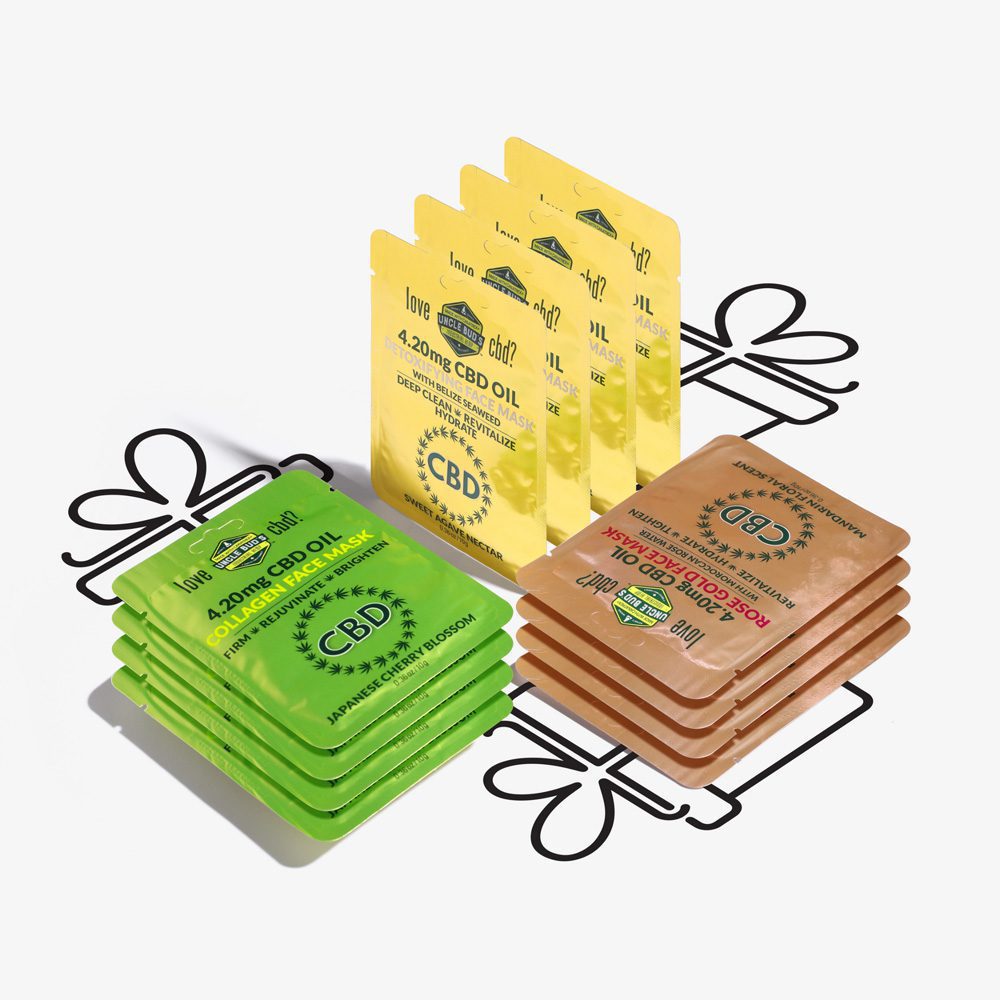 Detoxifying + Rose Gold + Collagen
CBD face masks are clay beauty masks that contain skin-benefitting ingredients such as moisturizers, cleansers, and antioxidants, but they also add an infusion CBD oil. CBD masks infuse the facial skin with rejuvenating elements and specialized compounds that moisturize, nourish, and beautify the skin in unique ways. Like traditional beauty masks, CBD clay face masks deliver intense cleansing, exfoliation, and hydration to the sensitive and delicate skin of the face, with the added benefit of an infusion of pure CBD oil. The presence of purified CBD oil is the key ingredient that makes CBD face masks different from other beauty masks. Each time you use a CBD mask your skin receives an infusion of pure CBD oil in addition to the other moisturizers and skin-nourishing ingredients found in hemp face masks.
This triple CBD combo features three popular CBD face mask varieties that all include a 4.20 mg infusion of pure CBD oil. The agave-nectar scented Detoxifying Face Mask delivers advanced moisturizing while helping to remove toxins and impurities from the skin. The Rose Gold CBD mask has a mandarin floral scent and uses Moroccan Rose Water to help balance your skin and open blocked pores. The Collagen CBD mask fortifies the skin with collagen to help minimize the look of lines and wrinkles and has a relaxing Japanese Cherry Blossom scent.
---
Uncle Bud's Hemp has built its reputation on creating and selling high-quality, pure, premium Hemp-derived products. Our Hemp and CBD products are lab tested to ensure purity, potency, and quality.
The CBD content in milligrams is listed on every product label. While we can ensure the purity and maximum-strength potency of our proprietary CBD oil, we make no medical or therapeutic claims on any CBD product. Uncle Bud's avoids medical or therapeutic claims in order to maintain complete integrity, transparency, and trust with our customers.
All Uncle Bud's Hemp products are proudly made in the USA.
Disclaimer:
UncleBudsHemp.com articles are intended to provide helpful and informative content about the benefits of Hemp Seed Oil and CBD products.  Readers are advised to do their own research and make decisions in partnership with their healthcare provider. Nothing you read here should be relied upon to determine a course of treatment for any medical issue. All content found on the UncleBudsHemp.com website, including text, images, audio, or other formats were created for informational purposes only. Uncle Buds makes no claims as to the medical efficacy of any products. The site and its content are provided on an "as is" basis.