If you are reading this, you've probably heard of hemp, the therapeutic supplement extracted from the Cannabis plant containing a special compound called Cannabidiol. The therapeutic benefits of hemp products are currently being studied, and the FDA has not yet approved them for over-the-counter use. Still, they are 100% legal to buy and use, and millions of people across the country are touting the benefits of hemp. Here are the stories of three actual hemp users:
David, 51 – martial arts instructor
"After studying and teaching various martial arts including Jiu-jitsu for over 20 years, I began to feel the effects of so many years spent in combat sports. I was in great shape for my age, but my joints paid the price. I suffered from arthritis and ongoing pain in my shoulders, feet and other areas. After using various prescription pain medications, I knew it was time to seek a better way to manage my pain. I discovered anti-inflammatory hemp products and found a consistent and natural way to treat my joint pain."
Jennifer, 49 – artist and mother
"In my early 20s, my neck was severely injured in a car accident. After unsuccessful surgeries to correct my damaged neck, a number of my cervical vertebrae were permanently fused, requiring me to wear a neck brace for the rest of my life. My neck pain was something I believed I would suffer from for the rest of my life. Hemp wasn't a miracle cure for an injury as severe as mine, but it did help reduce the pain without the negative effects of prescription pain pills. Hemp is now an important part of my pain-management routine for living with an injury."
Alex, 33 – former athlete
"I am a big guy who has always enjoyed sports and continues to participate in strenuous physical exercises like weightlifting and martial arts. When I was younger, I played full-contact sports like football and wrestling. As I got older the wear-and-tear on my body and old injuries were causing me a lot more pain, especially in my joints and muscles. I use hemp products specifically for my joint pain and muscle soreness from sports. My favorite is the Hemp Muscle Rub which really soothes the muscle soreness that happens after a hard workout."
Uncle Buds Hemp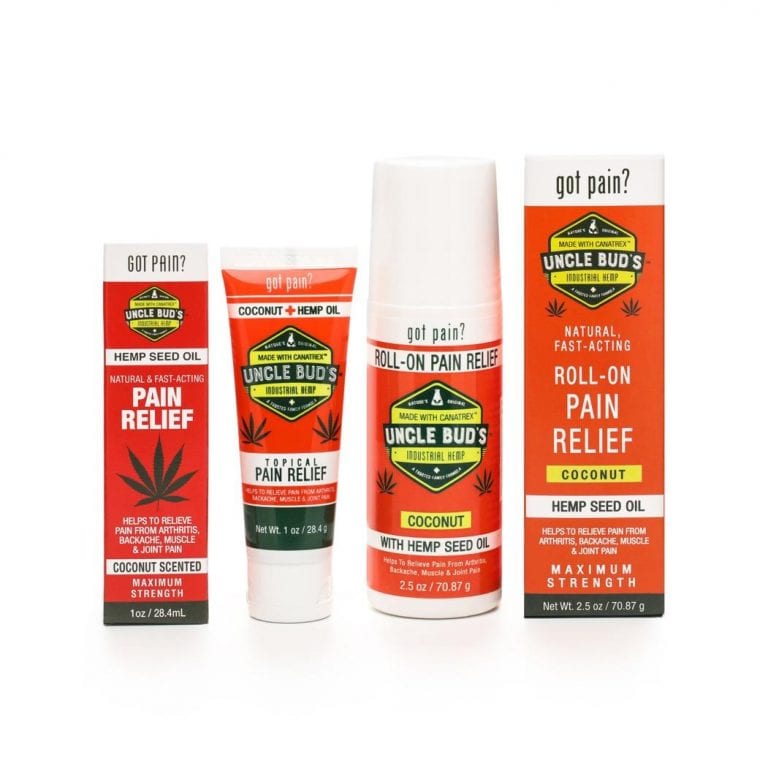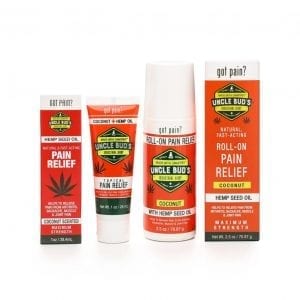 Discover for yourself the maximum-potency benefits of Hemp by trying one of our premium hemp products.
---
Uncle Bud's Hemp has built its reputation on creating and selling high-quality, pure, premium Hemp-derived products. Our Hemp and CBD products are lab tested to ensure purity, potency, and quality.
The CBD content in milligrams is listed on every product label. While we can ensure the purity and maximum-strength potency of our proprietary CBD oil, we make no medical or therapeutic claims on any CBD product. Uncle Bud's avoids medical or therapeutic claims in order to maintain complete integrity, transparency, and trust with our customers.
All Uncle Bud's Hemp products are proudly made in the USA.
---
Disclaimer:
UncleBudsHemp.com articles are intended to provide helpful and informative content about the benefits of Hemp Seed Oil and CBD products.  Readers are advised to do their own research and make decisions in partnership with their health care provider. Nothing you read here should be relied upon to determine a course of treatment for any medical issue. All content found on the UncleBudsHemp.com Website, including text, images, audio, or other formats were created for informational purposes only. Uncle Buds makes no claims as to the medical efficacy of any products. The site and its content are provided on an "as is" basis.