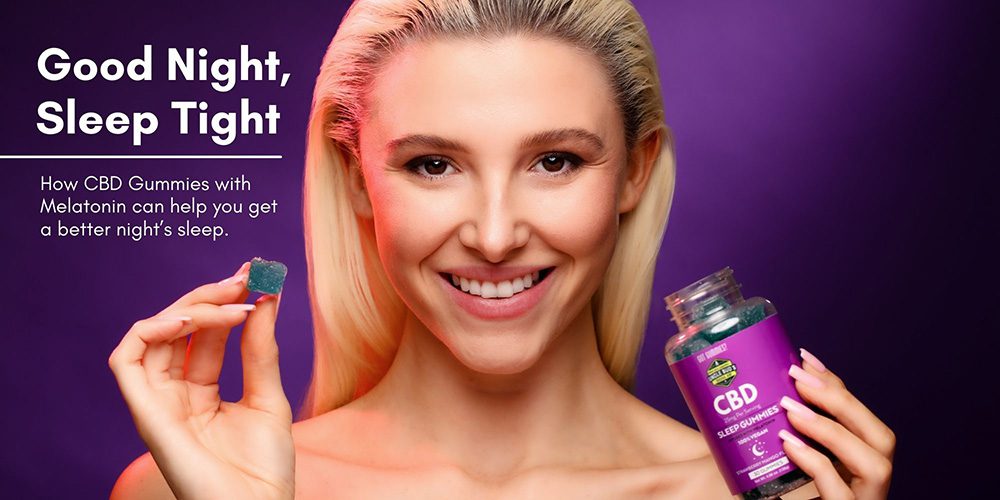 How CBD Gummies with Melatonin can help you get a better night's sleep.
Table of Contents
The Quest for Better Sleep: Melatonin & CBD
Does Melatonin help you sleep better?
The Quest for Better Sleep: Melatonin & CBD
The supplement industry is driven by your quest to relax and unwind during the day and get quality sleep at night. In addition to physical and mental strategies to relax and sleep better, a plethora of supplements exists to assist in relaxation and sleep. Most people prefer to avoid pharmaceutical sleep aids in favor of more natural, herbal, or holistic remedies. Two supplements have emerged as popular choices for relaxation and sleep: Melatonin and CBD.
In recent years, strategies to relax and sleep better have taken a "holistic" approach. The holistic idea of wellness is a whole-body approach to health that favors natural, herbal, and botanical supplements over synthetic substances. Holistic wellness seeks a healthy, balanced body and mind, through exercise, nutrition, pain management, and strategies to relax and sleep better without strong drugs or pharmaceuticals. The ways people relax and de-stress to get a better night's sleep are as varied as the people behind them, but for many people, it's usually some combination of fitness, relaxation, meditation, and rest – often with a supplement of some kind. Many supplements may help with getting better sleep, but Melatonin and CBD are by far the most popular. Melatonin is a proven supplement to assist sleep and has been around for many years. CBD is a relative newcomer, and much discussion surrounds the idea of CBD as a sleep and relaxation supplement.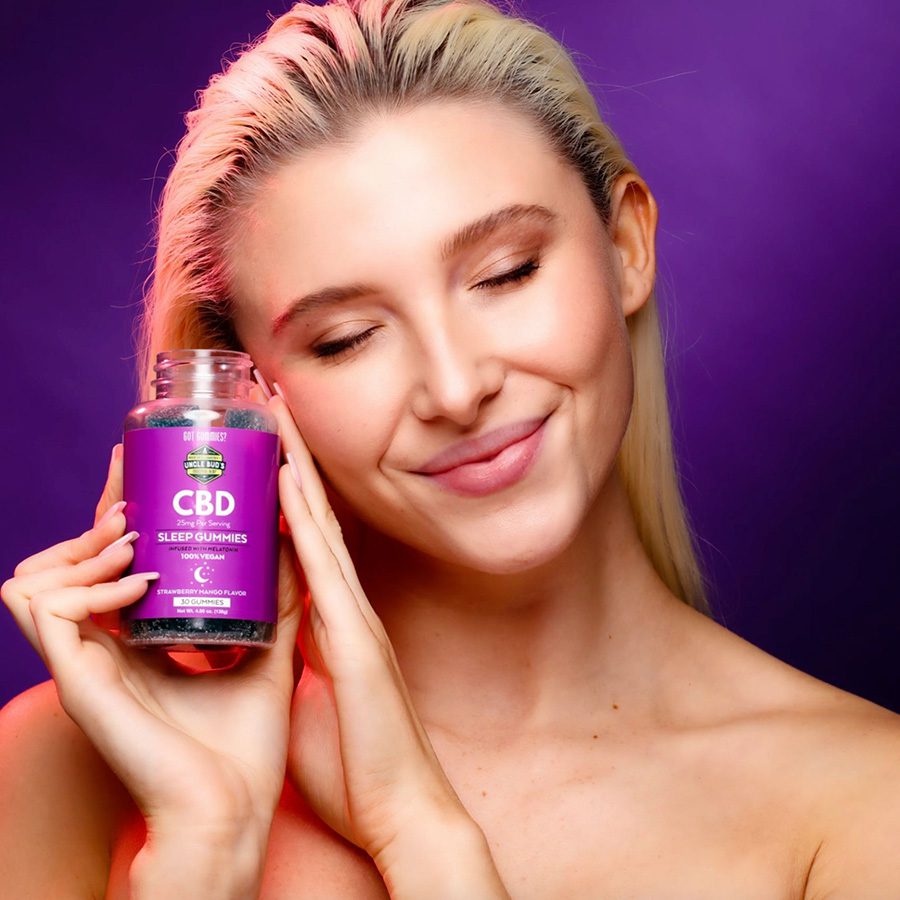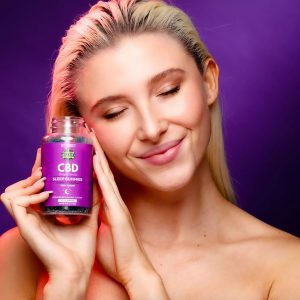 Does melatonin help you sleep better?
Melatonin is a hormone found naturally in the body, whose function is to regulate sleep and wake cycles in response to the changes from day to night. A gland in the brain called the pineal gland releases melatonin. Darkness causes the brain to produce more melatonin, which signals the body to prepare for sleep. Light decreases melatonin production and signals the body to prepare for being awake. It is thought that additional melatonin from supplements assists the body's own sleep mechanism and facilitates drowsiness and ease in falling asleep.
Melatonin used as a supplement is not actual melatonin produced in the brain, but a substitute that closely resembles the hormone that produces the same effects. It is most commonly available in pill form, which allows the melatonin to be absorbed directly into the body. As a dietary supplement, it is often used for the short-term treatment of insomnia, but also as a nighttime sleep enhancer to assist in falling asleep. Melatonin is approved by the FDA as an over-the-counter supplement that is safe for all ages. 
Does CBD help you relax?
Before you think about CBD as a supplement to enhance relaxation it's important to understand what CBD is, and what it is not. CBD is an abbreviation for Cannabidiol, and it is one specific compound found in the Cannabis plant. When the Cannabis plant's botanical oil is extracted and purified to specifically include CBD, it's called CBD oil. CBD oil is then used as a base ingredient in many different kinds of wellness products, including oral supplements like gummies and sublingual oils. Oral CBD supplements are usually the products people use as wellness supplements because absorption through the mouth and digestive system is an optimal way to administer CBD.
How exactly CBD assists in relaxation is an ongoing discussion and field of study, but the FDA has not approved CBD as a medical treatment. CBD should be thought of as a nutritional supplement whose therapeutic possibilities are intriguing, but not fully understood. Many people do use CBD oil as a part of a wellness strategy that includes relaxation, but it's important to understand the supplement is not a medically recognized treatment for stress, anxiety, or a medically recognized way to facilitate relaxation.
It's also important to know that CBD oil does not contain THC, the specific compound found in some strains of the cannabis plant that does have known psychoactive effects. CBD oil and products made from CBD are THC-free, and you will not experience any kind of psychoactive effect by using them. Products made from CBD oil are completely legal to buy and use in the U.S., so even though the FDA does not allow CBD to be sold as a medical treatment, it continues to grow in popularity as a nutritional supplement, with more people every day making it part of their own wellness routine. 
---
CBD Gummies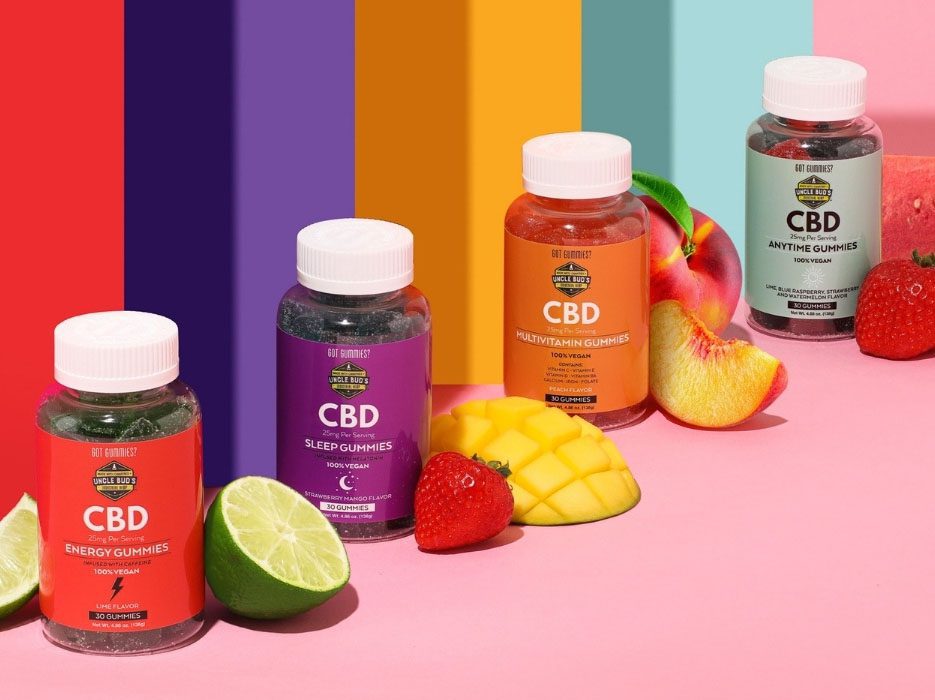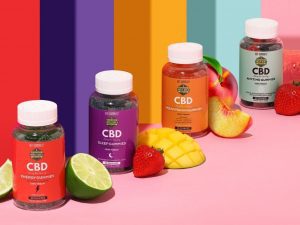 ---
What are CBD Gummies?
CBD Gummies are flavored gelatin chewables made from the same base substance gummy candies are made of – but infused with CBD oil and other ingredients. All gelatin-based supplements are taken through the oral administration route. The oral administration route means the supplement is taken into the mouth and swallowed, allowing the digestive system to absorb the active ingredients and transport them throughout the body. Sometimes they can be swallowed whole like a soft-gel capsule, but many supplements including CBD Gummies are meant to be chewed. Either way, the oral administration route is the most common method of taking supplements due its ease and convenience. Not only is oral administration easy, but it's also effective– absorption through the digestive system is perhaps the safest and effective way of delivering supplements or other therapeutic substances to the body. 
Putting supplements into gelatin form has several advantages over capsules that are swallowed whole. First, they are chewable, making them easy to swallow and more pleasant to consume than capsules. Gelatin is tasteless but can be infused with any number of flavors making gelatin-based supplements seem more like candy. This is the primary reason why gummies are now the most popular form of vitamins. Care should be taken never to confuse CBD gummies with candy, but gelatin might be the most pleasant way to take CBD due to the pleasant flavor and easy chewable form. Finally, CBD gummies are tasty, with multiple enticing flavors and textures similar to gelatin candies like Gummy Bears, and they come in a rainbow of colors and fun shapes.
How do CBD Gummies work?
Combining CBD oil and melatonin into a gelatin gummy was an ideal way to mix both ingredients into one convenient supplement. Gelatin is an ideal matrix for supplements that allows the ingredients to keep their potency over long periods without degrading. Gelatin is also very easy to digest, allowing the ingredients to be quickly absorbed into the bloodstream, infusing the body with whatever is contained in the gelatin matrix. Most substances, including CBD oil, don't react with the chemically neutral gelatin, which simply holds the ingredients until it is dissolved by the digestive system, releasing the ingredients into the bloodstream and carrying them throughout the body.
CBD gummies with melatonin work because the gelatin is an easy way to transport an infusion of CBD to the body using the oral administration route – the most common way of administering supplements. The added benefits of being chewable and pleasant tasting make consuming CBD gummies a more enjoyable way of using CBD oil. Putting the CBD into gelatin form was an ideal choice because the gelatin will never reduce the potency of Cannabidiol or melatonin.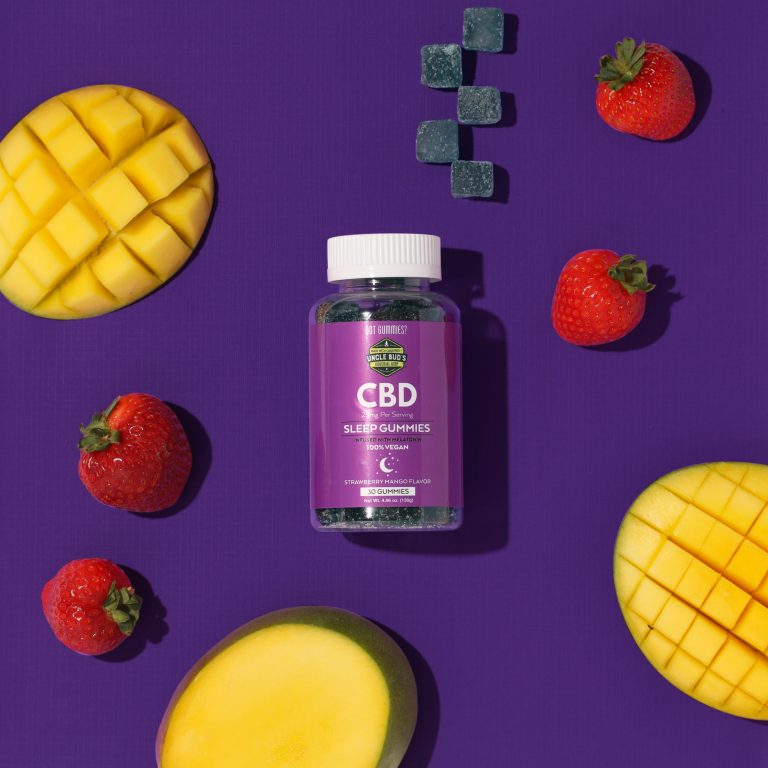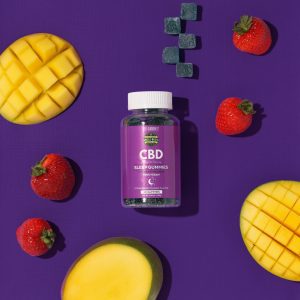 Melatonin is proven as a safe supplement to assist in sleep, and while research on CBD is ongoing, millions of people have embraced it as part of a relaxation wellness strategy. Now both popular wellness supplements have joined forces to create Uncle Bud's strawberry-mango CBD Sleep Gummies.
CBD Sleep Gummies are soft gelatin chewables that taste great and work fast. Each chewable gummy delivers an infusion of our proprietary CBD formula, plus melatonin and other ingredients. These gummies are perfect for your bedtime routine, infused with 2mg of melatonin and 25mg of CBD per serving. Our Sleep Gummies are made with 100% Vegan ingredients and have a wonderful strawberry-mango flavor. Made with 100% vegan ingredients, each bottle contains 30 gummies and 750 mg of premium CBD oil. Uncle Bud's gummies contain no THC.
---
Uncle Bud's Hemp has built its reputation on creating and selling high-quality, pure, premium Hemp-derived products. Our Hemp and CBD products are lab tested to ensure purity, potency, and quality.
The CBD content in milligrams is listed on every product label. While we can ensure the purity and maximum-strength potency of our proprietary CBD oil, we make no medical or therapeutic claims on any CBD product. Uncle Bud's avoids medical or therapeutic claims in order to maintain complete integrity, transparency, and trust with our customers.
All Uncle Bud's Hemp products are proudly made in the USA.
---
Disclaimer:
UncleBudsHemp.com articles are intended to provide helpful and informative content about the benefits of Hemp Seed Oil and CBD products.  Readers are advised to do their own research and make decisions in partnership with their health care provider. Nothing you read here should be relied upon to determine a course of treatment for any medical issue. All content found on the UncleBudsHemp.com Website, including text, images, audio, or other formats were created for informational purposes only. Uncle Buds makes no claims as to the medical efficacy of any products. The site and its content are provided on an "as is" basis.