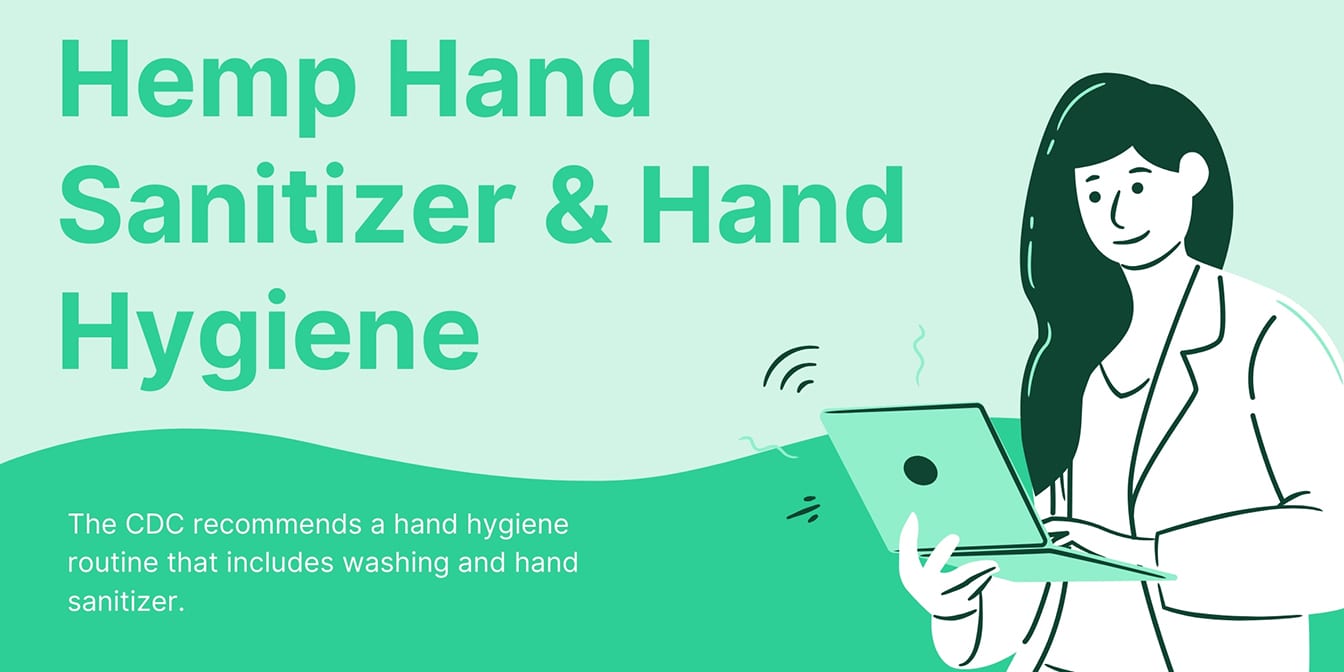 The CDC recommends a hand hygiene routine that includes washing and hand sanitizer.
During the COVID-19 virus pandemic, the CDC has emphasized the important role of hand hygiene in preventing the transmission of Coronavirus. Following the CDC's hand hygiene guidelines, including handwashing and the use of alcohol-based hand sanitizers, can reduce the number of germs and bacteria that can contaminate the hands.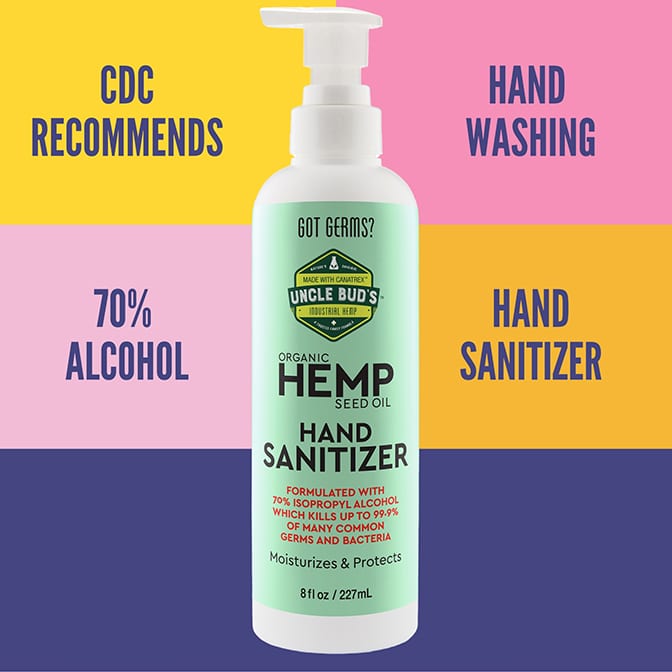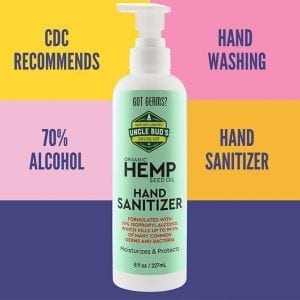 The CDC states that handwashing mechanically removes pathogens, while additional data demonstrates that 60% ethanol and 70% isopropanol (the active ingredients in alcohol-based hand sanitizers) inactivates bacteria & germs. In addition to washing with soap and water, the CDC recommends the use of alcohol-based hand sanitizers with greater than 60% ethanol or 70% isopropanol as the preferred form of hand sanitizer.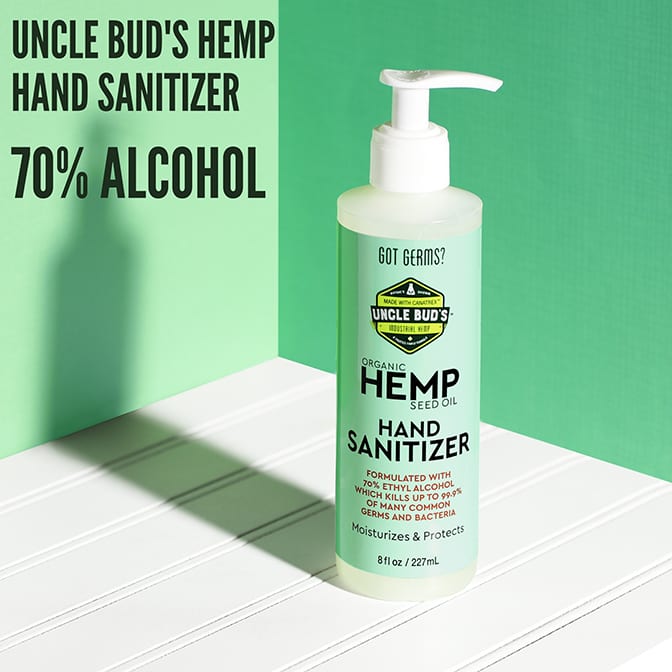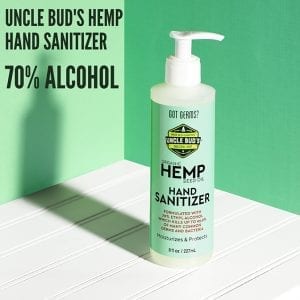 Uncle Bud's Hemp Hand Sanitizer is an alcohol-based hand sanitizer that falls within the CDC recommendations with a 70% alcohol concentration. Neither it, or any other commercial hand sanitizer, is endorsed or recommended by the CDC to prevent COVID-19 or any other disease, but it is formulated with 70% ethyl alcohol.
Not only is Uncle Bud's Hemp Hand Sanitizer designed to protect against germs and bacteria with a powerful ethyl alcohol base, but the unscented sanitizer also evaporates quickly and won't dry out your hands. It also delivers the moisturizing and skin-benefiting properties of pure hemp seed oil.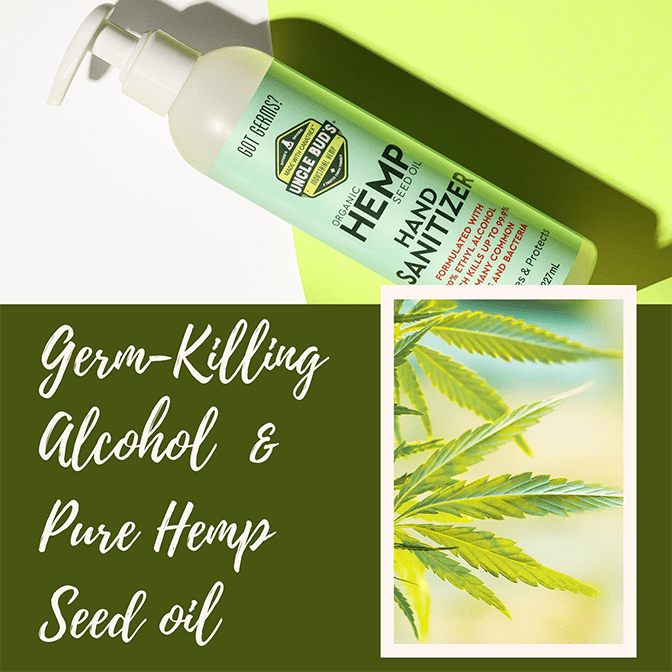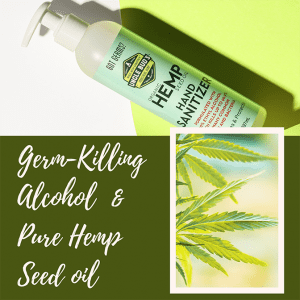 When you use Uncle Bud's Hemp Hand Sanitizer, you don't just get the antibacterial power of an ethyl alcohol sanitizer, you get all the therapeutic, skin-moisturizing benefits of our premium hemp seed oil. Our proprietary blend of hemp seed oil is ideal for all skin types, wrapping your skin in moisture and infusing it with healthy-skin supplements like Omegas and Vitamins A, D, and E.
Uncle Bud's Hemp Hand Sanitizer
• 70% Ethyl Alcohol Base
• Unscented
• Discounts when you buy in bulk (4 or more bottles)
• Made in the USA
• In-Stock NOW
---
Uncle Bud's Hemp has built its reputation on creating and selling high-quality, pure, premium Hemp-derived products. Our Hemp and CBD products are lab tested to ensure purity, potency, and quality.
The CBD content in milligrams is listed on every product label. While we can ensure the purity and maximum-strength potency of our proprietary CBD oil, we make no medical or therapeutic claims on any CBD product. Uncle Bud's avoids medical or therapeutic claims in order to maintain complete integrity, transparency, and trust with our customers.
All Uncle Bud's Hemp products are proudly made in the USA.
---
Disclaimer:
UncleBudsHemp.com articles are intended to provide helpful and informative content about the benefits of Hemp Seed Oil and CBD products.  Readers are advised to do their own research and make decisions in partnership with their health care provider. Nothing you read here should be relied upon to determine a course of treatment for any medical issue. All content found on the UncleBudsHemp.com Website, including text, images, audio, or other formats were created for informational purposes only. Uncle Buds makes no claims as to the medical efficacy of any products. The site and its content are provided on an "as is" basis.