Introducing Uncle Bud's newest premium hemp product: Peppermint 1000mg Hemp Extract Sublingual
Uncle Bud's is famous for crafting the very finest hemp and CBD oil products. Now the same dedication to creating the wellness industry's premium Hemp and CBD products is evident in our newest offering: 1000mg Hemp Extract Peppermint Sublingual. Made with 1000mg of hemp extract this ingestible extract is designed for sublingual (under the tongue) use and delivers a maximum strength infusion of CBD.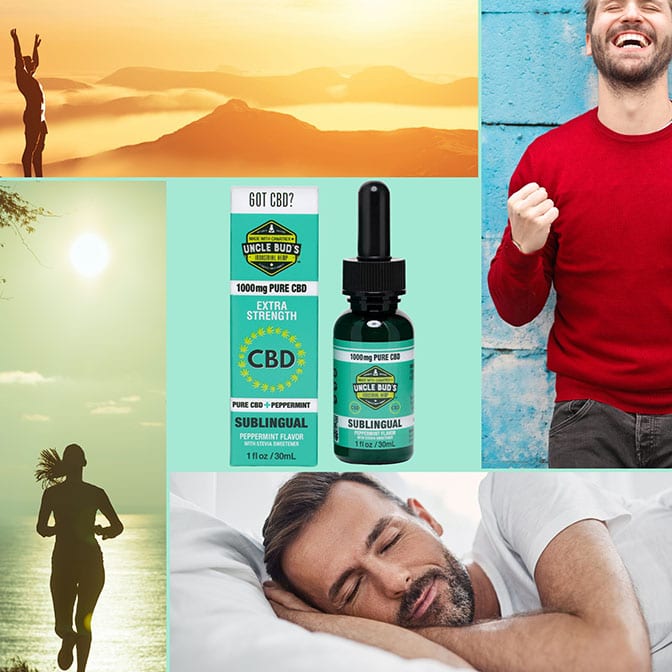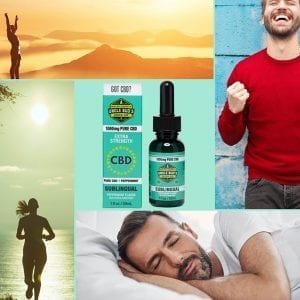 Premium & Pure – Hemp-CBD Extract
Our 1000mg sublingual supplement has a light peppermint flavor made with stevia sweetener. The hemp extract uses Uncle Bud's proprietary formula – with the purest CBD oil available.
The proprietary blend used in our 1000mg Hemp Extract Sublingual uses pure CBD oil and other premium ingredients to ensure the highest quality and maximum benefit.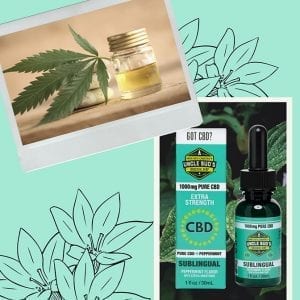 A Peppermint-flavored Hemp Extract made with 1000mg Pure CBD Oil
Uncle Bud's 1000mg Hemp Extract Sublingual contains a powerful infusion of the purest, most potent CBD oil.  Each dose from the 1000mg bottle of Hemp Extract Sublingual delivers 33mg of maximum-strength, water-soluble CBD oil. The sublingual is rich with antioxidants and omegas, and the light, peppermint-flavored oil is absorbed under-the-tongue quickly leaving no residue or aftertaste.
Like all Uncle Bud's CBD products, the 1000mg Sublingual contains no THC. It's completely safe and 100% legal to purchase in the US.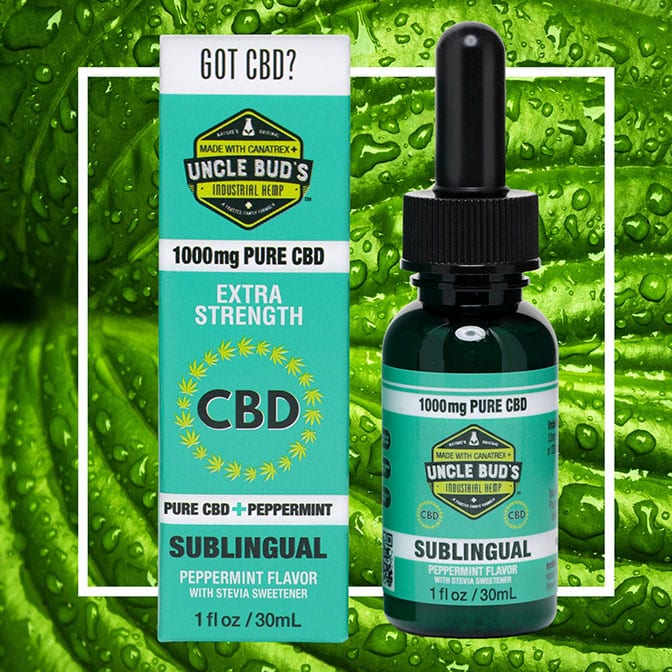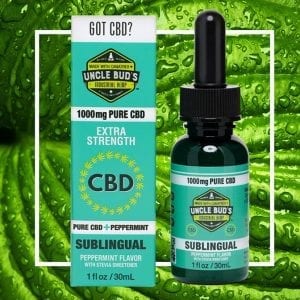 Using Uncle Bud's 1000mg Hemp Extract Sublingual
You can use the Hemp Extract Sublingual once per day or as needed – before bed, before and after a workout, or throughout your workday. Take one full dropper, place the drops under the tongue and hold for 30 seconds before swallowing. The sublingual tincture will absorb quickly with a pleasant peppermint taste and is safe to use at any time of the day. You can also mix Uncle Bud's 1000mg Hemp Extract sublingual into a beverage or food.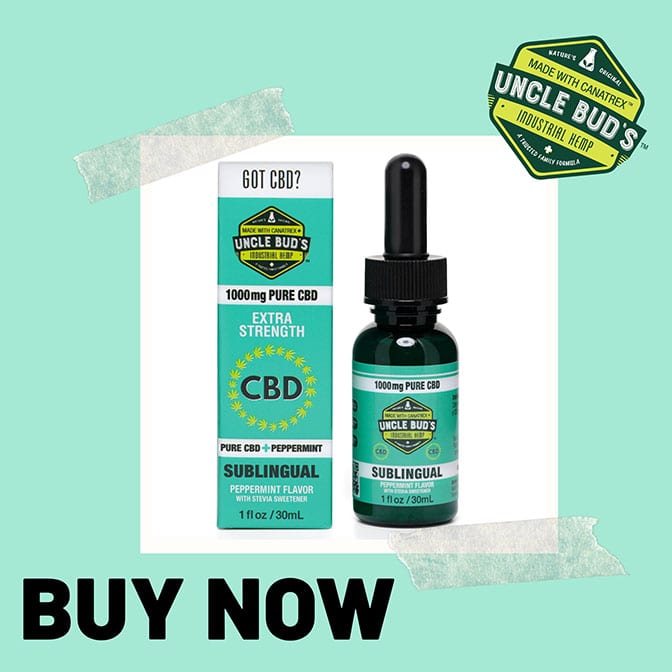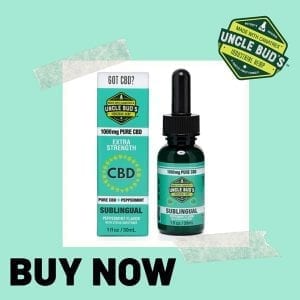 ---
Uncle Bud's Hemp has built its reputation on creating and selling high-quality, pure, premium Hemp-derived products. Our Hemp and CBD products are lab tested to ensure purity, potency, and quality.
The CBD content in milligrams is listed on every product label. While we can ensure the purity and maximum-strength potency of our proprietary CBD oil, we make no medical or therapeutic claims on any CBD product. Uncle Bud's avoids medical or therapeutic claims in order to maintain complete integrity, transparency, and trust with our customers.
All Uncle Bud's Hemp products are proudly made in the USA.
---
Disclaimer:
UncleBudsHemp.com articles are intended to provide helpful and informative content about the benefits of Hemp Seed Oil and CBD products.  Readers are advised to do their own research and make decisions in partnership with their health care provider. Nothing you read here should be relied upon to determine a course of treatment for any medical issue. All content found on the UncleBudsHemp.com Website, including text, images, audio, or other formats were created for informational purposes only. Uncle Buds makes no claims as to the medical efficacy of any products. The site and its content are provided on an "as is" basis.