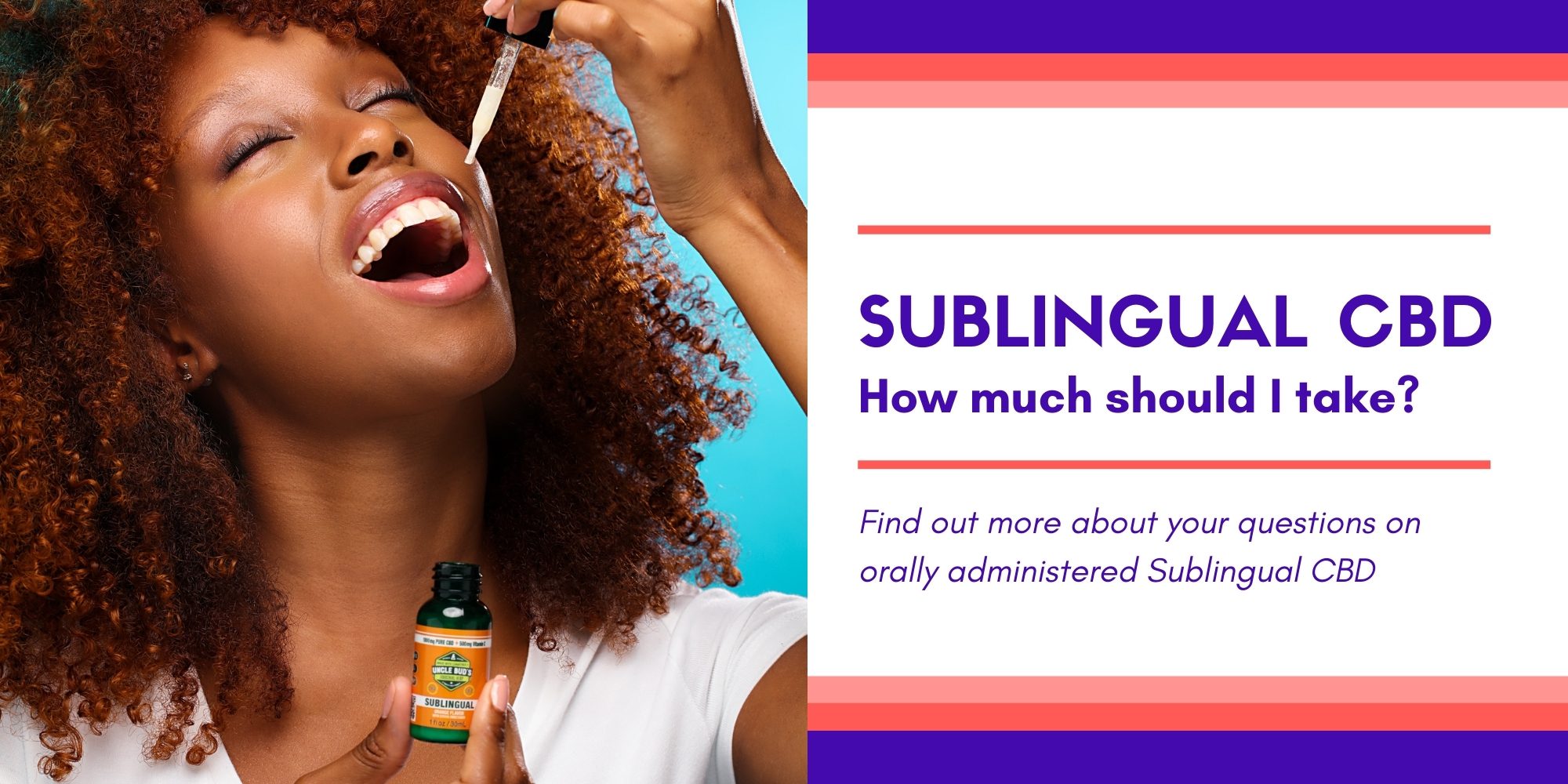 Your questions about orally administered Sublingual CBD.
Table of Contents
How much Sublingual CBD should I take?
What does Sublingual CBD taste like?
When should I take Sublingual CBD?
Is Sublingual CBD Safe, and is it Legal?
Uncle Bud's Sublingual CBD Tinctures
What is Sublingual CBD?
Wellness products and supplements containing CBD oil are more popular than ever. CBD is an abbreviation for Cannabidiol, one of many compounds in the cannabis plant called cannabinoids. CBD oil is made from the cannabis hemp plant specifically to contain high amounts of Cannabidiol. CBD oil-based products are used by millions of people and perhaps the most common way of taking this supplement is through drops placed under the tongue through a dropper. This method is called Sublingual and Sublingual CBD is perhaps the most popular CBD product of them all.
It's important to know CBD products do not contain THC, the compound associated with the marijuana plant, and CBD is 100% legal to buy and use in the U.S. Users of CBD oil report a variety of benefits, however, CBD products have not been approved by the U.S. Food and Drug Administration (FDA) for therapeutic use. Still, the wellness community has embraced CBD oil, and Sublingual leads the hemp industry as the supplement of choice for many users.
Sublingual means "under the tongue" and refers to the way this form of CBD oil is used. There are many ways to administer substances into your body. All of these methods are ways to get a substance into your bloodstream so its effects can absorb into the body. 
When you use Sublingual CBD, typically you will use the dropper to place the dose under your tongue. The oil is absorbed directly into the bloodstream instead of proceeding through the digestive tract. You actually don't swallow anything. The oil is absorbed in a few seconds and evaporates leaving no residue. Many sublingual CBD oils have a light minty taste and leave no unpleasant aftertaste because the skin under your tongues is thin, rich in blood vessels, and substances administered here are easily absorbed quickly. Taking CBD oil sublingually is the quickest way to administer CBD into your body. Many people prefer sublingual not just because of how fast it absorbs, but also because they don't have to swallow anything. 
---
1000mg Sublingual CBD – Peppermint Flavor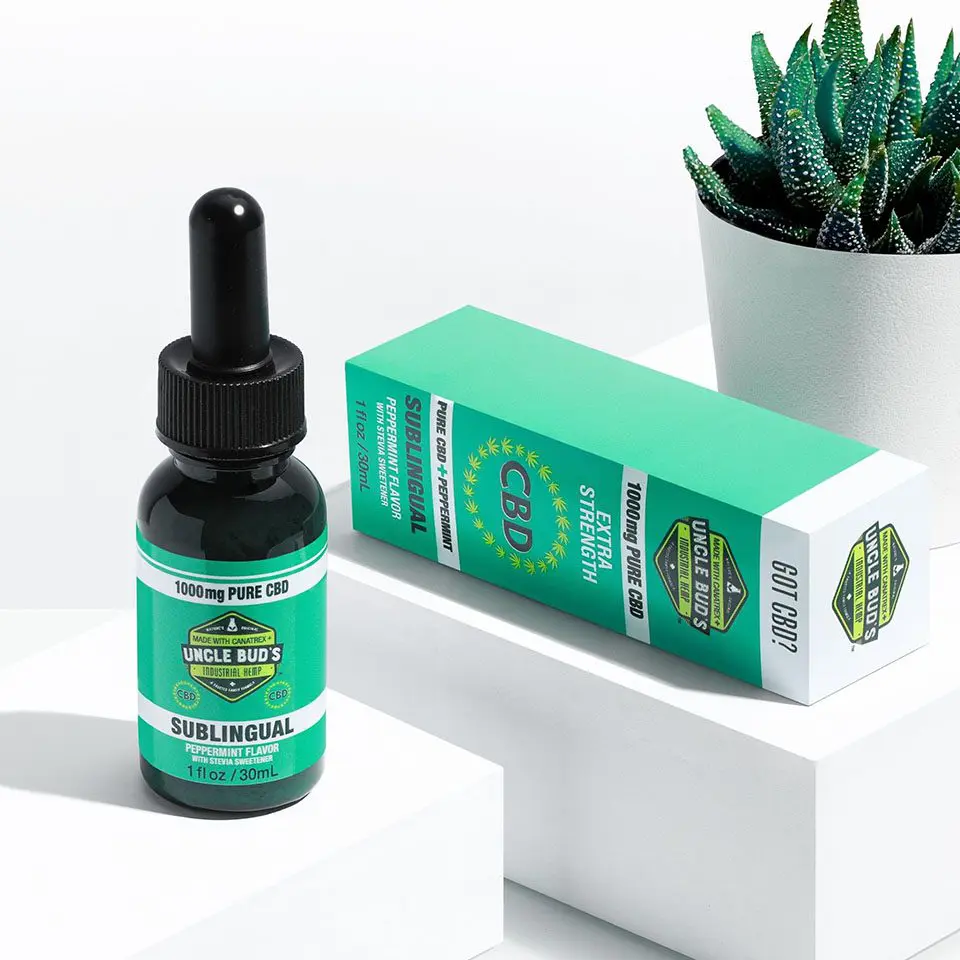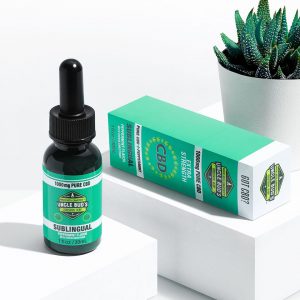 ---
How much Sublingual CBD should I take?
To use Sublingual CBD Oil, you simply place a few drops of it under your tongue. Bottles of CBD Sublingual come with a dropper that delivers a specific dose. Uncle Bud's sublingual CBD uses a 1-milliliter dropper for a 30-milligram dose of CBD oil. The recommended dose is once per day, as needed. Sublingual CBD is not a pharmaceutical drug, it's an herbal supplement. However, as with any supplement, users should take CBD responsibly and discontinue use if they feel any adverse effects.
Most users who take CBD sublingually experience CBD oil within 15 – 20 minutes. While it absorbs quickly, don't expect any sensation. Remember CBD is not a drug, nor does it contain any THC, and it won't get you "high". It's a natural herbal supplement from a plant used as a nutritional wellness supplement. 
---
Vitamin C Sublingual CBD – Orange Flavor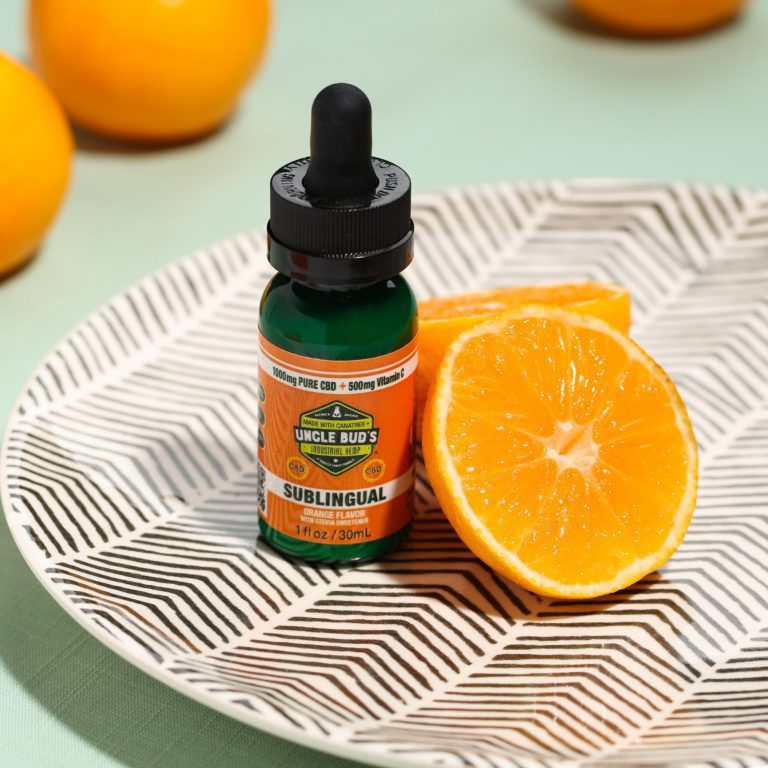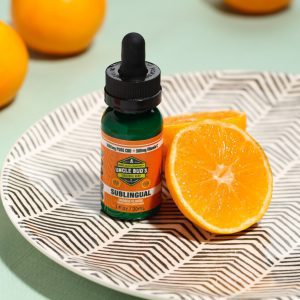 ---
What does Sublingual CBD taste like?
Raw CBD oil varies in flavor. The oil is full of organic compounds in the plant, such as cannabinoids, terpenes, and chlorophyll which can make it taste bitter, with a flavor like grass. Most producers of CBD oil purify it to remove the chlorophyll and minimize the bitter plant taste. Flavoring and sweeteners are then added to the Sublingual CBD to make it taste pleasant. Any flavor is possible, but peppermint is common. Uncle Bud's sublingual CBD comes in peppermint, berry, and orange flavors.
Uncle Bud's signature sublingual has a cool peppermint flavor made with Stevia sweeter. The light, peppermint-flavored oil absorbs quickly with a simple under-the-tongue application and leaves no residue or hemp aftertaste. Stevia is the industry name for low-calorie sweeteners made from purified extracts of the stevia leaf, an herbal shrub native to South America. Stevia is used in food, drinks, and other products as a mild natural sweetener that doesn't add sugar or calories. Stevia is safe to use and free from artificial chemicals. 
---
Elderberry Sublingual CBD – Berry Flavor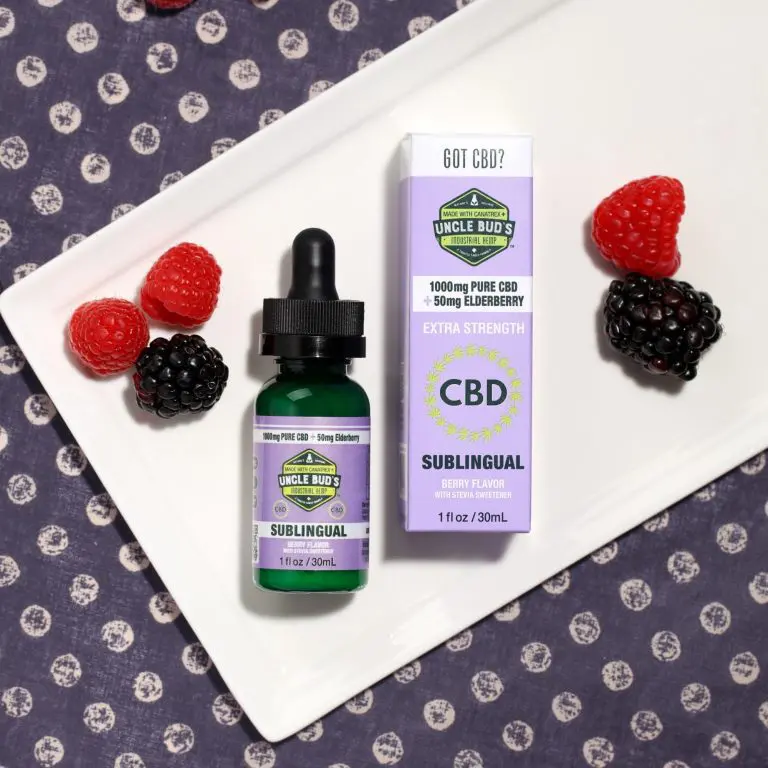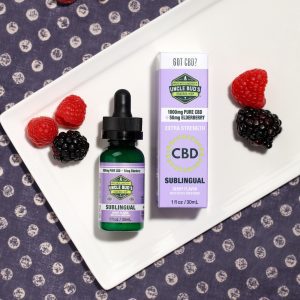 ---
When should I take Sublingual CBD?
There is no optimal time to take CBD Sublingual. For most people, the optimal time revolves around their routine. The most important thing is to be consistent with your dosing. Uncle Bud's recommends once a day or as needed.
If you find CBD provides you with an energy boost, then consider taking it in the morning with other vitamins or supplements. Or, if you find that CBD relaxes you, then taking it before bed might be a better time for you. Your body will naturally tell you the best time for you.
Athletes and fitness enthusiasts often take CBD before or after a workout or sports activity, to help with a recovery routine. Many users of sublingual oil end up taking it around bedtime as part of their nighttime routine, but whatever you choose to do, consistency is the key. By adding it to your regime and incorporating it into your daily routine, you will receive the most benefits CBD has to offer.
Is Sublingual CBD Safe, and is it Legal?
Yes! When the Farm Bill was signed into law in December 2018, CBD derived from hemp became legalized. CBD Sublingual products are 100% legal to buy in the US. They are also completely safe to use – CBD oil is a natural, non-pharmaceutical supplement made from the botanical oil of Cannabis, a plant cultivated by humans for centuries.
Remember sublingual CBD oil contains no THC. You can't get high off it, nor will it show up on a drug test. While Marijuana and Hemp are the same genus or species of plant (Cannabis Sativa), a different strain or subspecies of the plant is cultivated to produce marijuana. The hemp strain used to create CBD oil does not contain THC.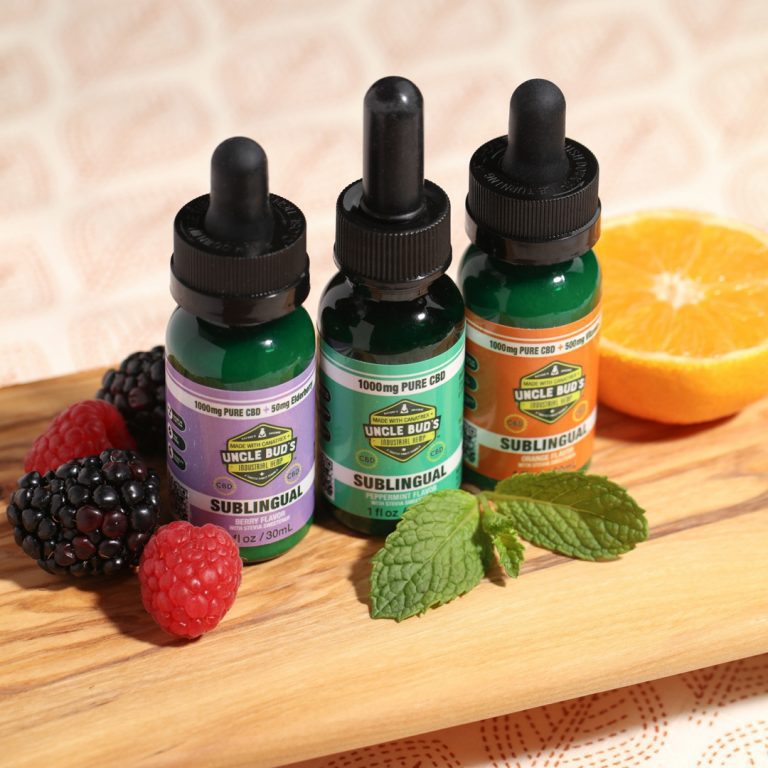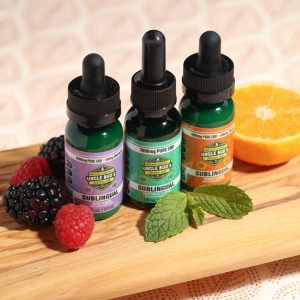 Uncle Bud's three signature CBD tinctures are made with pure CBD oil and are guaranteed to contain no THC. These premium sublingual tinctures come in 3 types each with its own signature flavor: 
Original CBD Tincture – Peppermint Flavor
Elderberry 50mg – Berry Flavor
Vitamin C 500mg– Orange Flavor
Uncle Buds Sublingual CBD is sold in a 1000mg bottle with a dropper in the cap for precise dosage. It's made from premium CBD extract and contains our most powerful infusion of the purest, most potent CBD oil.  Each dose from the 1000mg bottle of CBD Sublingual delivers 33mg of maximum-strength, water-soluble CBD oil.  Place one full dropper (approximately 30 drops or 1mL) under the tongue and hold for 30 seconds before swallowing.
---
Uncle Bud's Hemp has built its reputation on creating and selling high-quality, pure, premium Hemp-derived products. Our Hemp and CBD products are lab tested to ensure purity, potency, and quality.
The CBD content in milligrams is listed on every product label. While we can ensure the purity and maximum-strength potency of our proprietary CBD oil, we make no medical or therapeutic claims on any CBD product. Uncle Bud's avoids medical or therapeutic claims in order to maintain complete integrity, transparency, and trust with our customers.
All Uncle Bud's Hemp products are proudly made in the USA.
---
Disclaimer:
UncleBudsHemp.com articles are intended to provide helpful and informative content about the benefits of Hemp Seed Oil and CBD products.  Readers are advised to do their own research and make decisions in partnership with their health care provider. Nothing you read here should be relied upon to determine a course of treatment for any medical issue. All content found on the UncleBudsHemp.com Website, including text, images, audio, or other formats were created for informational purposes only. Uncle Buds makes no claims as to the medical efficacy of any products. The site and its content are provided on an "as is" basis.