Hemp sun care products for supreme fun in the sun!
Table of Contents
Hemp: Your skin's lifeguard on duty
Uncle Bud's Hemp & CBD Sun Care
Summer, Sun, and Skin
Who doesn't love summer? The sun, the pool, the beach, the outdoors – they all make for a beloved annual ritual we all enjoy called summer vacation. Summer may be a load of fun for you, but it's not for your skin. 
Sun exposure and the problems that result from too much Summer fun are your skin's biggest enemy. The harmful effects of sun exposure and sunburns can damage your skin in multiple ways beyond the pain of a sunburn. The sun dries out and damages your skin, and even if you don't get burned, the harmful effects of vacationing outdoors when the sun is most intense adds up. While Summer vacation is a great time for you and your family – your skin is subject to the most intense sun and UV rays of the year, which can result in damage, dryness, and worse.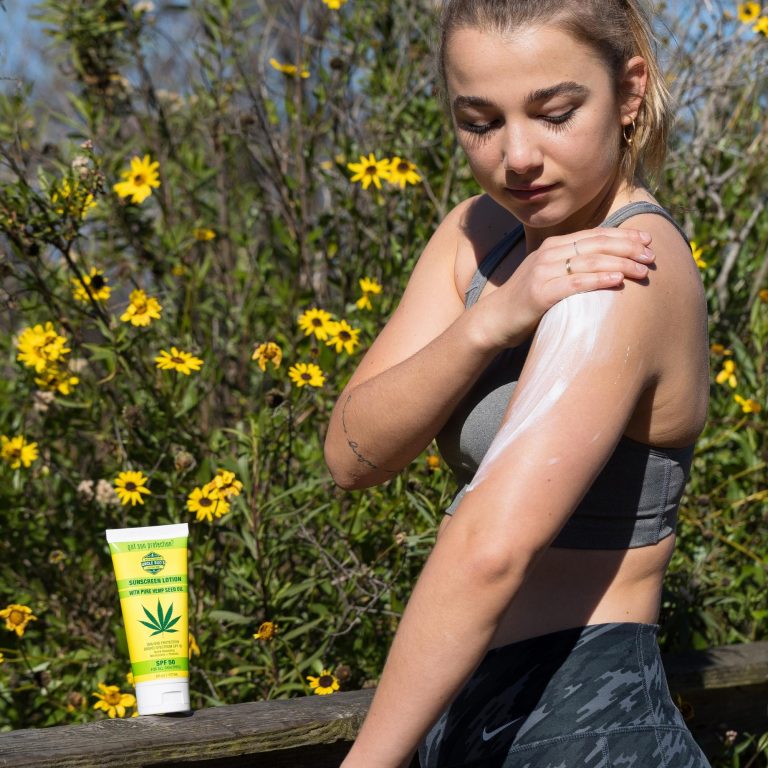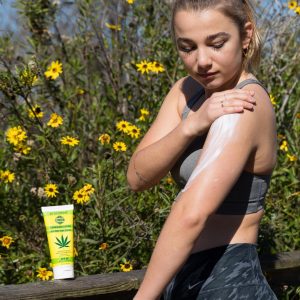 The Sun Versus Your Skin
You certainly remember that summer vacation from yesteryear when you didn't put on sunscreen, got sunburned, and suffered for days afterward. While you may not make that mistake again, a whole season of sun exposure can affect your skin, even if you remember to use sunscreen.
Prolonged exposure to the sun dries out your skin, depleting the natural oils and moisturizers that keep skin healthy. Sunburns can occur in less than 15 minutes of direct exposure, not only depleting your skin's moisture but actually damaging the skin tissue and increasing the risk of skin cancer. Sun exposure also causes the skin to lose its elasticity, causing wrinkles that can worsen over years spent in the sun. The pain of a sunburn is usually the first lesson your skin learns about being careless in the summer sun, but other problems can occur during summer.
Moisture Depletion
The biggest long-term threat to your skin's health is dryness and loss of moisture. Summer heat and sun exposure quickly drain the moisture from your skin, leaving it rough, dry, and wrinkled. The natural oils and moisturizers that keep skin soft and healthy are depleted by the heat and UV rays. The more you are outside the worse the moisture loss becomes. Your face, arms, and legs bear the brunt of Summer's scorching attack, but any exposed skin is vulnerable. 
Sunburn
One sunburn is a painful lesson, but multiple sunburns over a lifetime are particularly dangerous to the health of your skin. Sunburns don't just dry out the skin and accelerate the formation of wrinkles, they actually cause damage to the tissue itself – in the form of a painful, red, first-degree burn. It doesn't even need to be hot outside to suffer a bad sunburn, and it's even possible to get a sunburn on a cloudy day. The true danger of sunburns is skin cancer, and the cumulative effects of repeated sunburns are a primary cause of skin cancer.
Wrinkles & Wear
The combination of penetrating UV rays plus dry heat causes long-term wear on your skin which can worsen wrinkles. Bright sun causes you to squint in the bright sunlight, worsening eye wrinkles. Long-term exposure to the sun and hot, dry weather causes the skin to lose its elasticity, resulting in wrinkles that worsen over years spent outside. Since your face is always exposed, it's the first place where wrinkles are likely to form.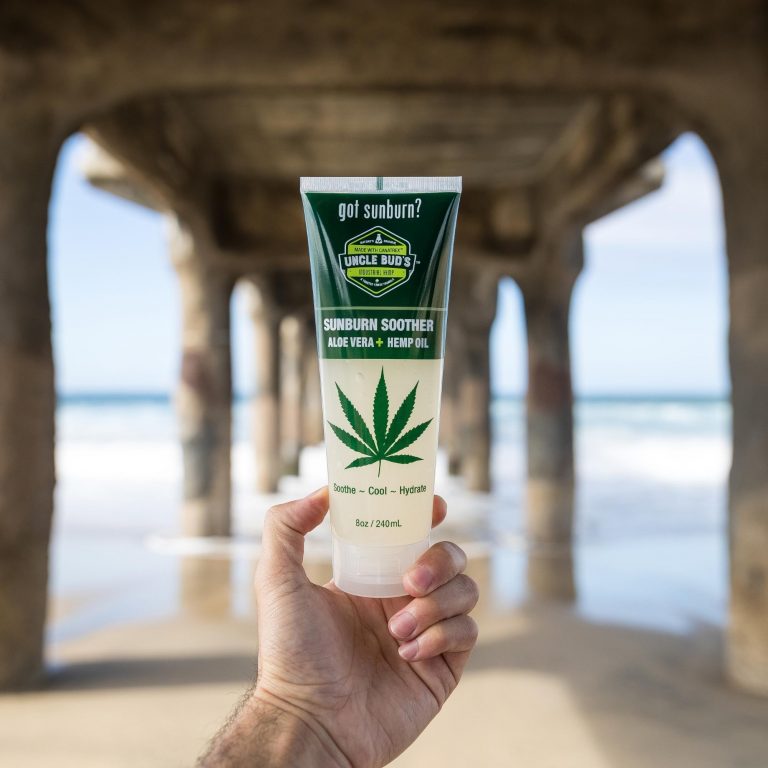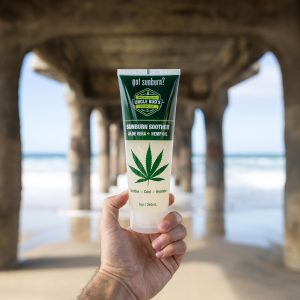 Hemp: Your Skin's Lifeguard On Duty
Before summer arrives, every corner drugstore stocks up on countless sun care products to protect your skin when summer arrives. Every kind of sunscreen, sunblock, moisturizing lotion, and sunburn therapy is waiting for you when you stock up for summer vacation– but only some of the many sun care products have a special ingredient that makes all the difference – Hemp.
Hemp is a therapeutic plant whose skin-benefiting properties have been known for centuries. Like the Aloe Vera plant, Hemp contains compounds that moisturize the skin after a long day in the sun. The botanical oil extracted from the hemp plant is called hemp seed oil, and in its purified form it contains a rich mixture of moisturizers, vitamins, antioxidants, and anti-inflammatories that can help your skin feel rejuvenated.
Hemp seed oil restores missing moisture and helps hydrate your skin after exposure to the sun. The inherent moisturizing properties of hemp oil helps to soothe dry, sun-exposed skin and rejuvenate sun-damaged skin. Hemp seed oil also contains anti-inflammatory compounds which can help to soothe a sunburn.
There is a type of hemp-based oil prepared specifically to include a naturally occurring compound called Cannabidiol, or CBD. CBD oil is nearly identical to hemp seed oil, containing all the same moisturizers and other skin-benefiting ingredients as regular hemp oil. CBD products designed specifically for sun care include moisturizing lotions, sunscreen, sunburn-soothing gels, and even lip balm. In these products, all traces of THC have been removed. 
It's most important to replenish lost moisture during the summer, and both hemp and CBD oil are potent moisturizers that restore what the sun takes away. Beyond moisturizers, hemp and CBD oil contain many essential ingredients your skin needs to stay healthy in the Summer. Hemp seed oil contains a unique mixture of plant-based compounds. Ingredients such as aloe vera combined with hemp seed oil, produce multiple therapeutic properties for your skin, infusing it with compounds that restore moisture, neutralizing summer's main threats to your skin.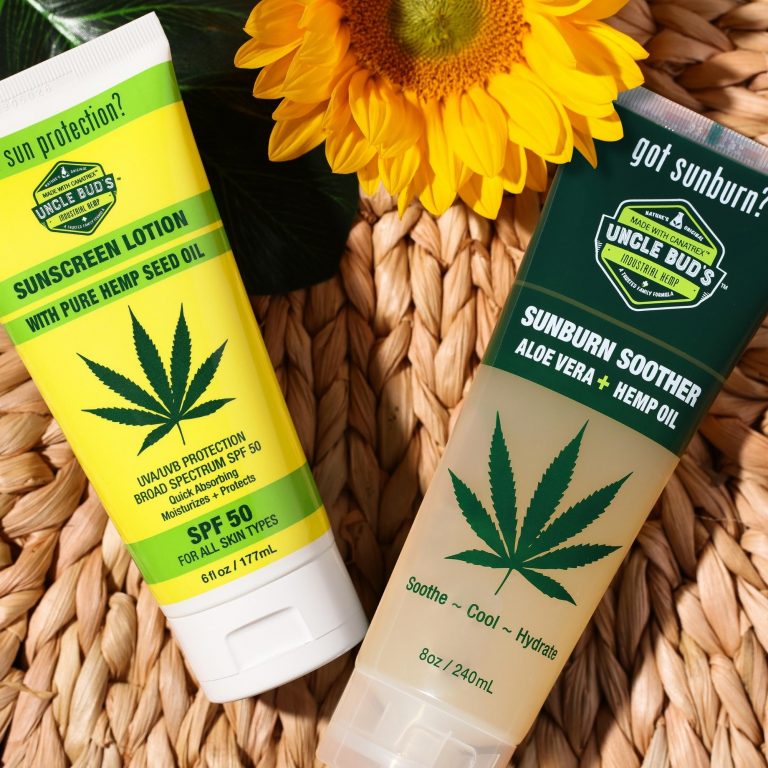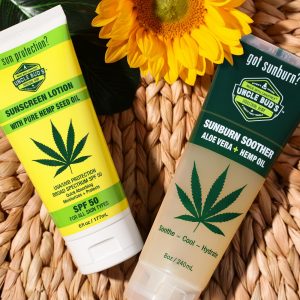 When your summer vacation arrives, you can be ready with the perfect sun care products to protect you and your family. Pure hemp seed and CBD oil form the base ingredient in these premium hemp skincare products designed to replenish the moisture that the heat and sun rob from your skin. Specially designed for before & after sun exposure, these skincare solutions contain beneficial ingredients that protect and rejuvenate skin like antioxidants, omegas, moisturizers, and vitamins. 
Ready for some fun in the sun? Check out our top sun care products for sunshine lovers everywhere: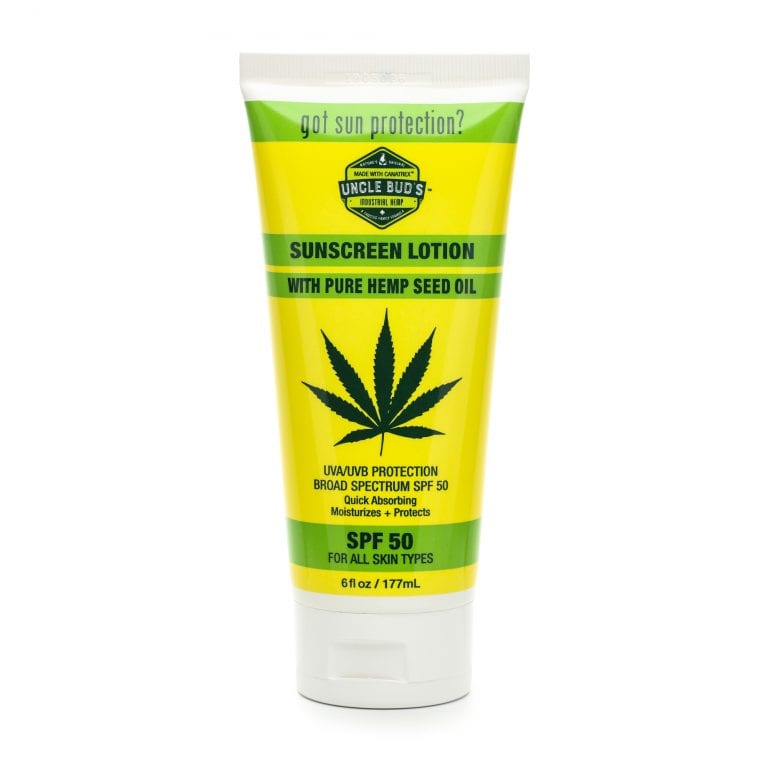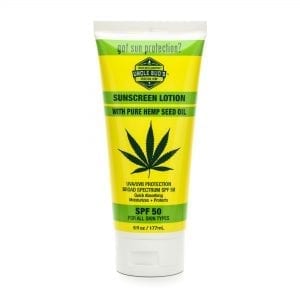 Apply powerful protection with our SPF 50 Sunscreen Lotion. Long-lasting and perfect for long days in the sun, this premium sunscreen lotion delivers formidable protection to skin from harmful UV rays that cause sunburn. This hemp sunscreen lotion keeps your skin protected from sunburns, all while moisturizing your skin with a powerful blend of antioxidants, vitamins, and hemp seed oil.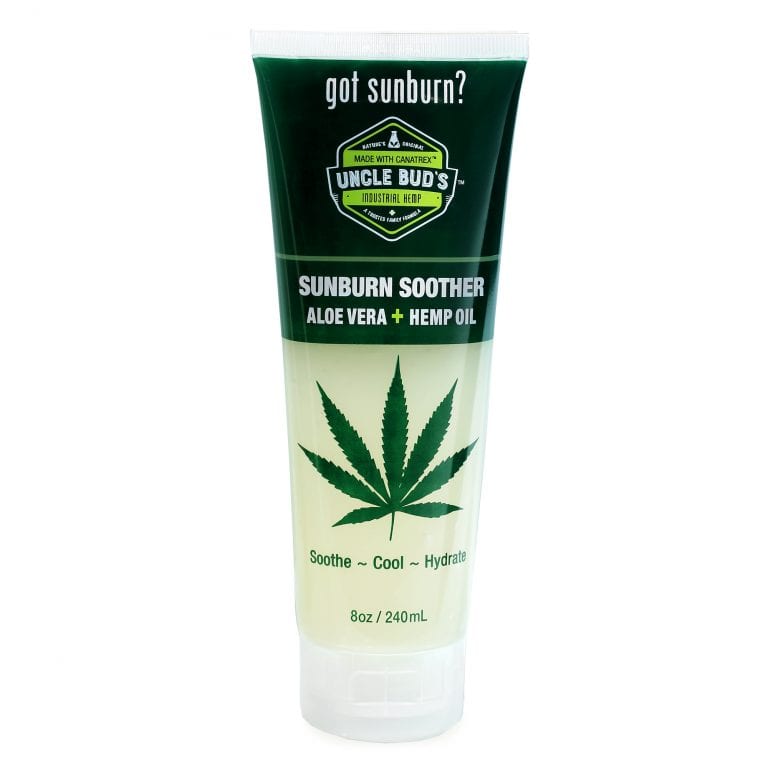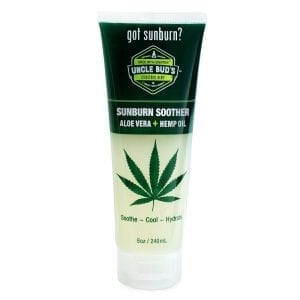 It's bound to happen. A little too much sun and bam – you're feeling the painful burn of a sunburn and need cooling asap. Uncle Bud's hemp sunburn soother uses the power of hemp to cool the burn, help with the discomfort and infuse your skin with a soothing mixture of hemp seed oil, intense moisturizers, and cooling  Aloe Vera. It can also help with other uncomfortable skin irritations such as minor burns, insect bites, windburn, and dry skin.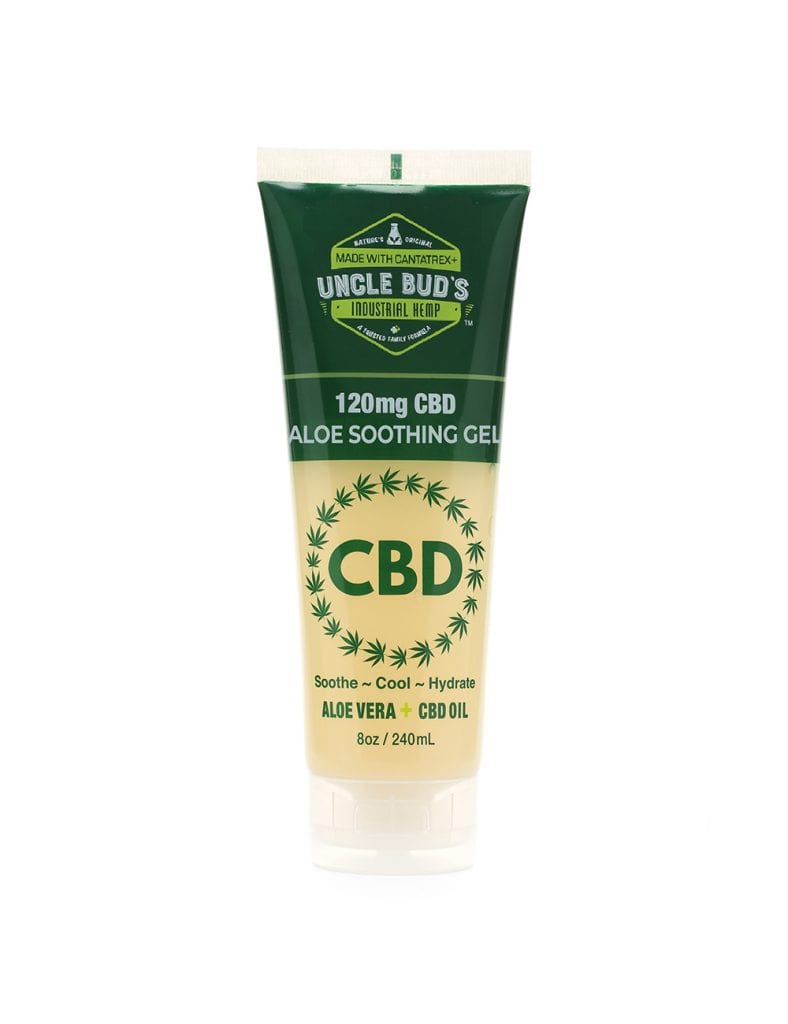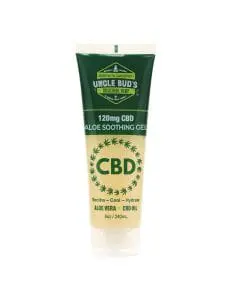 If you get a little too much sun, nothing is more soothing on tender sunburned skin than our Aloe-infused CBD Sunburn Gel. You not only get the cooling, skin-soothing effects of Aloe, but you also get an infusion of pure CBD oil. Our CBD Sunburn Gel restores moisture lost to sun exposure in a quick-absorbing gel that goes on smooth with no mess and no residue – perfect after a long day in the sun.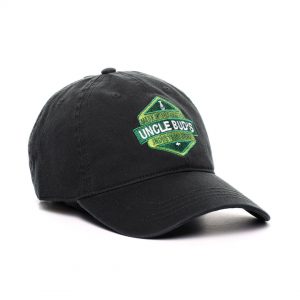 It's not a summer skincare product but it will definitely keep you cool. Our limited edition, logo-embroidered Uncle Bud's Hat will top off your summer vacation preparations in style! This classically styled, unisex hat is for both men and women and is fully adjustable to fit all head sizes. The visor will shield you from the sun, and the embroidered logo lets everyone know you are a member of team green!
---
Uncle Bud's Hemp has built its reputation on creating and selling high-quality, pure, premium Hemp-derived products. Our Hemp and CBD products are lab tested to ensure purity, potency, and quality.
The CBD content in milligrams is listed on every product label. While we can ensure the purity and maximum-strength potency of our proprietary CBD oil, we make no medical or therapeutic claims on any CBD product. Uncle Bud's avoids medical or therapeutic claims in order to maintain complete integrity, transparency, and trust with our customers.
All Uncle Bud's Hemp products are proudly made in the USA.
---
Disclaimer:
UncleBudsHemp.com articles are intended to provide helpful and informative content about the benefits of Hemp Seed Oil and CBD products.  Readers are advised to do their own research and make decisions in partnership with their health care provider. Nothing you read here should be relied upon to determine a course of treatment for any medical issue. All content found on the UncleBudsHemp.com Website, including text, images, audio, or other formats were created for informational purposes only. Uncle Buds makes no claims as to the medical efficacy of any products. The site and its content are provided on an "as is" basis.