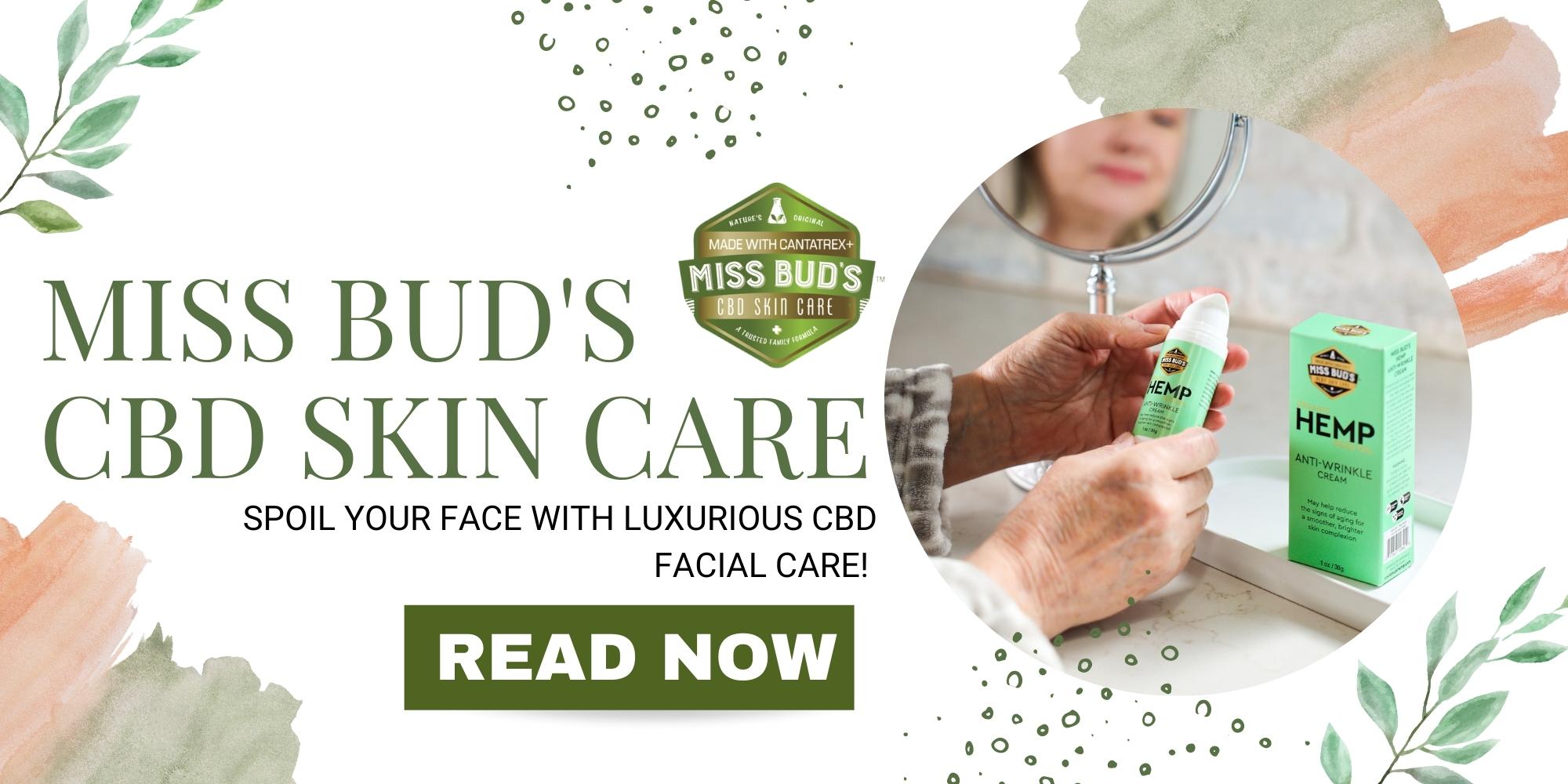 Spoil your face with luxurious CBD facial care!
Table of Contents
Why Hemp is Great for Your Face
Your Eyes – Your Body's Most Delicate Skin
Miss Bud's CBD Face Care Guide
The Secret of CBD Skin Care
The Hemp and CBD wellness revolution is here to stay and now you can find hemp-based versions of nearly every self-care product. CBD first became popular with oral supplements like sublingual tinctures, but it too has expanded to many families of products, including skincare. All CBD skin-care products are made from the botanical oil extracted from the hemp species of the cannabis plant and are prepared to specifically isolate a certain compound called Cannabidiol, or CBD for short. CBD skincare products don't contain THC, but both CBD and Hemp oil contain compounds that can moisturize and nourish the skin. The benefits of Hemp and CBD are becoming better understood and adopted by millions of people in the health and wellness community.
So what exactly is inside CBD skincare products that make them good for your skin? CBD oil is essentially identical to hemp seed oil, the only difference is CBD oil is prepared to purposely isolate the CBD. Both CBD oil and hemp seed oil contain therapeutic compounds that can benefit your skin such as natural moisturizers, amino acids, omegas, and vitamins. Your skin readily absorbs CBD, so each time you use a CBD skincare product you get an infusion of CBD, making it a perfect addition to any self-care product applied to the skin or face. 
Many of the important nutrients your skin needs to be healthy can be found in the botanical oils extracted from hemp – a therapeutic plant whose wellness properties have been known for centuries. CBD and hemp oil contain a unique mixture of plant-based compounds. When mixed with other skincare ingredients, hemp and CBD oil provide nourishing therapy to your skin, infusing it with compounds that restore moisture, replenish nutrients, and gently cleanse the skin without irritation.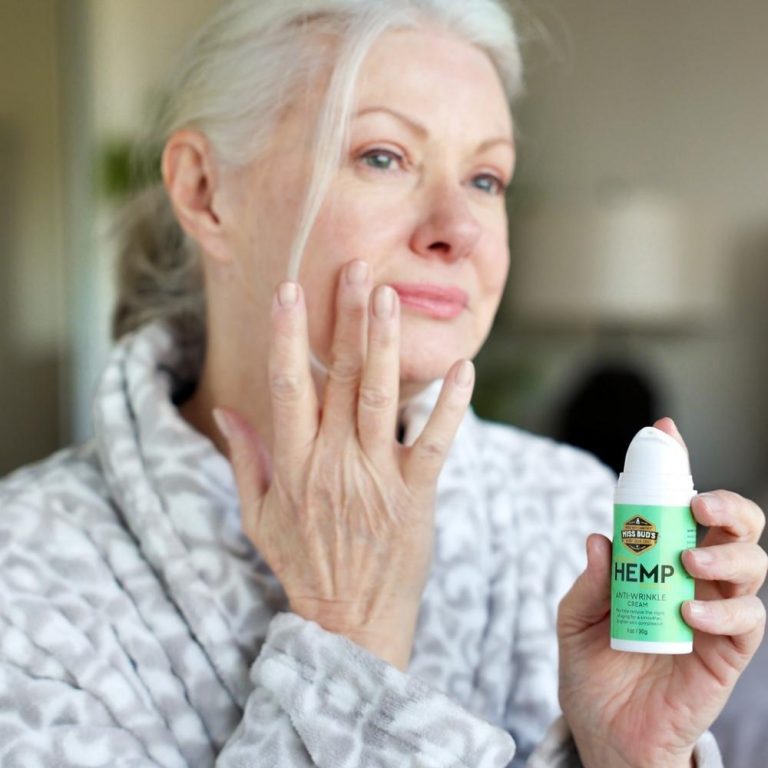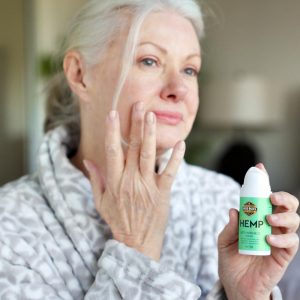 Why Hemp is Great for Your Face
The skin on your face is not only delicate, it's not covered by clothing and always exposed to the sun and elements. Your face is vulnerable to moisture loss, UV rays, and wrinkles, so people take extra care of their face and countless products exist for focused facial care – including facial creams, face washes, and clay face masks. The large family of face care products reflects the extra attention people are willing to spend on making sure their face is as healthy and attractive as possible. 
The botanical oil found in hemp comes from a plant and is similar to the natural oils produced by your own skin. Hemp oils make an excellent base ingredient for facial care products. Hemp face care products deliver extra moisturizing, cleansing, exfoliating, and restoration of key nutrients. Face care products made from hemp or CBD oil gently cleanse the skin on your face from impurities, removing dirt and excess oil. They can also detoxify and exfoliate the skin, unclogging pores and removing dead skin cells and other impurities that lurk beneath the top layer of skin. The hemp seed oil, along with other ingredients in hemp face care solutions, rejuvenate the skin, restoring moisture and infusing it with nutrients and therapeutic ingredients to balance and achieve a smooth, healthy, and radiant appearance.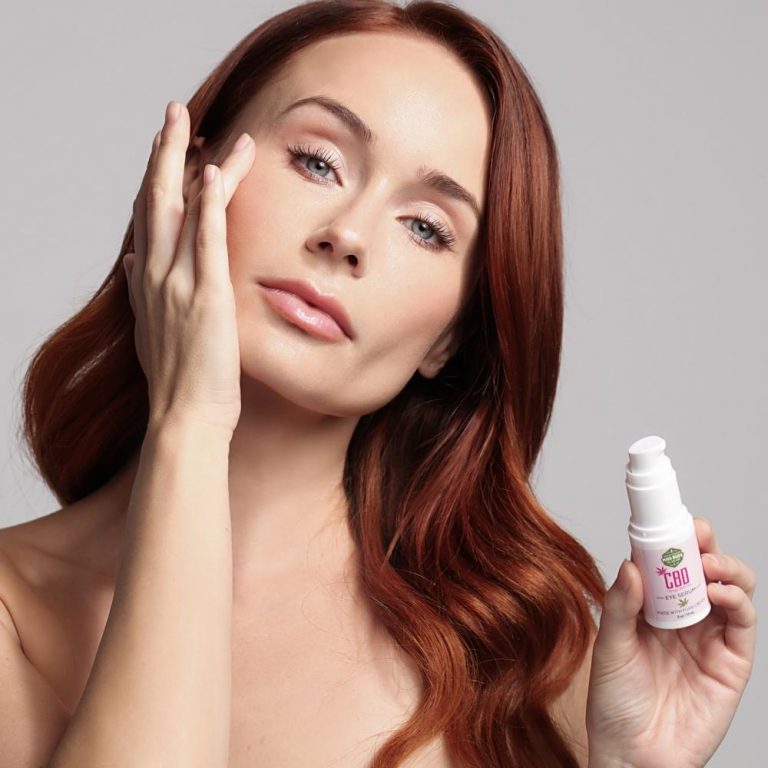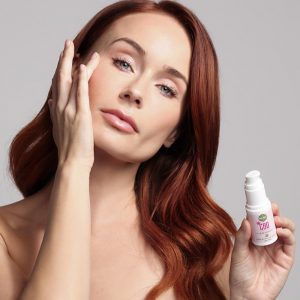 Your Eyes – Your Body's Most Delicate Skin
The skin around your eyes and eyelids is the most delicate and sensitive skin on your body. It's thin, sensitive, vulnerable to dryness, sun exposure, and the most prone to wrinkles. It requires special attention and should receive the best care. Maintaining a youthful, wrinkle-free complexion largely depends on the health of the skin around your eyes and requires different strategies to moisturize and strengthen this small but important area of skin on your face.
Specialized eye care products made from hemp seed oil provide focused therapy to the skin under and around your eyes. Hemp eye care products combine the skin-nourishing properties of hemp oil plus other beneficial ingredients to target the skin around the eyes with specialized cleansing, moisturizing, and nutrients to heal and revitalize the skin. These products are gentle and non-irritating but can fight the appearance of wrinkles and work to keep the skin healthy and smooth for a more youthful appearance.
Miss Bud's CBD eye care products combine the moisturizing power of hemp seed oil with an infusion of CBD. Miss Bud's CBD Eye Serum, Anti-Wrinkle Cream, and Under-Eye Oil are specialized eye care solutions that use the therapeutic power of hemp seed oil to rejuvenate and nourish the skin around the eyes and fight the appearance of wrinkles – while also delivering an infusion of pure CBD.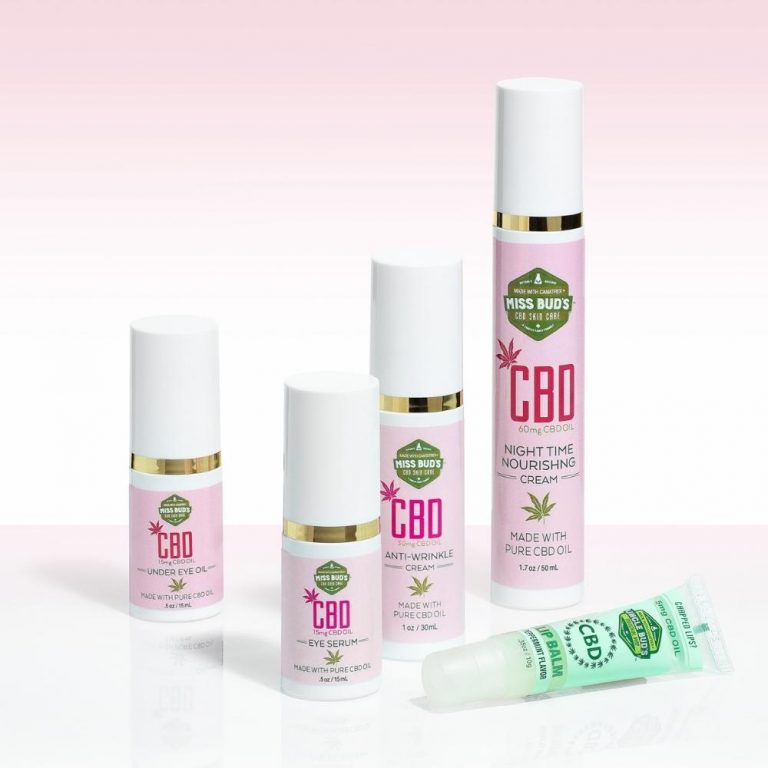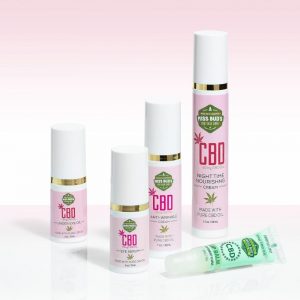 Uncle Bud's specializes in hemp-based skin and beauty care products, using only the purest and nutrient-rich hemp seed oil available. All of our Miss Bud's line of premium CBD face care products use a proprietary formula of pure CBD seed oil combined with other nourishing ingredients for maximum therapeutic benefits for your skin – and are guaranteed to contain zero THC.
Uncle Bud's CBD facial care solutions deliver advanced moisturizing and nourishing skin therapy for a healthy complexion and beautiful skin. Every face is unique, so we offer an exclusive line of Miss Bud's CBD face care products. Each is one is unique and perfect for your face!
This CBD eye cream delivers gentle hydration and nourishment to transform the delicate under-eye area and minimize the look of dark circles and puffiness, It may help tighten skin for brighter, beautiful, youthful-looking eyes. It also adds a 15-milligram infusion of pure CBD oil. Miss Bud's CBD Eye Serum uses pure hemp seed oil and other skin-nourishing ingredients that may help increase skin firmness and elasticity and minimize the look of puffiness and dark circles with the added benefit of CBD. While it contains 15 mg of pure CBD oil, this product contains no THC.
Fight the appearance of wrinkles around your eyes and face with Miss Bud's CBD Anti-Wrinkle Cream. This powerful CBD anti-wrinkle cream is scientifically formulated to help minimize the appearance of fine lines and wrinkles while increasing skin firmness and elasticity. This may help visibly reduce the appearance of crow's feet, fine lines, and coarse deep wrinkles for a flawless look. Miss Bud's CBD Under-Eye Oil
Miss Bud's CBD Under Eye Oil combines the benefits of our hemp under-eye oil with pure CBD. It works on the delicate skin of the under-eye area to help minimize the look of wrinkles, puffiness, and dark circles. The oil deeply moisturizes for brighter eyes while also delivering a 15mg infusion of pure CBD oil. It tones the skin and helps smooth wrinkles for a more youthful appearance – and it's 100% THC-free.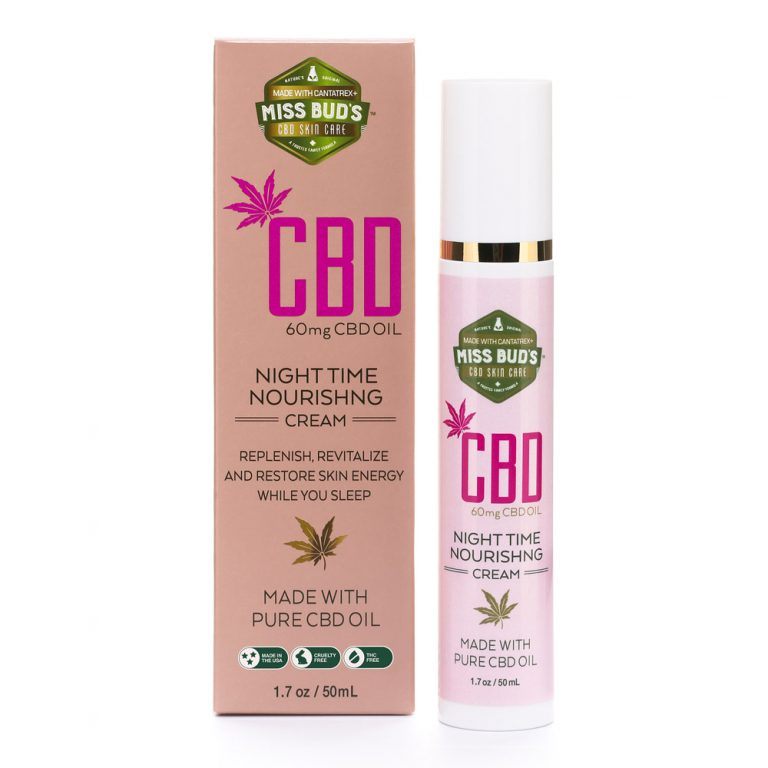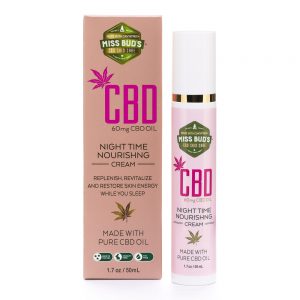 Rest easy knowing this premium night cream is working to nourish the skin on your face as you sleep, and make Miss Bud's CBD Nighttime Nourishing cream part of your evening routine. Our rich, non-greasy formula works overnight to replenish antioxidant and moisture levels and improves skin elasticity to leave skin feeling soft, supple, and deeply hydrated.
Use the gentle and non-irritating power of sugar crystals to exfoliate your skin with Miss Bud's CBD Facial Scrub with Sugar Crystals. The sugar crystals work to lightly remove excess oils, dirt, and exfoliate dead skin, leaving your skin rejuvenated and your complexion smooth and bright. 
When you wash your face with this gentle foaming cleanser, the foamy lather works to remove dirt, excess oil and impurities and then washes away cleanly. Miss Bud's CBD Gentle Foaming Face Cleanser contains Saponin, native to tropical regions, which produces an elegant foam that gently removes dirt, oil, and makeup without drying your skin. 
---
Uncle Bud's Hemp has built its reputation on creating and selling high-quality, pure, premium Hemp-derived products. Our Hemp and CBD products are lab tested to ensure purity, potency, and quality.
The CBD content in milligrams is listed on every product label. While we can ensure the purity and maximum-strength potency of our proprietary CBD oil, we make no medical or therapeutic claims on any CBD product. Uncle Bud's avoids medical or therapeutic claims in order to maintain complete integrity, transparency, and trust with our customers.
All Uncle Bud's Hemp products are proudly made in the USA.
---
Disclaimer:
UncleBudsHemp.com articles are intended to provide helpful and informative content about the benefits of Hemp Seed Oil and CBD products.  Readers are advised to do their own research and make decisions in partnership with their health care provider. Nothing you read here should be relied upon to determine a course of treatment for any medical issue. All content found on the UncleBudsHemp.com Website, including text, images, audio, or other formats were created for informational purposes only. Uncle Buds makes no claims as to the medical efficacy of any products. The site and its content are provided on an "as is" basis.