Find the perfect gift with the best Hemp and CBD products for mom!
Hemp for Mother's Day? Yes, Really!
Top 10 Reasons Hemp & CBD make a great Mother's Day gift
The Best Hemp & CBD Gifts for Mother's Day
Hemp for Mother's Day? Yes, Really!
Yes, we're serious. hemp-derived products may be the last thing you think of when shopping for Mother's Day, but hemp and CBD products make a great gift for mom for one big reason – hemp oil is an amazing botanical oil full of beneficial ingredients for the skin. Even though it comes from cannabis, hemp, and CBD self-care products contain no THC, but is full of special plant-based compounds that work together with other ingredients to help nourish, moisturize, and beautify the skin. 
Hemp oil and CBD oil are essentially the same substance since they are derived from the same plant. The only difference is CBD oil includes Cannabidiol, one of many naturally occurring compounds found in the cannabis plant. Uncle Bud's offers Hemp & CBD Products that your mom (or any other special someone in your life) will absolutely love. The reason these products make such a great Mother's Day gift is because of the oil, and what's inside it.
Hemp seed oil is essentially a concentration of beneficial compounds like moisturizers, anti-inflammatories, fatty acids, vitamins, antioxidants, and omegas. A drop of hemp oil contains multiple ingredients that combine to offer an amazing array of health and therapeutic benefits to various parts of your body – especially the skin. Let's take a closer look at the beauty and skincare benefits of hemp and CBD oil with the top 10 ways Hemp makes a great Mother's Day gift.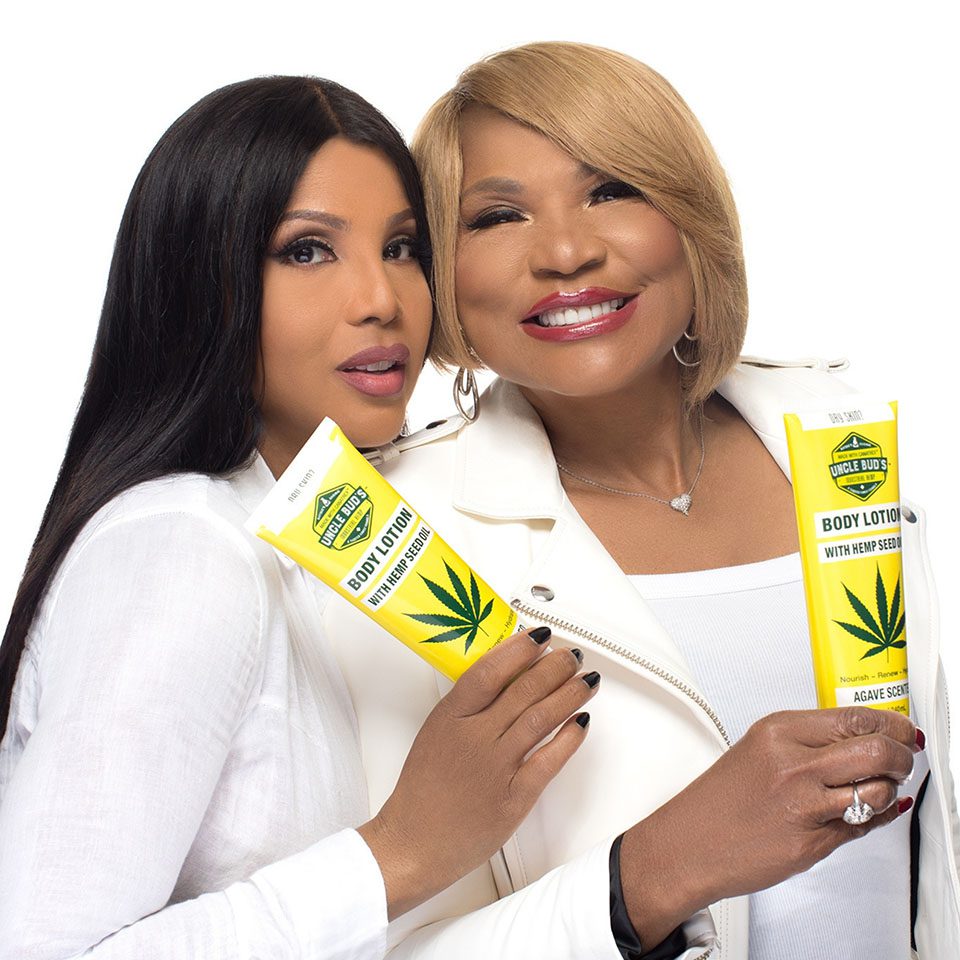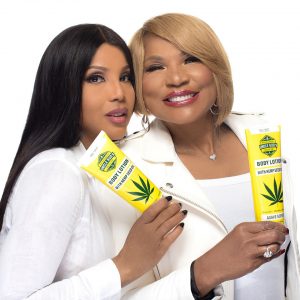 Top 10 Reasons Hemp & CBD make a great Mother's Day Gift
1. Moisturizing
Hemp oil is foremost a moisturizer that mimics the moisture that occurs in human skin. The Hemp along with other over-the-counter moisturizers penetrates and deeply hydrates dry skin and restores it to health. Hemp oil infuses the skin with moisture and helps keep moisture inside, fortifying it against dryness.
2. Ideal for Both Oily and Dry Skin
Due to its high concentration of vitamins and essential fatty acids, Hemp seed oil benefits both dry and oily skin simultaneously. The moisturizers in Hemp skincare supplements work together to hydrate dry-skin conditions. On the other hand, hemp seed oil can help if the skin is producing too much oil, it restores the skin's oil balance and may help limit excess oil.
3. Anti-Inflammatory Compounds
Anti-inflammatory compounds in hemp seed oil beauty products may help to reduce skin irritation and redness, promoting healthy skin at the tissue level. Many types of skin blemishes are caused by inflamed tissue and hemp seed oil may help lower skin inflammation. 
4. Great for Sensitive Skin
The anti-inflammatory properties of hemp oil skin care products are especially good for people with sensitive skin. Artificial ingredients in some over-the-counter beauty products can cause irritation because the skin reacts to foreign chemicals that don't resemble the body's own oils and tissues. Hemp seed oil is chemically similar to the oil the skin produces, especially sensitive skin, and one of a select few botanical oils that are good for all skin types. 
5. Antioxidants, Amino Acids & Omegas
The skin needs specific nutrients to be healthy and most important among these are antioxidants, amino acids, and omegas. Antioxidants slow damage to the skin caused by free radicals – unstable molecules your body produces. Amino acids are vital for functions such as protein synthesis, tissue repair, and nutrient absorption. Omegas are helpful "good" fats your body needs for proper function. Hemp and CBD oil-based skincare products contain an ideal balance of antioxidants, amino acids, and the 3 essential omegas your body needs: Omega-6, Omega-3, and Omega-9. 
6. Great Source of Vitamin E
Hemp oil also contains high levels of Vitamin E, the most important of the "letter" vitamins for skin health. Vitamin E is a collector of free radicals which you often find in UV rays and pollution. Free radicals produce signs of skin aging such as wrinkles, dark spots, and fine lines. When used topically, Vitamin E may help reduce skin damage caused by free radicals and even help protect skin from further damage. Hemp beauty products often contain an abundance of Vitamin E, the primary vitamin skin needs to be healthy, and an ideal way to combat skin damage and aging.
7. Anti-Aging & Anti-Wrinkles
As your skin ages, it loses its elasticity which is the primary cause of wrinkles. Hemp seed oil acts as an emollient to smooth the skin's surface and restore elasticity, which may help in reducing fine lines and wrinkles. Restoring elasticity helps the skin appear smoother and more youthful. The anti-wrinkle properties of hemp and CBD skincare products make them a popular choice among "mom age" women.
8. Gentle Cleanser & Purifier
Regular skincare products often contain artificial detergents like soap that strip away skin's moisture. Hemp oil cleanses the skin of dirt, bacteria, and impurities without stripping away moisture, making it an ideal cleansing agent for sensitive skin that needs moisture, like the skin on your face. Hemp oil skin supplements designed for cleansing, like face washes, wash away impurities all while hydrating and nourishing your skin.
9. Safe, Legal and THC-Free
You can be confident in Uncle Bud's hemp and CBD self-care products when shopping for the perfect Mother's Day gift. Uncle Bud's Hemp specializes in hemp-based skincare and beauty products created in an FDA-registered lab. Uncle Bud's Hemp and CBD products are safe, tested, and 100% legal to purchase in the US and are guaranteed to be THC-free.
10. Premium Quality
Uncle Bud's skincare uses a proprietary formula of pure hemp seed oil combined with other therapeutic oils and ingredients for maximum therapeutic benefits for your skin. Each of Uncle Bud's hemp skincare products is crafted to provide advanced moisturizing and nourishing treatment for a healthy complexion and beautiful skin.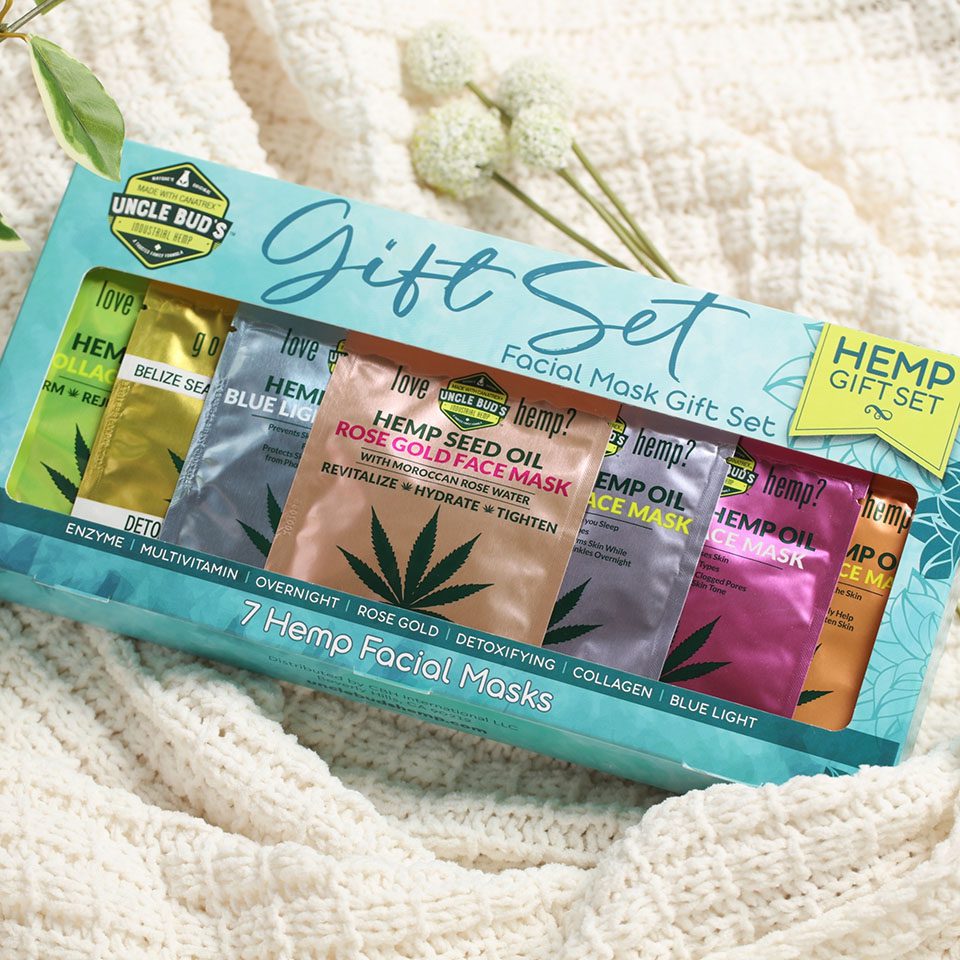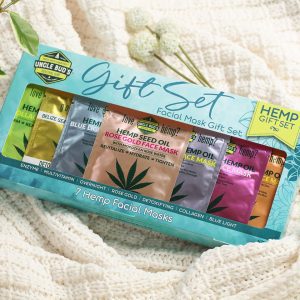 Our Best hemp & CBD Mother's Day Gifts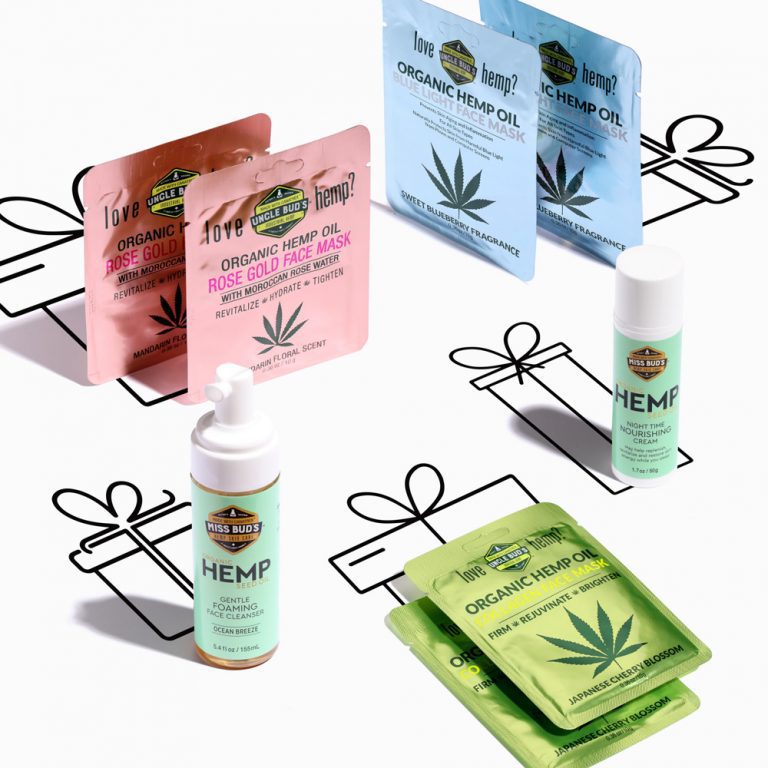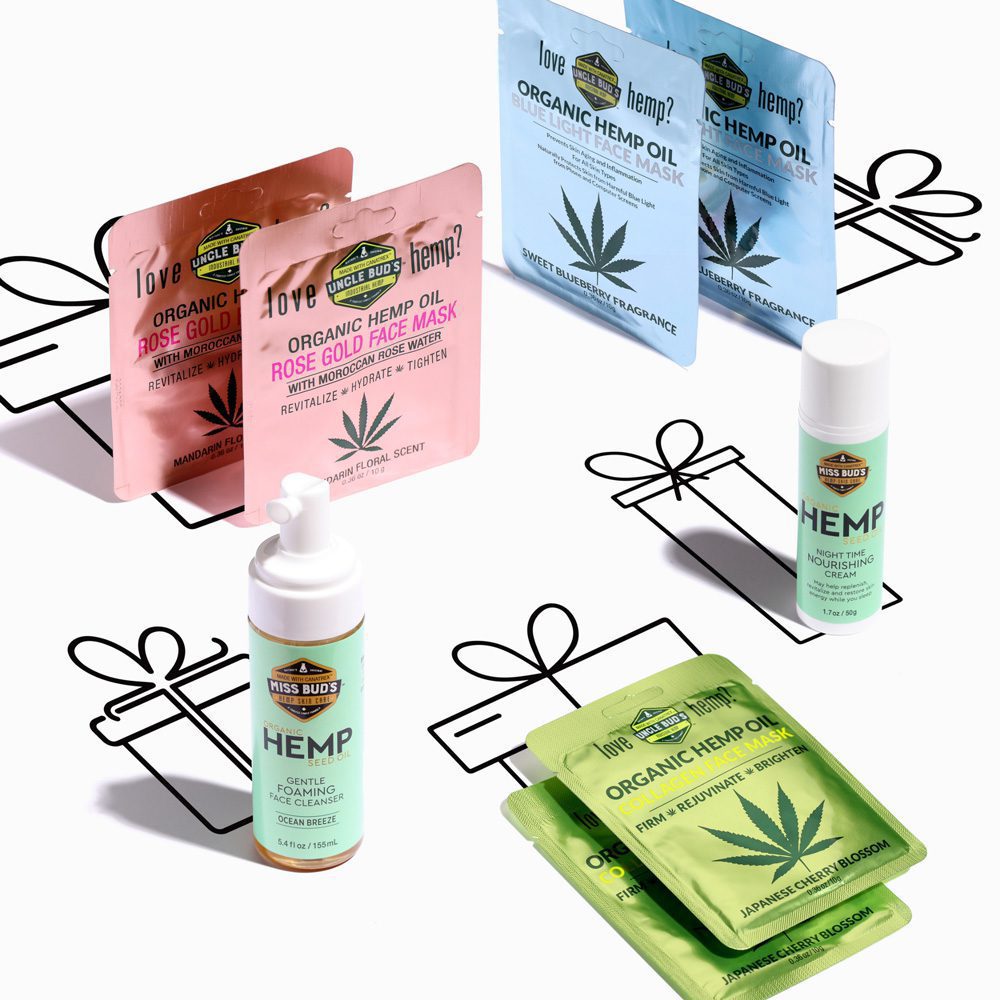 We've collected our most popular hemp facial care products into one exclusive gift set. Each product is crafted to provide advanced moisturizing and nourishing treatment for a healthy complexion and beautiful skin. Keep your skin complexion hydrated and glowing with our Hemp Facial Care Set which includes our top-selling Hemp Skin Care products all scientifically formulated to help moisturize, nourish, and rejuvenate your skin.
Gift Pack Includes:
1 x Uncle Bud's Hemp Gentle Foaming Face Cleanser
1 x Uncle Bud's Hemp Night Time Nourishing Cream
2 x Uncle Bud's Hemp Rose Gold Face Mask
2 x Uncle Bud's Hemp Collagen Face Mask
2 x Uncle Bud's Hemp Blue Light Protection Face Mask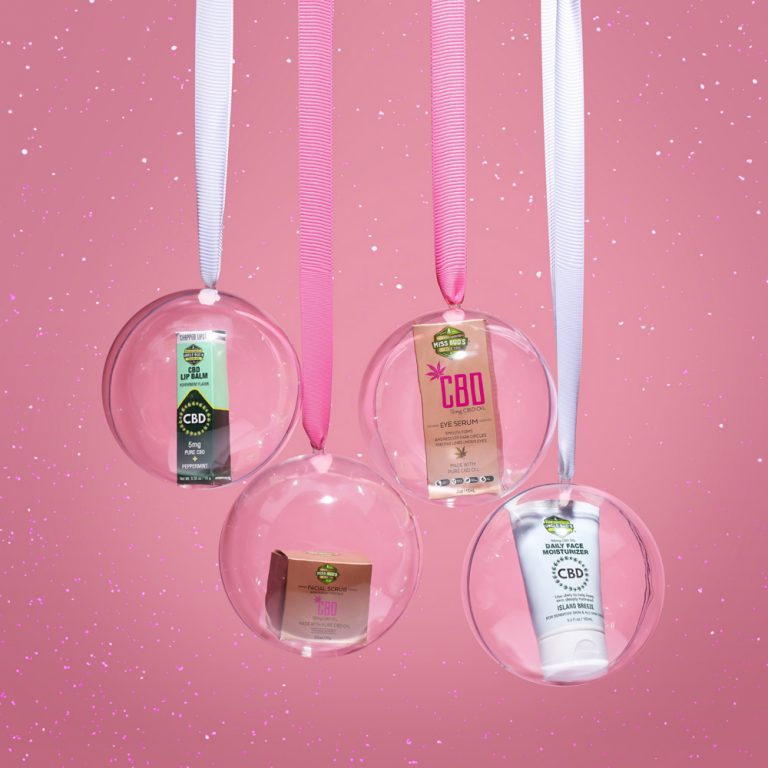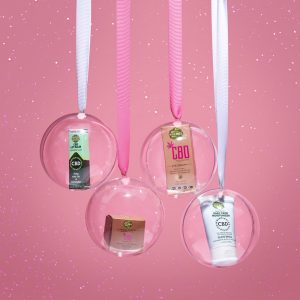 Are you ready to add some excitement to your beauty care routine? Our CBD facial care gift box features the same quality ingredients as premium hemp facial care products but with something extra – an infusion of our pure CBD oil blend. Each time you use or apply the product, you're getting all the body and skin care benefits as with our hemp products but with an added bonus – an infusion of maximum strength CBD oil. Uncle Bud's CBD Facial Care Set will help moisturize, rejuvenate, and nourish your skin. 
Gift Pack Includes:
1x CBD Under Eye Serum
1x CBD Facial Scrub with Sugar Crystals
1x CBD Daily Face Moisturizer
1x CBD Lip Balm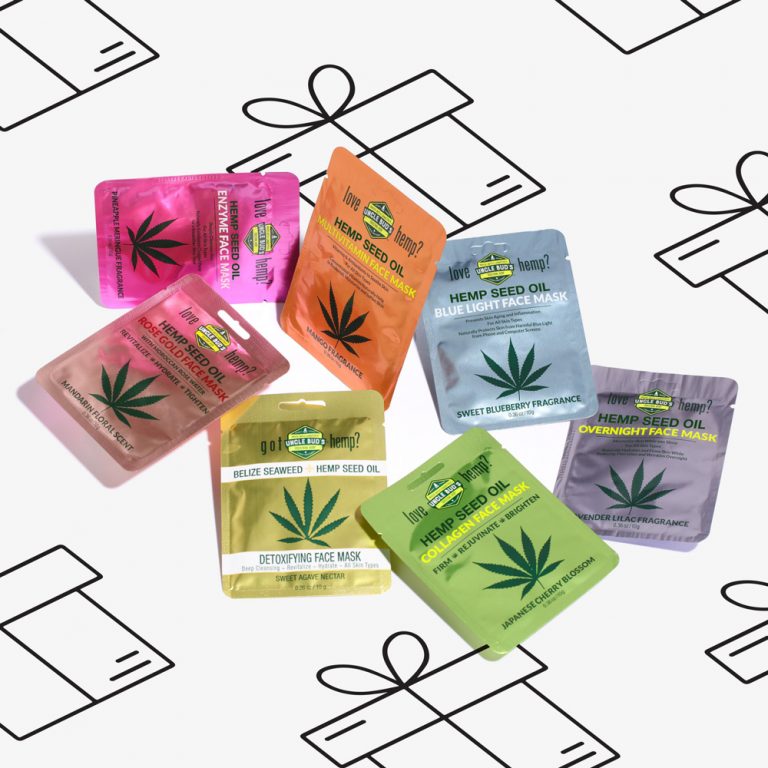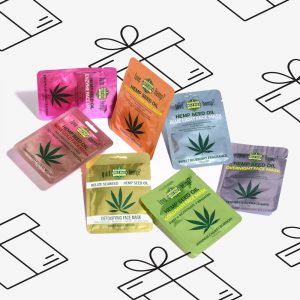 Pamper your face and indulge in all of our popular hemp face masks in one convenient gift box. Our premium hemp face masks use a proprietary formula of pure hemp seed oil combined with other skin-beautifying ingredients for advanced moisturizing and nourishing skin therapy for a healthy complexion and beautiful skin. 
We've included all of our hemp face masks in this exclusive gift set. Each set includes one single-use package of each of our face masks, giving you the full range of Uncle Bud's hemp face mask products – perfect for a first-time user that wants to try them all and find their favorite. 
Gift Pack Includes:
1x Collagen Face Mask
1x Rose Gold Face Mask
1x Detoxifying Face Mask
1x Blue Light Face Mask
1x Overnight Face Mask
1x Multivitamin Face Mask
1x Enzyme Face Mask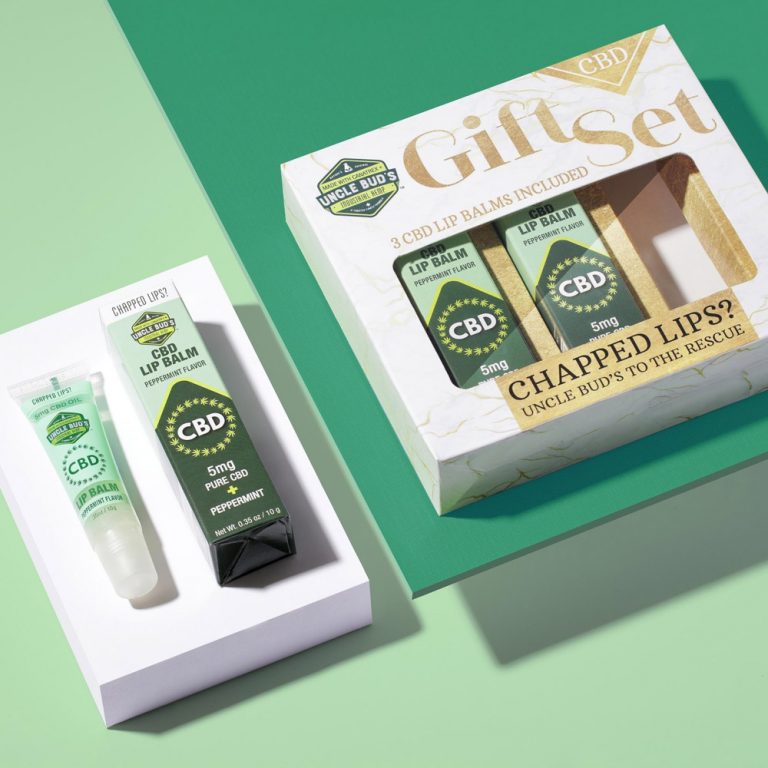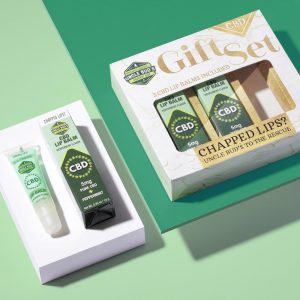 Uncle Bud's CBD Lip Balm is one of our most famous and popular CBD products, providing heavy-duty hydration that leaves lips feeling soft, supple, and healthy. The quick-absorbing and non-greasy formula goes on smooth, protecting your lips sensitive skin and helping heal the cracks and dryness caused by the weather. This gift pack features three moisturizing CBD Lip Balms in a wonderful peppermint scent and a 5mg infusion of our pure CBD oil.
Gift Pack Includes: 
3x CBD Peppermint Lip Balms 
---
Uncle Bud's Hemp has built its reputation on creating and selling high-quality, pure, premium Hemp-derived products. Our Hemp and CBD products are lab tested to ensure purity, potency, and quality.
The CBD content in milligrams is listed on every product label. While we can ensure the purity and maximum-strength potency of our proprietary CBD oil, we make no medical or therapeutic claims on any CBD product. Uncle Bud's avoids medical or therapeutic claims in order to maintain complete integrity, transparency, and trust with our customers.
All Uncle Bud's Hemp products are proudly made in the USA.
---
Disclaimer:
UncleBudsHemp.com articles are intended to provide helpful and informative content about the benefits of Hemp Seed Oil and CBD products.  Readers are advised to do their own research and make decisions in partnership with their health care provider. Nothing you read here should be relied upon to determine a course of treatment for any medical issue. All content found on the UncleBudsHemp.com Website, including text, images, audio, or other formats were created for informational purposes only. Uncle Buds makes no claims as to the medical efficacy of any products. The site and its content are provided on an "as is" basis.