Make the best of an extended staycation with hemp
home
care essentials.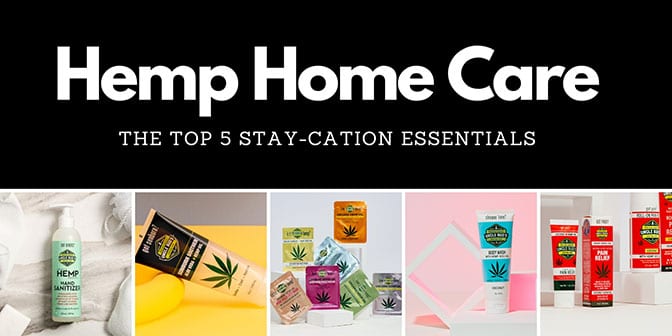 Just because you're cooped up in the house doesn't mean you can't indulge a little with the finest hemp care products. Fight the cabin fever with a personal pampering with Uncle Bud's premium hemp therapy products like Hemp Body Lotion, plus stock up on important hemp essentials like Hand Sanitizer and Topical Pain Cream. However long your homebound stay lasts, Uncle Buds has got you covered with our Top 5 most indulgent and important hemp home care products to make life calm and comfortable during your home staycation.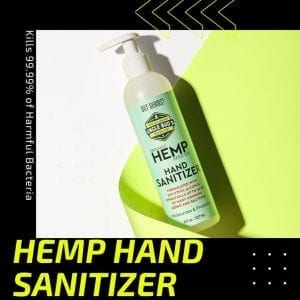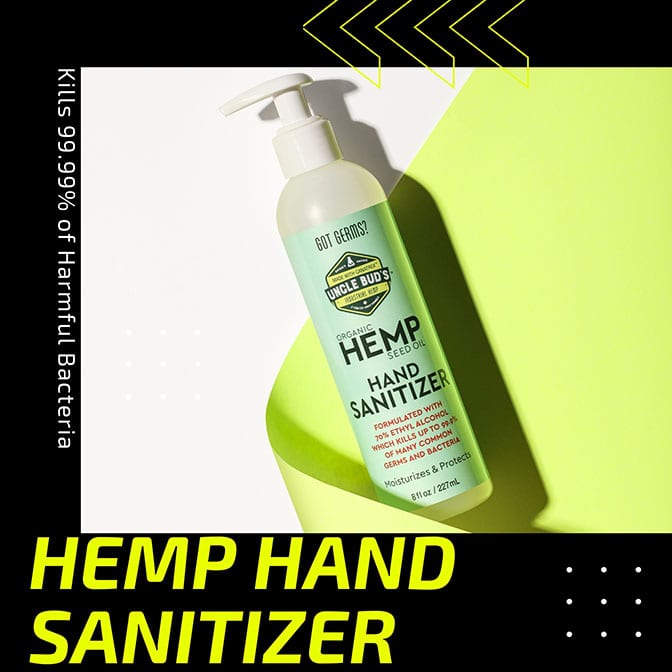 Take confidence in our newest hemp product designed to protect against germs and bacteria while delivering the moisturizing and skin-benefiting properties of pure natural hemp seed oil. Uncle Bud's new Hemp Hand Sanitizer is formulated with 70% ethyl alcohol which kills up to 99.9% of many common harmful germs and bacteria without drying out your hands.
Kills harmful germs and bacteria • Does not dry out your hands • Unscented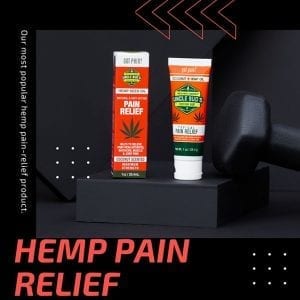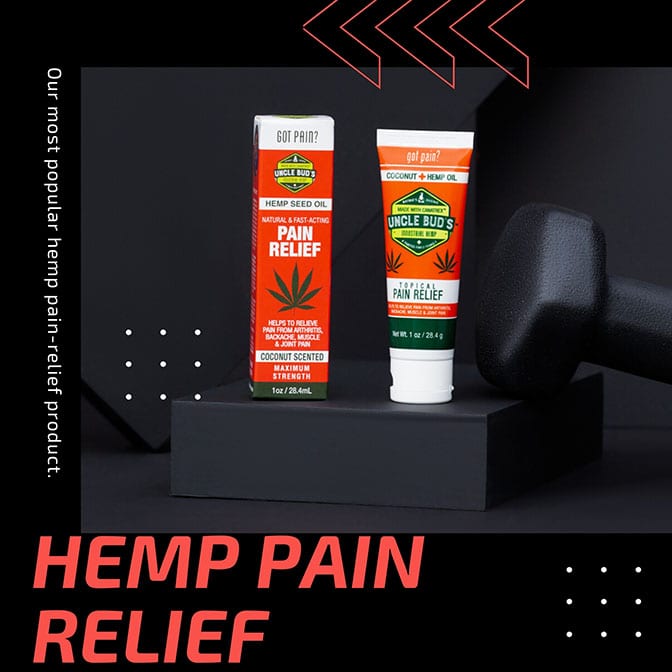 Stock up on our most popular hemp pain-relief product. This fast-acting hemp topical pain reliever absorbs quickly and penetrates deep to combat aches and pains associated with arthritis, backaches, and muscle and joint pain. This premium coconut-scented, over-the-counter pain relief cream uses our proprietary blend of the purest hemp seed oil plus potent anti-inflammatories and other supplements.
Guaranteed to work or your money back • Anti-inflammatory hemp oil blend • Coconut scented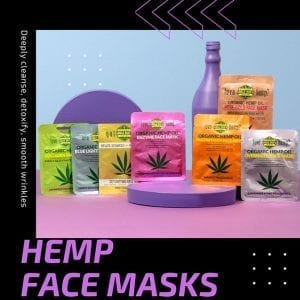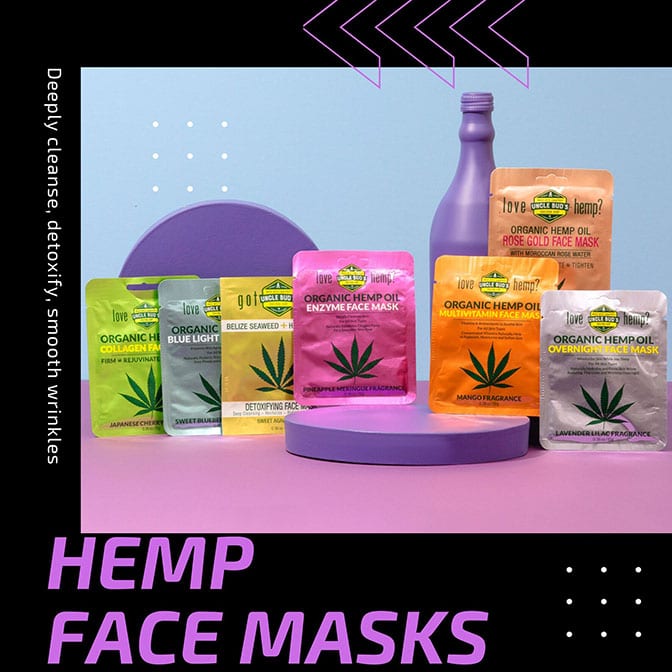 Make your staycation at home relaxing and indulgent by trying each of our popular Hemp Face Masks. All of our Hemp Face Masks moisturize and hydrate your delicate facial skin with pure hemp seed oil and other therapeutic supplements. Each is unique, containing specialized ingredients that deeply cleanse, detoxify, smooth wrinkles and more. This premium gift pack contains all seven different varieties.
One of each Hemp Face Mask • Seven masks in the Gift Pack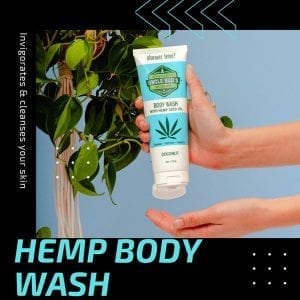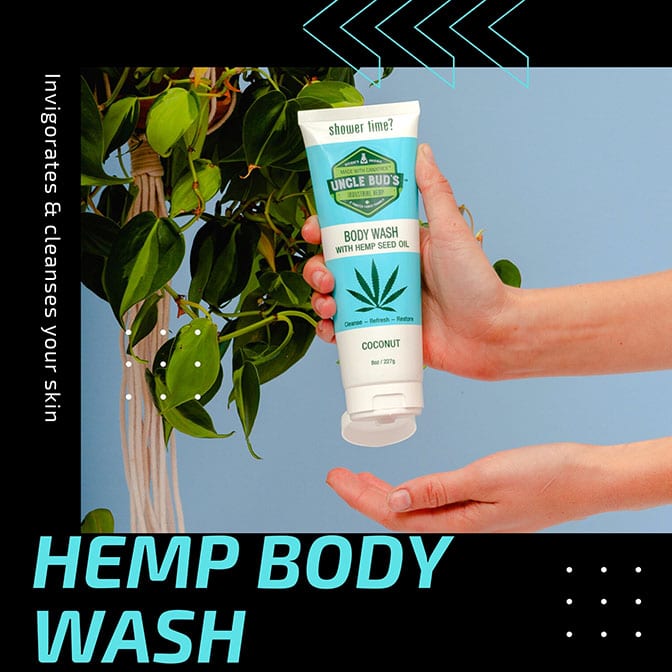 As long as you're stuck at home, make the best of it with a luxurious hot bath to relax and unwind. Our decadent Hemp Body Wash not only gets you clean, but it also invigorates your skin with our proprietary hemp seed oil blend, leaving your skin radiant, moisturized and infused with beneficial antioxidants and supplements.
Gentle formula for all skin types • Powerful cleansing • Coconut scented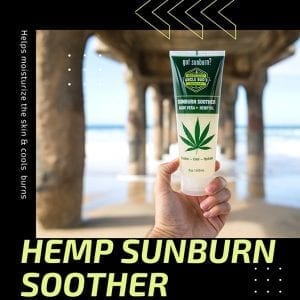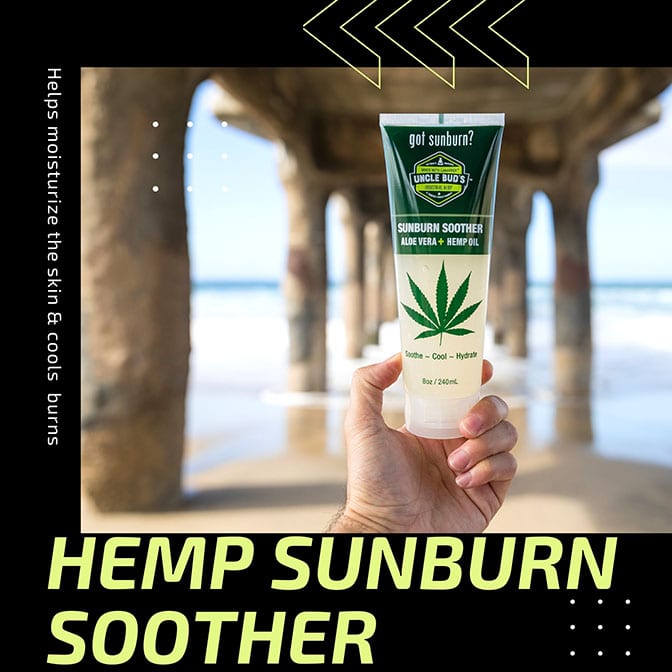 Just because you're stuck at home doesn't mean you can't go in the backyard to have more fun in the sun. If you end up spending a little too much time in the sunny spring weather, cool any sunburn with our Hemp Sunburn Soother. This powerful and fast-acting Sunburn Soother helps moisturize the skin and cools burns. It can also help relieve skin irritations such as Minor Burns, Insect Bites, Windburn, and Dry Skin.
Pure Hemp Seed Oil plus cooling Aloe Vera • Soothe, Cool & Hydrate
_____________________
Disclaimer.
UncleBudsHemp.com articles are intended to provide helpful and informative content about the benefits of Hemp Seed Oil and CBD products.  Readers are advised to do their own research and make decisions in partnership with their health care provider. Nothing you read here should be relied upon to determine a course of treatment for any medical issue. All content found on the UncleBudsHemp.com Website, including text, images, audio, or other formats were created for informational purposes only. Uncle Buds makes no claims as to the medical efficacy of any products. The Site and its Content are provided on an "as is" basis.