Uncle Bud's co-founder Garrett Greller's search to find relief for his chronic arthritis pain.
Even as a teenager Garret Greller suffered from arthritis in his knees, back, hips and ankles. He searched for a medical cure for years, consulting with multiple doctors who all recommended pharmaceutical pain pills. Nothing worked. It was this journey that drove him to seek out alternative remedies for his chronic pain through hemp therapies. Here is his story: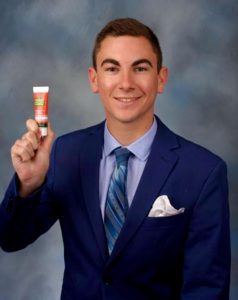 My name is Garrett and I suffered from chronic arthritis pain
The arthritis pain began at an unusually early age for me. Even though I was young, healthy and active, the arthritis pain kept me from enjoying the things I loved, like working out, sports and outdoor activities.
I did what anyone would do, sought doctors for something to treat my arthritis pain. Even though I was young for an arthritis patient and otherwise healthy, the medical community prescribed routine arthritis treatments starting with anti-inflammatory pain pills. When they didn't work, I tried expensive injectable shots in my leg twice per week. They failed as well.
After drug treatments failed to work, I tried other remedies. Topical over-the-counter pain relievers weren't strong enough to make a difference. Physical therapy wasn't effective because I was already active and more or less physically fit. I even turned to unconventional treatments like acupuncture and Eastern medicine. Again, nothing worked, and I began to admit defeat and accept I would live in pain for the rest of my life. Then a miracle in my quest for pain relief happened.
I too was skeptical of hemp therapies. Even though I knew there was no THC, I believed they were like other herbal and holistic remedies: natural but ineffective. But after wasting thousands of dollars on medicines that didn't work or had terrible side effects, I figured what do I have to lose?
I used a hemp topical over a period of time. The effect on my arthritis pain wasn't instant, but it was noticeable, and most importantly – it was real. For the first time, a treatment was reliably working to diminish my arthritis pain. It was then I learned the tremendous potential of hemp-based pain solutions. I can't claim Hemp therapies will work for everyone, but they without a doubt worked for me, and I believe they have the potential to help millions who suffer from daily pain.
The Uncle Buds Hemp Solution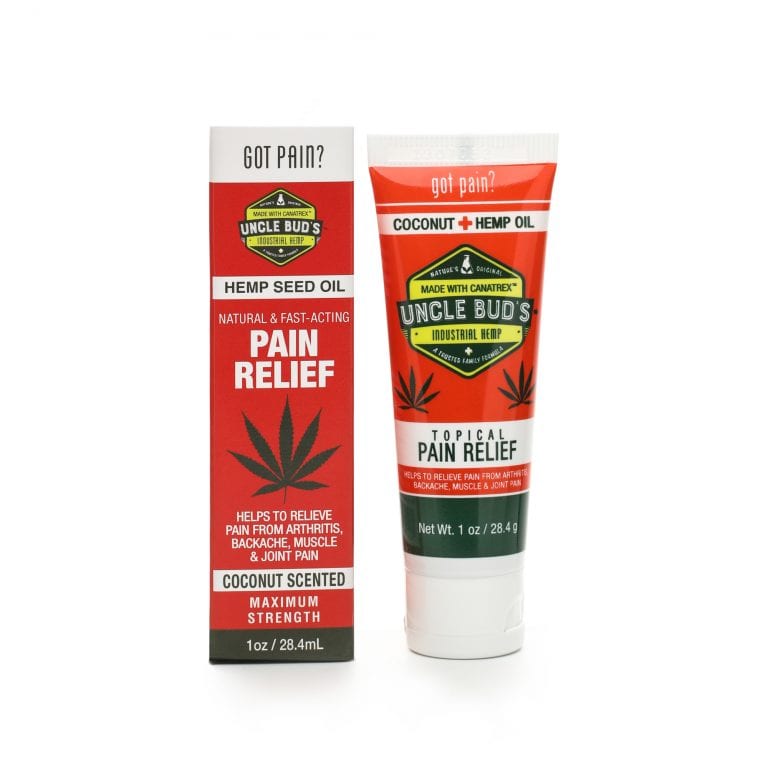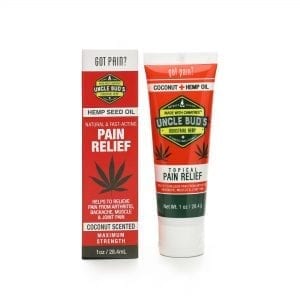 Uncle Bud's Ultra Strength Hemp Topical Pain Relief Cream was among the first products developed at Uncle Bud's lab and is the original product that has immensely helped with Garrett's daily aches and pains. This body rub contains an ultra-strength proprietary blend in a topical rub infused with 60mg of pure CBD oil. Its quick-absorbing formula is Omega and supplement rich, high in Vitamins A, D, and E to help maintain healthy skin, and it's lightly coconut scented. This product contains NO THC.
---
Uncle Bud's Hemp has built its reputation on creating and selling high-quality, pure, premium Hemp-derived products. Our Hemp and CBD products are lab tested to ensure purity, potency, and quality.
The CBD content in milligrams is listed on every product label. While we can ensure the purity and maximum-strength potency of our proprietary CBD oil, we make no medical or therapeutic claims on any CBD product. Uncle Bud's avoids medical or therapeutic claims in order to maintain complete integrity, transparency, and trust with our customers.
All Uncle Bud's Hemp products are proudly made in the USA.
---
Disclaimer:
UncleBudsHemp.com articles are intended to provide helpful and informative content about the benefits of Hemp Seed Oil and CBD products.  Readers are advised to do their own research and make decisions in partnership with their health care provider. Nothing you read here should be relied upon to determine a course of treatment for any medical issue. All content found on the UncleBudsHemp.com Website, including text, images, audio, or other formats were created for informational purposes only. Uncle Buds makes no claims as to the medical efficacy of any products. The site and its content are provided on an "as is" basis.