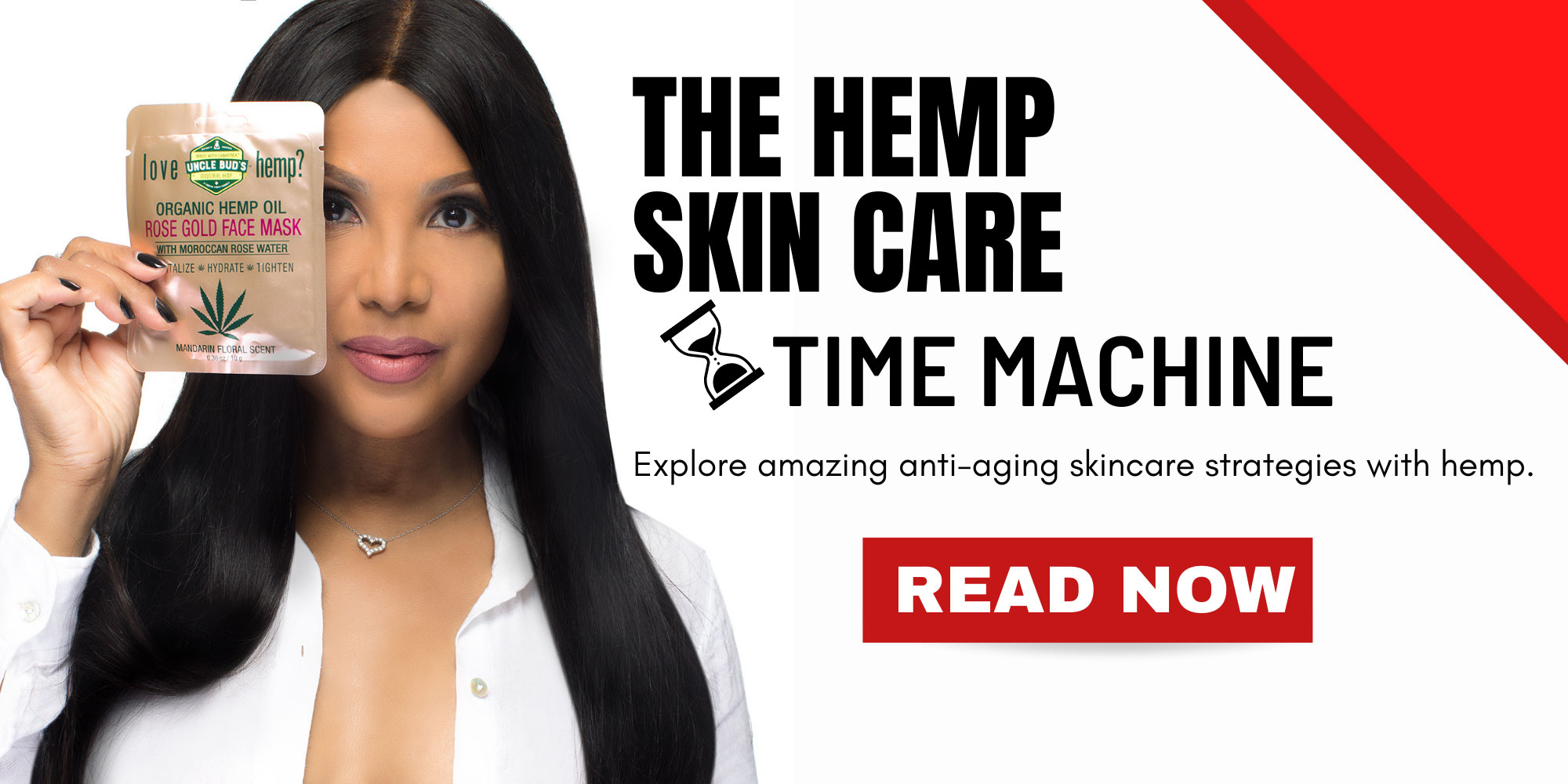 Explore amazing anti-aging skincare strategies with hemp.
Table of Contents
When it comes to aging, is there a time machine you can step inside to transport you back to the youthful appearance of yesteryear? Not exactly, but that doesn't mean you are helpless against the hands of time, or your skin can't look noticeably younger. There are real skincare strategies that work. There are products that can restore a more youthful appearance and help maintain the integrity of your skin, keeping it soft and supple, and fight the appearance of wrinkles. Step inside the world of hemp anti-aging skincare solutions and join the fight to protect your skin from the effects of time and minimize the appearance of wrinkles.
The Hemp plant has long been associated with skin benefits. For centuries people have used this medicinal plant the same way they use Aloe or other therapeutic plants that can moisturize, soften, or otherwise help the skin. The pale green botanical oil extracted from the hemp plant's seeds is called hemp seed oil, and it forms the base ingredient for many modern skin care products, some of which are anti-aging solutions that fight against wrinkles. There is a multitude of skin-health benefits associated with hemp seed oil, foremost among them it being a moisturizer that can help to protect and nourishes the skin. Hemp seed oil contains many compounds that are beneficial to the skin including amino acids, omega 3-6-9s, and vitamins. Hemp is thought to possess natural anti-inflammatory properties that may help to minimize skin irritation, swelling, and redness. Importantly, pure hemp seed oil contains no THC and no CBD, but it is rich in nutrients and contains a plethora of skin-nourishing compounds. Hemp's medicinal qualities have been known for a long time, but only now have people begun to realize the unique anti-aging properties of this simple but amazing plant.
---
---
Time and Your Skin
Your skin is a remarkable organ that protects you from the environment, the sun, and harmful substances from entering your body. It does a good job protecting you, but over time your skin loses a property called elasticity. Elasticity is the "stretchiness" of your skin; the ability to move, fold and stretch, then return to its original firmness. As we age, the connective tissue and collagen proteins in our skin slowly lose this elastic quality, reducing its ability to snap back firm when stretched. The skin becomes thinner and looser, and wrinkles form in the places where the skin folds most frequently. Wrinkles often start to appear first around the eyes, as the skin is already thin and delicate, and years of blinking and squinting in bright light cause the formation of wrinkles. 
As we age, and the skin continues to lose elasticity, more lines and wrinkles may form on the face, hands, and other areas that stretch often and are exposed to the sun and elements. No supplement or skincare product can reverse this process, but many strategies exist to minimize the appearance of wrinkles and restore elasticity to the skin, slowing the aging process and working to achieve a more youthful, wrinkle-free appearance. Among the many skincare products that directly work towards anti-aging solutions, Hemp skincare harnesses the power of hemp seed oil and uses it as a tool to fight wrinkles and maintain a more youthful appearance.
---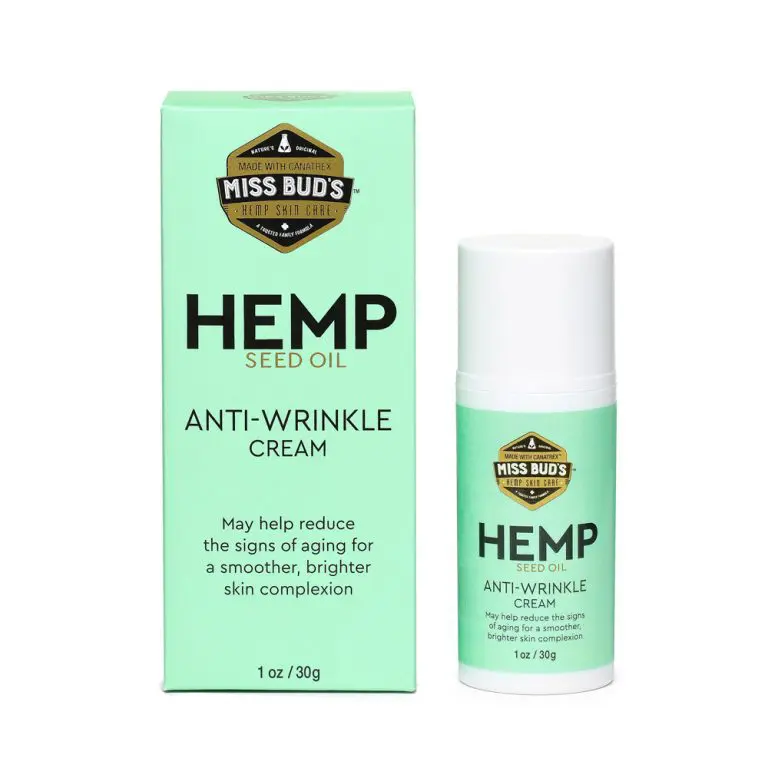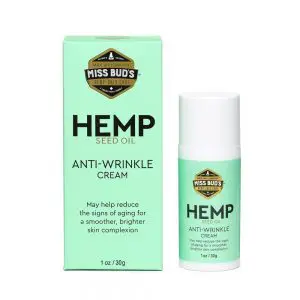 ---
Hemp, Aging & Your Face
Nowhere do the effects of aging become more visible than on our faces. Not only is the skin on your face thin and delicate, but it's also never covered by clothing and is often exposed to the sun and elements. Your face is vulnerable to moisture loss, the sun's UV rays, and the formation of wrinkles, so people take extra care of their face, choosing many different strategies and products to protect, moisturize, nourish, and beautify this most important area of skin. Among the multitude of facial care products, hemp face care products feature a special additional ingredient with unique anti-wrinkle and anti-aging properties – hemp seed oil.
Hemp seed oil makes an excellent base ingredient for facial care products. Hemp face care products use the versatile benefits of hemp seed oil to deliver extra moisturizing, cleansing, exfoliating and restoring key nutrients to the skin on your face. Hemp face care products designed for washing your face gently cleanse the skin on your face from impurities, removing dirt and excess oil. Some hemp face care solutions can also detoxify and exfoliate the skin, unclogging pores and removing dead skin cells. Hemp moisturizing products like facial creams deliver intense hydration and nutrients to restore skin softness, integrity, and elasticity. The hemp seed oil, along with other proven over-the-counter ingredients in hemp face care solutions, work together to rejuvenate the skin, restore moisture and infuse it with essential nutrients to help fight back against aging and wrinkles and achieve a smooth, healthy, and more youthful appearance.
---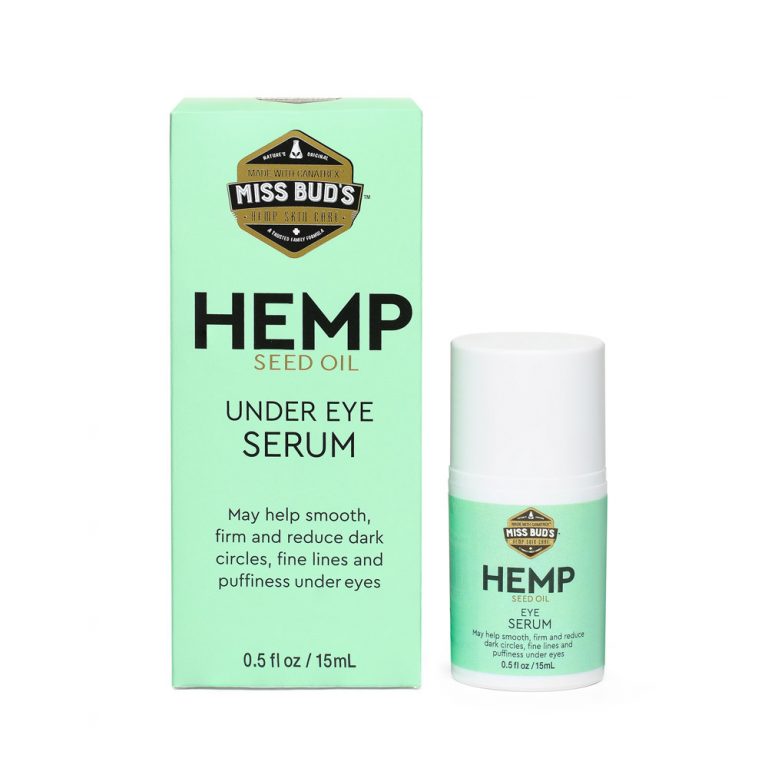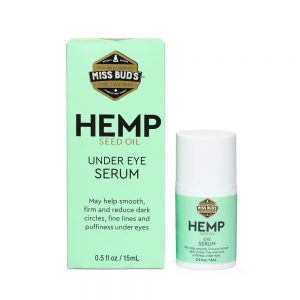 ---
Fighting Wrinkles
Among all anti-aging strategies, fighting against wrinkles tops the list, and countless products exist to reduce the appearance of lines and wrinkles, primarily around your eyes and face. No beauty product can reverse the aging process or cause wrinkles to completely vanish, but there are many skincare strategies to fight against the appearance of wrinkles. The face is usually the target for anti-wrinkle products, especially around the eyes, where a common type of wrinkle called "crow's feet" usually appears. These wrinkles and all others are a result of your skin losing elasticity over time. It starts in places where the skin is thinnest and most exposed to the sun and elements, and on areas that stretch and move a lot. Wrinkles around the eyes form because the skin around and under your eyes is not only thin and delicate but moves a lot as you squint. The formation of eye wrinkles due to elasticity loss is inevitable, but you can fight back.
Premium face and eye-care products can restore moisture to the skin of the face, keeping it healthy and hydrated. Other ingredients like Vitamin E help the skin remain firm and restores elasticity. The specialized nutrients in hemp seed oil work together with over-the-counter ingredients to nourish, moisturize, and firm the skin – slowing elasticity loss. Skincare solutions with hemp seed oil deliver specialized ingredients that specifically help to minimize the appearance of fine lines and wrinkles around your eyes and face. Aging is inevitable, but your best tool for turning back the hands of time on your face can be found in skincare products that utilize hemp seed oil and combine it with other anti-aging ingredients.
---
---
The Importance of Vitamin E
Vitamin E is considered the most important vitamin for skin health and is a supplement in many anti-aging skincare products. Vitamin E is proven to strengthen and protect skin and restore the important elasticity that is lost over time. It is among the most important therapies available when it comes to restoring skin integrity and minimizing the appearance of wrinkles. Hemp seed oil contains Vitamin E, and hemp skincare products often add supplemental Vitamin E to infuse your skin with this beneficial protecting vitamin with each application. No product can reverse the skin's natural aging process and completely eliminate wrinkles, but hemp seed oil skin care products can smooth the skin's surface and help restore lost elasticity, which may help to minimize the appearance of fine lines and wrinkles on your face and around your eyes.
Maybe hemp really is nature's version of a skincare time machine? In any case, nature has produced a plant whose anti-aging benefits are here to help you explore the possibilities of more healthy, youthful, and beautiful skin. To step into Uncle Bud's hemp skincare time machine, click here.
---
Uncle Bud's Hemp has built its reputation on creating and selling high-quality, pure, premium Hemp-derived products. Our Hemp and CBD products are lab tested to ensure purity, potency, and quality.
The CBD content in milligrams is listed on every product label. While we can ensure the purity and maximum-strength potency of our proprietary CBD oil, we make no medical or therapeutic claims on any CBD product. Uncle Bud's avoids medical or therapeutic claims in order to maintain complete integrity, transparency, and trust with our customers.
All Uncle Bud's Hemp products are proudly made in the USA.
---
Disclaimer:
UncleBudsHemp.com articles are intended to provide helpful and informative content about the benefits of Hemp Seed Oil and CBD products.  Readers are advised to do their own research and make decisions in partnership with their health care provider. Nothing you read here should be relied upon to determine a course of treatment for any medical issue. All content found on the UncleBudsHemp.com website, including text, images, audio, or other formats were created for informational purposes only. Uncle Buds makes no claims as to the medical efficacy of any products. The site and its content are provided on an "as is" basis.