What you need to know about back pain and hemp topical creams
Table of Contents
How does hemp relieve back pain?
How do I use hemp topical creams?
Choosing a hemp pain relief cream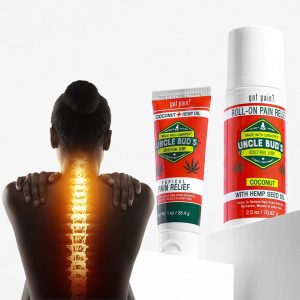 What causes back pain?
Back pain is among the most common types of pain among adults. As you age the stress of walking, running, lifting, bending, and even sitting puts stress on the bones, joints, and muscles of your back. Your spine, neck, and back are complex structures and particularly susceptible to pain. Back pain is one of the most common reasons people go to the doctor, miss work, and use pain medication. Back pain is a leading cause of disability worldwide – as much as 50% of the adult population experiences some form of temporary or recurring back pain.
Back pain is common because of the complexity of the muscle and joint structures in your back, combined with the stress typical human movement places on your back. While extremities, like the arms and legs, have only a few large bones and muscles, your back is made up of many small interlocking joints and muscles. Larger bones and muscles are more resistant to repeated stress than your back. This is why people say to lift with your legs and not your back. Repeated lifting hurts your back more than your legs. Sitting for long periods compresses the bones of your lower back which is also a common type of back pain.
Over time the repeated stress of lifting, walking, and sitting can cause a buildup of tiny injuries to the muscles and joints of your back. The resulting pain you feel is caused by inflammation, which is when the tissue of the joints and muscles swell as they try to repair the damage of accumulated stress. A whole family of medications exists to reduce inflammation and the pain that results from it. These are called anti-inflammatories, and they range from simple over-the-counter pain relievers like Ibuprofen and Aspirin to powerful narcotic pain relievers like opioids. Back pain is usually managed with a combination of exercise and medication. Rarely, surgery is needed to treat back pain.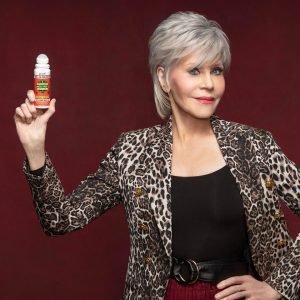 Types of Back Pain
Fortunately, most types of back pain do not require surgery or powerful pharmaceutical treatments. The pain can be managed through simple therapies including physical management like exercise and over-the-counter supplements. Many alternative and herbal supplements exist to help manage light to moderate back pain. There are different types of back pain, some of the most common include: 
Joint & Ligament Strain
Your spine and back are comprised of many small bones connected to each other and the surrounding muscles. The connections between bones are called ligaments while the connections between bones and muscles are called tendons. It's these connections that can become injured due to sudden or accumulated stress. The connections become damaged and inflamed as the body tries to repair the soft tissue between bones. Pain is the symptom of this inflammation.
Muscle Strain 
Often it's the muscles themselves that suffer from pain and inflammation due to tissue injury. The soreness that results after strenuous exercise or other physical activity is a form of this strain. Repeated heavy lifting or a sudden awkward movement can strain back muscles which can cause soreness and painful muscle spasms. As a rule, muscles heal faster than joints so prolonged back pain is likely the result of inflammation in the ligaments and joints rather than the muscles themselves.
Damaged Disks
The disks in your back are the spaces between the vertebrae or individual bones of your spine. The disks are specialized ligaments that cushion blows to your spine and back. The soft material inside a disk is particularly susceptible to stress and injury, and inflammation in the discs of the spine is the cause of chronic back pain for many sufferers, who often seek out doctors or chiropractors for relief.
Arthritis
Osteoarthritis is the most common form of arthritis, affecting millions of people worldwide. It occurs when flexible tissue (ligaments) at the ends of bones wears down. The wearing down occurs gradually and worsens over time. As the protective cushion between bones wears down, the bones grind against each other, resulting in inflammation and pain. Arthritis is most common in the hands, knees, and hips, but the back is also common. 
---
 Uncle Bud's Hemp Topical Pain Relief Cream
---
What are hemp topical creams?
Hemp topicals are various FDA registered over-the-counter creams, balms, and rubs that use hemp seed oil as a primary ingredient and are applied to the skin to provide pain relief to the muscles and joints below. The creams are applied to the skin above the area to be treated, which absorbs the ingredients and infuses the surrounding muscles and joints. The hemp seed oil and other over-the-counter active ingredients work to reduce inflammation and also moisturize the skin itself.
The ingredient in hemp topical creams that make them unique is pure hemp seed oil. This is the botanical oil found in the hemp species of the cannabis plant. When the seeds of the plant are pressed, the oil is extracted, purified, and used in a multitude of hemp-based products, including topical creams. The hemp seed oil is rich in antioxidants and omega-3-6-9, which can have anti-inflammatory properties. Many other nutrients are also found in hemp seed oil, but the ingredients most important to back pain sufferers have anti-inflammatories properties. The anti-inflammatory ingredients in hemp seed oil are the reason millions of people use hemp topical creams for pain relief. Importantly, neither hemp seed oil nor hemp topical creams contain THC, the specific cannabinoid associated with the psychoactive forms of cannabis –  they also tend to contain zero CBD. 
Hemp topical creams choose are used to help a variety of pain types, but back pain is foremost among them. The anti-inflammatory ingredients in hemp topical pain relief can help reduce the inflammation associated with sore muscles and aching joints. However it's important to understand that hemp pain relief creams are not a medically recognized back pain treatment, none-the-less, hemp topicals are used by many people as a more natural alternative to pharmaceutical or over-the-counter ingestible pain relievers.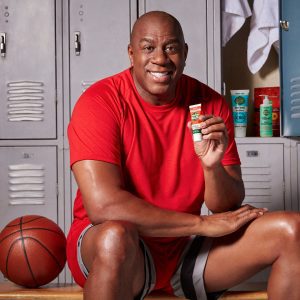 How does hemp relieve back pain?
The reason hemp topical pain relief can help relieve back pain is because of the anti-inflammatory properties of the antioxidants found in hemp seed oil. Anti-inflammatory means something that can reduce the swelling of injured tissue. Swollen tissue, even in small areas such as joints, causes pain. When a joint or muscle is subjected to stress it can become injured at the tissue level. This means there may be no visible signs of injury, but the tiny connective tissue has been damaged. When tissue is injured the body responds by swelling around the damaged area. The swelling of tissue in response to microscopic injuries is called inflammation. Hemp pain relief creams have ingredients that specifically can reduce this inflammation in all areas of the body including the back. 
Anti-inflammatory compounds help to reduce swollen, injured tissue by reducing and reversing the body's inflammatory response to joint and muscle damage. When hemp pain relief topical creams are rubbed on the skin, the anti-inflammatory compounds penetrate the skin to reach the muscles and joints below. The anti-inflammatory compounds reducing interact with the connective and reduce the inflammation. Reducing inflammation also reduces the associated pain. For back pain, the hemp pain relief topicals infuse the muscles and joints with anti-inflammatory compounds. When the swelling of inflamed connective tissue subsides the pain associated with it lessens until the back pain is gone or reduced. Unlike some kinds of pharmaceutical pain relievers, Hemp pain relief topical products are non-addictive and do not have any negative side effects. 
Hemp topical creams work because the skin is actually an excellent way of administering to the muscles and joints underneath. When the cream is rubbed onto the back, the skin absorbs the ingredients quicker than you might imagine, infusing the muscles and joints below the area the cream has been applied. Topical hemp creams can be applied to localized areas of back pain or used liberally for generalized back pain. As with any pain therapy, medical advice should be sought for severe or chronic back pain, but for the typical back pain most people experience, hemp topical creams are an exciting alternative strategy to combat this all too common type of pain.
---
Uncle Bud's Hemp Roll-On Pain Relief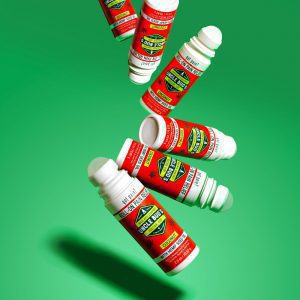 ---
How do I use hemp topical creams?
Hemp topical cream is easy to use and completely non-invasive. Simply apply the cream to the area of the back to be treated and rub until the cream is completely absorbed into the skin. Focus on the area where the pain is the greatest and rub the entire area with the topical cream. For generalized back pain, treat the whole area of the back, rubbing it over the whole surface of your back as you would a lotion. You can reapply hemp topical cream as needed. The skin will absorb the amount it needs, and there is no way to "overdose" on hemp pain relief cream like with other medications. 
In addition to the anti-inflammatory compounds, hemp topical treatments contain moisturizers and other nutrients that are beneficial to the skin. When you use topicals for pain relief, the skin itself is benefitting from its use, infusing the skin with moisturizers, vitamins, and other helpful ingredients. Most topicals have a pleasant scent and don't smell like medicine. The added benefit of the moisturizers will leave the skin soft and supple after treatment.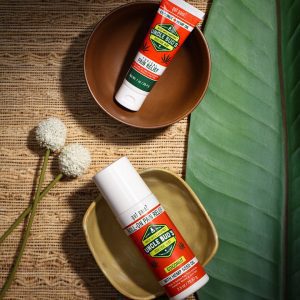 Choosing a Hemp Pain Relief Cream
Uncle Bud's offers premium hemp pain relief creams for topical use. Uncle Bud's topicals use a proprietary blend of pure hemp seed oil and other ingredients that is guaranteed to contain no THC & no CBD. In addition to the hemp seed oil, our topical creams are infused with rich moisturizers and other nutrients that benefit the skin as well as providing powerful hemp-based pain relief. Use Uncle Bud's hemp topicals for any sort of back pain associated with sore muscles, aching joints, or arthritis.
Choose from two varieties of topical: a smooth cream or a convenient roll-on. Apply a liberal amount of topical cream to areas of your back with soreness or pain. For joints, massage in well completely around the entire area. Our topicals are created for maximum potency so a little goes a long way and can work immediately after rubbed onto the skin, penetrating deeply to relieve sore muscles and joints.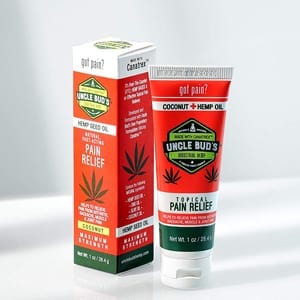 Uncle Bud's Hemp Topical Pain Relief Cream
Uncle Bud's Topical hemp pain cream provides powerful relief from back pain as well as the aches and pains associated with arthritis, muscle soreness, and joint pain. Apply the smooth cream to any area affected by pain or soreness. The light, coconut-scented cream absorbs quickly, leaving no residue and delivering prompt pain relief.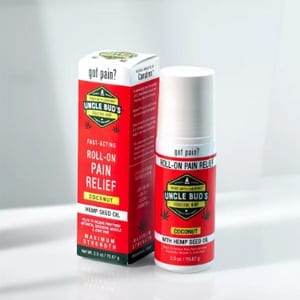 Uncle Bud's Hemp Roll-On Pain Relief
Uncle Bud's hemp roll-on pain relief features the same pain-relieving power as our topical cream, but with a convenient roll-on applicator for no mess. Simply apply a thin amount to the area to treat. The coconut-scented cream is applied with the roll-on applicator and is quickly absorbed into the skin leaving no trace of residue. It also works quickly to relieve back pain and other types of pain including sore muscles, aching joints, and arthritis.
---
Disclaimer:
UncleBudsHemp.com articles are intended to provide helpful and informative content about the benefits of Hemp Seed Oil and CBD products.  Readers are advised to do their own research and make decisions in partnership with their health care provider. Nothing you read here should be relied upon to determine a course of treatment for any medical issue. All content found on the UncleBudsHemp.com Website, including text, images, audio, or other formats were created for informational purposes only. Uncle Buds makes no claims as to the medical efficacy of any products. The Site and its Content are provided on an "as is" basis.