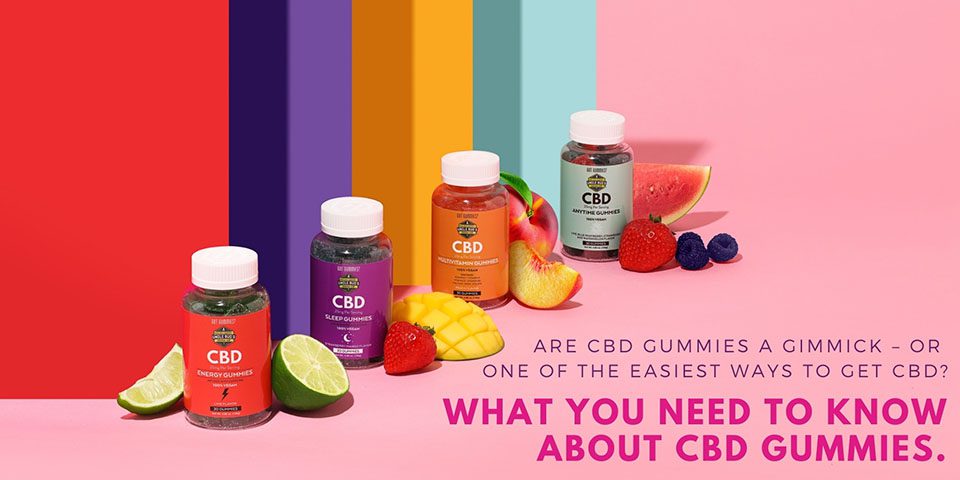 Are CBD gummies a gimmick – or one of the easiest ways to get CBD?
Table of Contents
What do CBD gummies taste like?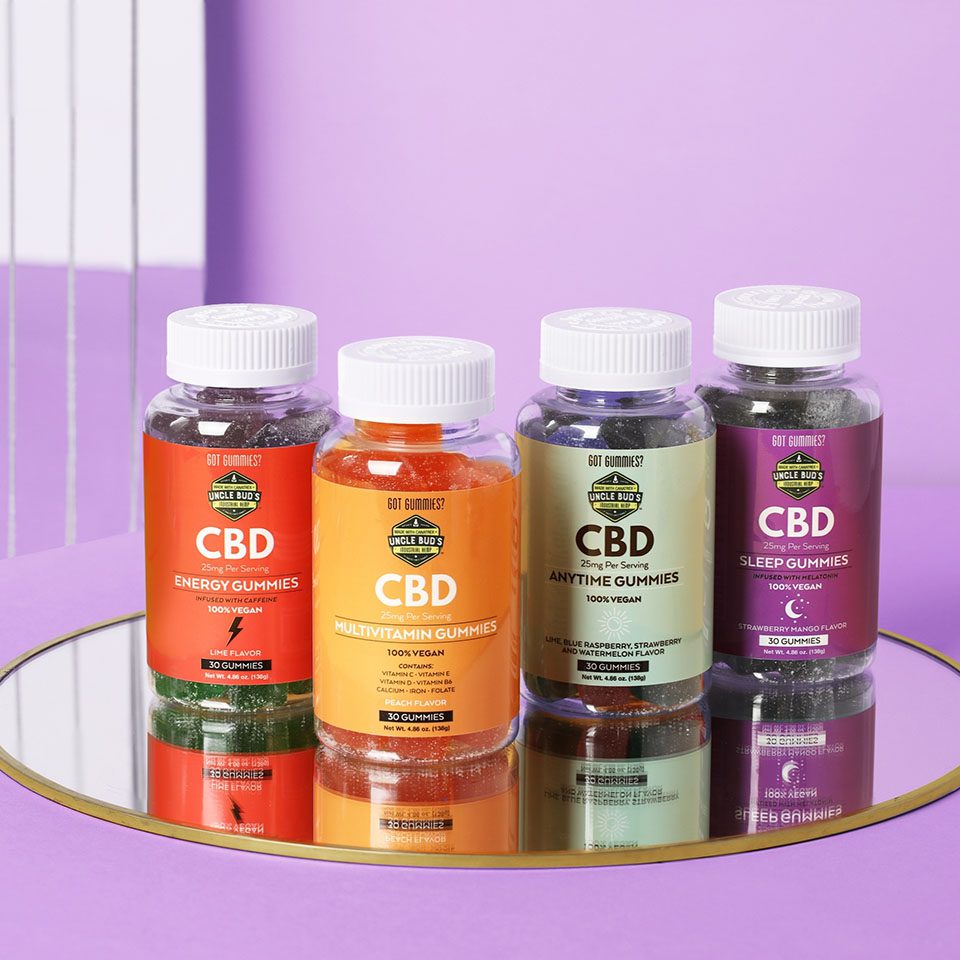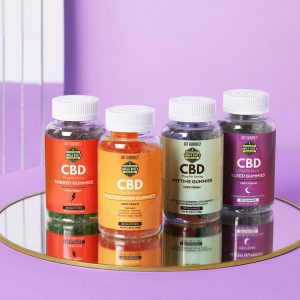 What are CBD Gummies?
CBD Gummies are simply flavored gelatin, the same base substance gummy candies are made of – but infused with CBD oil and other ingredients. All gelatin-based supplements are taken through what the medical community calls the oral administration route. The oral administration route means the supplement that is taken into the mouth and swallowed, allowing the digestive system to absorb the active ingredients and transport them throughout the body.
Sometimes they can be swallowed whole like a soft-gel capsule, but many supplements are meant to be chewed. Either way, the oral administration route is the most common method of taking supplements due to its ease and convenience. Not only is oral administration easy, it's effective– absorption through the digestive system is perhaps the safest and effective way of delivering supplements or other therapeutic substances to the body. 
Putting supplements into gelatin form has several advantages over capsules that are swallowed whole. First, they are chewable, making them easy to swallow and more pleasant to consume than capsules. Gelatin is tasteless but can be infused with any number of flavors making gelatin-based supplements seem more like candy. This is the primary reason why gummies are now the most popular form of vitamins. Care should be taken never to confuse CBD gummies with candy, but gelatin might be the most pleasant way to take CBD due to the pleasing flavor and easy chewable form.
CBD gummies are also discreet and portable, meaning they look no different from a bottle of gelatin vitamins, fitting easily in a purse, pocket, or bag. Lastly, CBD gummies are tasty, with multiple enticing flavors and texture similar to gelatin candies like Gummy Bears. CBD gummies might be the most "fun" CBD product, coming in a rainbow of colors and creative shapes.
---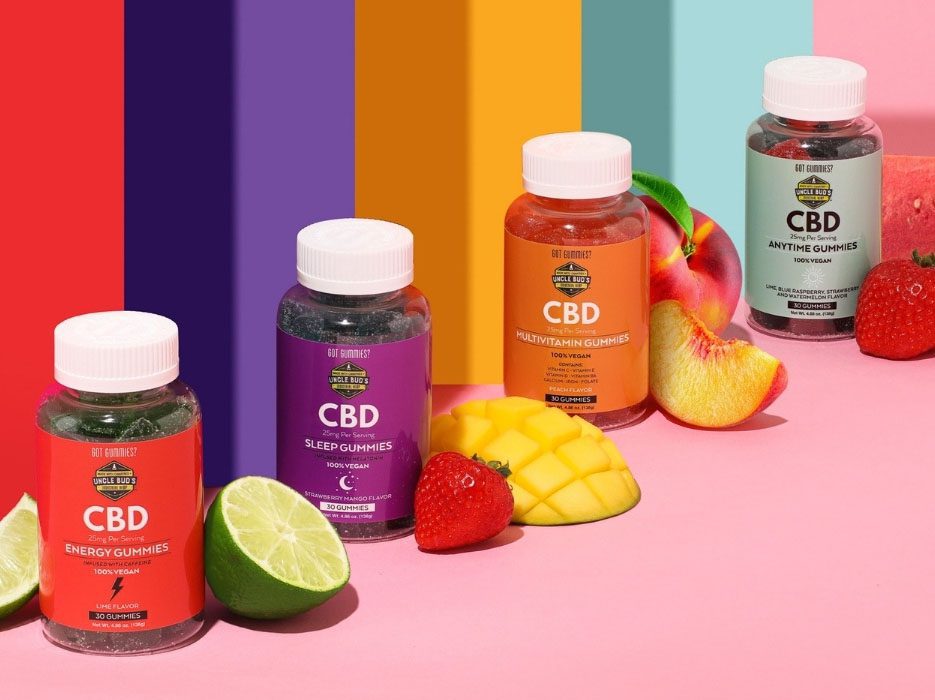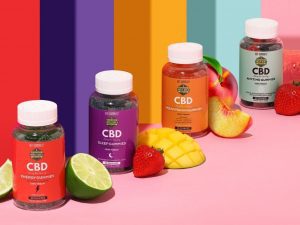 ---
Are CBD Gummies legal?
CBD Gummies are not in any way the same product as cannabis gummies that contain THC. Yes, they use flavored gelatin as the base substance like all "gummy" supplements, but they contain no THC. CBD gummies are 100% legal and fall under the same set of regulations as all hemp products that do not contain THC. CBD Gummies are legal to buy over-the-counter and are available at stores nationwide and many online retailers. 
The reason for the confusion is because THC-bearing cannabis gummies can look identical to CBD gummies and both come from the hemp plant. They may look similar, but CBD gummies do not contain THC and are in an entirely different class of product. CBD Gummies are as safe to use as other over-the-counter hemp products, but care should be taken to keep them out of reach of children as they do look like gummy candy. The most important thing to remember is CBD gummies contain no THC, so there is no risk of accidentally consuming them and triggering some form of psychoactive "high".
How do CBD Gummies work?
Putting CBD oil into a gelatin form was a choice for several reasons. Gelatin is an ideal matrix to hold supplements. It's a preservative that allows the ingredients to keep their potency over long periods without degrading. Gelatin is also very easy to digest, allowing the ingredients to be quickly absorbed into the bloodstream, infusing the body with whatever is contained in the gelatin matrix. Most substances, including CBD oil, don't react with the chemically neutral gelatin, which simply holds the ingredients until it is dissolved by the digestive system, releasing the ingredients into the bloodstream and carrying them throughout the body.
CBD gummies work because the gelatin is an easy way to transport an infusion of CBD to the body using the oral administration route – the most common way of administering supplements. The added benefits of being chewable and pleasant tasting make consuming CBD gummies a more enjoyable way of using CBD oil.
Putting the CBD into gelatin form was an ideal choice because the gelatin will never reduce the potency of the Cannabidiol. So while they look fun and colorful, there's nothing gimmicky about CBD gummies. They are an effective way of getting a therapeutic supplement into your body much like gummy vitamins and other gelatin-suspended supplements.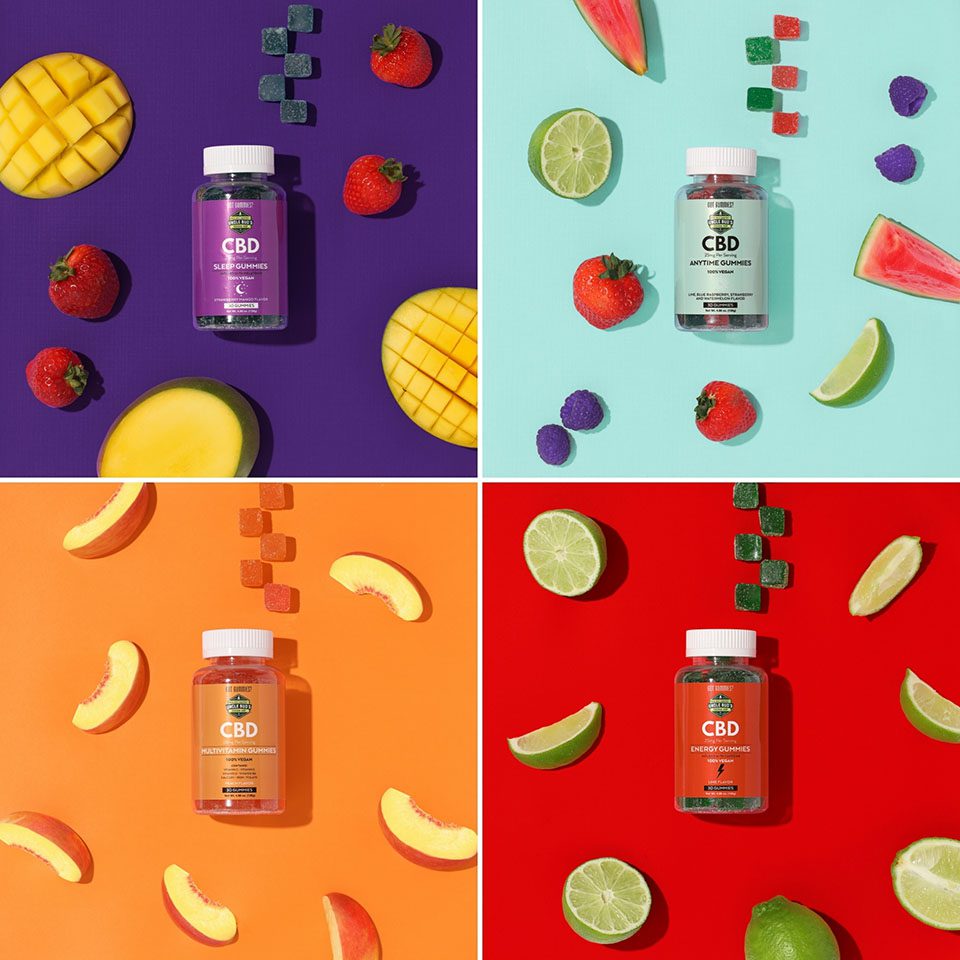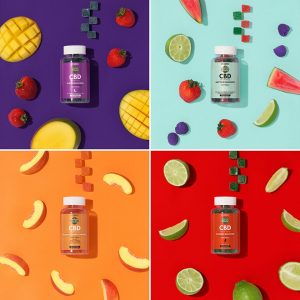 What do CBD Gummies taste like?
They taste like gummy candy. Refined CBD oil is tasteless or has a slightly bitter, grassy taste. CBD gummies eliminate any possible bad taste or aftertaste by using sweeteners and other flavorings mixed into the gelatin. The gelatin base gives CBD gummy producers a high level of control over the taste of their product, mostly eliminating the taste of the CBD oil. 
CBD gummies taste very similar to other gelatin-based candies like Gummy Bears and are available in a similarly large variety of flavors. Fruit flavors like cherry, strawberry, and orange are popular, and more exotic flavors exist. When you chew and swallow a CBD gummy, the taste and texture will be much like eating a Gummy Bear or any other gelatin-based candy.
CBD Gummies Buyers Guide
Uncle Bud's has created a line of premium CBD Gummies in four delicious varieties. Each chewable gummy delivers a 25-milligram infusion of our proprietary CBD formula. Made with 100% vegan ingredients, these gummies come in four unique varieties created to suit your specific CBD needs. Each bottle contains 30 gummies and 750 mg of premium CBD oil. Uncle Bud's gummies contain no THC.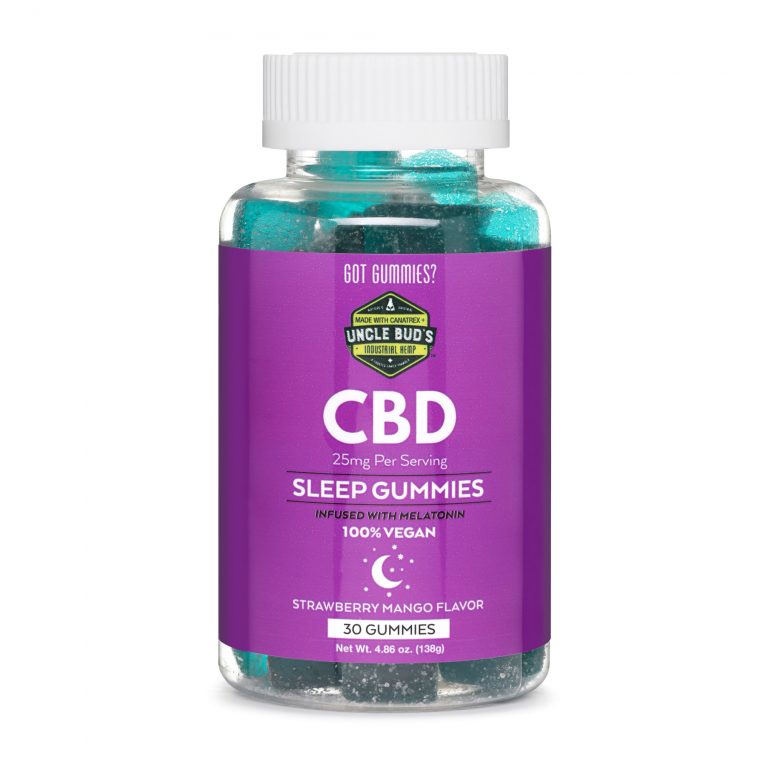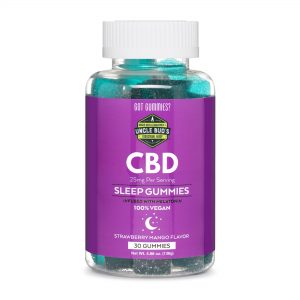 Uncle Bud's CBD Sleep Gummies are infused with 2mg of melatonin and 25mg of CBD per serving. Our Sleep Gummies are made with 100% Vegan ingredients and have a wonderful strawberry-mango flavor. Add Uncle Bud's CBD Sleep Gummies to your nightly wellness routine by taking 1 – 2 gummies before bedtime!

Uncle Bud's CBD Multivitamin Gummies are infused with Vitamin C, Vitamin E, Vitamin D, Vitamin B6, Calcium, Iron, Folate, and 25mg of CBD per serving. Our Multivitamin Gummies are made with 100% Vegan ingredients and have a sweet peach flavor. Add Uncle Bud's Multivitamin Gummies to your daily wellness routine by taking 1 – 2 gummies whenever you desire!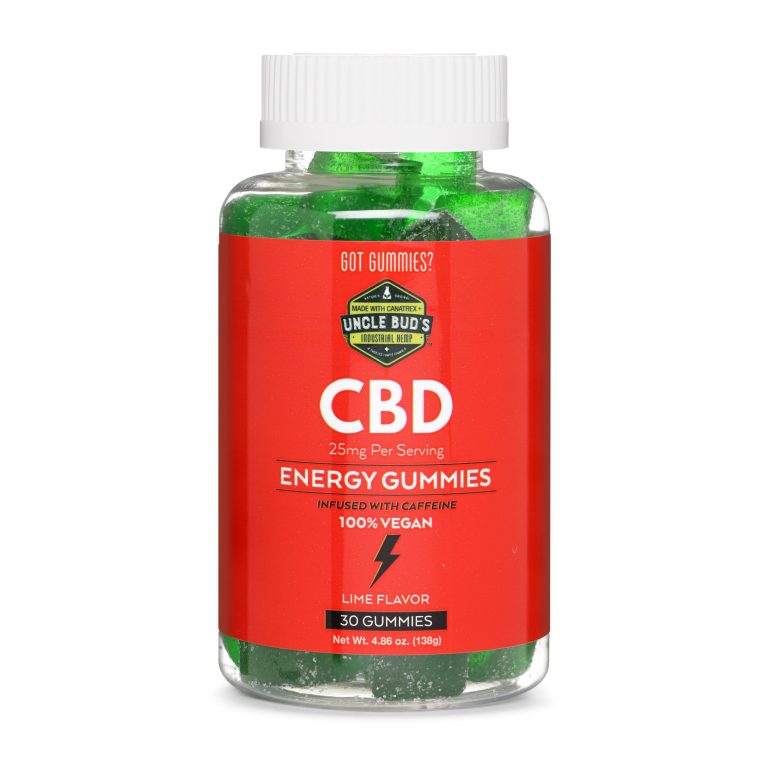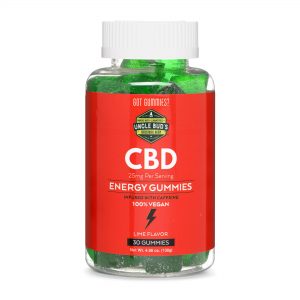 Uncle Bud's CBD Energy Gummies are infused with 10mg of caffeine and 25mg of CBD per serving. Our Energy Gummies are made with 100% Vegan ingredients and have a tasty lime flavor. Include Uncle Bud's CBD Energy Gummies into your morning routine, before a workout, or to help get you through a long day of work!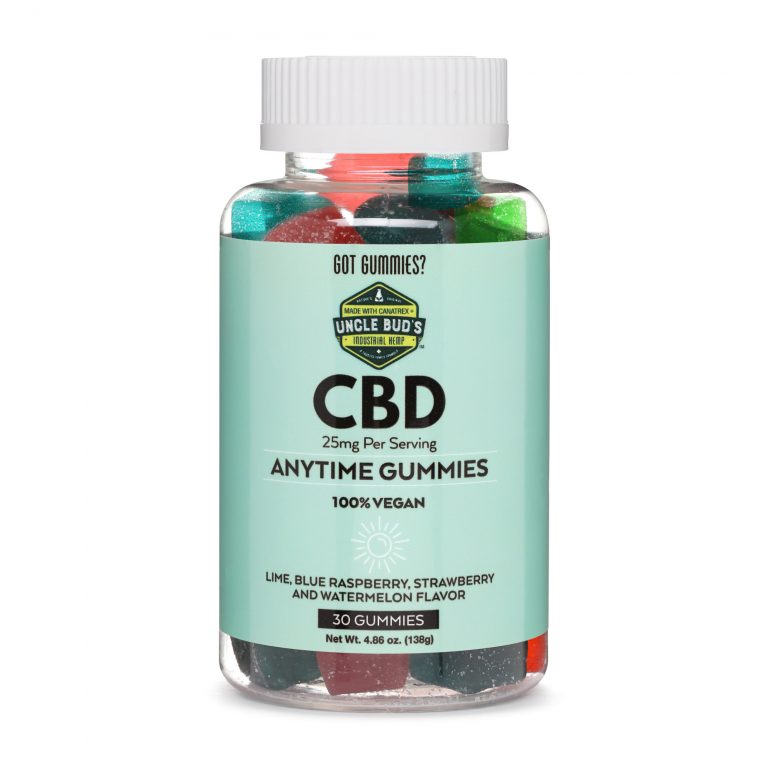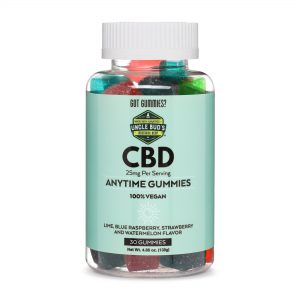 Uncle Bud's CBD Anytime Gummies are infused with 25mg of CBD per serving. Our Anytime Gummies are made with 100% Vegan ingredients and include a variety of lime, blue raspberry, strawberry, and watermelon flavors. Take Uncle Bud's CBD Anytime Gummies in the morning, after a long day of work, before a workout, or whenever you desire!
---
Uncle Bud's Hemp has built its reputation on creating and selling high-quality, pure, premium Hemp-derived products. Our Hemp and CBD products are lab tested to ensure purity, potency, and quality.
The CBD content in milligrams is listed on every product label. While we can ensure the purity and maximum-strength potency of our proprietary CBD oil, we make no medical or therapeutic claims on any CBD product. Uncle Bud's avoids medical or therapeutic claims in order to maintain complete integrity, transparency, and trust with our customers.
All Uncle Bud's Hemp products are proudly made in the USA.
---
Disclaimer:
UncleBudsHemp.com articles are intended to provide helpful and informative content about the benefits of Hemp Seed Oil and CBD products.  Readers are advised to do their own research and make decisions in partnership with their health care provider. Nothing you read here should be relied upon to determine a course of treatment for any medical issue. All content found on the UncleBudsHemp.com Website, including text, images, audio, or other formats were created for informational purposes only. Uncle Buds makes no claims as to the medical efficacy of any products. The site and its content are provided on an "as is" basis.