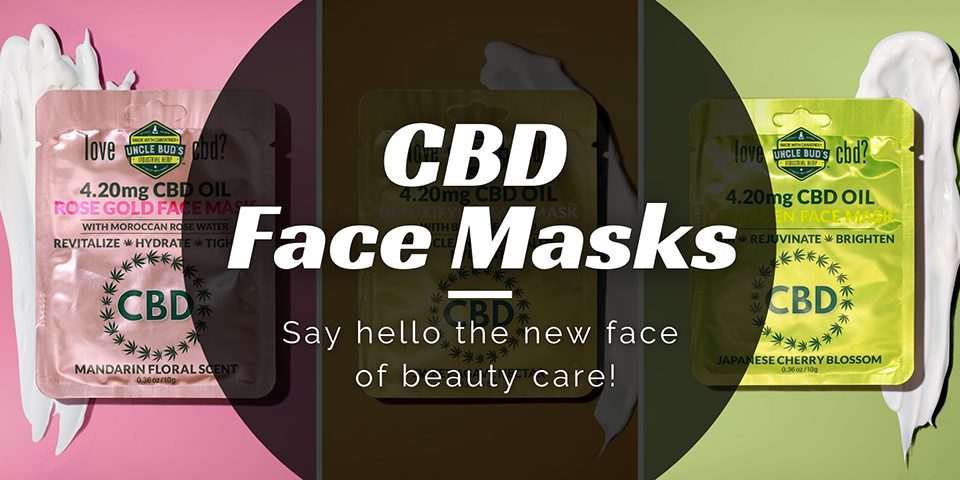 Say hello to the new face of beauty care!
Table of Contents
Questions about CBD face masks
What is a CBD face mask?
A CBD face mask is much like a typical clay or cream beauty face mask, with one important difference – an added ingredient extracted from the hemp plant called CBD. CBD, short for Cannabidiol, is a substance found in the hemp species of the cannabis Sativa plant that is extracted and purified into a unique oil. This oil is then added to all sorts of therapeutic and self-care products. CBD oil is the key ingredient that makes CBD face masks very different from other over-the-counter beauty masks.
A beauty face mask is essentially a layer of cream or clay that is applied to the face and left for a period of time long enough for the ingredients to be absorbed into the skin. CBD face masks contain many of the same skin-benefiting ingredients as regular beauty masks like moisturizers, cleansers, and antioxidants, but also add CBD oil, a purified hemp extract containing Cannabidiol. It's the CBD oil that makes CBD face masks unique and offers specific benefits not offered by regular face masks.
CBD face masks are applied just like a regular beauty facemask, using your fingers to rub an even layer of cream or clay over your face and letting it sit for a period of time. Unlike a beauty cream or lotion, face masks keep the clay or cream kept in close contact with your facial skin for a longer amount of time, letting the therapeutic ingredients penetrate deeper and longer. A CBD mask infuses the facial skin with many of the same rejuvenating elements as a beauty mask but also infuses the skin with some amount of CBD, which offers its own unique benefits. Like traditional beauty masks, CBD face masks deliver intense cleansing, exfoliation, and hydration to the sensitive and delicate skin of the face, with the added benefit of an infusion of pure CBD oil.
---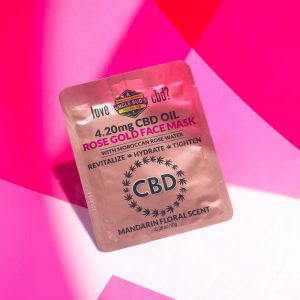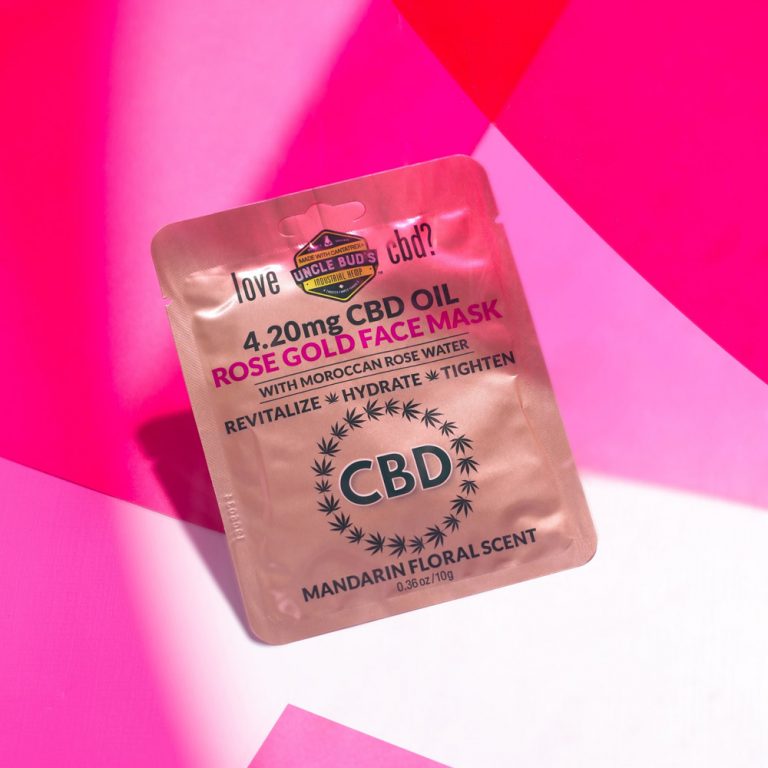 ---
Benefits of CBD Face Masks
CBD is known mainly ad a digestible supplement, but the popular botanical extract has found its way into countless beauty and skincare products. CBD face masks are likewise growing in popularity, combining the skin-rejuvenating benefits of a clay or cream face mask with an invigorating infusion of pure CBD oil. While CBD face masks contain an abundance of cannabidiol, they do not contain any THC or other psychoactive ingredients. They are safe to use and offer essential nutrients and moisturizers that cleanse and nourish the skin, with the added benefit of CBD. Here are the top benefits of CBD-infused face masks.
Pure CBD Oil
This special hemp extract is the key difference that sets CBD face masks from other beauty face masks. Pure CBD oil is added to the clay or cream base along with other over-the-counter ingredients including moisturizers, antioxidants, cleansers, and other skin-benefiting substances. When the face mask is applied to the skin, the ingredients infuse the skin, including CBD oil.
Moisturizing
Moisture is the most important substance your skin needs to stay smooth, soft, and healthy – and no skin is in more need of moisture than the delicate skin of your face, which can easily become dry and damaged because it's always exposed. Along with CBD oil, CBD face masks contain an abundance of moisturizing ingredients to deeply hydrate the skin of your face. These moisturizers are light and non-greasy yet deliver the essential hydration your skin needs to stay soft and healthy. 
Antioxidants & Vitamin E
The skin needs specific nutrients to be healthy and important among these are antioxidants, which help to neutralize harmful substances that can damage your skin. CBD face masks contain an ideal balance of antioxidants and other nutrients to protect your face. CBD face masks also often contain Vitamin E, the most important vitamin for skin health. Vitamin E strengthens the skin and protects it from wear.
Gentle Cleansing
Beauty face masks are primarily a way to deeply cleanse the face, removing dirt and other impurities without using harsh detergents or cleaners. CBD face masks also gently cleanse the face, removing dirt and opening pores so the skin can breathe and be healthy. The application of a beauty mask also exfoliates dead skin without irritating the face, and CBD face masks are free from synthetic chemicals which can also irritate the sensitive skin on your face.
Rejuvenate & Restore
As the skin ages, the appearance of fine lines and wrinkles becomes more pronounced. This is because over time the skin loses its elasticity after years of exposure to the elements. No product can reverse the skin's aging process, but the ingredients in CBD face masks can help minimize the appearance of fine lines and wrinkles by helping improve the skin's elasticity. Ingredients like collagen and vitamin E can help also fortify and strengthen the skin, which may help to shrink the appearance of wrinkles.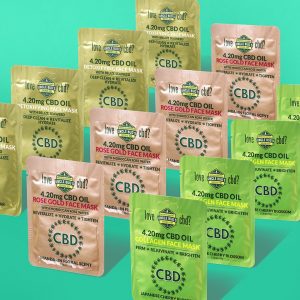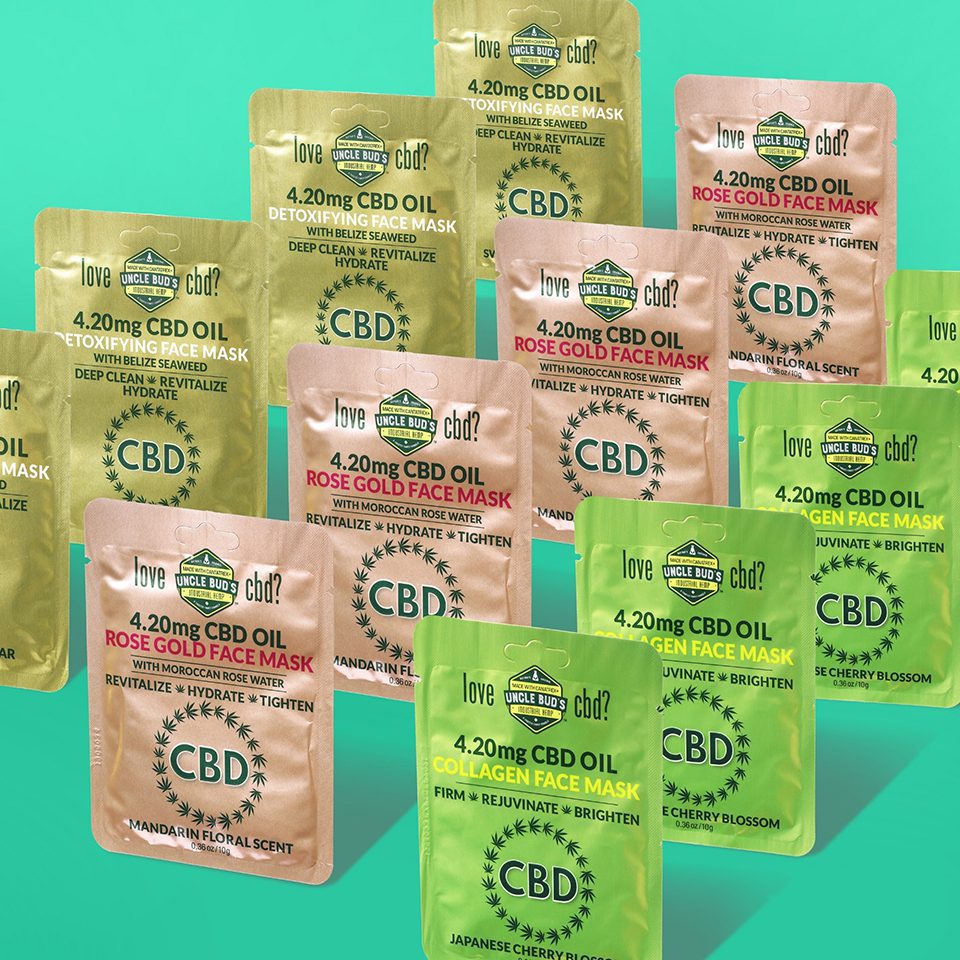 FAQs about CBD Face Masks
Today, CBD can be found as an ingredient in countless beauty and skin-care products. Still, you may have questions about how CBD affects the skin of your face, a delicate and sensitive area that should be protected. Only the safest of products should be used to clean, moisturize, and otherwise treat your face, which is why it's important to know the CBD is completely safe to use on the skin, including on your face. Here are the top questions you may have about using CBD as a facial care product.
Will the CBD spread to other parts of my body?
No, CBD face masks will only affect the skin on your face–their effects won't travel throughout the rest of your body. The skin can only absorb so much CBD from a topical application. Once the CBD product is placed on the skin, it will exclusively interact with the skin of the immediate area, infusing it with CBD oil and other ingredients. Only the skin of your face will be affected, however, CBD can be used as a supplement on many other parts of your body, and its benefits extend beyond the face. If there is a part of your body that can benefit from the effects of CBD, there is likely a product for it.
Will using a CBD face mask feel different from a regular face mask?
Remember CBD face masks are made from pure hemp seed oil, which contains no THC and will not trigger any sort of psychoactive effect. The experience of using a CBD face mask will feel refreshing and rejuvenating as with any premium-quality beauty mask, but you will not feel anything unusual. 
Are there side effects of using CBD face masks?
Again, CBD face masks do not contain any THC or other compounds that cause dependencies or harmful side-effects. CBD face masks are completely safe to use, being nearly identical to regular cream face masks, except for the addition of CBD oil. CBD oil is safe to use, and along with the other benefits, work together to cleanse, hydrate, protect and nourish. 
---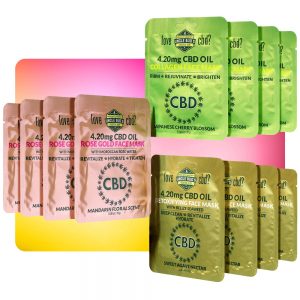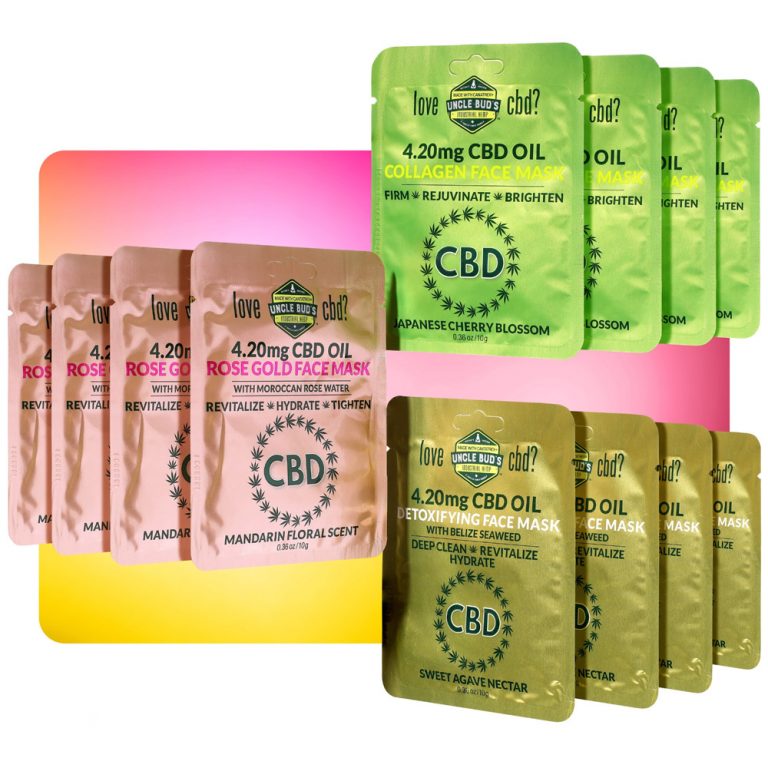 ---
CBD Face Mask Guide
If you've decided to try CBD face masks, the best place to begin is with premium masks that use high-quality pure CBD oil in addition to the best moisturizers, cleansers, and other skincare ingredients.
Uncle Bud's Hemp specializes in CBD skincare and beauty products, using only the purest and nutrient-rich CBD oil that is guaranteed to be 100% THC-free. All our premium CBD face masks use a proprietary formula of pure CBD oil combined with other nourishing ingredients for maximum therapeutic benefits for your skin.
Uncle Bud's CBD face masks provide advanced moisturizing and nourishing skin therapy for a healthy complexion and beautiful skin. Every face is unique, so we created the following guide featuring each of our unique hemp face masks so you can find the one that's perfect for your face!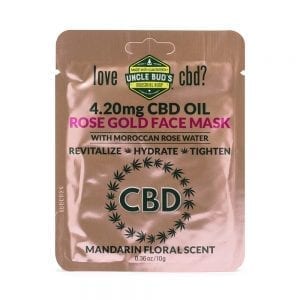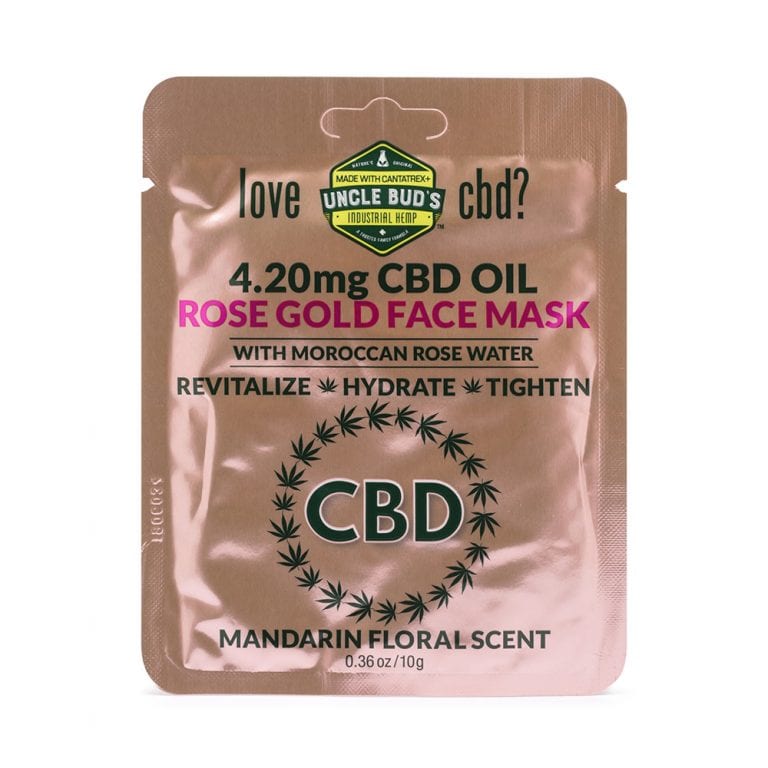 Uncle Bud's CBD Rose Gold Face Mask is a creamy clay face mask containing pure CBD oil and Moroccan Rose Water. The Moroccan Rose Water gently washes away dirt and impurities, while also delivering essential hydration and restoring skin to optimal health.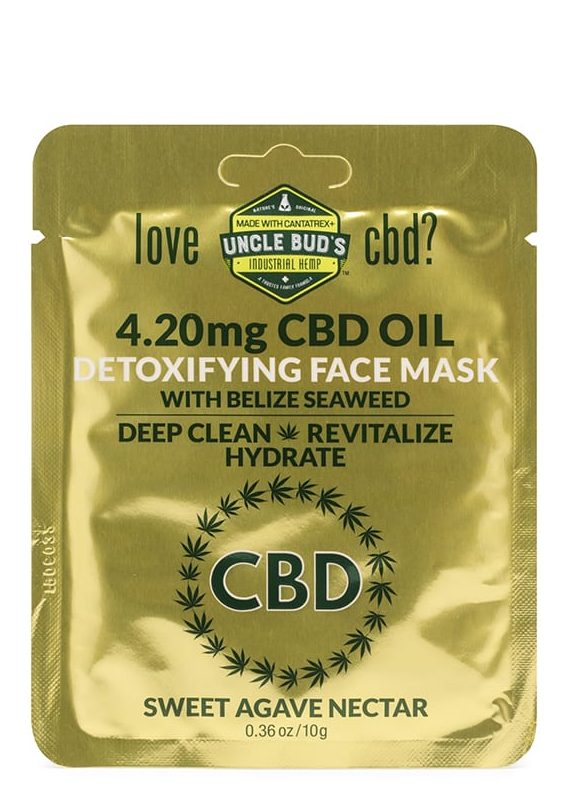 Uncle Bud's CBD Detoxifying Face Mask infuses your skin with pure CBD oil while delivering unique ingredients to detoxify your skin from impurities and neutralize harmful substances. This creamy and soothing clay mask is created with seaweed harvested locally from the beautiful crystal waters of Belize, combined with CBD and other skin-nourishing ingredients. The Detoxifying Face Mask provides intense hydration and while gently detoxifying the delicate skin of your face.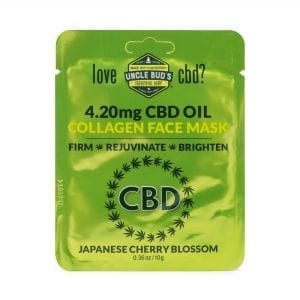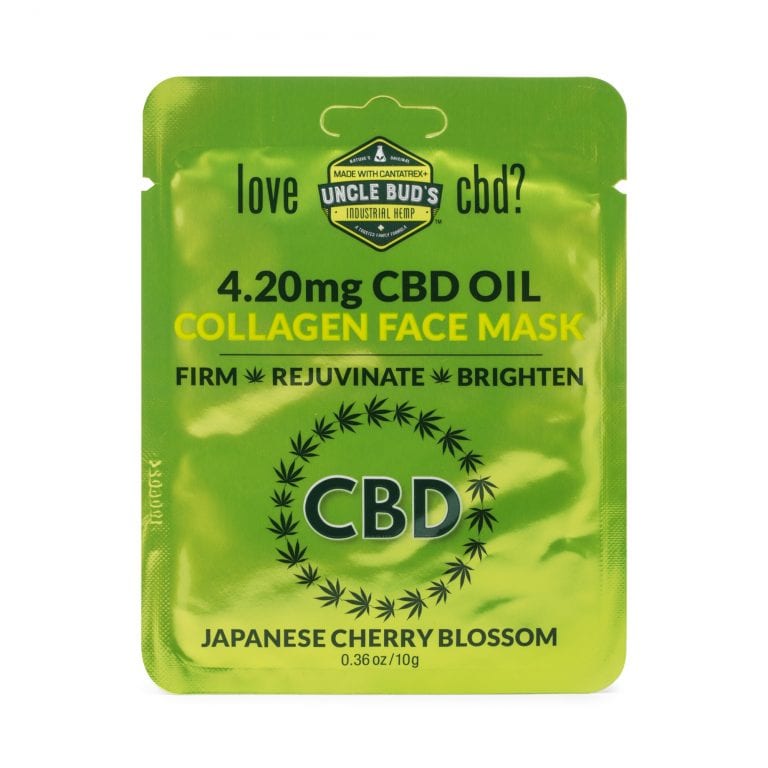 This specialized mask combines pure CBD oil with the fortifying benefits of collagen for an anti-aging facial care routine. Restoring collagen may help reduce the appearance of wrinkles, and this mask is the perfect way to replenish the collagen which may be lost by aging. Fight wrinkles with Uncle Bud's CBD Collagen Face Mask for a more vibrant and youthful complexion. 
View our entire CBD line at Uncle Bud's CBD Superstore!
---
Uncle Bud's Hemp has built its reputation on creating and selling high-quality, pure, premium Hemp-derived products. Our Hemp and CBD products are lab tested to ensure purity, potency, and quality.
The CBD content in milligrams is listed on every product label. While we can ensure the purity and maximum-strength potency of our proprietary CBD oil, we make no medical or therapeutic claims on any CBD product. Uncle Bud's avoids medical or therapeutic claims in order to maintain complete integrity, transparency, and trust with our customers.
All Uncle Bud's Hemp products are proudly made in the USA.
---
Disclaimer:
UncleBudsHemp.com articles are intended to provide helpful and informative content about the benefits of Hemp Seed Oil and CBD products.  Readers are advised to do their own research and make decisions in partnership with their health care provider. Nothing you read here should be relied upon to determine a course of treatment for any medical issue. All content found on the UncleBudsHemp.com Website, including text, images, audio, or other formats were created for informational purposes only. Uncle Buds makes no claims as to the medical efficacy of any products. The site and its content are provided on an "as is" basis.