Make sure all the ladies on your list have a happy hemp-filled holiday with these hemp-infused beauty masks. These skin-rejuvenating clay masks are some of our most popular products. With seven to choose from the perfect hemp face mask is now just a click away. Can't decide on just one? Check out the bottom of the page for the ultimate hemp face mask gift pack!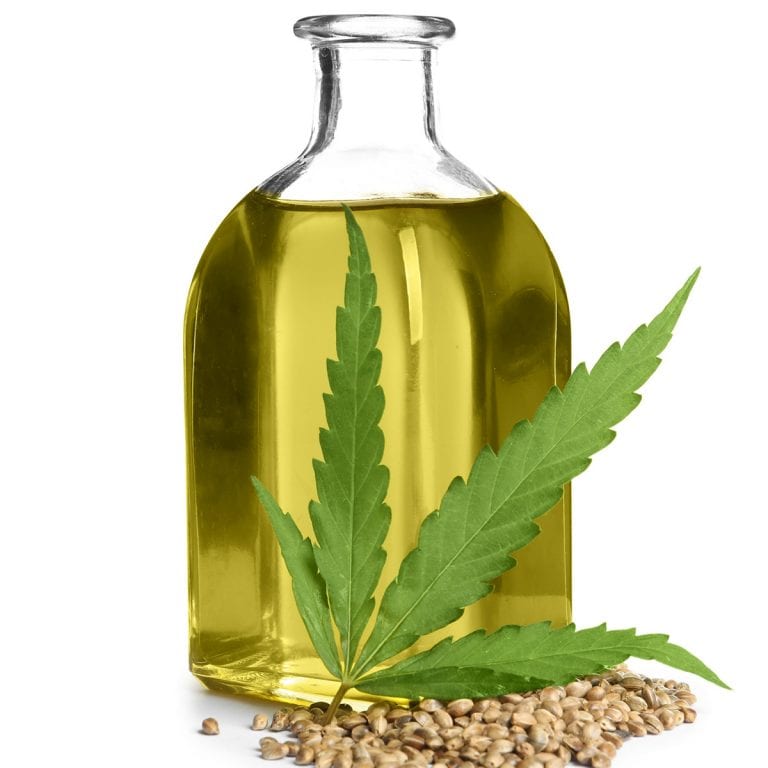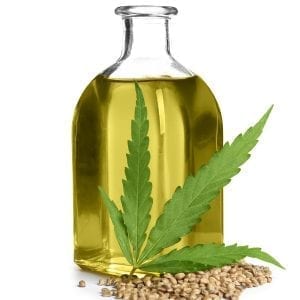 Pure Organic Hemp Seed Oil with CANATREX™
All of our hemp face masks are infused with our proprietary Pure Organic Hemp Seed Oil formula CANATREX™. This premium scientifically formulated hemp oil blend is great for all skin types including sensitive skin. It's paraben-free and helps maintain your skin's pH balance for a more radiant, youthful complexion.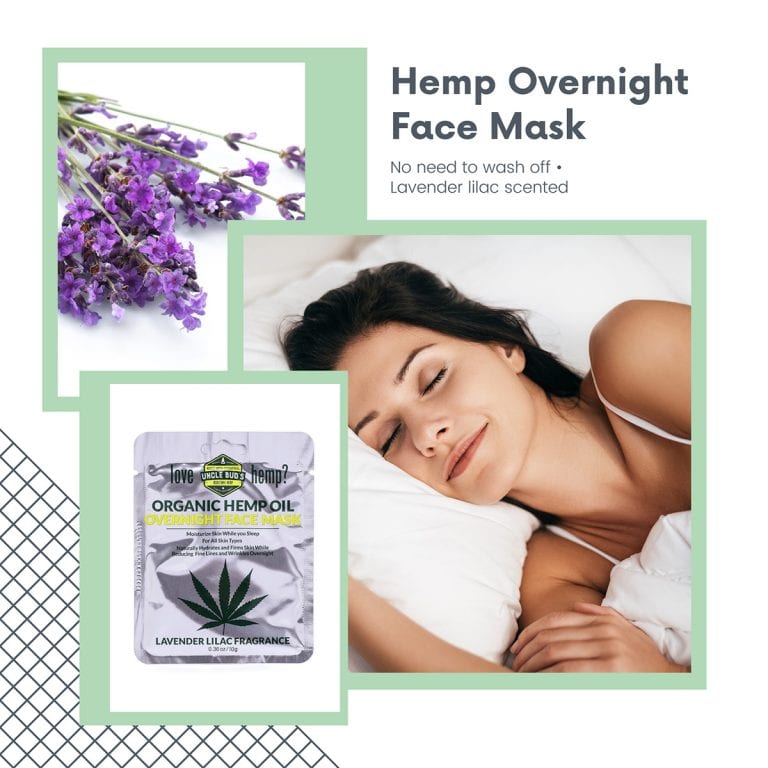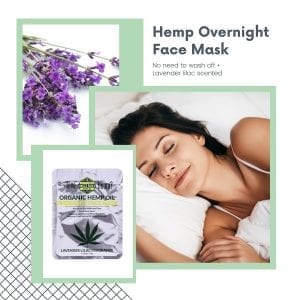 Overnight Mask
This overnight mask hydrates and refreshes your skin while you sleep. Full of antioxidants and other supplements like mushroom-derived Beta Glucan, this gentle non-irritating mask deeply moisturizes your skin during the night. By morning it's completely absorbed with no leftover residue.
No need to wash off • Lavender lilac scented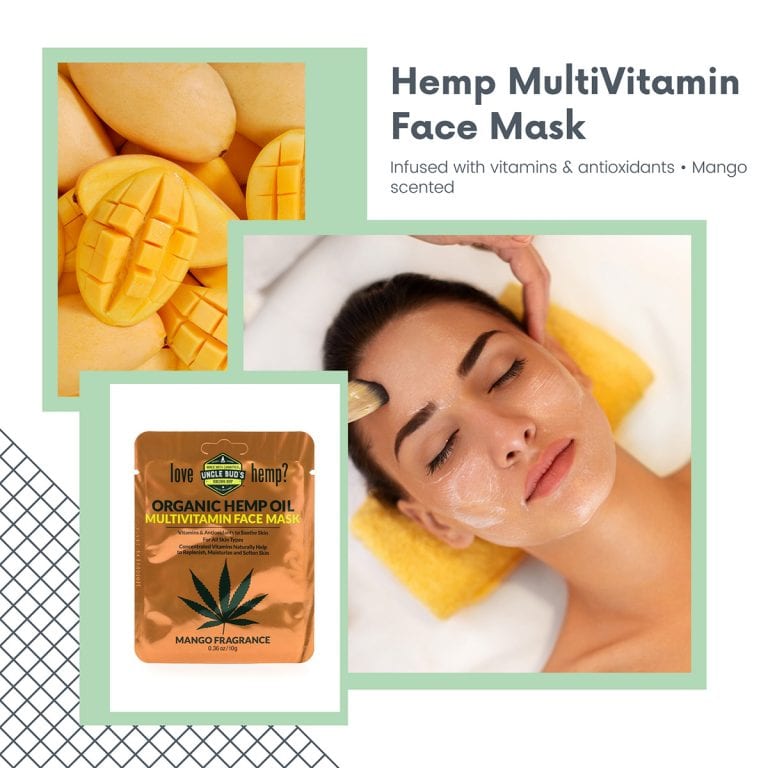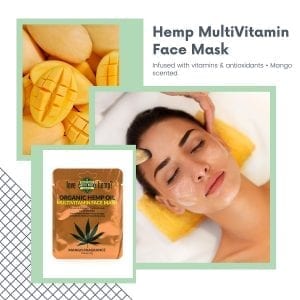 Multivitamin Mask
Our multivitamin mask is rich in vitamins B, C, D and E, and antioxidants which help to repair, hydrate and restore dry skin. The formula calms irritation and repairs damage, nourishing the skin for a brighter complexion.
Infused with vitamins and antioxidants • Mango scented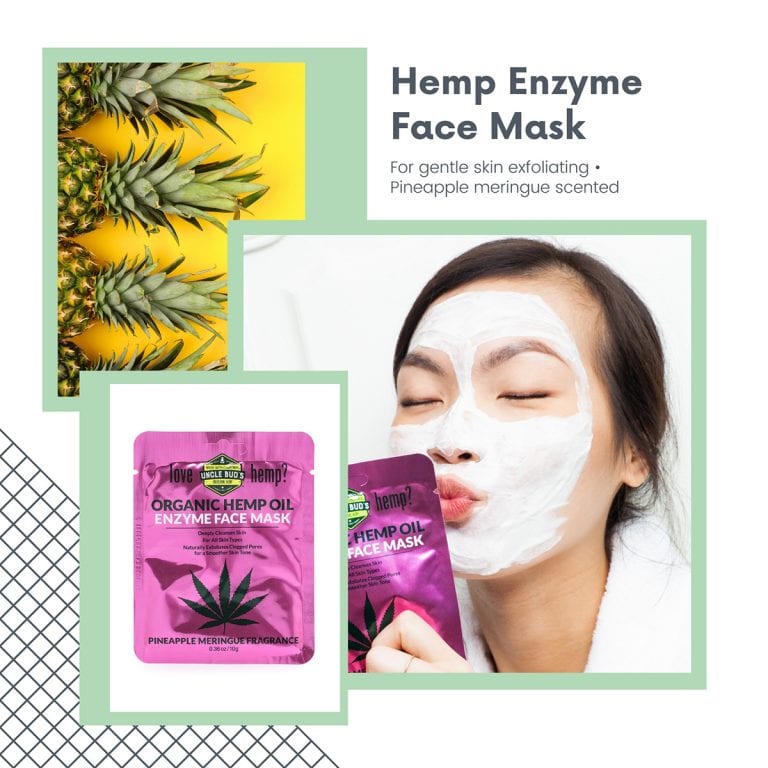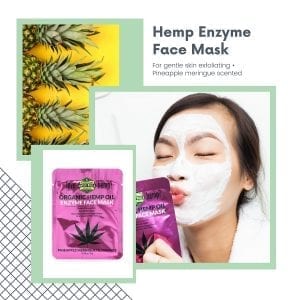 Enzyme Mask
Skin-friendly enzymes in this beauty mask exfoliate and remove dead skin cells to help your skin glow and shine. The beneficial enzymes are derived from Pineapple for effective and soothing skin exfoliating. Through gentle exfoliation, the enzymes help to calm irritated skin.
Pineapple enzymes for gentle skin exfoliating • Pineapple meringue scented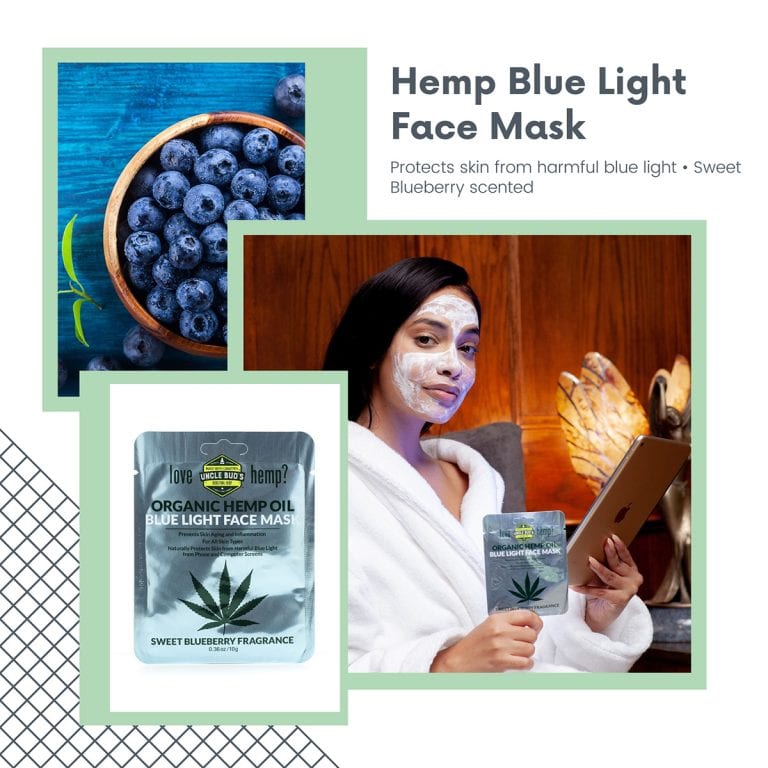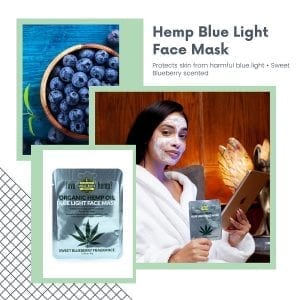 Blue Light Mask
Do you work at a computer all day? The Blue Light Face Mask protects delicate facial skin from harmful blue light from phone and computer screens. Pure organic hemp seed oil and other ingredients work to prevent skin aging and inflammation.
Protects skin from harmful blue light • Sweet Blueberry scented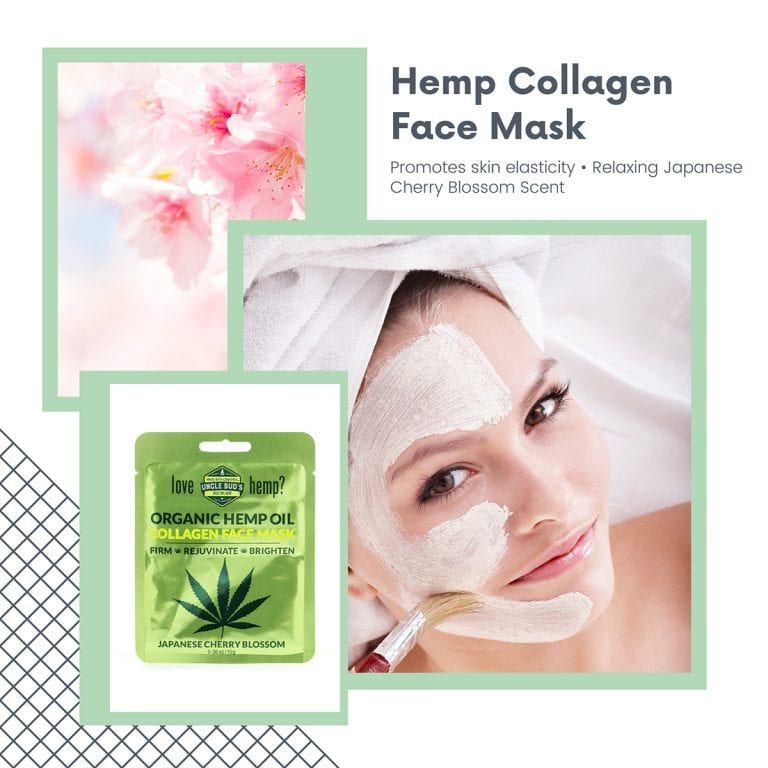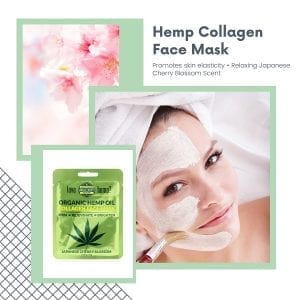 Collagen Mask
The Collagen Face Mask is the perfect product for promoting skin elasticity and reducing wrinkles. The collagen along with the rejuvenating properties of the organic hemp seed oil restore skin tightness and elasticity for a youthful healthy glow.
Promotes skin elasticity • Relaxing Japanese Cherry Blossom Scent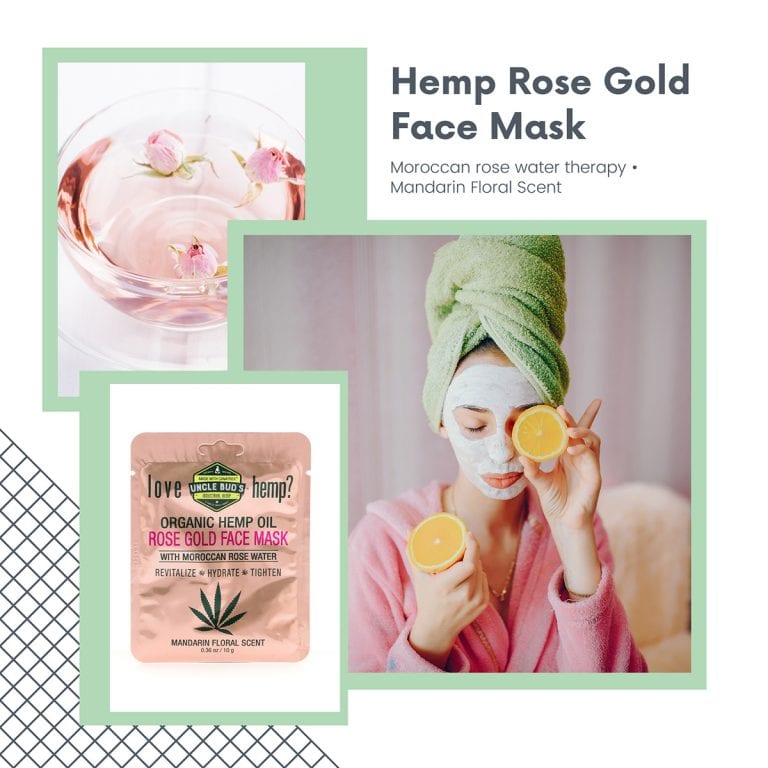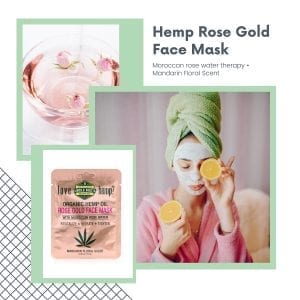 Rose Gold Mask
The gold standard in beauty masks, the Rose Gold Face Mask contains Moroccan Rose Water for a complete blend of skin-healing ingredients. Use it for moisturizing, skin-toning, anti-aging, anti-inflammatory and skin tightening while maintaining pH balance.
Moroccan rose water therapy • Mandarin Floral Scent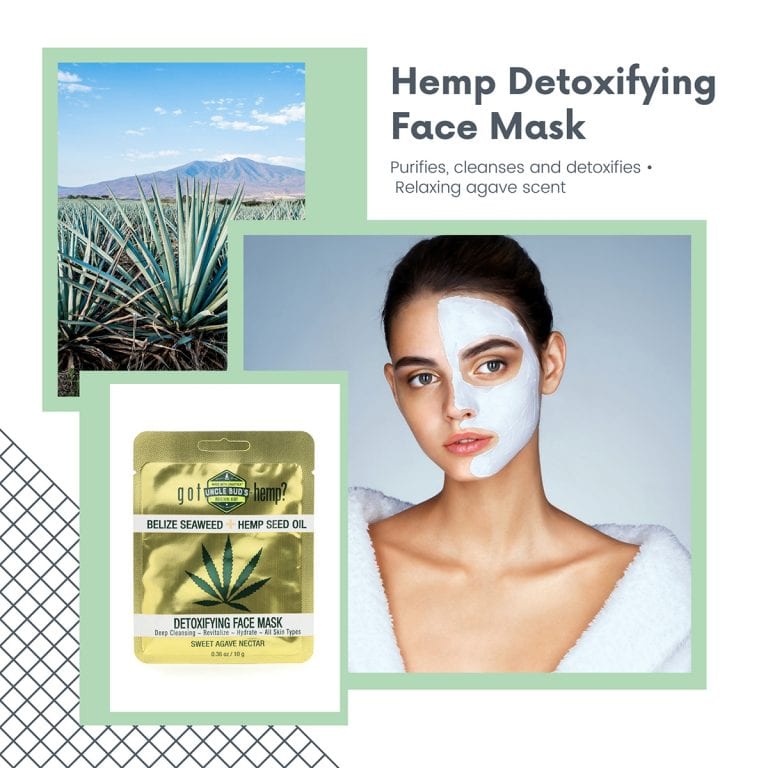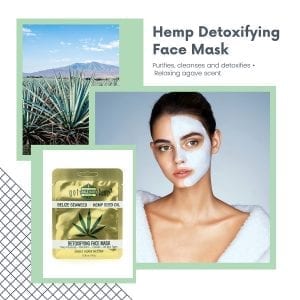 Detoxifying Mask
Enjoy the deep cleansing power of our Detoxifying Mask. These purifying masks contain natural seaweed extracts harvested from the crystal-clear waters of Belize for intense hydration, anti-aging and anti-inflammatory properties.
Purifies, cleanses and detoxifies • Relaxing agave scent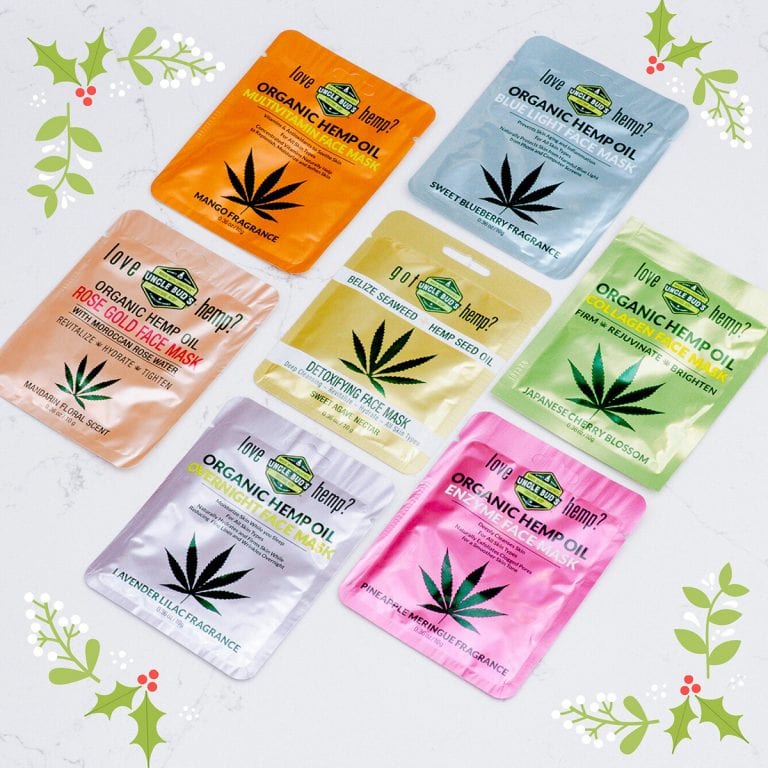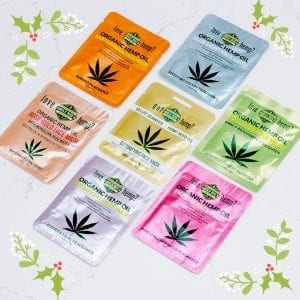 The Ultimate Face Mask Face Off Gift Pack
Can't decide on one of our premium hemp face masks? Get them all with this fabulous gift pack with all seven. Includes one of each Uncle Bud's collection of Hemp Face Masks.
---
Uncle Bud's Hemp has built its reputation on creating and selling high-quality, pure, premium Hemp-derived products. Our Hemp and CBD products are lab tested to ensure purity, potency, and quality.
The CBD content in milligrams is listed on every product label. While we can ensure the purity and maximum-strength potency of our proprietary CBD oil, we make no medical or therapeutic claims on any CBD product. Uncle Bud's avoids medical or therapeutic claims in order to maintain complete integrity, transparency, and trust with our customers.
All Uncle Bud's Hemp products are proudly made in the USA.
---
Disclaimer:
UncleBudsHemp.com articles are intended to provide helpful and informative content about the benefits of Hemp Seed Oil and CBD products.  Readers are advised to do their own research and make decisions in partnership with their health care provider. Nothing you read here should be relied upon to determine a course of treatment for any medical issue. All content found on the UncleBudsHemp.com Website, including text, images, audio, or other formats were created for informational purposes only. Uncle Buds makes no claims as to the medical efficacy of any products. The site and its content are provided on an "as is" basis.