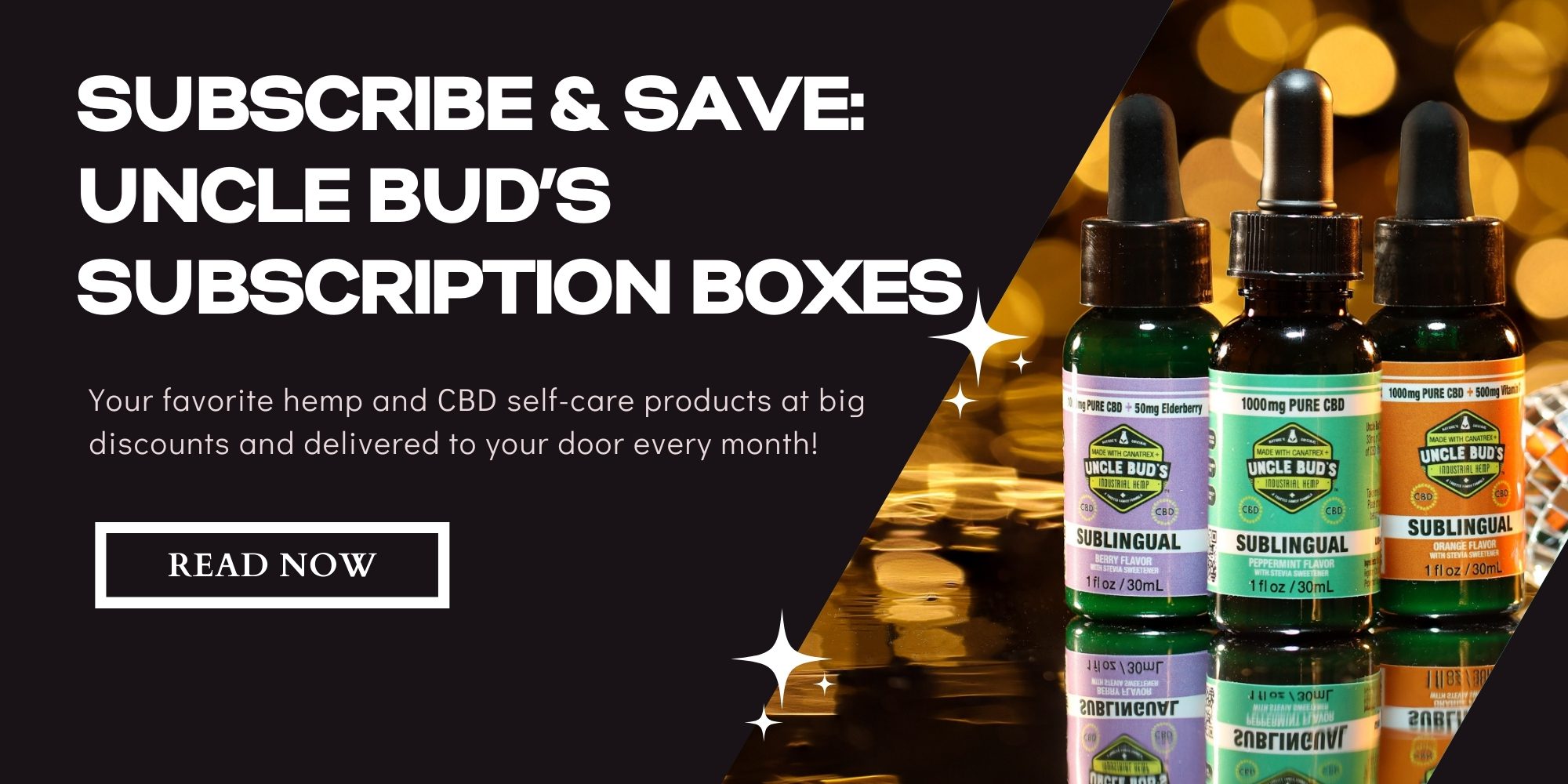 Your favorite hemp and CBD self-care products at big discounts and delivered to your door every month!
Table of Contents
Uncle Bud's Monthly Subscription Boxes
Hemp Face Mask Subscription Box
Hemp Antibacterial Solutions Pack
Uncle Bud's Monthly Subscription Boxes
If you're like most hemp and CBD enthusiasts you've tried many different products and settled upon one or two that you love and use every day. Hemp and CBD therapies are more popular than ever, and the wellness community has embraced these self-care products that can help keep you healthy and feel great. You may have found some products that you use every day and simply can't do without – and there's nothing worse than running out!
Now you never need to worry about running out of the essential hemp and CBD favorites you use every day with Uncle Bud's Subscription Boxes. These themed product packs are specially designed with you in mind – for hemp and CBD enthusiasts who use our products regularly. Subscription Boxes are a simple, no-hassle way to get the hemp and CBD wellness product you use most delivered to your door every month. Best of all, Subscription Boxes let you get the products you need at big discounts over the single item price, so every time a new box arrives on your doorstep you save big!
Here are the benefits of a monthly subscription to your favorite Uncle Bud's products:
• Big discounts off the regular price, up to 40% or more
• Free automatic shipping to your door once a month
• Easy no-hassle subscription, no need to reorder products you like
• Set it and forget it, your most-used products show up each month – never run out  
Each Uncle Bud's Subscription Box features premium hemp products made from the finest hemp seed oil or pure CBD oil, and are guaranteed to be THC-free. Shop all of our subscription assortments or take a closer look at a few of our most popular subscription packs.
SHOP ALL HEMP & CBD SUBSCRIPTION BOXES
---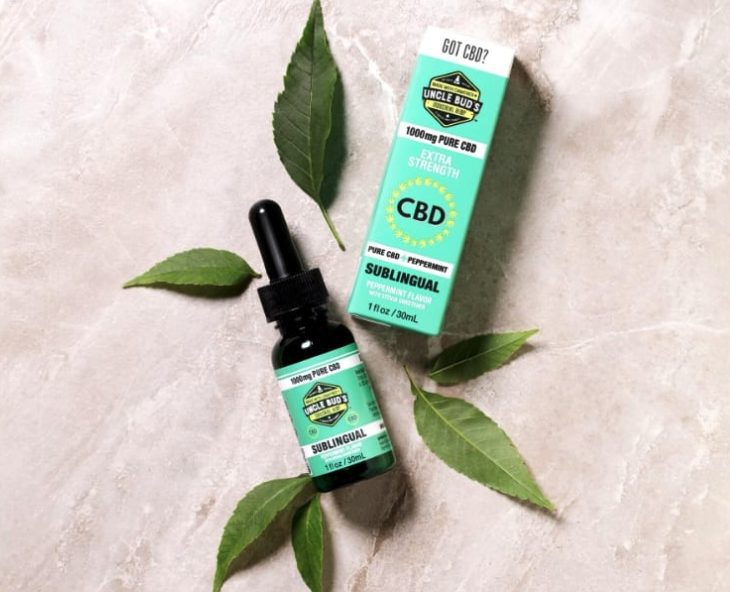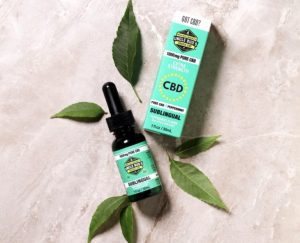 CBD Sublingual Subscription
SAVE 15%
The most popular way to administer CBD therapy is with sublingual tinctures, and we offer our best-selling Peppermint Sublingual in a convenient monthly subscription. Our #1 sublingual product is made with pure CBD oil and has a pleasant peppermint flavor made from STEVIA natural sweetener. These premium sublingual tinctures come in a 1000mg bottle with a dropper in the cap for precise dosage and are guaranteed to contain no THC.
Subscribe and get a bottle of our top sublingual delivered to you every month. Uncle Bud's 1000mg Peppermint Sublingual is made from premium CBD extract and contains our most powerful infusion of the purest, most potent CBD oil.  Each dose from the 1000mg bottle delivers 33mg of maximum-strength, water-soluble CBD oil.  Place one full dropper under the tongue and hold for 30 seconds before swallowing. The tincture absorbs quickly and cleanly leaving no strong aftertaste.
MONTHLY SUBSCRIPTION BOX INCLUDES:
1x Uncle Bud's 1000mg CBD Peppermint Sublingual
---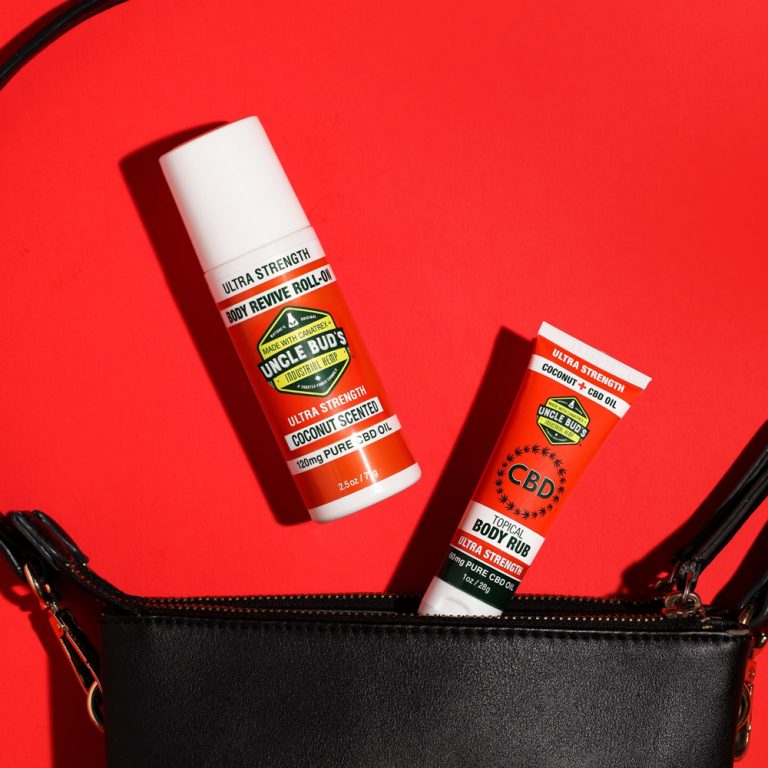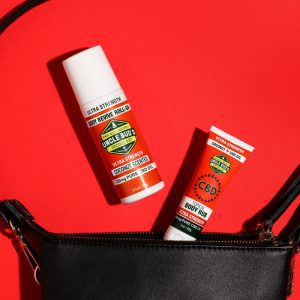 CBD Muscle Recovery Combo Set
SAVE 27%
The invigorating power of CBD muscle recovery is yours every month with this unique subscription set featuring our most popular ultra-strength CBD topical body revive solutions. This specially formulated CBD therapy is an ideal post-workout recovery solution or for any time you need a recovery solution. Both ultra-strength CBD recovery creams will be delivered to you each month, so you'll have the perfect CBD solution whenever you need it. 
The Topical Body Rub contains 60mg of pure CBD oil in a light coconut scented cream that's fast-absorbing and leaves no residue. The Body-Revive Gel and Roll-On contain 120mg of CBD and have the same coconut-scented ingredients with an easy no-mess roll-on applicator. Both recovery solutions are formulated with CANATREX Plus™, Uncle Bud's proprietary CBD-infused formula of hemp seed oil combined with oils and other ingredients.
MONTHLY SUBSCRIPTION BOX INCLUDES:
1x Uncle Bud's 120mg CBD Ultra Strength Body Revive Roll-On
1x Uncle Bud's 60mg CBD Ultra Strength Topical Body Rub
---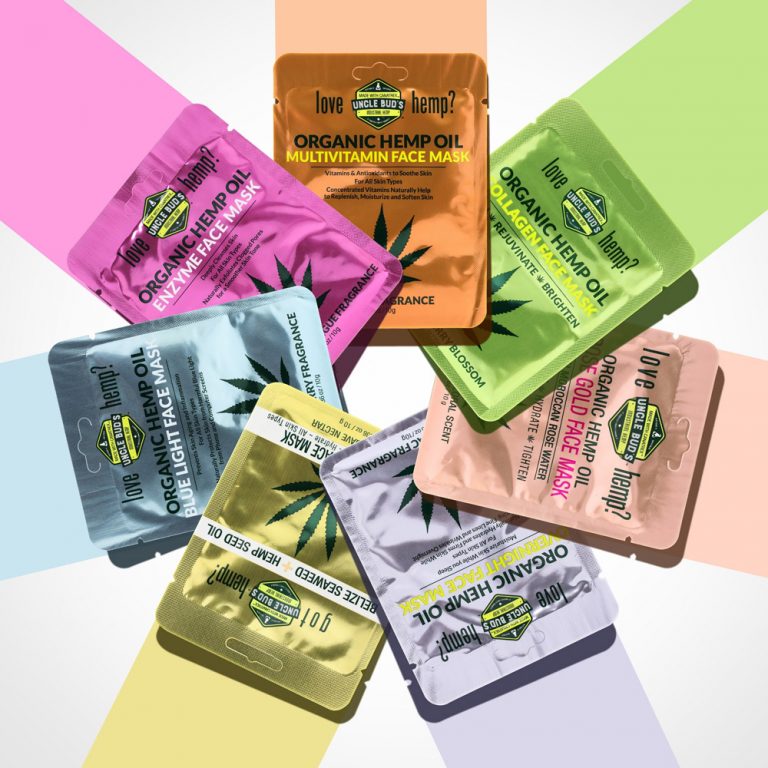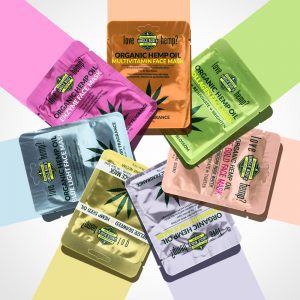 Hemp Face Mask Subscription Box
SAVE 24%
Uncle Bud's is famous for our industry-leading hemp beauty care products and popular line of hemp face masks. Our masks will leave the skin on your face deeply hydrated and beautiful. We offer many different unique hemp face masks with specialized ingredients scientifically formulated to help moisturize, nourish, and rejuvenate your skin.
With seven different hemp face masks to choose from, it can be hard deciding which is right for you – that's why we offer all seven, delivered to you every month. Our signature face mask subscription box features all 7 of our unique hemp face masks. Each offers a unique benefit to your face and is infused with rejuvenating ingredients, exotic herbal extracts, and specialty supplements to restore moisture and youth to your skin. This exclusive boxed set features a complete sampling of our premium hemp face mask collection – all seven of our unique face mask varieties.
MONTHLY SUBSCRIPTION BOX INCLUDES:
1x Collagen Hemp Face Mask
1x Rose Gold Hemp Face Masks
1x Detoxify Hemp Face Mask
1x Blue Light Hemp Face Mask
1x Overnight Hemp Face Mask
1x Multivitamin Hemp Face Mask
1x Enzyme Hemp Face Mask
---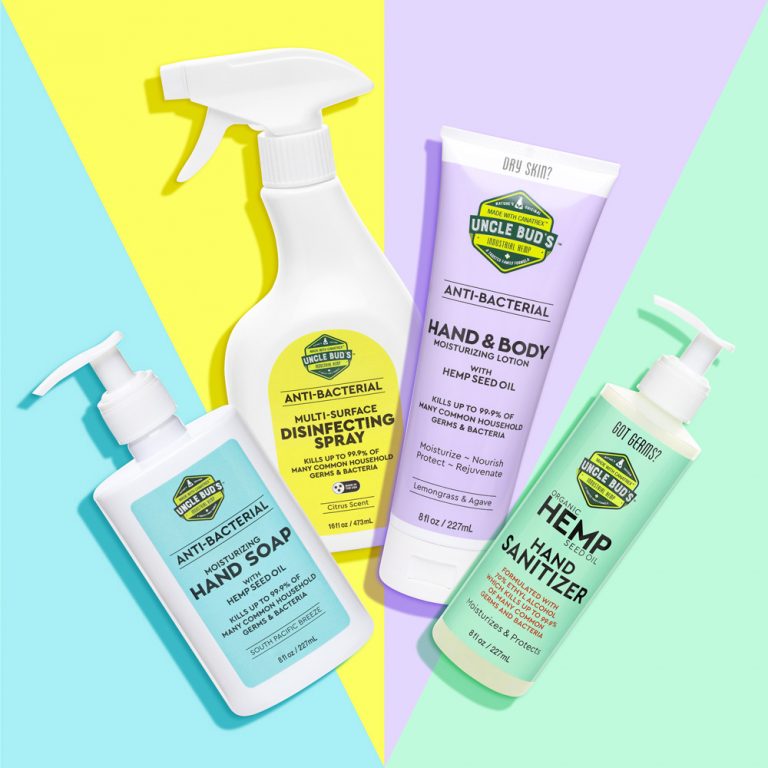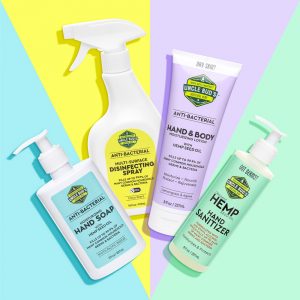 Hemp Antibacterial Solutions
SAVE 20%
In the Post-COVID world, having a reliable supply of antibacterial solutions on hand is more important than ever. With this antibacterial subscription box, you'll never run out of the essential antibacterial products your home and family need to stay clean and protected. Best of all, these antibacterial solutions are made from premium hemp seed oil which restores moisture to your skin and won't dry out your hands or body. The alcohol antibacterial component in Uncle Bud's Hemp Bacterial products kills up to 99.9% of common household germs and bacteria.
MONTHLY SUBSCRIPTION INCLUDES:
1x  8oz Antibacterial Hemp Hand Sanitizer
1x  8oz Antibacterial Hemp Hand & Body Lotion
1x  8oz Antibacterial  Hemp  Hand Soap
1x 16oz Antibacterial Surface Spray
---
Uncle Bud's Hemp has built its reputation on creating and selling high-quality, pure, premium Hemp-derived products. Our Hemp and CBD products are lab tested to ensure purity, potency, and quality.
The CBD content in milligrams is listed on every product label. While we can ensure the purity and maximum-strength potency of our proprietary CBD oil, we make no medical or therapeutic claims on any CBD product. Uncle Bud's avoids medical or therapeutic claims in order to maintain complete integrity, transparency, and trust with our customers.
All Uncle Bud's Hemp products are proudly made in the USA.
---
Disclaimer:
UncleBudsHemp.com articles are intended to provide helpful and informative content about the benefits of Hemp Seed Oil and CBD products.  Readers are advised to do their own research and make decisions in partnership with their health care provider. Nothing you read here should be relied upon to determine a course of treatment for any medical issue. All content found on the UncleBudsHemp.com Website, including text, images, audio, or other formats were created for informational purposes only. Uncle Buds makes no claims as to the medical efficacy of any products. The site and its content are provided on an "as is" basis.