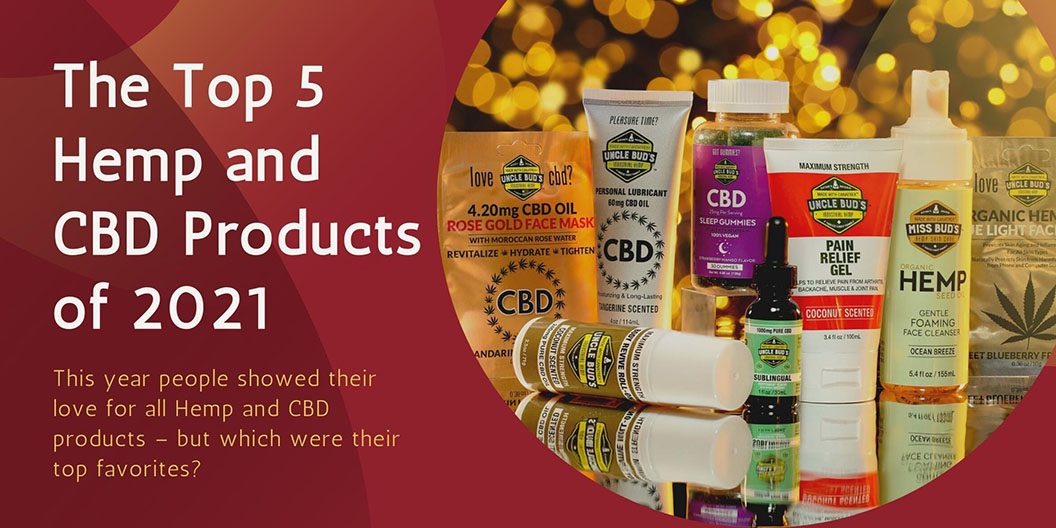 This year people showed their love for all Hemp and CBD products – but which were their top favorites?
The Hemp Wellness Community in 2021
The Hemp Wellness Community in 2021
As the world recovers from COVID 19 and the pharmaceutical industry dominates the news, the wellness community hasn't wavered in its love for hemp and hemp-derived supplements like CBD. Vaccines may be what everyone is talking about, but Hemp and CBD products are more popular than ever, and new products created from hemp seed oil and other cannabis derivatives enter the marketplace every day.
2021 saw even more growth of the hemp wellness community, with more and more people becoming educated about hemp and CBD. While CBD products are still not approved by the FDA, they remain popular legal supplements as more and more people discover CBD oil and make it part of their wellness routine. The large family of products made from hemp continues to grow to the point where just there is a hemp-oil-based product for every self-care product and need.
Uncle Bud's Top 5 of 2021
In 2021 Uncle Bud's Hemp continued to expand our growing family of products made from pure hemp and CBD oil. A few have become beloved favorites of the wellness community and are perennial favorites of customers, but in 2021 there were a couple of surprise newcomers to the bestseller list. At the end of the year, when the dust settled, a select few products emerged as our best-selling and most popular choices. Here are Uncle Bud's Top 5 hemp and CBD products for 2021:

#5 CBD Daily Face Moisturizer
Kicking off our Top 5 of 2021 is our CBD Daily Face Moisturizer. Uncle Bud's beauty care product line is one of our most popular product families, and our CBD Daily Face Moisturizer is a new addition to the line that has taken off in 2021. It's a new CBD product that combines pure CBD oil with the skin-nourishing benefits of our premium skincare solutions.
Uncle Bud's CBD Daily Face Moisturizer is a lightweight, non-greasy, and quick-absorbing daily face moisturizer that will help leave your skin deeply hydrated. It's great for sensitive skin, dry skin, and all skin types and daily use will help keep your complexion radiant and moisturized. Rich in gentle moisturizers, vitamins and omegas, this premium CBD Face Moisturizer is infused with 100mg of pure CBD oil and has a refreshing Island Breeze fragrance.

#4 Maximum Strength CBD Topical Roll-On
At number 4 is our Maximum Strength CBD Topical Roll-On. Hemp topicals are various creams, balms, and rubs that are applied to the skin to provide recovery to the muscles and joints. The creams are applied to the skin above the area to be treated, which absorbs the ingredients and infuses the surrounding muscles and joints. The hemp seed oil and other ingredients work to help also moisturize the skin itself. Sometimes CBD oil is added to topical pain relief creams for added potency with recovery.
Leading Uncle Bud's family of hemp-based topicals in 2021 is our Maximum Strength CBD Topical Roll-On. Infused with the maximum amount of pure CBD, this topical solution comes with a convenient roll-on applicator for no mess. Simply apply a thin amount to the area to be treated. The coconut-scented cream is applied with the roll-on applicator and is quickly absorbed into the skin leaving no trace of residue and works quickly to provide recovery.

#3 CBD Peppermint Sublingual
Bud's number 3 product for 2021 is our CBD Peppermint Sublingual. This best-selling CBD tincture is always a customer favorite, and sublinguals are probably the most popular CBD wellness products. Sublingual means "under the tongue" which refers to the way this popular CBD supplement is administered, through drops placed under the tongue through a dropper. 
Uncle Bud's signature sublingual has a cool peppermint flavor made with Stevia sweeter. The light, peppermint-flavored oil absorbs quickly with a simple under-the-tongue application and leaves no residue or aftertaste. Uncle Buds CBD Peppermint Sublingual CBD is sold in a 1000mg bottle with a dropper in the cap for precise dosage. Each dose from the 1000mg bottle of CBD Sublingual delivers 33mg of maximum-strength, water-soluble CBD oil.  Place one full dropper (approximately 30 drops or 1mL) under the tongue and hold for 30 seconds before swallowing.

#2 CBD Sleep Gummies
Uncle Bud's number 2 product of 2021 combines the power of pure CBD with the most popular herbal sleep and relaxation aid, Melatonin, into a fun and flavorful gummy supplement. Uncle Bud's CBD Sleep Gummies combine CBD oil and Melatonin into a tasty gelatin gummy, which is an ideal way to mix both ingredients into one convenient supplement. Gelatin is a perfect matrix for wellness supplements that allows the ingredients to keep their potency over long periods without degrading. 
Melatonin is proven as a safe supplement to assist in sleep. CBD Sleep Gummies are soft gelatin chewables that taste great and work fast. Each chewable gummy delivers an infusion of our proprietary CBD formula, plus Melatonin and other ingredients. These gummies are perfect for your bedtime routine, infused with 2mg of melatonin and 25mg of CBD per serving. Uncle Bud's CBD Sleep Gummies have a delicious strawberry-mango flavor which combined with the power of pure CBD oil, makes them our #2 favorite product of 2021.
#1 Uncle Bud's Hemp Pain Relief Topicals
Uncle Bud's began our journey into the hemp wellness world with a few original hemp products we felt could help people the most. Foremost among them was hemp pain relief. Now, Uncle Buds has become famous for our premium hemp pain relief topical creams and balms, so it's no surprise that our #1 product of 2021 is a combo of the two premium pain relief products that put us on the hemp supplement map: Uncle Bud's Hemp Pain Relief Topicals.
Uncle Bud's pain relief topicals use a proprietary blend of pure hemp seed oil, 10% trolamine salicylate, and other ingredients that are guaranteed to contain no THC and no CBD. In addition to the hemp seed oil, our topical creams are infused with rich moisturizers and other nutrients that benefit the skin as well as provide powerful hemp-based pain relief. Use Uncle Bud's hemp topicals for any sort of back pain associated with sore muscles, aching joints, or arthritis.
We bundled our two most popular hemp topical products into one value pack that customers loved and became our hottest hemp offering of 2021. This Hemp Pain Relief four-pack features two of our most popular pain-relief supplements – 2 Topical Pain Relief Balms and 2 Topical Pain Relief Roll-Ons. Both topicals use premium hemp seed oil to create a potent topical analgesic for temporary relief of minor aches and pain of the muscles and joints.
So as 2021 winds down, it's not surprising that Uncle Bud's Hemp ended up where we started, with our hemp pain relief topicals winning the top spot among all our great hemp and CBD products. We invite you to see for yourself what all the hype is about and try one of our Top 5 hemp and CBD solutions for 2021 and let them become your favorites too.
---
Uncle Bud's Hemp has built its reputation on creating and selling high-quality, pure, premium Hemp-derived products. Our Hemp and CBD products are lab tested to ensure purity, potency, and quality.
The CBD content in milligrams is listed on every product label. While we can ensure the purity and maximum-strength potency of our proprietary CBD oil, we make no medical or therapeutic claims on any CBD product. Uncle Bud's avoids medical or therapeutic claims in order to maintain complete integrity, transparency, and trust with our customers.
All Uncle Bud's Hemp products are proudly made in the USA.
---
Disclaimer:
UncleBudsHemp.com articles are intended to provide helpful and informative content about the benefits of Hemp Seed Oil and CBD products.  Readers are advised to do their own research and make decisions in partnership with their health care provider. Nothing you read here should be relied upon to determine a course of treatment for any medical issue. All content found on the UncleBudsHemp.com Website, including text, images, audio, or other formats were created for informational purposes only. Uncle Buds makes no claims as to the medical efficacy of any products. The site and its content are provided on an "as is" basis.