The right cleansing products can make your daily shower a rejuvenating experience. Incorporating hemp oil into your cleansing routine is a wonderful strategy for bathing. 
Hemp is a natural moisturizer that soothes your skin without clogging pores or leaving a slick feel on the skin. At Uncle Bud's Hemp, we understand how particular people can be when it comes to their skin care and cleaning rituals. So, instead of harsh chemicals, we choose environmentally-friendly, organic hemp oil for its clean application and variety of skin-friendly qualities.
Choosing Our Hemp Seed Oil
We select the ingredients for our hemp body wash with care. The hemp oil itself is naturally one of the most important factors. 
Hemp oil or hemp seed oil is used in a variety of topical over the counter skin care products. Derived from the seeds of the cannabis plant, refined hemp seed oil is clear and odorless. It's noticeably different from dark greenish unrefined hemp seed oil, which has a vaguely nutty smell. 
For our shower gel, we chose to infuse our formula with the power of unrefined, organic hemp seed oil. Minimizing the processing of the hemp allows it to retain more nutrients that can seep into your skin.  This natural substance works in tandem with the steamy moisture of a warm shower to rejuvenate any skin that's been feeling dry and brittle. 
Body Wash Infused with Nutrients
In its purest form, hemp oil is an emollient that is high in antioxidants. It features Omega-6 and Omega-3 fatty acids and high quantities of vitamins A, C and E. Studies have suggested that people who get enough of these nutrients have a leg up on healthy skin growth and cell generation, reducing the appearance of wrinkles, creases, and lines.
All of these vitamins are found in the foods that you eat, but there are certain advantages to obtaining them through your skin. When you eat a salad full of spinach, rich in vitamins A and C, those nutrients have to be obtained by your intricate digestive system. Stomach acid and other necessary processing may reduce the amount of nutrients that you actually use. 
When you absorb a vitamin through your skin, the path is more direct. The vitamins that help you live a happy and healthy life can go directly to your bloodstream instead of making a detour through the heavy machinery of your stomach.
Hemp Body Wash Benefits
Keeping your skin healthy can be a major balancing act. Cleansing products that strip away too much oil lead to itchy dryness. Correcting this problem with conventional oil-based shower gels can clog pores, leading to pimples. 
One of the most appealing properties of organic hemp oil is that it gently removes dirt and excess oils without clogging pores. This benefit can be traced back to a concentration of gamma linoleic acids (GLA). 
With GLA working for your skin, our shower gel helps regulate secretions of natural oils and breaks down the buildup that may be clogging pores and causing skin blemishes. That ability to break down residue makes hemp oil a fantastic make up remover, so using it as part of a morning or evening routine can work wonders as it cleanses and soothes your skin.
Hemp Body Wash for Sensitive Skin
If dryness and itchiness are major considerations when you pick out a shower gel, hemp oil may be your new best friend. Oil derived from hemp seeds is gentle and unlikely to cause irritation. People with picky skin can use it without worrying whether a shower will lead to discomfort later in the day. 
You may find that chronic dryness, itchiness, or breakouts become less frequent when you're treating your skin with the right body wash. A shower gel that uses hemp oil can even provide healing and relief from skin conditions like psoriasis and eczema. The ability of hemp oil to retain moisture and protect layers of the skin can help fight these uncomfortable skin conditions. 
Here's another benefit—One of the primary causes of psoriasis flares is a deficiency of Omega-6 fatty acids. Hemp seed oil is rich in this vital fatty acid, and regularly using hemp body wash can reduce and even prevent psoriasis breakouts and other dermatologic afflictions. 
Relief for Aches and Scratches 
Hemp oil helps protect each delicate layer of skin and offers tremendous restorative benefits. Thanks to a rich profile of vitamins and fatty acids, the organic hemp oil in our shower gel can help heal skin that has been scratched and burned. Thanks to these same qualities, hemp oil has also been recommended in the relief of muscle pain and arthritis.
You'll build healthy skin and feel good while you do it. The soothing sensation of the essential fatty acids can reduce uncomfortable itching and inflammation. That effect helps your skin directly, but there's more going on. Beneath the surface of your skin, vitamins may travel deeper to positively impact muscles and joints. Yet another reason why Uncle Bud's Hemp Body Wash is a powerful weapon in your skin care arsenal.
A Weapon in The Battle Against Sunburn
Hemp Oil also offers a small amount of protection from the damaging rays of the sun. With a sun protection factor (SPF) of six, hemp oil can help guard against sunburn more effectively than using a shower gel that doesn't offer the power of hemp seed oil as an extra layer of sun damage protection. 
Plus, hemp seed oil is rich in omega-6s. This important nutrient can be absorbed through the skin and is associated with skin health. It helps regulate oil production and boosts your body's ability to create healthy, new cells. That helps you recover from the acute effects of sun damage.
If you do get a little sunburned, use our hemp sunburn soother to relieve the irritation and burning of a minor sunburn.
The Power of Hemp Oil in Your Hands
The hemp seed oil in our Uncle Bud's Hemp shower gel makes it a shower essential. This phenomenal compound helps heal, cleanse, and moisturize more effectively than any other oil available. We invite you to experience the healing, rejuvenating benefits of our shower gel for yourself.
---
Order Uncle Bud's Hemp Body Wash and Sunburn Soother today!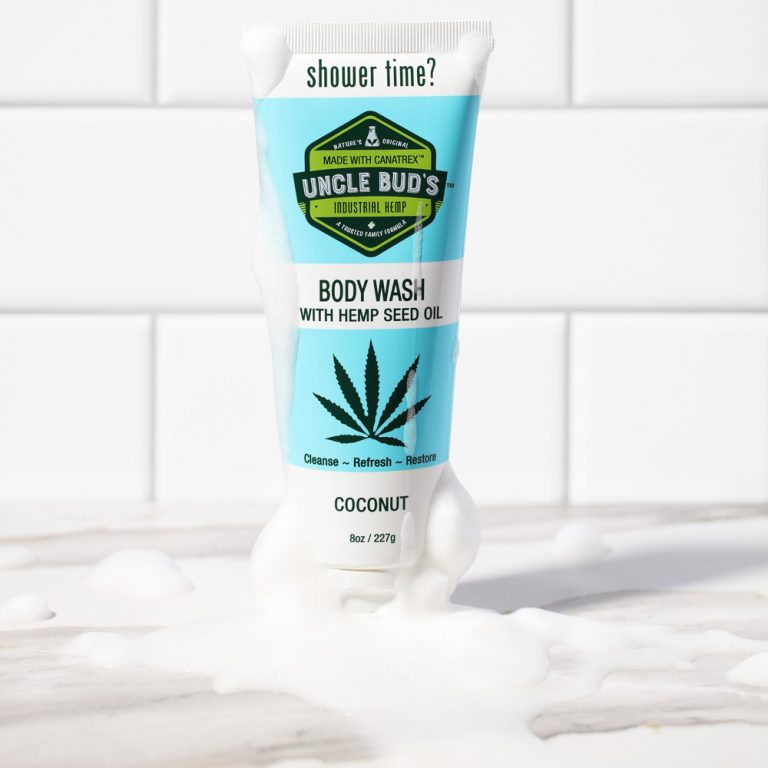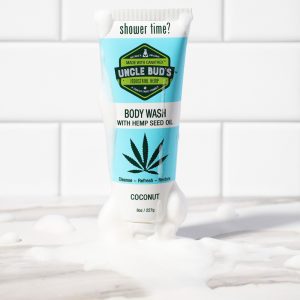 Uncle Bud's Hemp Body Wash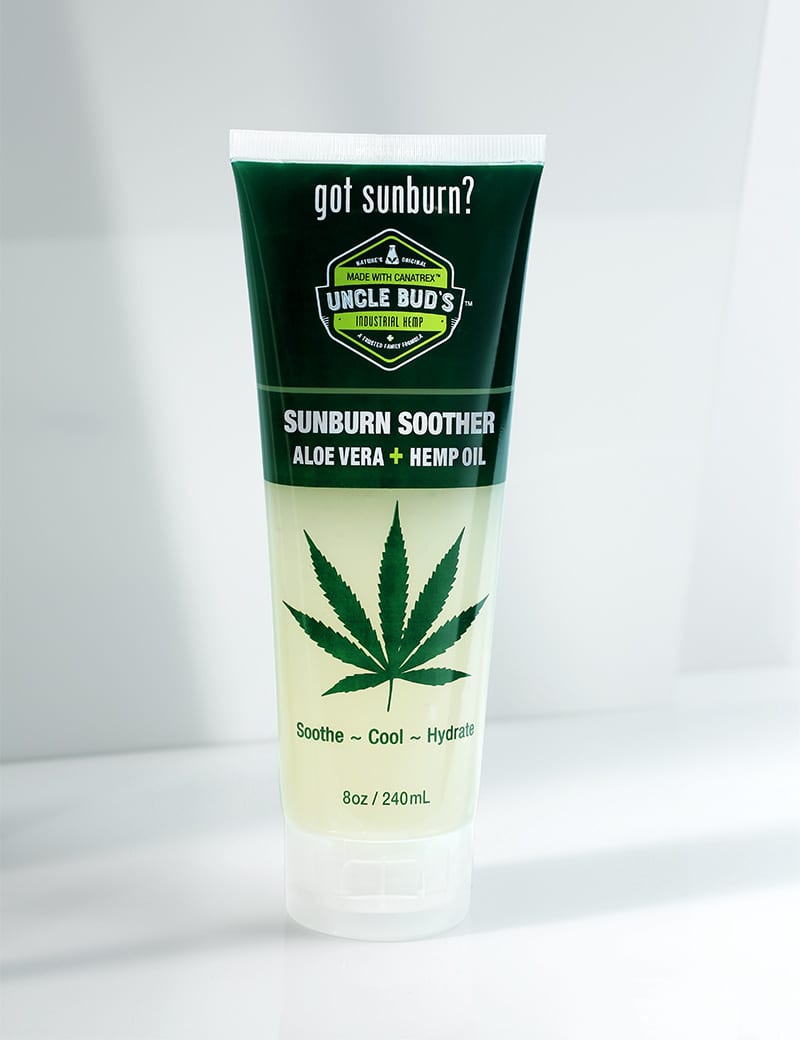 Uncle Bud's Hemp Oil for Sunburn
---
Uncle Bud's Hemp has built its reputation on creating and selling high-quality, pure, premium Hemp-derived products. Our Hemp and CBD products are lab tested to ensure purity, potency, and quality.
The CBD content in milligrams is listed on every product label. While we can ensure the purity and maximum-strength potency of our proprietary CBD oil, we make no medical or therapeutic claims on any CBD product. Uncle Bud's avoids medical or therapeutic claims in order to maintain complete integrity, transparency, and trust with our customers.
All Uncle Bud's Hemp products are proudly made in the USA.
---
Disclaimer:
UncleBudsHemp.com articles are intended to provide helpful and informative content about the benefits of Hemp Seed Oil and CBD products.  Readers are advised to do their own research and make decisions in partnership with their health care provider. Nothing you read here should be relied upon to determine a course of treatment for any medical issue. All content found on the UncleBudsHemp.com Website, including text, images, audio, or other formats were created for informational purposes only. Uncle Buds makes no claims as to the medical efficacy of any products. The site and its content are provided on an "as is" basis.