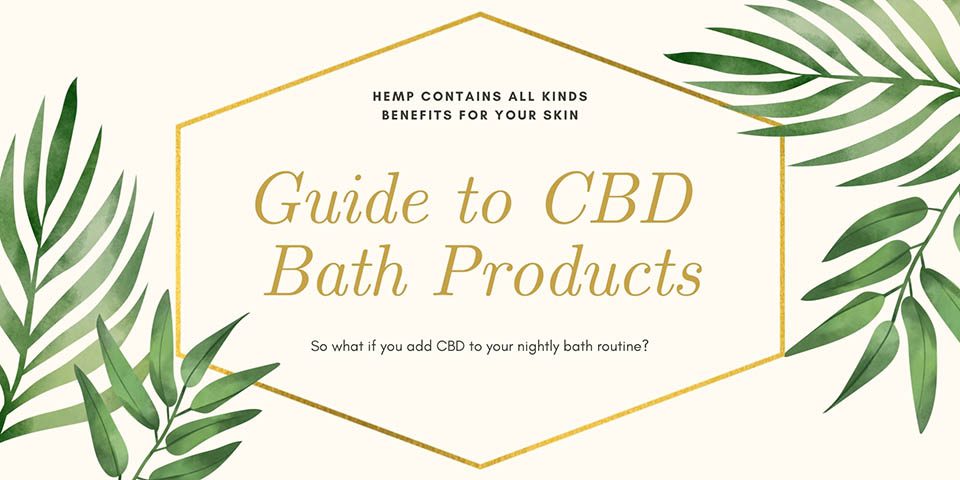 Hemp has all kinds of benefits for your skin – So what if you add CBD to your nightly bath routine?
Table of Contents
Hemp For A Relaxing Bath Routine
The Best CBD Products for Ultimate Relaxation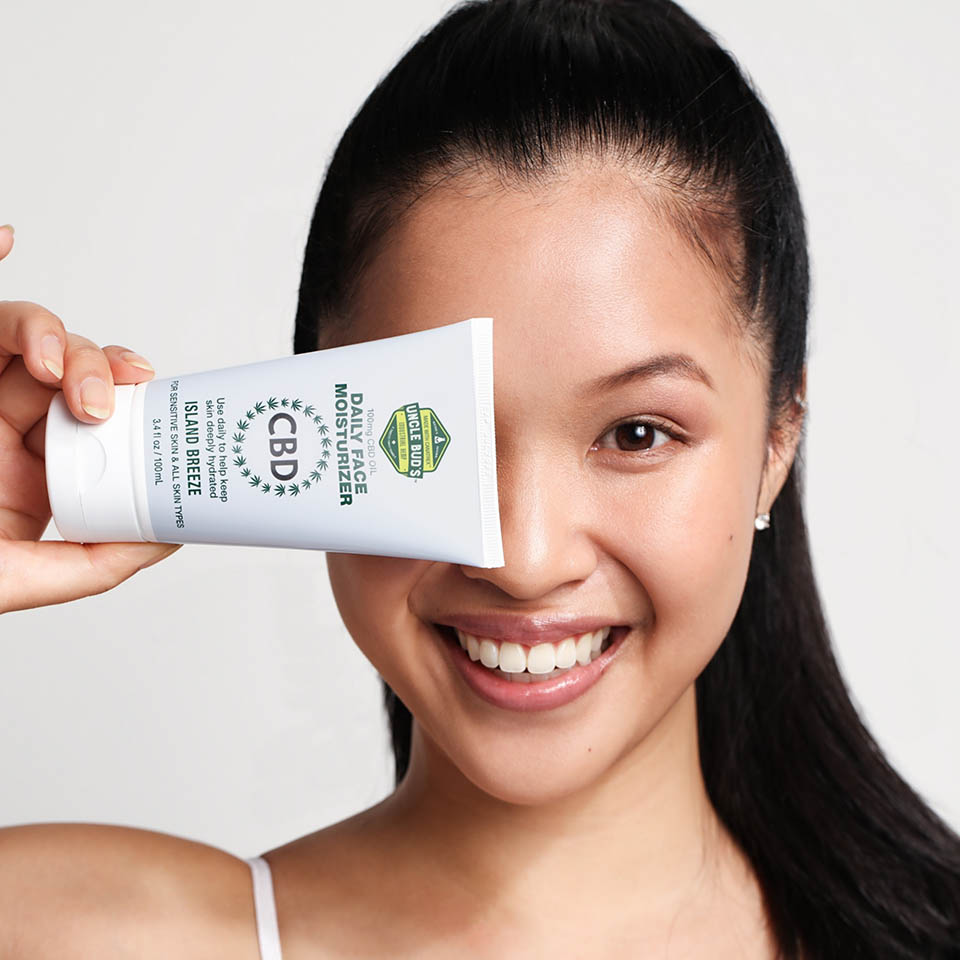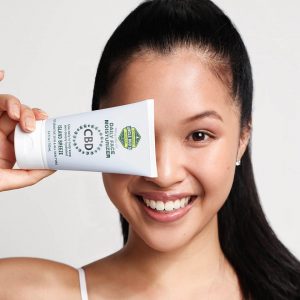 Hemp & CBD Skin Care
As you read this, thousands of skincare products made from hemp are being bought and used everywhere in the health and wellness marketplace. Self-care products made from the botanical oils extracted from the hemp species of the cannabis Sativa plant don't contain THC, but they do contain an astonishing array of compounds whose benefits for your skin can't be exaggerated. Hemp oil has emerged as the self-care world's most popular skincare supplement, and it's all because of the multitude of ingredients that benefit your skin.
So what exactly is inside hemp skincare products that make them so good for your skin? The oil from the seeds and other parts of the cannabis plant is unique in how many therapeutic compounds it contains.
Hemp oil is essentially a concentration of beneficial compounds like moisturizers, anti-inflammatories, fatty acids, vitamins, antioxidants, and omegas. A drop of hemp oil contains multiple ingredients that combine to offer an amazing array of health and therapeutic benefits to various parts of your body – especially the skin.
When CBD is included in a hemp skincare product, you get all the benefits of the hemp oil, plus the added effect of an infusion of CBD. The skin readily absorbs CBD, making it a perfect addition to any self-care product applied to the body. Not only are you getting a moisturizer, gentle cleanser, and essential nutrients, you're also getting an infusion of pure CBD oil.
Just about everything your skin needs to be healthy is found in the botanical oils extracted from hemp – a therapeutic plant whose wellness properties have been known for centuries. Hemp oil contains a unique mixture of plant-based compounds that synthetic skincare products cannot duplicate. These ingredients produce multiple therapeutic properties for your skin, infusing it with compounds that restore moisture, maintain proper oil balance, replenish vitamins, and gently cleanse the skin without irritation.
Moisturizing
Hemp oil is foremost a potent moisturizer that mimics the moisture that occurs in human skin. Hemp skincare products universally feature this moisturizer that deeply hydrates dry skin and restores it to health. Not only does it help keep moisture in the skin, hemp oil actually attracts moisture by drawing it to the skin.
Good for all Skin Types
Due to its high concentration of vitamins and essential fatty acids, Hemp oil benefits both dry and oily skin simultaneously. The moisturizers and anti-inflammatories in Hemp skincare supplements work together to hydrate dry-skin conditions. On the other hand, hemp oil also helps if the skin is producing too much oil by restoring the skin's oil balance. Hemp face masks can aid in reducing excess oil which can help with conditions like acne and eczema.
Antioxidants, Amino Acids & Omegas
The skin needs specific nutrients to be healthy and most important among these are antioxidants, amino acids, and omegas. Antioxidants slow damage to the skin caused by free radicals – unstable molecules your body produces. Amino acids are vital for functions such as protein synthesis, tissue repair, and nutrient absorption. Omegas are helpful "good" fats your body needs for proper function. Hemp oil-based skincare products contain an ideal balance of antioxidants, amino acids, and the 3 essential omegas your body needs, Omega-6, Omega-3, and Omega-9.
A Gentle Cleanser 
Regular skin care products often contain artificial detergents like soap that strip away skin's moisture and irritate delicate areas like your face. Hemp oil is a gentle cleanser that washes away dirt, bacteria, and impurities without stripping away moisture. Hemp oil skin supplements designed for cleansing, like hemp shower gel and face washes, wash away impurities all while hydrating and nourishing your skin. Anti-inflammatories within the hemp oil soothe and calm irritated skin and redness.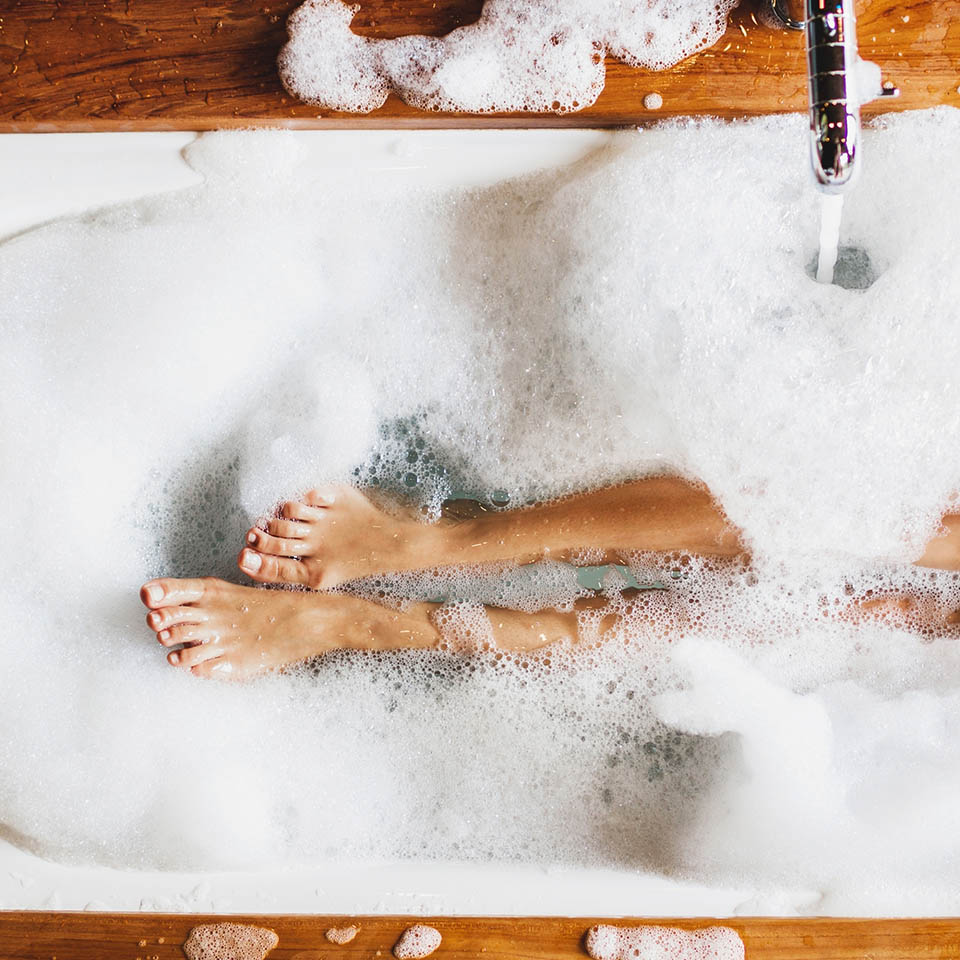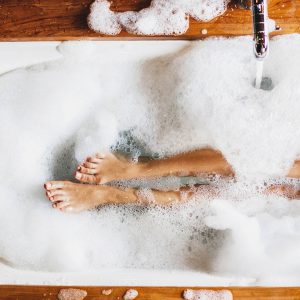 Hemp for a Relaxing Bath Routine
With hemp and CBD surging in popularity as the products of choice for self-care products of all kinds, it's no surprise that more and more people are incorporating it into their bath time rituals. The evening bath is a ritual whose purposes are three-fold. Getting clean is just the first part of a leisurely process that involves caring for your skin as well as soaking in the hot rejuvenating water for a deeply relaxing and therapeutic evening ritual.
A therapeutic soak with hemp not only infuses your skin-nourishing moisturizers and anti-inflammatory ingredients, but a hemp-infused bath can also help with total body relaxation, muscle recovery, and assist in getting better sleep.
Hemp bath products are becoming a staple in bathrooms everywhere since everyone can benefit from a hot, hemp-infused bath. Anyone with stress and tension can take a calming bath with hemp to deeply relax before a good night's sleep.
Athletes and fitness enthusiasts can use a hemp bath as part of their recovery regime. Seniors or arthritis sufferers can find this helpful, along with busy moms who want to relax and pamper themselves after a long day and take their self-care routine to a luxurious new level.
CBD & Your Skin
CBD is an abbreviation for Cannabidiol, one of many specific compounds called cannabinoids found within the Cannabis Sativa plant, and present in countless self-care products. Hemp extracts and hemp seed oil are in many bath products, but CBD isn't typically associated with bath time. Most people think of oral CBD products like sublingual or topical creams, but the skin is an excellent route for absorbing cannabidiol.
Transdermal absorption is when a therapeutic compound is rubbed onto and absorbed by the skin instead of taking it orally. Products that use this way of absorption are called topicals, and they're often superior to oral administration because the skin is closest to parts of the body. Topically applied creams are often the best choice for the back, neck, and any other parts of the body.
A hot bath helps make topical absorption even more effective. Immersion in warm water makes the blood vessels in the skin expand and draw close to the surface as well as opening the pores. This flushed skin helps the CBD to be absorbed quickly and easily, allowing you to feel its effects sooner and with greater potency. A warm bath is an ideal time to get an infusion of CBD which is why the compound has found its way into many different kinds of bath products like body washes, lotions, and facial cleansers.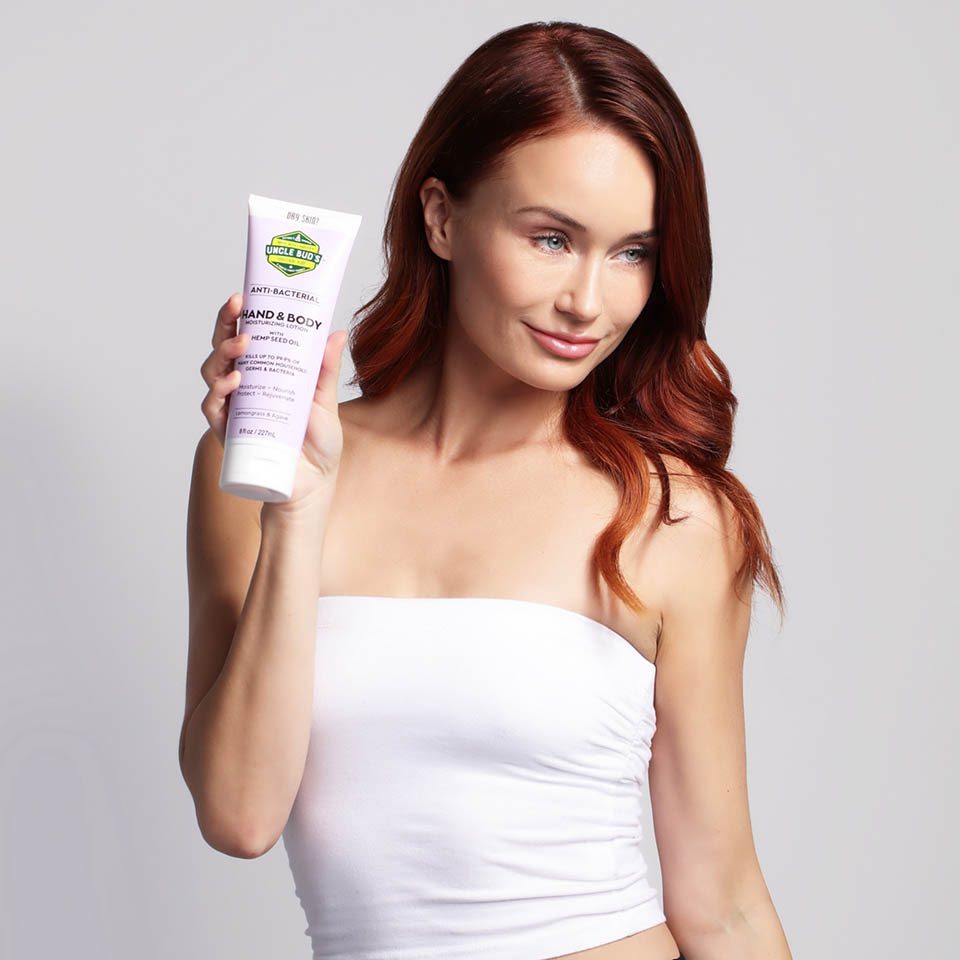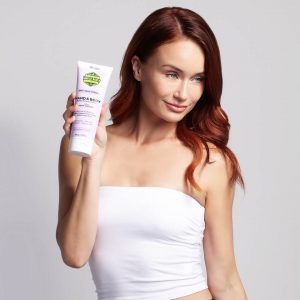 The Best CBD Bath Products for Ultimate Recovery
Are you ready to experience an amazing new bath time ritual? With these indulgent CBD bath products, the most relaxing and invigorating bath can be yours. Each of these premium CBD bath products is infused with a proprietary blend of pure CBD oil.
Every product is 100% THC-free, but they all contain a potent blend of nourishing hemp compounds along with an extra-strength infusion of CBD. Uncle Bud's specializes in hemp skin and beauty care products using the purest, potent and nutrient-rich hemp oil available created in an FDA-registered lab.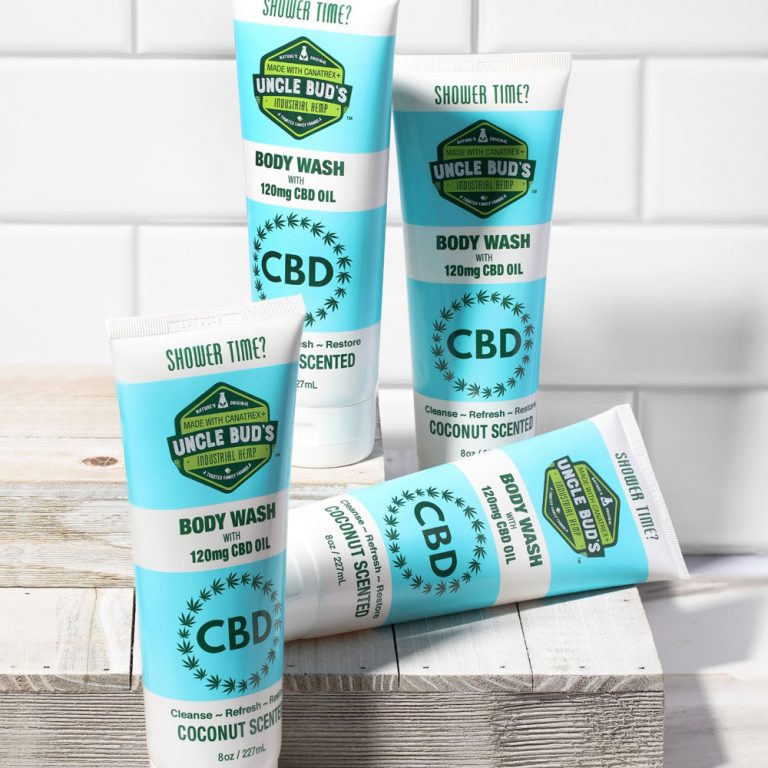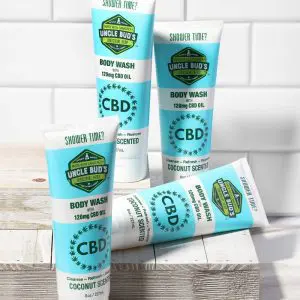 Bath time begins with this coconut-scented body wash that delivers a deep refreshing clean along with pure CBD. Infused with 120mg of CBD oil along with vitamins, omegas, and other health-skin supplements, this CBD Body Wash will leave your body invigorated and your complexion radiant and moisturized.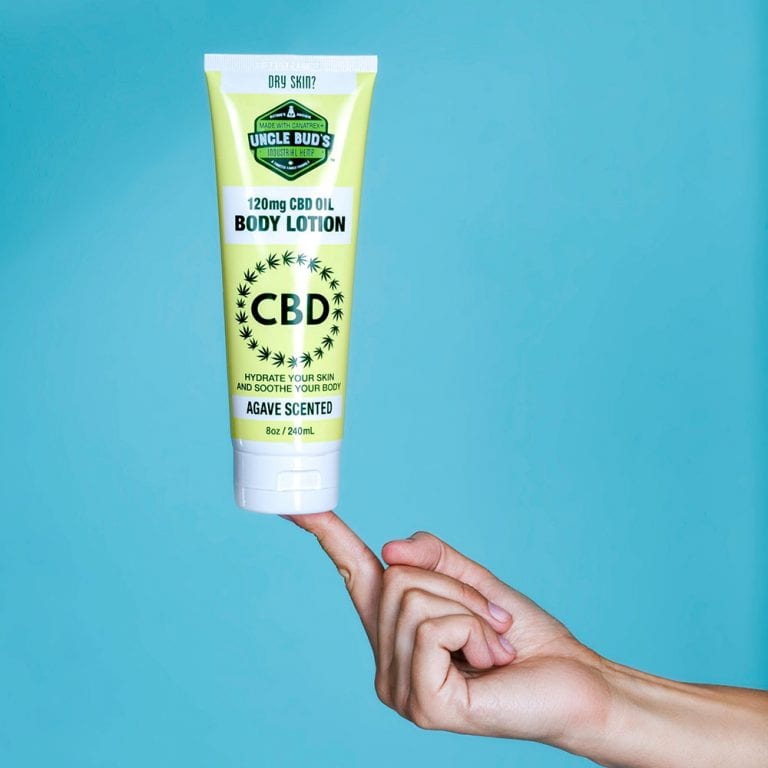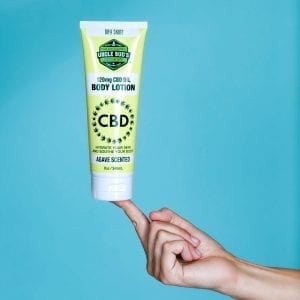 For decadent after-bath moisturizing plus the benefits of pure CBD oil, this agave-scented body lotion will leave your skin soft, supple, and deeply hydrated. The quick-absorbing, non-greasy formula restores moisture with premium hemp seed oil and contains a potent infusion of pure CBD oil. Infused with vitamin A, D, and E, this gentle, non-irritating lotion is great for all skin types.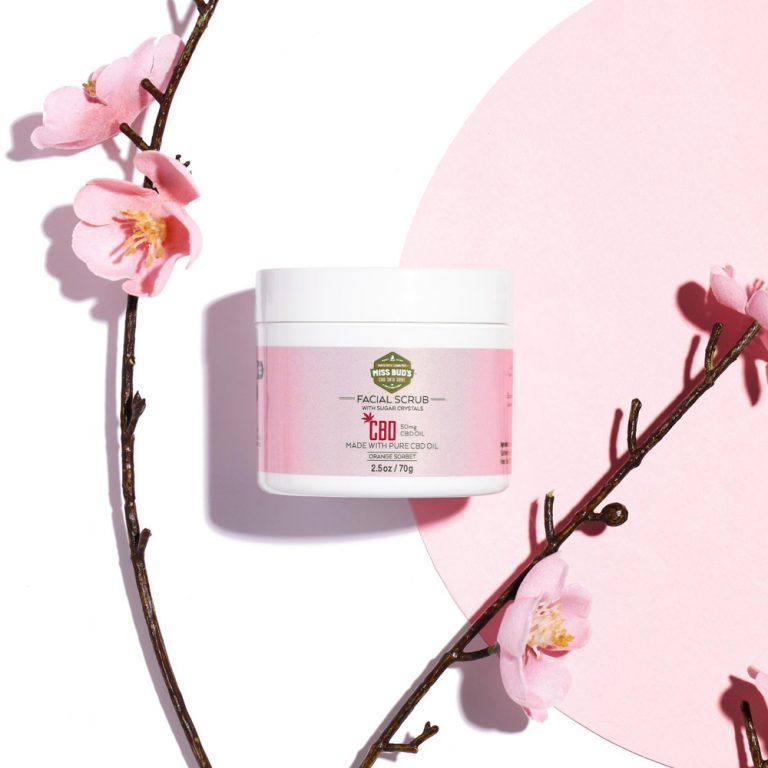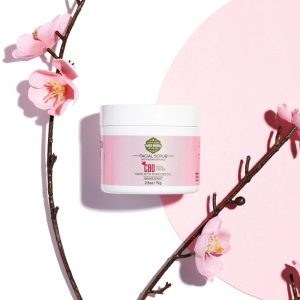 Give your face the extra attention it deserves with this premium CBD Facial Scrub infused with 50mg of pure CBD oil. This facial scrub is scented with refreshing orange sorbet and includes sugar crystals to gently exfoliate your skin while removing excess oils, dirt, and dead skin. The gentle formula won't irritate the delicate skin of your face, and the hemp oil blend will leave your skin smooth, bright, and rejuvenated.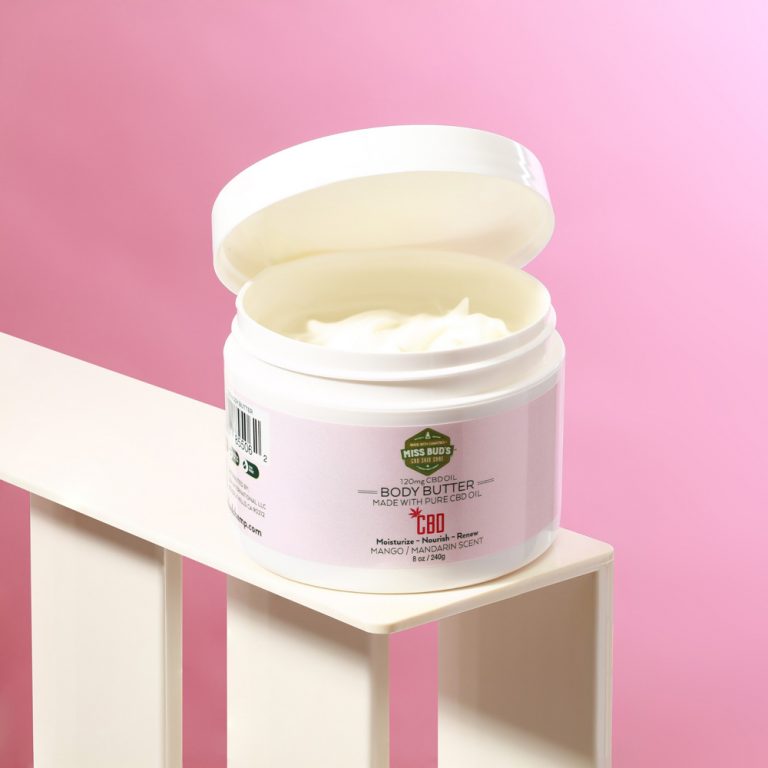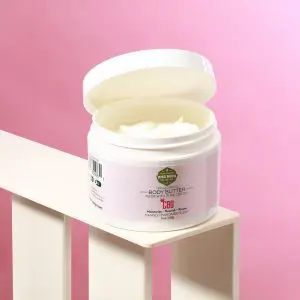 After a luxurious bath, sometimes you need serious moisturizing therapy if you are suffering from dry chapped skin. This decadently rich mango-mandarin scented CBD Body Butter penetrates deep to deliver intense hydration, leaving your skin wrapped in moisture. In addition to potent moisturizers, this body butter infuses your skin with the power of 120mg of pure CBD oil to add the perfect finishing touch to a relaxing bath routine.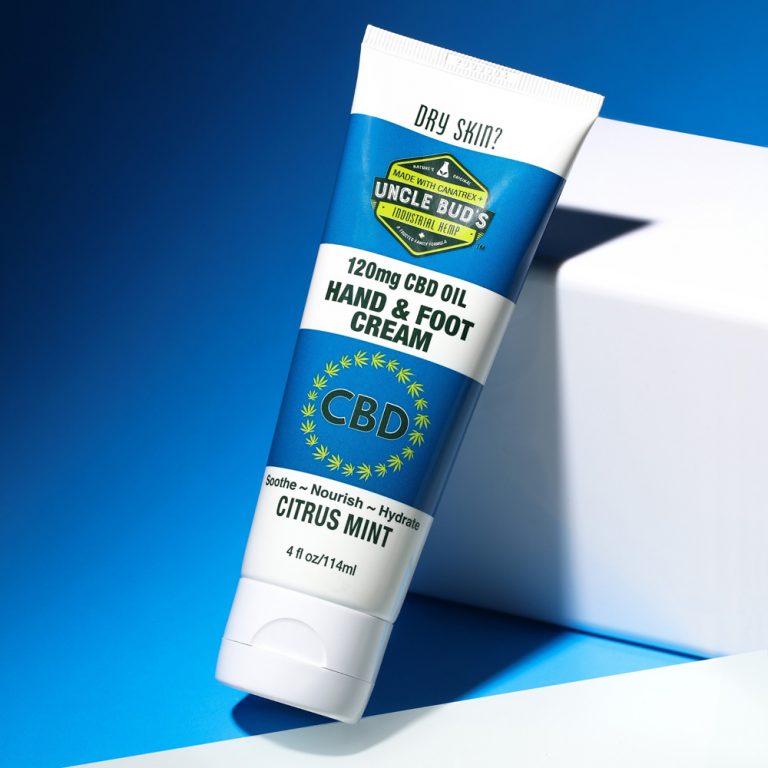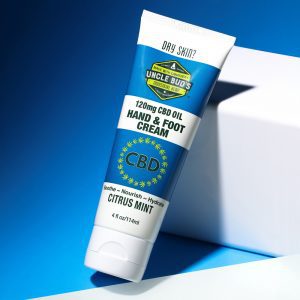 During your nightly self-care routine, your hands and feet may require extra attention. Among all your body parts the hands and feet are the most susceptible to chapped skin and dryness. When that happens, you need seriously focused hydration from a specialized cream designed to restore moisture that will leave your skin soft and smooth. This citrus mint-scented CBD Hand & Foot Cream delivers focused moisturizing to your hands and feet, knees and elbows, while also delivering a 120mg infusion of pure CBD.
View our entire list of hemp and CBD products via our CBD superstore!
---
Uncle Bud's Hemp has built its reputation on creating and selling high-quality, pure, premium Hemp-derived products. Our Hemp and CBD products are lab tested to ensure purity, potency, and quality.
The CBD content in milligrams is listed on every product label. While we can ensure the purity and maximum-strength potency of our proprietary CBD oil, we make no medical or therapeutic claims on any CBD product. Uncle Bud's avoids medical or therapeutic claims in order to maintain complete integrity, transparency, and trust with our customers.
All Uncle Bud's Hemp products are proudly made in the USA.
---
Disclaimer:
UncleBudsHemp.com articles are intended to provide helpful and informative content about the benefits of Hemp Seed Oil and CBD products.  Readers are advised to do their own research and make decisions in partnership with their health care provider. Nothing you read here should be relied upon to determine a course of treatment for any medical issue. All content found on the UncleBudsHemp.com Website, including text, images, audio, or other formats were created for informational purposes only. Uncle Buds makes no claims as to the medical efficacy of any products. The site and its content are provided on an "as is" basis.