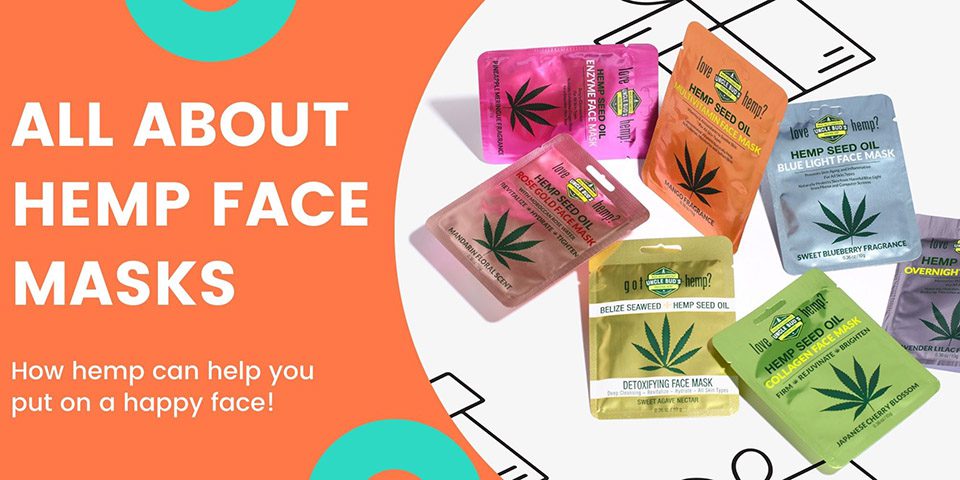 How hemp can help you put on a happy face!
Table of Contents
What makes hemp face masks different?
Your skin, your face, and masks
Why hemp is great for your face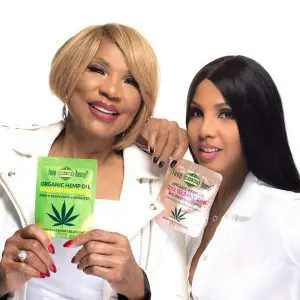 What is a hemp face mask?
When it comes to beauty care, no body part gets as much attention as your face. Makeup, makeup remover, facial soap, facial moisturizers, and a whole family of face masks are just a few. At its most basic, a beauty facemask is a layer of cream or clay that is applied to the face and left for a period of time long enough for the ingredients to rejuvenate the skin. Hemp face masks add an additional ingredient – hemp oil. It's the hemp oil that makes hemp face masks unique and it's the key ingredient that other kinds of facemasks lack.
Face masks are applied using your fingertips to create an even layer of cream or clay over your face and letting it sit for a period of time. Face masks are also popular as a relaxing self-care ritual, and they are very effective. Face masks keep the clay or cream in close contact with your facial skin for a longer amount of time, letting the therapeutic ingredients penetrate deep into the layers quickly. The mask infuses the facial skin with rejuvenating elements while trapping moisture inside the skin to create greater hydration or exfoliation– depending on the purpose of the mask. 
There are many reasons to use face masks as part of your beauty care routine. It can be as simple as providing skin cleansing and moisturizing, to treating skin conditions and reducing wrinkles. In any case, beauty care face masks are perhaps the most effective self-care product for providing intense skincare to the sensitive, delicate, and important skin on your face.
---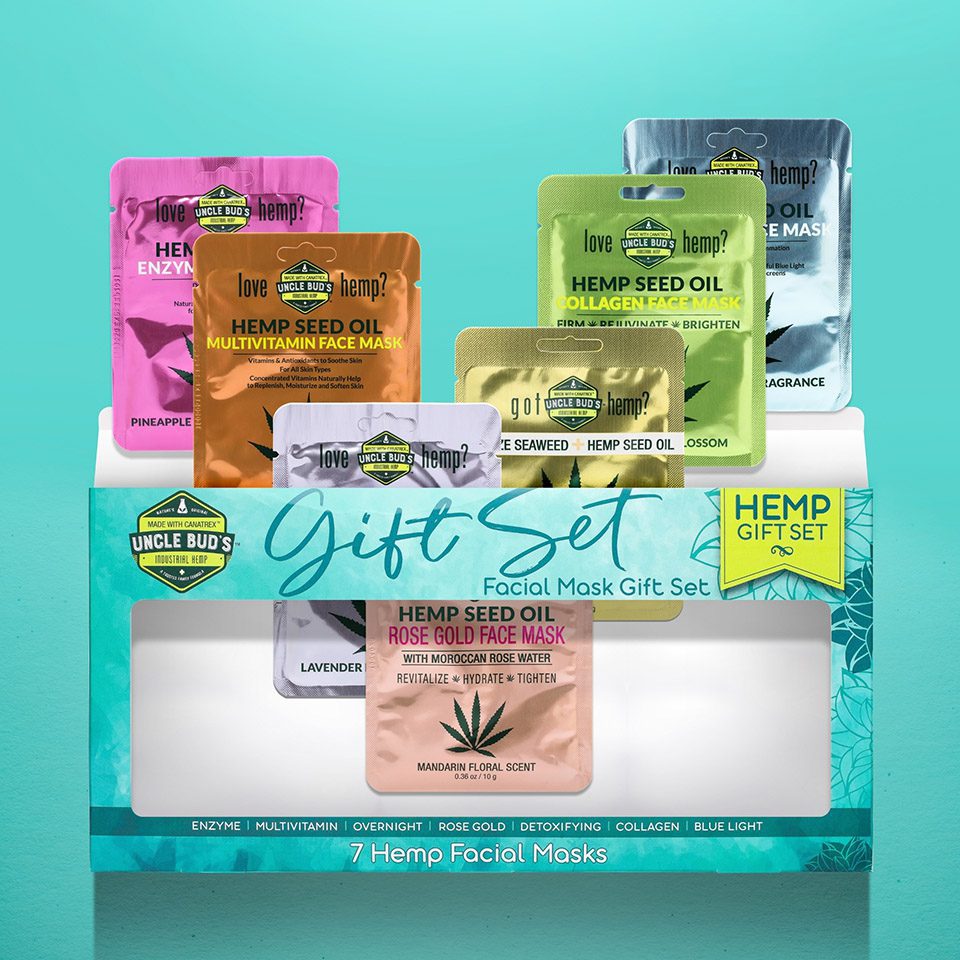 ---
What makes hemp face masks different?
So, what is so special about a hemp face mask? It's the hemp! The hemp species of the cannabis plant contains a botanical oil rich in therapeutic compounds called cannabinoids. Many regular beauty products including face masks use synthetic moisturizers and other artificial ingredients. Although synthetic elements are not always harmful, they can never duplicate the complex and unique ingredients found in hemp seed oil. 
Hemp seed oil contains a unique mixture of compounds that are beneficial for the skin. Rich in moisturizers, antioxidants, vitamins, and all 21 known amino acids, hemp is abundant in nutrients that hydrate, protect, and nourish the skin. Hemp oil contains vitamins A and E, the key vitamins for skin health which help the skin retain its strength and elasticity. Omega-6 fatty acids help restore moisture to dry skin when applied topically. Although they come from a plant, the botanical ingredients in hemp seed oil mimic the oils our skin produces on its own, making hemp ideal for sensitive skin irritated by synthetic products. 
The hemp seed oil used in hemp face masks and all hemp have had all traces of THC & CBD removed. Using a hemp face mask won't cause any psychoactive effect, but it will deliver intense hydration, nutrients, and focused therapy to the skin of your face. Hemp seed oil contains anti-inflammatory ingredients that calm irritation and may help reduce swelling, redness, puffy eyes, blemishes, and other conditions caused by irritated and inflamed skin tissue. Hemp seed oil can also help balance the skin's oil production. Too much oil can mix with dirt and other impurities to cause acne and other conditions. Hemp Face Masks may help to remove excess oil and impurities and restore the oil to proper balance.
Hemp seed oil is perhaps above all else a potent moisturizer. As the skin ages, it loses moisture resulting in lines and wrinkles. The delicate thin skin on the face is exposed to the sun more than other parts of the body and it's the most susceptible to wrinkles. Hemp seed oil's amazing ability to restore moisture and rejuvenate the skin of your face makes it the perfect ingredient for facial masks. Finally, hemp Face Masks can work as an emollient which helps to smooth the rough cells on the skin's surface, leaving your skin with a healthy smooth glow and repairing the damage caused by the elements.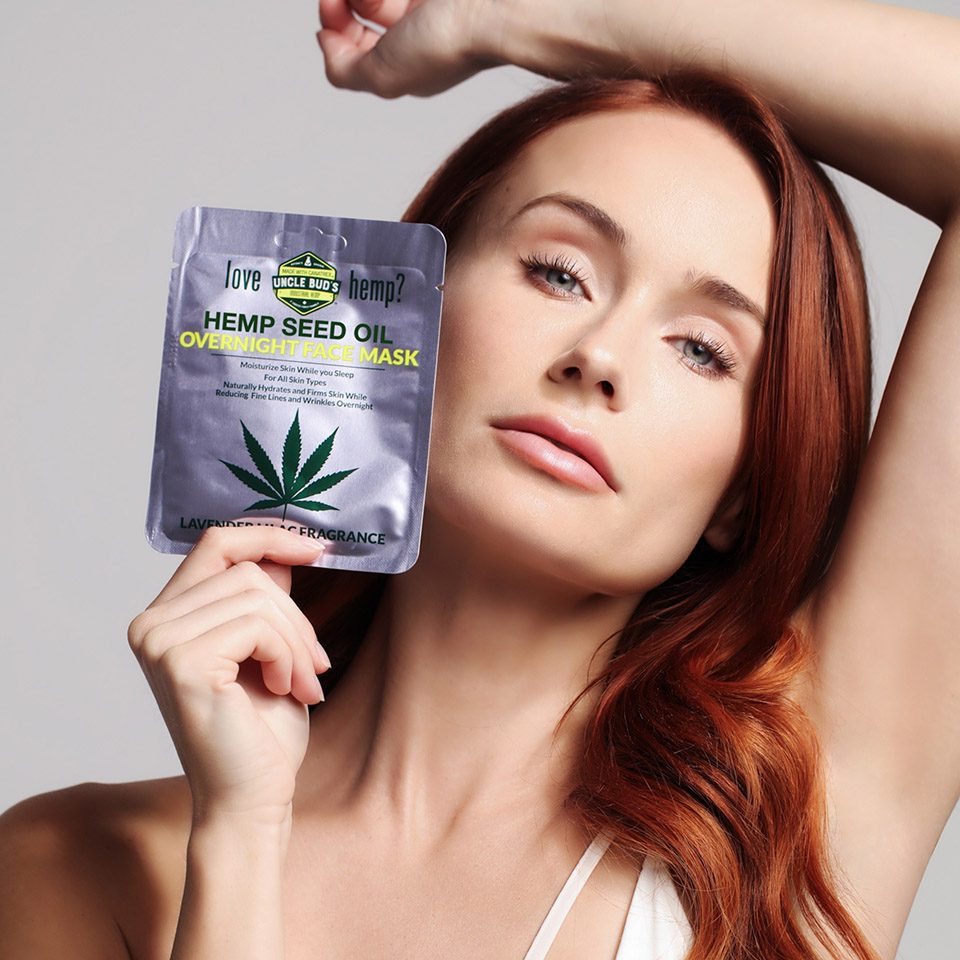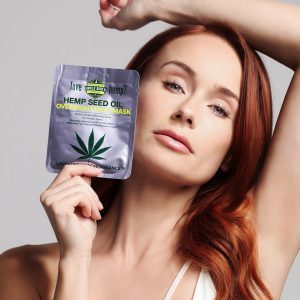 Your Skin, Your Face and Masks
Not all your skin is the same. Skin thickness, sensitivity, and durability vary widely, and the skin on your face is very different than the skin on your hands and feet. Different kinds of skin require different strategies for care. The tough protective skin on your feet has completely different needs than the thin, delicate skin around your eyes. Among all the general body regions, the skin on your face is the thinnest, most sensitive, and most vulnerable to dryness, damage, and exposure to the elements. Plus your face is the most noticeable part of your body. Its role in communication and interacting with others make it the most important area of skin on your body. It requires special attention and should receive the best care.
Like all skin, the skin on your face's purpose is to create a barrier against hazards in the environment, but unlike the skin on your body, your facial skin is almost always in direct contact with the elements including sunlight, wind, pollutants, and UV rays. The skin on your face is particularly thin, sensitive, and most vulnerable to microscopic damage, moisture loss, and aging. The skin's fragility and special needs make it the target of by far the most skincare products and skin therapy solutions. 
Face masks are recognized as one of the most intense ways to provide focused therapy to the skin of your face. The time involved to use a face mask reflects the extra attention people are willing to spend on making sure their face is as healthy and attractive as possible – and face masks do deliver what they promise, providing extra intense moisturizing, cleansing, exfoliating, and restoration of key nutrients. The extra time necessary for applying a face mask allows the ingredients to penetrate deeper and work longer hydrating and nourishing your skin in one concentrated treatment.
Face masks are a total face care treatment package in one special product that provides the therapy of several different products working at once. They begin by cleansing the skin from impurities, removing dirt,  and excess oil. They then detoxify and exfoliate the skin, unclogging pores and removing dead skin cells and other impurities that lurk beneath the top layer of skin. Finally, face masks rejuvenate the skin, restoring moisture and infusing it with any number of nutrients and therapeutic ingredients to balance and achieve a smooth, healthy, and radiant appearance.
---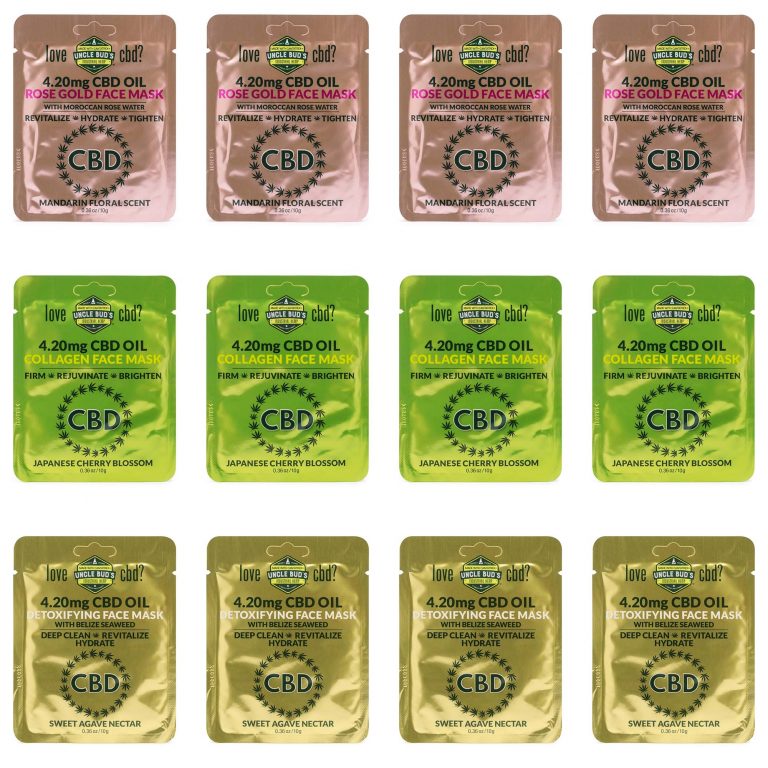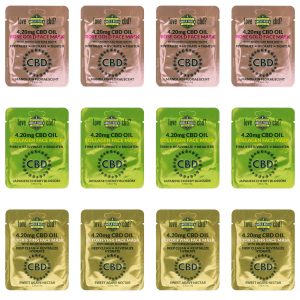 ---
Why Hemp is Great for Your Face
So what exactly is inside hemp face masks that make them so good for your skin? Pretty much everything. Regular non-hemp face masks lack hemp oil and use other kinds of moisturizers. Hemp seed oil is essentially a concentration of beneficial compounds like moisturizers, anti-inflammatories, fatty acids, vitamins, antioxidants, and omegas. A drop of hemp seed oil contains multiple skin-nourishing ingredients that combine to offer an amazing array of benefits perfect for the special needs of your face. Here's a closer look to break down the many beneficial ingredients in hemp face masks.
Moisturizers
Moisture is the number one ingredient your skin needs to be healthy, and hemp oil is first and foremost a potent moisturizer. Hemp face masks feature nutrient-rich hemp seed oil that deeply hydrates dry skin to health as few other moisturizers can.
Anti–Inflammatories
Anti-inflammatory compounds omega-3-6-9 found in hemp seed oil may help to reduce skin irritation, redness, promoting healthy skin at the tissue level. 
Plant-Based Compounds
The botanical compounds in hemp seed oil make hemp face masks especially good for those with sensitive skin. Artificial ingredients can cause irritation because the skin reacts to foreign chemicals that don't resemble the body's own oils and tissues. Hemp seed oil is very similar to the oil the skin produces and is less likely to trigger irritation.
Antioxidants, Amino Acids & Omegas
The skin needs specific nutrients to be healthy and most important among these are antioxidants, amino acids, and omegas. Hemp face masks contain an ideal balance of these special compounds which work together to help the skin with nutrients and to function properly. 
Vitamin E
Hemp oil also contains high levels of Vitamin E, the most important vitamin for skin health. Hemp face masks infuse the skin with vitamins helping it to resist the elements, and skin-damaging pollutants, as well as strengthening and protecting the skin.
Anti-Aging
As your skin ages, it loses its elasticity which is the primary cause of wrinkles. No product can reverse the skin's aging process, but Hemp seed oil can smooth the skin's surface and restore its elasticity, which may help to reduce fine lines and wrinkles.
Gentle Cleansers
Regular face masks often contain artificial ingredients that can be harsh, irritating, and strip away the skin's natural oils. Hemp seed oil gently cleanses the skin of dirt and impurities without synthetic irritants, making it an ideal cleansing and detoxifying agent for sensitive skin.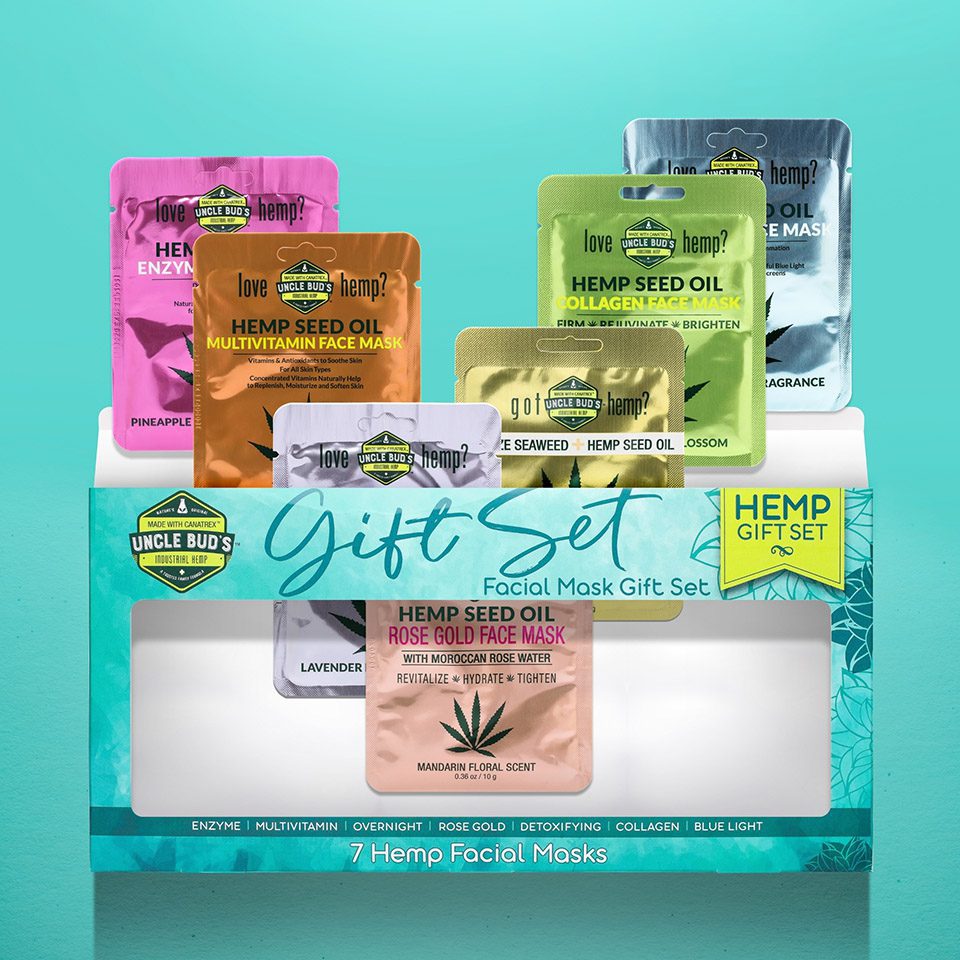 Hemp & CBD Face Mask Guide
If you've decided hemp is the skin-care product your face needs, the best place to begin is with premium hemp face masks that use only the finest high-quality hemp seed oil.
Uncle Bud's Hemp specializes in hemp-based skincare and beauty products, using only the purest and most nutrient-rich hemp seed oil available. All our premium Hemp and CBD face masks use a proprietary formula of pure hemp seed oil combined with other nourishing ingredients for maximum therapeutic benefits for your skin. 
Uncle Bud's face masks provide advanced moisturizing and nourishing skin therapy for healthy complexions and beautiful skin. Every face is unique, so we created the following guide featuring each of our unique hemp face masks so you can find the one that's perfect for your face!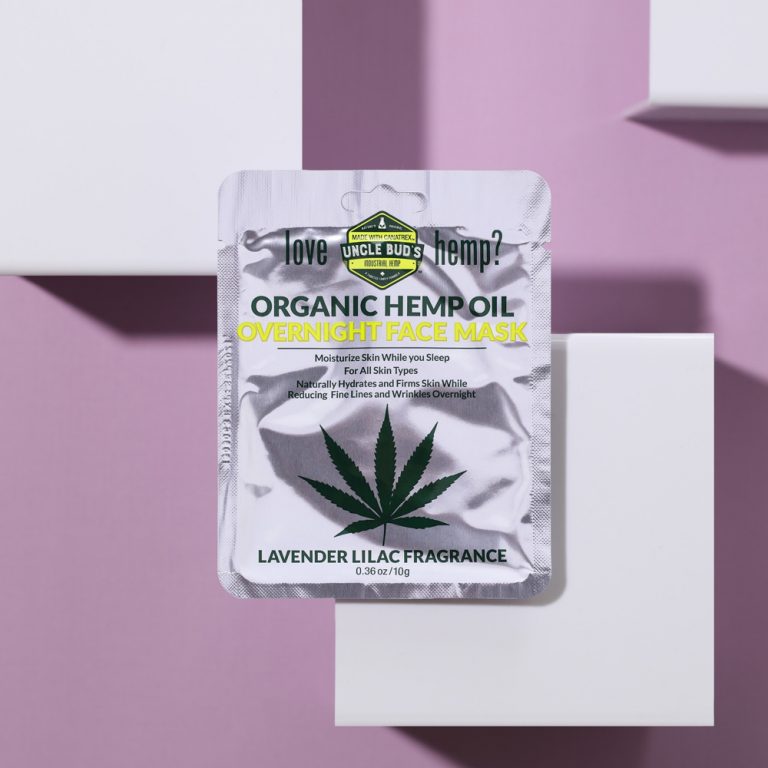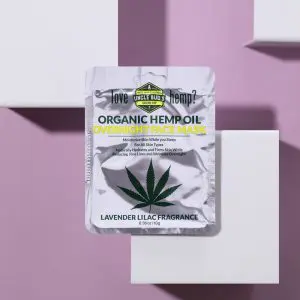 This overnight mask hydrates and refreshes your skin while you sleep. Full of antioxidants and other supplements like mushroom-derived Beta Glucan, this gentle non-irritating mask deeply moisturizes your skin during the night. By morning it's completely absorbed with no leftover residue.
No need to wash off • Lavender lilac scented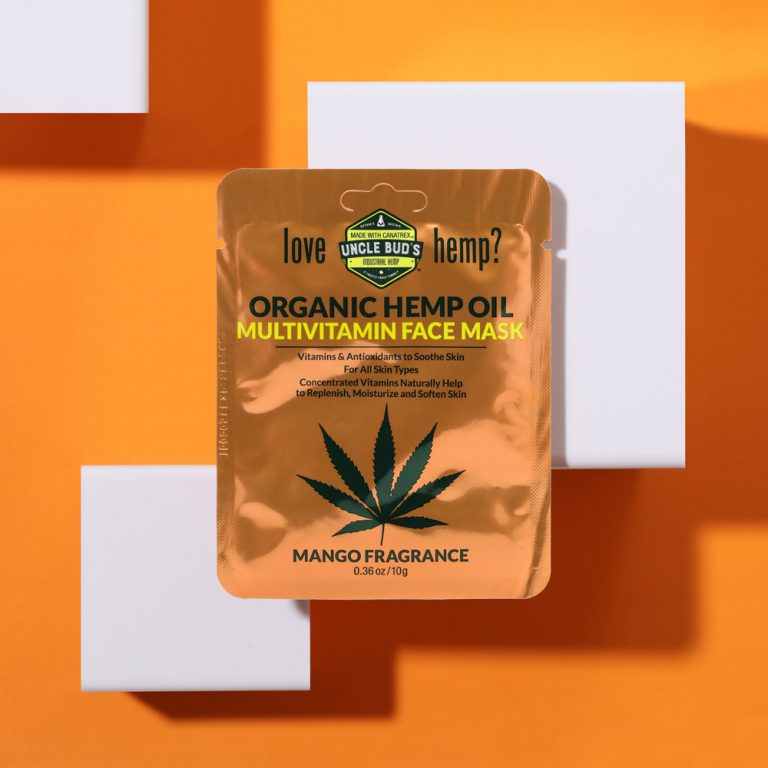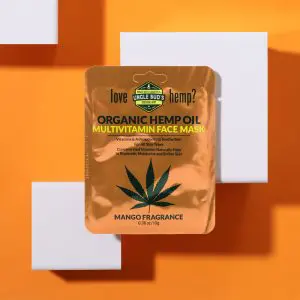 Our multivitamin mask is rich in vitamins B, C, D, and E and antioxidants which help to repair, hydrate, and restore dry skin. The formula calms irritation and repairs damage, nourishing the skin for a brighter complexion.
Infused with vitamins and antioxidants • Mango scented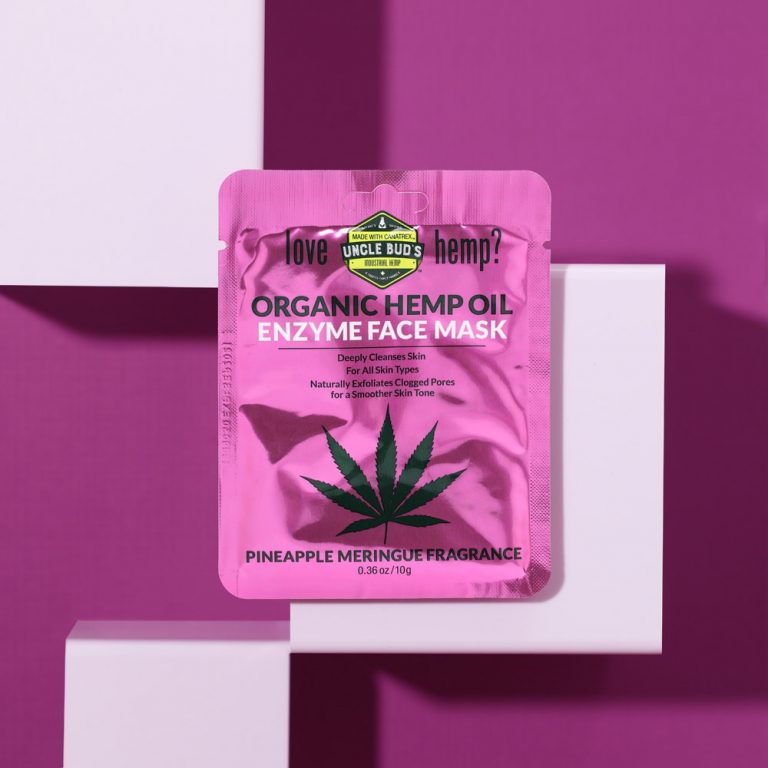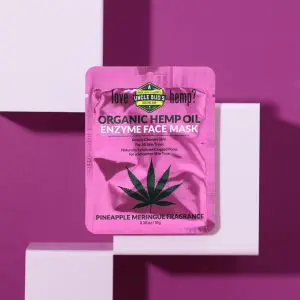 Skin-friendly enzymes in this beauty mask exfoliate and remove dead skin cells to help your skin glow and shine. The beneficial enzymes are derived from Pineapple for effective and soothing skin exfoliating. Through gentle exfoliation, the enzymes help to calm irritated skin.
Pineapple enzymes for gentle skin exfoliating • Pineapple meringue scented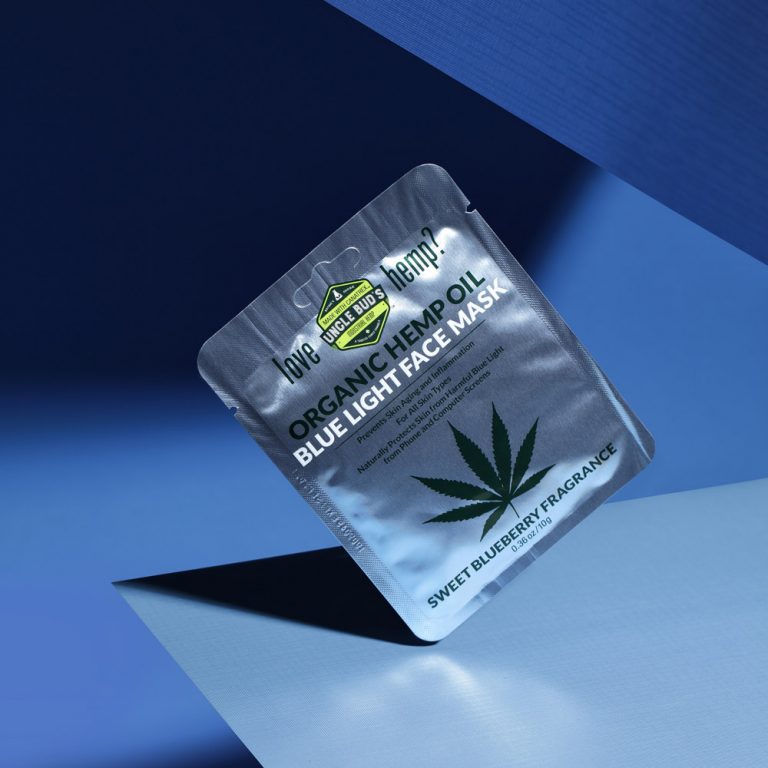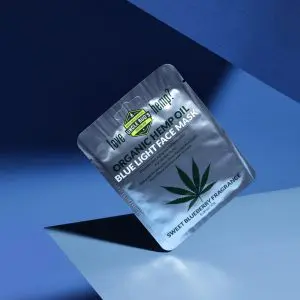 Do you work at a computer all day? The blue light face mask protects delicate facial skin from harmful blue light from phone and computer screens. Pure hemp seed oil and other ingredients work to help slow skin aging and inflammation. 
Protects skin from harmful blue light • Sweet Blueberry scented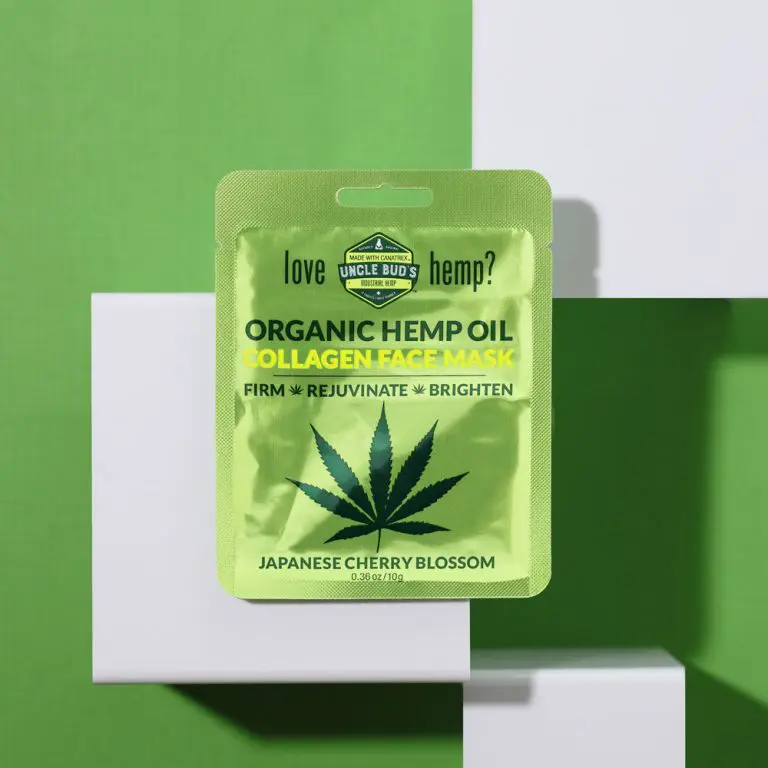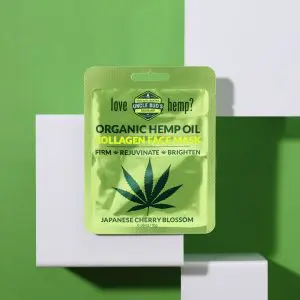 The Collagen Face Mask is the perfect product for promoting skin elasticity and reducing wrinkles. The collagen along with the rejuvenating properties of the hemp seed oil restore skin tightness and elasticity for a youthful healthy glow.
Promotes skin elasticity • Relaxing Japanese Cherry Blossom Scent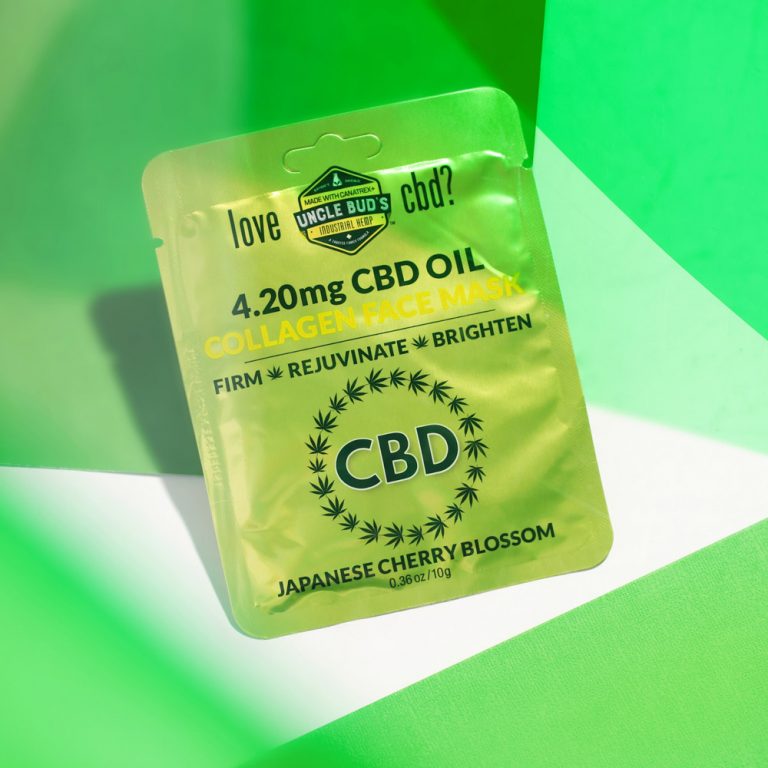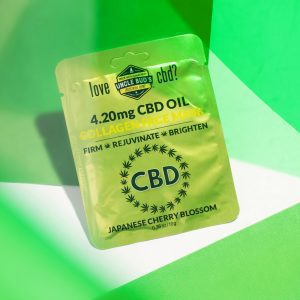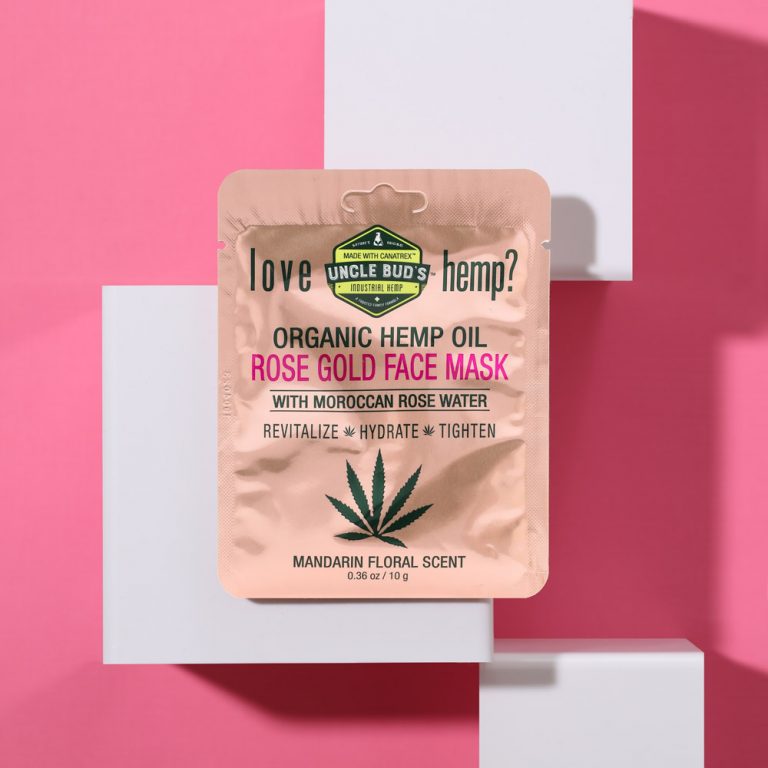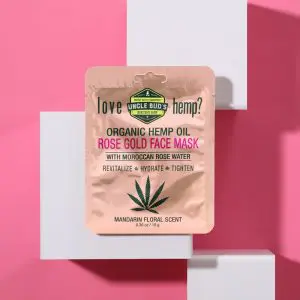 The gold standard in beauty masks, the Rose Gold Face contains Moroccan Rose Water for a complete blend of skin hydrating ingredients. Use it for moisturizing, skin-toning, anti-aging, anti-inflammatory properties. 
Moroccan rose water therapy • Mandarin Floral Scent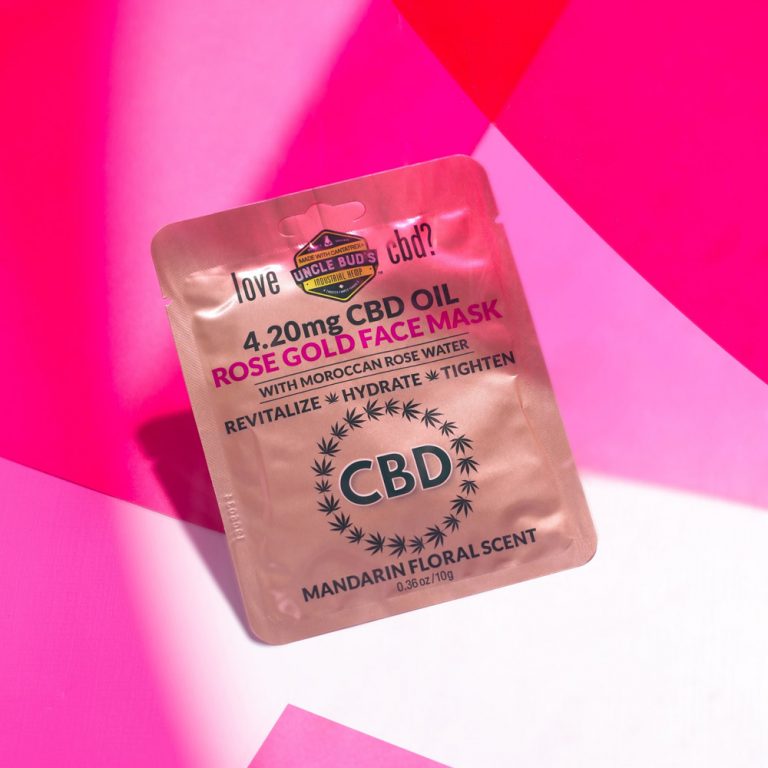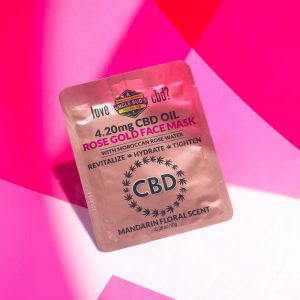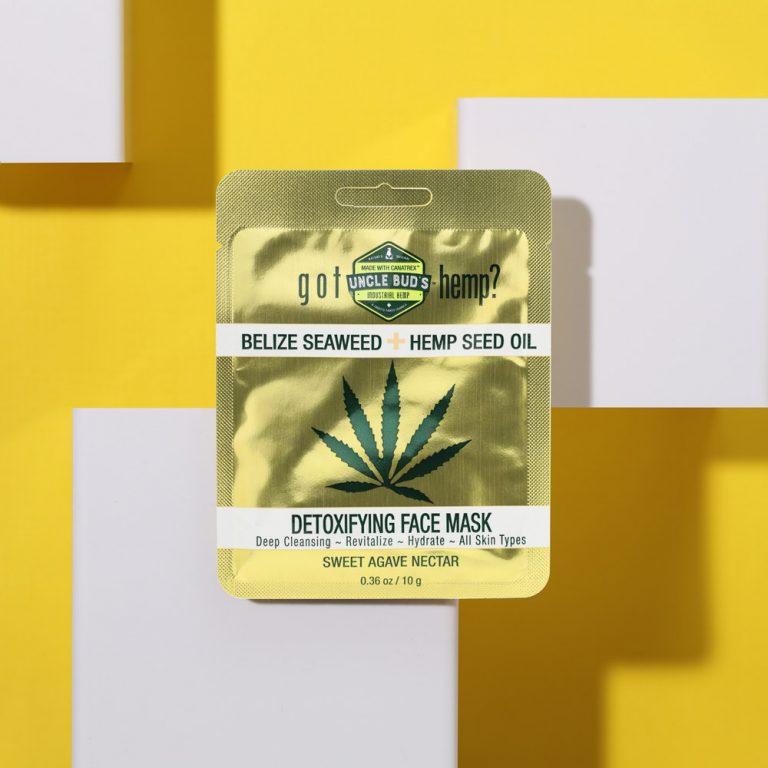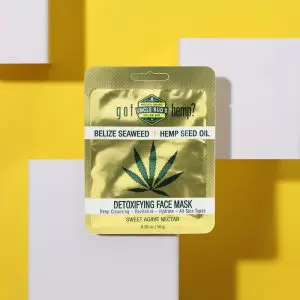 Enjoy the deep cleansing power of our Detoxifying Mask. These purifying masks contain natural seaweed extracts harvested from the crystal-clear waters of Belize for intense hydration, anti-aging, and anti-inflammatory properties.
Purifies, cleanses, and detoxifies • Relaxing agave scent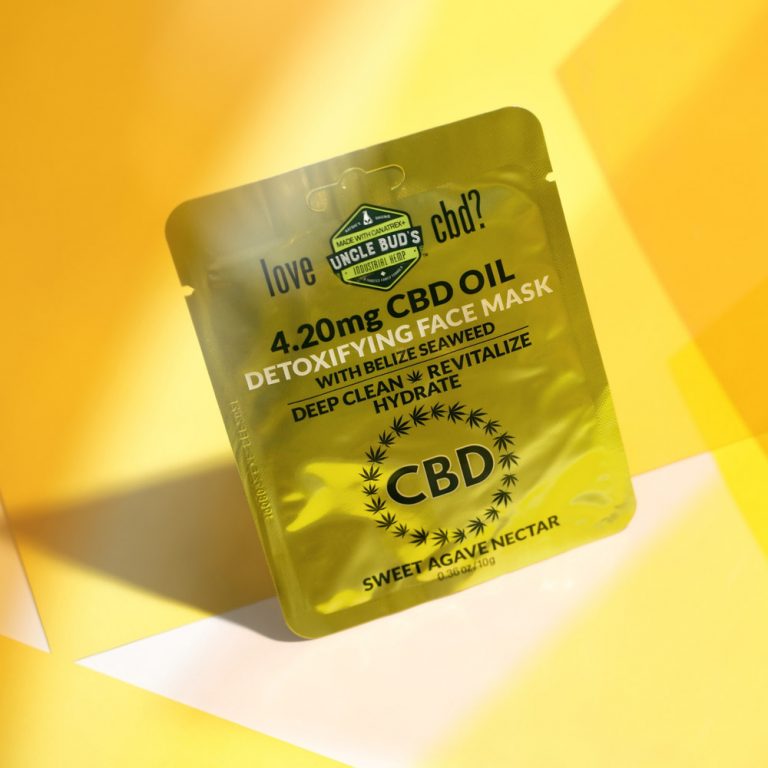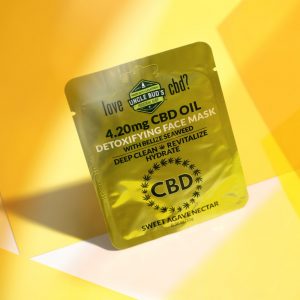 ---
Uncle Bud's Hemp has built its reputation on creating and selling high-quality, pure, premium Hemp-derived products. Our Hemp and CBD products are lab tested to ensure purity, potency, and quality.
The CBD content in milligrams is listed on every product label. While we can ensure the purity and maximum-strength potency of our proprietary CBD oil, we make no medical or therapeutic claims on any CBD product. Uncle Bud's avoids medical or therapeutic claims in order to maintain complete integrity, transparency, and trust with our customers.
All Uncle Bud's Hemp products are proudly made in the USA.
---
Disclaimer:
UncleBudsHemp.com articles are intended to provide helpful and informative content about the benefits of Hemp Seed Oil and CBD products.  Readers are advised to do their own research and make decisions in partnership with their health care provider. Nothing you read here should be relied upon to determine a course of treatment for any medical issue. All content found on the UncleBudsHemp.com Website, including text, images, audio, or other formats were created for informational purposes only. Uncle Buds makes no claims as to the medical efficacy of any products. The site and its content are provided on an "as is" basis.