Knowing the difference between Hemp Lotion and Regular Lotion will make a big difference for your skin.
Table of Contents
Hemp Lotion vs. Regular Lotion
Uncle Bud's Premium Hemp Lotions
What is Hemp Lotion?
Simply put, Hemp lotion is a skin-moisturizing lotion that uses hemp oil and other hemp-derived extracts as ingredients. Hemp Lotion is similar to regular over-the-counter lotions you buy at any store in that it provides moisturizing therapy to your skin to help with dryness, but the key differences between hemp and regular lotion are what matter. If you ask anyone who uses these hemp-based lotions, they are better than regular lotion in many ways.
Hemp Lotion begins with hemp seed oil, a pure botanical oil rich in moisturizers and health benefits for your skin and body. Hemp seed oil is extracted from the hemp species of the Cannabis Sativa plant. This hemp seed has zero THC, and the extracts purified into a rich, moisturizing oil packed with essential fatty acids, anti-inflammatory compounds, vitamins, and numerous other beneficial ingredients that hydrate and restore health to your skin.
The magical mix of beneficial compounds in hemp seed oil makes it a powerful moisturizer that delivers nourishing vitamins, omegas, and antioxidants and restores health to your skin. Hemp lotions don't just help restore moisture to dry skin, they may help balance the skin's PH and oil levels, and may have positive anti-aging effects, restoring the skin's elasticity and helping with skin conditions. In other words, hemp lotions have the ingredients you want for healthy, moisturized skin – without the artificial oils and chemicals found in regular skin lotions.
---

---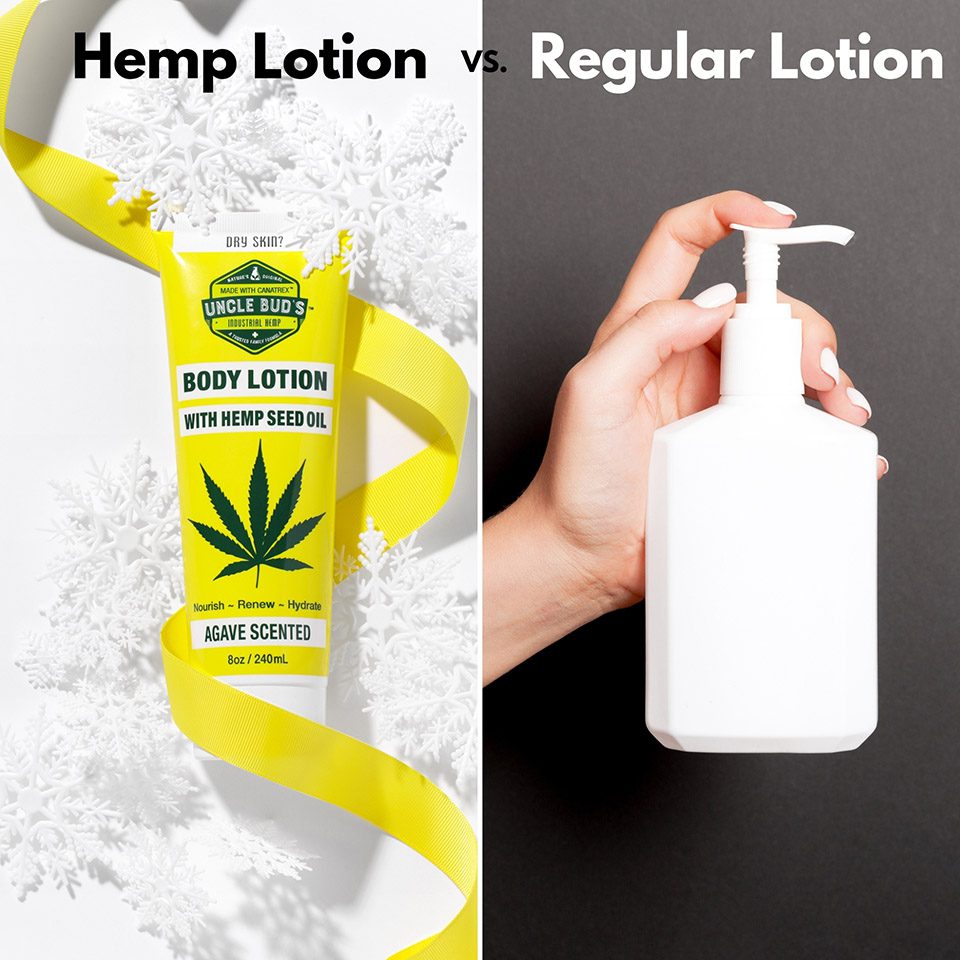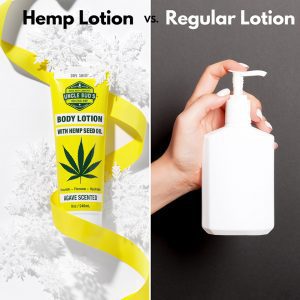 Hemp Lotion vs. Regular Lotion
Regular over-the-counter lotions you buy at any store or online contain various artificial moisturizers and synthetic chemicals that are not necessarily harmful, but they are also not natural. Even expensive, high-end skin lotions and specialty moisturizers are made with artificial oils and other synthetic ingredients.
The primary difference between regular lotion and hemp lotion is the hemp seed oil, the basic ingredient in all hemp beauty products. Pure hemp seed oil is a botanical, or plant-based oil extracted from the cannabis plant, a plant whose therapeutic properties have been known for centuries. This is another instance where nature can offer better treatment than a lab. With synthetic oils and artificial moisturizers, regular lotions do not contain the unique mixture of plant-based compounds that Hemp Lotions do, and that makes all the difference to many people.
Regular lotions are designed to moisturize the skin, but artificial moisturizers are cheaper to produce than moisturizing botanical oils extracted from plants. The same goes for the other ingredients in regular lotions. Synthetic ingredients are often cheaper to produce and try to duplicate the effects as therapeutic substances found in nature.
Plant-based moisturizers with skin-moisturizing effects, like Aloe- Vera, are preferred over synthetic moisturizers by many people who seek an alternative to artificial self-care products. Hemp is foremost among alternative therapies that come from plants. Hemp seed oil contains a unique mixture of plant-based compounds that produce numerous unique therapeutic benefits that regular lotions can only artificially duplicate.
When it comes to hemp lotion versus regular lotion, it all comes down to the basic ingredients: many over-the-counter skincare products are made from synthetic moisturizers, while hemp skincare products are made with hemp oil – a rich moisturizing oil that comes from a plant, not synthesized in a lab. Lotions made with hemp oil replenish moisture, restore health, and infuse your skin with beneficial vitamins, omegas, and other beneficial compounds. 
---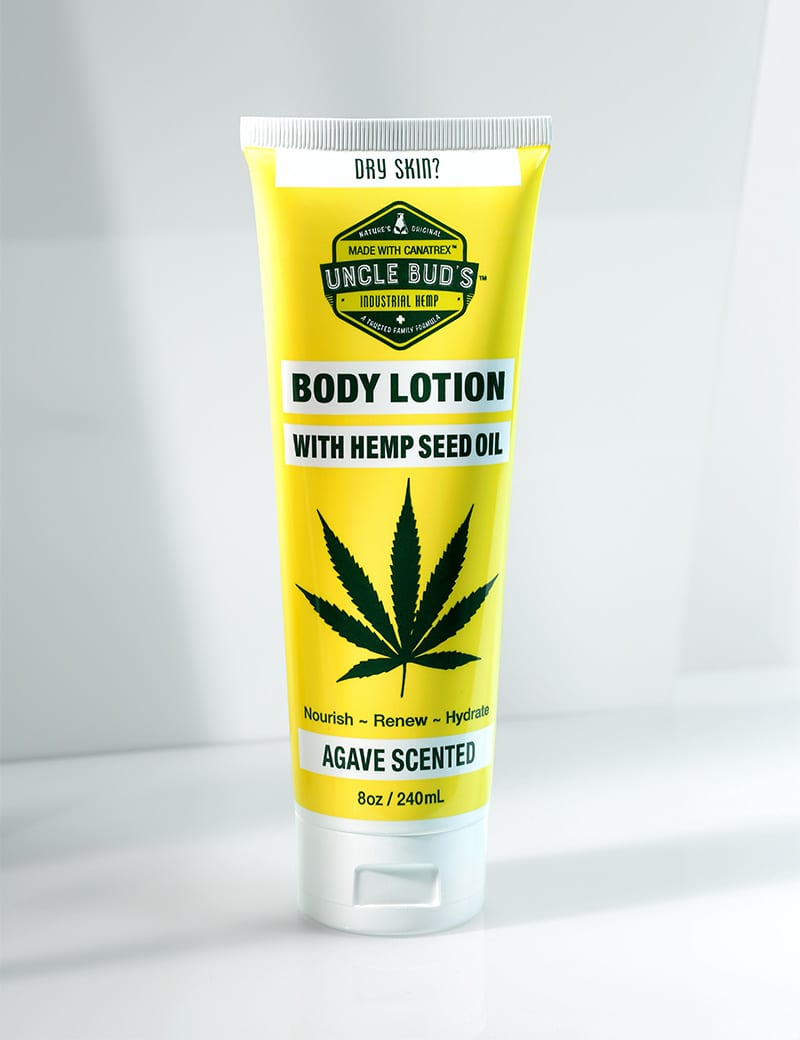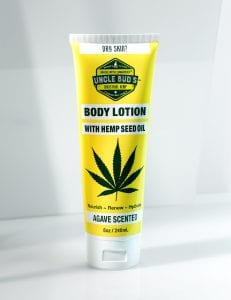 ---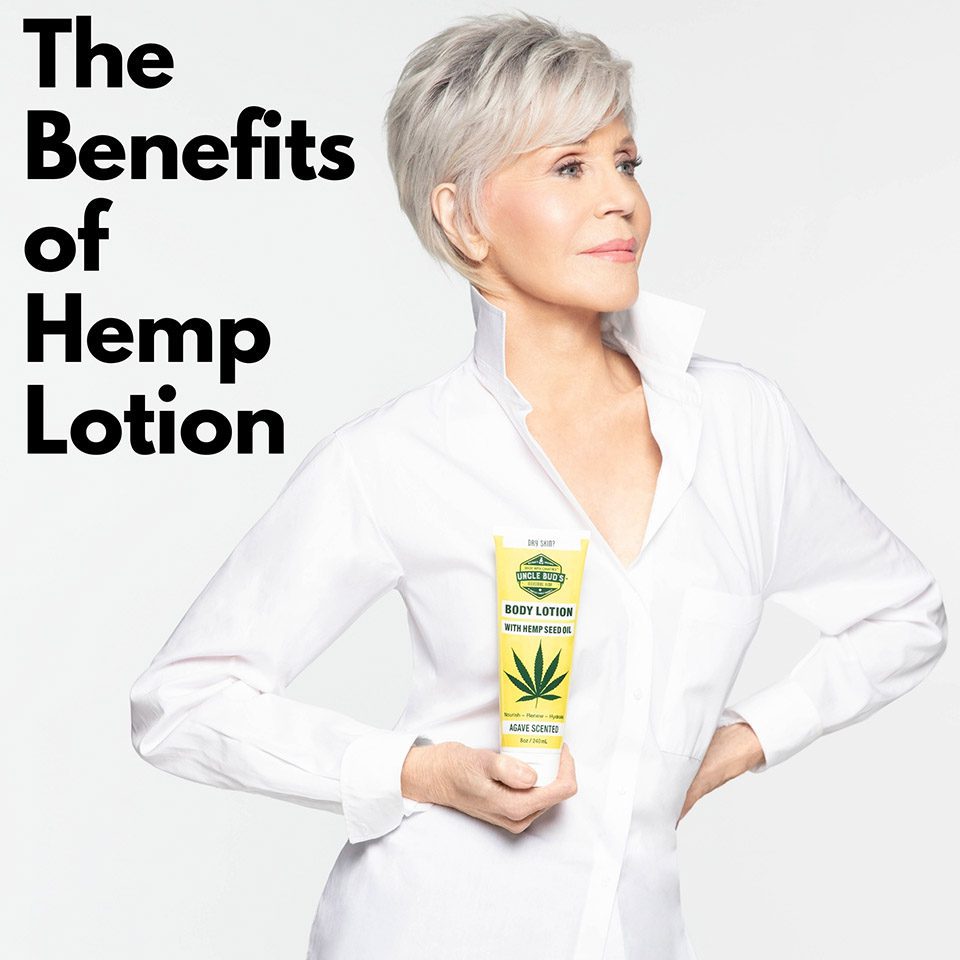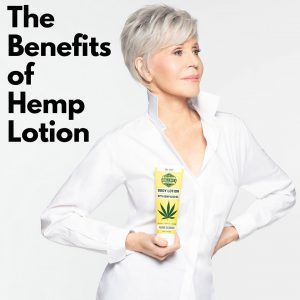 The Benefits of Hemp Lotion
So what exactly is makes hemp lotion so good for your skin? Essentially everything, beginning with the oil itself. Hemp oil is unique in how many skin-nourishing botanical compounds it contains. Hemp oil is essentially a concentration of beneficial compounds including moisturizers, anti-inflammatories, fatty acids, vitamins, antioxidants, and omegas. A drop of hemp oil contains multiple ingredients that combine to offer an amazing array of health and therapeutic benefits to various parts of your body – especially the skin. Let's take a closer look and break down the many therapeutic and health benefits of hemp lotion.
Moisturizing
Hemp oil is foremost a moisturizer that mimics the moisture that occurs in human skin. Treating dry skin with hemp lotion delivers a multitude of moisturizers, deeply hydrating the skin and restoring it to normal health and balance.
Oily & Dry Skin
Hemp lotion benefits both dry and oily skin simultaneously. The moisturizers in hemp oil work to hydrate dry skin conditions. On the other hand, hemp oil can also help if the skin is producing too much oil, restoring the skin's balance and removing g excess oils, dirt, and impurities which can aggravate conditions like acne.
Anti-Inflammatory
The anti-inflammatory compounds in hemp lotion help to reduce skin irritation and redness promoting healthy skin at the tissue level. Many types of skin blemishes are caused by inflamed and irritated tissue, and hemp oil helps to reduce this inflammation. 
Sensitive Skin
The anti-inflammatory properties of hemp lotion are especially good for people with sensitive skin. Artificial ingredients can cause irritation because the skin reacts to foreign chemicals that don't resemble the body's own. Hemp oil is chemically similar to the oil the skin produces, lowering the irritation to artificial chemicals can cause. This also makes hemp lubricants an exceptionally strong candidate for intimate personal time.
Antioxidants, Amino Acids & Omegas
The skin needs specific nutrients to be healthy and important among these are a family of nutrients that include antioxidants, amino acids, and omegas. Antioxidants slow damage to the skin caused by free radicals – unstable molecules your body produces. Amino acids are vital for man's different bodily functions. Omegas are helpful "good" fats your body needs for proper function. Hemp lotion contains an ideal balance of antioxidants, amino acids, and the essential omegas your skin needs.
Vitamins
Hemp oil contains high levels of vitamins including Vitamin E, the most important of the "letter" vitamins for skin health. Vitamin E is known to restore skin elasticity and may reduce wrinkles. Vitamin E is the ideal ingredient to combat skin damage and aging. Hemp oil also contains other vitamins like Vitamin A and C – which can protect your skin from harmful UV rays and are important for general body health and nutrition.
---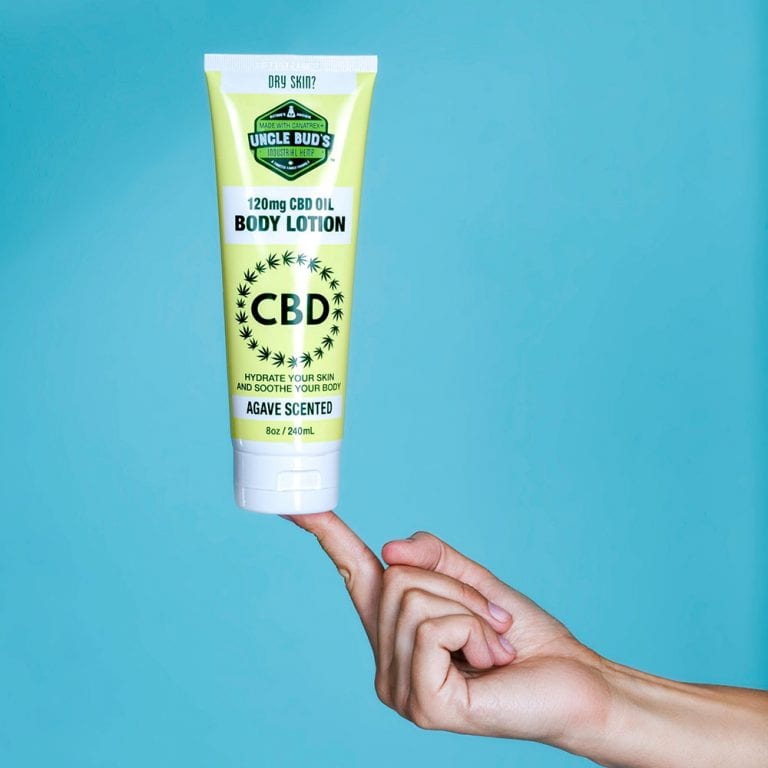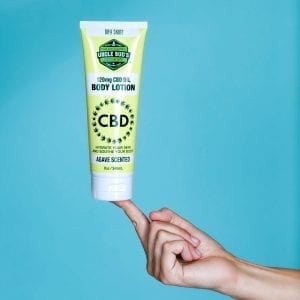 ---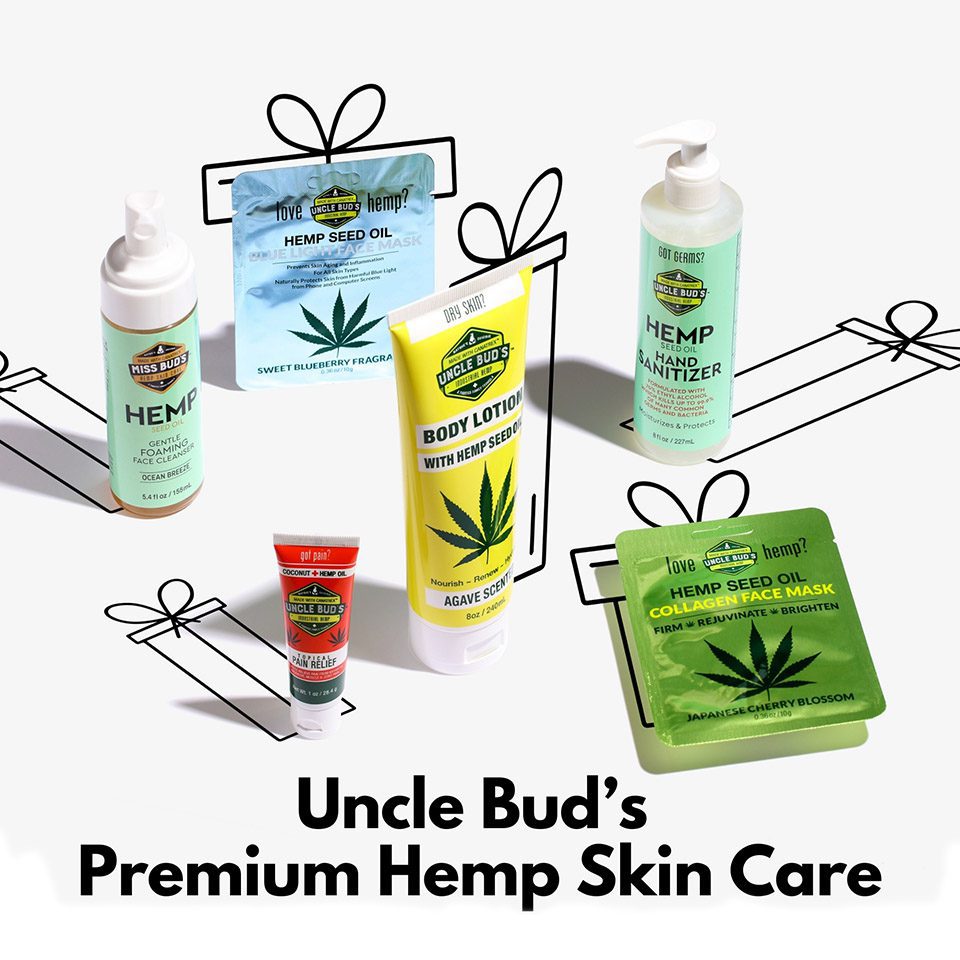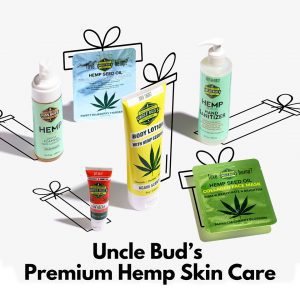 Uncle Buds Premium Hemp Skin Care
Uncle Bud's Hemp has created a line of premium hemp lotions that use products CANATREX™, a proprietary blend of pure hemp seed oil plus other supplements, moisturizers, and therapeutic ingredients. Uncle Bud's specially formulated hemp oil is the purest, most potent, and nutrient-rich hemp oil available. Our proprietary blend uses Hemp Seed Oil and other premium ingredients to ensure all of our hemp-based lotions and skin supplements moisturize and protect your skin like nothing else. 
All Uncle Bud's Hemp products are made in the USA, formulated and produced in an FDA-approved facility, and use premium industrial hemp that is 100% sourced from the United States. Our hemp and CBD lotions are non-greasy, fast-absorbing, Paraben-free, GMO-free, and not tested on animals.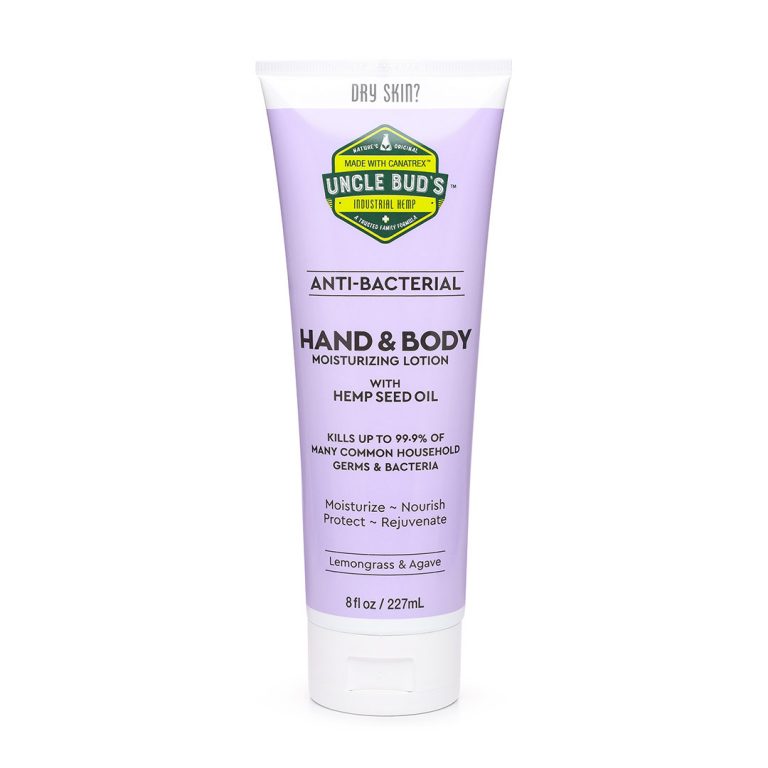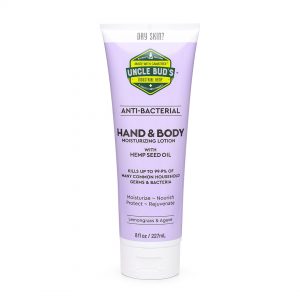 Hemp Anti-Bacterial Hand & Body Lotion
This anti-bacterial hand and body moisturizing motion is scientifically formulated to kill up to 99.9% of many common household germs and bacteria. Infused with pure hemp seed oil, it will nourish, hydrate, and rejuvenate your skin. Scented with a light lemongrass and agave fragrance.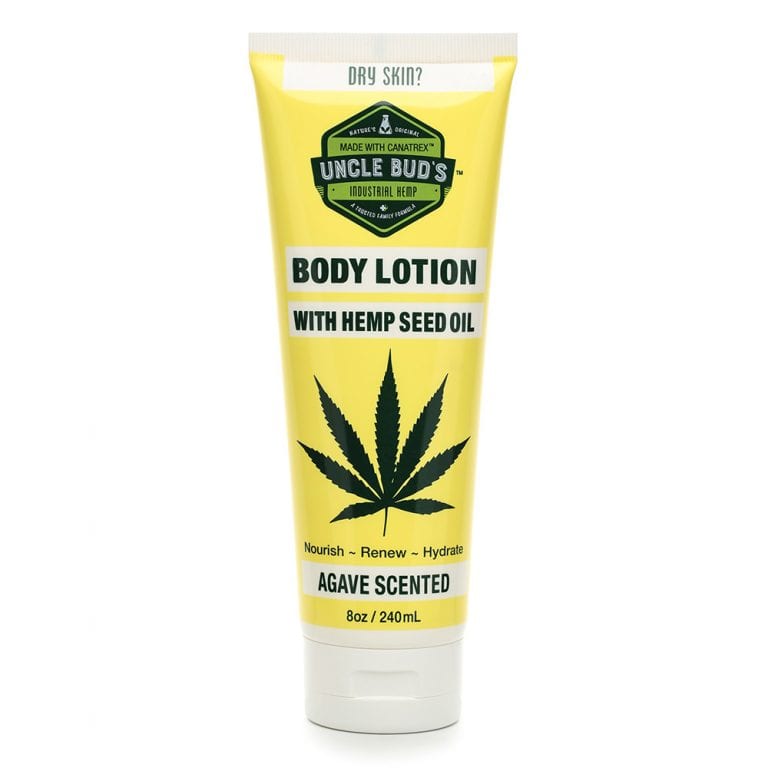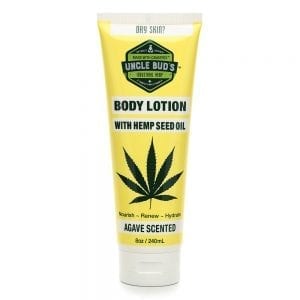 Hemp Body Lotion
Uncle Bud's original hemp body lotion delivers long-lasting moisturization to your skin and infuses it with nutrients, leaving only a fresh agave scent and no residue. This premium hemp body lotion is perfect for sensitive skin and can be used on any part of the body. Light agave scented.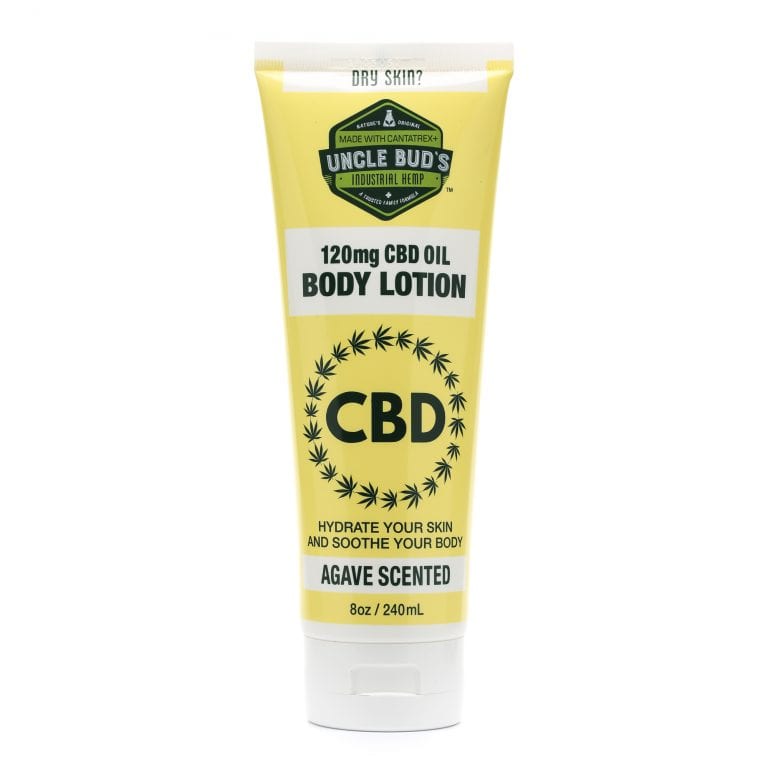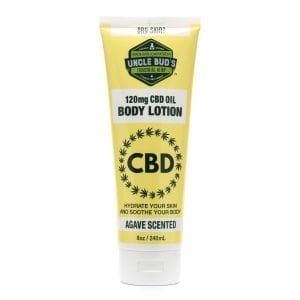 CBD Body Lotion
Moisturize your dry skin and give it an infusion of pure CBD oil. Uncle Bud's CBD Body Lotion is quick-absorbing and non-greasy, leaving your skin deeply hydrated and infused with our proprietary blend of pure CBD oil and other ingredients. Light agave scented.
---
Uncle Bud's Hemp has built its reputation on creating and selling high-quality, pure, premium Hemp-derived products. Our Hemp and CBD products are lab tested to ensure purity, potency, and quality.
The CBD content in milligrams is listed on every product label. While we can ensure the purity and maximum-strength potency of our proprietary CBD oil, we make no medical or therapeutic claims on any CBD product. Uncle Bud's avoids medical or therapeutic claims in order to maintain complete integrity, transparency, and trust with our customers.
All Uncle Bud's Hemp products are proudly made in the USA.
---
Disclaimer:
UncleBudsHemp.com articles are intended to provide helpful and informative content about the benefits of Hemp Seed Oil and CBD products.  Readers are advised to do their own research and make decisions in partnership with their health care provider. Nothing you read here should be relied upon to determine a course of treatment for any medical issue. All content found on the UncleBudsHemp.com Website, including text, images, audio, or other formats were created for informational purposes only. Uncle Buds makes no claims as to the medical efficacy of any products. The site and its content are provided on an "as is" basis.