After an afternoon relaxing or working in the sun, the hot sting of a sunburn can make the rest of your week unpleasant. 
Sunburns result from overexposure to the sun. More specifically, they indicate the absorption of too much ultraviolet light (UV). Sunburn is a toxic response from your body that happens because the outer layer of skin has been overwhelmed and damaged by this UV radiation. 
Sunburns are easily avoidable by foregoing direct sun exposure. Some ways to reduce the chance of sunburn can include wearing sunscreen and wearing UV-blocking clothes or accessories. Though these seem to be simple methods to avoid the discomforts of sunburns, most people will experience sunburns at some point in their lives. Hemp oil is ideal for helping to treat the painful symptoms that result.
Hemp Oil Moisturizes Skin Dried by Sunburn
The pain of being burned after having spent time in the sun is a singular feeling. When it begins, it doesn't seem so bad; perhaps a mild surface sensitivity. The discomfort, however, sinks in as time passes and can worsen to the point of being excruciating. 
Hemp oil comes to the rescue with its moisturizing properties. Burns strip moisture from the damaged skin. Hemp oil is easily absorbed, returning liquid to your thirsty body and keeping existing moisture in your skin longer for additional relief. 
The Science Behind Hemp Moisturizers
One of the components of hemp that assists skin health is gamma-linoleic acid. This omega-6 was first identified in evening primrose seeds which were historically used to reduce swelling. Your body naturally produces gamma-linoleic acid, and the application of hemp seed oil may help your skin tap into its soothing qualities.
Human skin naturally keeps itself strong and moisturized by generating an oil known as sebum. Without any oil, our skin would be brittle and breakable—as it is when sunburned. With too much sebum, our skin feels oily and the resulting clogged pores lead to acne. 
Hemp oil provides balance, moisturizing the skin without overloading pores or leaving the sticky residue of other sunburn lotions. For people who have naturally oily skin, hemp oil can help to regulate the amount of sebum that is produced by the skin to maintain the moisture and hydration needed to nourish and help heal sunburned skin.
Hemp Oil Nutrients Rejuvenate Sunburned Skin
Sunburn can damage the topmost layer of skin, leaving it flaky, brittle, and prone to peeling. With its high content of Omega-6 & Omega-3 oils, antioxidants, other essential fatty acids, and vitamins A, D, and E, hemp oil can assist in the vital cell repair necessary to heal skin damaged by the rays of the sun. 
The oil is high in Omega-6, which may help to increase oxygenation and blood circulation under the skin. This increased blood circulation will assist in the healing of sunburned skin and shorter healing period. In turn, the damaged skin is less painful thanks to the anti-inflammatory effect of this particular component of hemp oil.
Here's the rundown on how this suite of nutrients all come into play when skin health is concerned. Hemp oil helps sunburned skin with:
Omega-6 oils – Protects against skin drying and thinning

Omega-3 oils – Tempers sunburn response

Vitamin A – Encourages collagen production for healthy skin

Vitamin D – Associated with tissue repair and anti-inflammatory properties

Vitamin E – An antioxidant, decreasing inflammation
This versatile product offers a host of benefits that lend themselves to the treatment of mild to moderate sunburn discomfort.
How to Choose Your Hemp Oil 
Whether you're shopping at your local organic grocery or an CBD superstore, there are an ever-growing amount of hemp sunburn lotions on the market. As you compare brands, you'll find different ingredient lists and textures to the soothers.
If you've always trusted in the healing powers of aloe vera after a sunny day at the beach, there are hemp oil lotions that combine the powers of hemp and aloe into one bottle.
You may wish to avoid added fragrances in this skincare product. Raw, burned skin is easily irritated. For additional comfort factors, look for packaging or reviews that indicate the lotion absorbs quickly without residual stickiness.
Finally, there's the manufacturing. Reputable hemp companies will grow their plants in FDA-approved facilities and have the paperwork to prove it. You can also check the packaging to see whether the maker chose not to use animal testing. 
In addition to picking out a good hemp soother for your sunburn, take it easy while you're recovering. Getting a second sunburn on top of the one you already have is uncomfortable at best and can deepen the damage already incurred.
A Word on Hemp Oil Sunscreen
In addition to using hemp oil to soothe pain, hemp-based sunscreens can help prevent the itching discomfort in the first place. 
Hemp seed oil has an SPF or "sunburn protection factor" of 6, while the American Academy of Dermatology recommends broad-spectrum sunscreens with SPFs of 30 or more. You should be wearing sunscreen whenever you're spending time outside but incorporating hemp products into your skincare routine gives a head start on protection. Also, hemp oil provides this UV protection without preventing the absorption of essential Vitamin D. 
While hemp oil is not sufficient in and of itself to fully protect against sun damage, it does help when combined with other measures. If you don't enjoy the heavy texture of typical sunscreens, you may find that using product with hemp oil as its base is a nicer way to keep your skin healthy.
---
Use Uncle Bud's hemp sunscreen lotion and hemp sunburn soother as part of a structured skin care program and enjoy healthier, smoother skin today!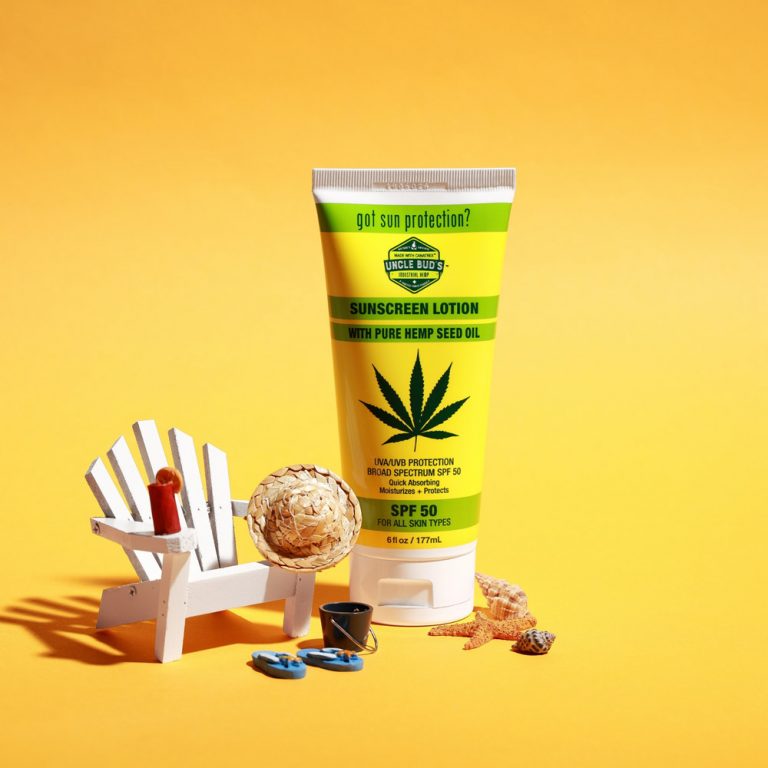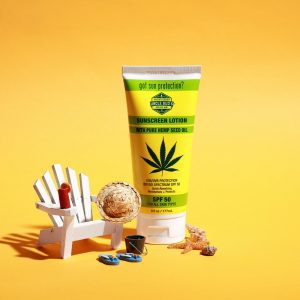 Uncle Bud's Hemp SPF 50 Sunscreen Lotion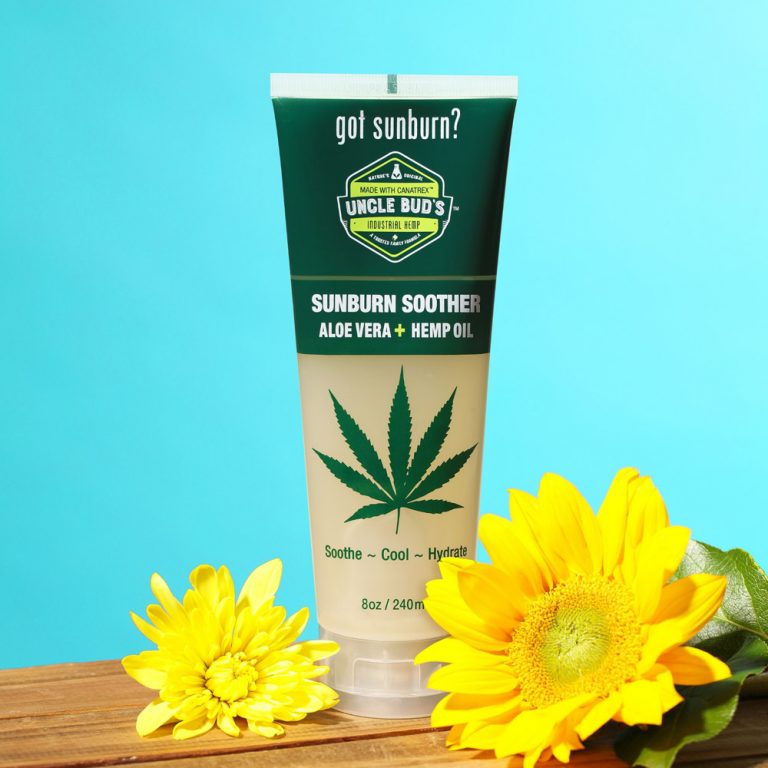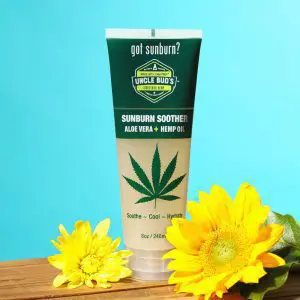 Uncle Bud's Hemp Oil for Sunburn
---
Uncle Bud's Hemp has built its reputation on creating and selling high-quality, pure, premium Hemp-derived products. Our Hemp and CBD products are lab tested to ensure purity, potency, and quality.
The CBD content in milligrams is listed on every product label. While we can ensure the purity and maximum-strength potency of our proprietary CBD oil, we make no medical or therapeutic claims on any CBD product. Uncle Bud's avoids medical or therapeutic claims in order to maintain complete integrity, transparency, and trust with our customers.
All Uncle Bud's Hemp products are proudly made in the USA.
---
Disclaimer:
UncleBudsHemp.com articles are intended to provide helpful and informative content about the benefits of Hemp Seed Oil and CBD products.  Readers are advised to do their own research and make decisions in partnership with their health care provider. Nothing you read here should be relied upon to determine a course of treatment for any medical issue. All content found on the UncleBudsHemp.com Website, including text, images, audio, or other formats were created for informational purposes only. Uncle Buds makes no claims as to the medical efficacy of any products. The site and its content are provided on an "as is" basis.