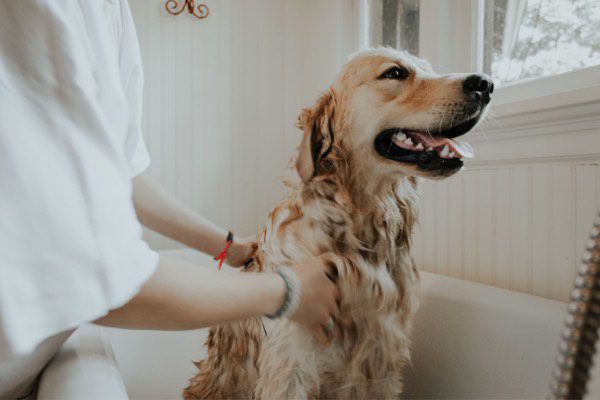 Embracing a natural lifestyle and being an animal lover go hand in hand. Or, more accurately, paw in hand. If you're already seeking out beauty products that are gentle to your own body and to the planet, why not add your dog family members to the club?
There are numerous reasons why you should choose hemp dog shampoo. From the healthy vitamin profile to the hypo-allergenic qualities, once your pets try out a hemp dog shampoo, you'll never look back.
It's Better for The Planet
In general, a hemp dog shampoo is going to require less processing and fewer ingredients. Companies that value natural strategies for keeping your companions clean tend to extend that philosophy to an environmental commitment, too. As a result, hemp dog shampoos are likely to have a smaller impact on the Earth.
People often associate eco-conscious products with higher price tags, but this is becoming less true over time.  As more people are prioritizing the health and safety of the Earth and their pets, creators of these products have been able to lower their costs.
Natural Sources of Nutrients for Healthy Skin
We don't often think of skin as an organ the same way we imagine the lungs or kidneys. Yet, skin is quite a large organ that we mammals need to survive. Healthy, intact skin protects against infections and other environmental debris.
The ingredients in hemp dog shampoos can deliver skin-healthy nutrients directly to this essential organ. A dog shampoo rich in pure hemp oil is putting Omega-6s and Omega-3s in contact with their body. Hemp oil is also a known source helpful vitamins and minerals including vitamin E and magnesium.
Studies in humans have found that it's easier to absorb nutrients from their natural sources. While similar studies are yet to be completed for our canine family members, we're all part of the same animal family tree.
Both Gentle and Powerful
If your pup's been communing with mud puddles, there's no question that bath time is imminent. But you don't want to overdo the cleanup process. The natural oils produced by your dog's skin are essential to giving their coat that shiny glow.
Dog shampoos with a lot of artificial ingredients tend to clear away oils too much. This leaves your pet's beautiful fur looking dull and feeling rougher. The oils serve another purpose, too—they protect individual hairs from damage. A shampoo that's overzealous may leave to fur loss.
A good product makes it easy to remove excess dirt and oil while maintaining a healthy amount of moisture. Your dog ends up looking better and being softer for cuddles, too!

Odor Control
Even the more avid dog-lover has to admit that sometimes man's best friend stinks. If your dog still smells unpleasant after a bath, this is yet another reason to switch to a hemp dog shampoo.
As previously discussed, healthier skin will be less flakey and healthier fur will reduce shedding. Those dead cells contribute to odor.
Pleasant scents added to dog shampoo also help your pup smell fresher. However, artificial perfumes can irritate their skin, counteracting their original purpose. With a hemp shampoo, pleasant options come from gentler sources. You'll commonly find oils derived from flowers and fruits on the ingredient list.
Allergies Avoided
Allergies come in a variety of degrees of severity. You or another human in your home probably remembers a time that a new laundry soap or face wash make you red and itchy.
Like us, dogs' skin can be irritated by harsh ingredients designed to clean them. It can be a little tricker to figure out, though, since their skin is hidden away under a layer of fur.
Hemp dog shampoos are designed with sensitive skin in mind. Furthermore, substances rich in skin-healing vitamins can help an itchy dog feel better after an experience with something that didn't agree with them.
These are some of the common allergens to look out for in highly processed commercial grooming products:
     

Preservatives such as benzyl alcohol and DMDM hydantoin

     

Foam boosters such as cocamidopropyl betaine

     

Emulsifiers including sorbitan palmitate

     

Colorants for purely aesthetic purposes
Hemp Dog Products Are the Choice for Your Family
If a lack of allergens, strong nutrient profiles, Earth-friendliness, and gentle cleaning all sound good, a hemp dog shampoo is only the beginning of your pet's journey.
There are lots of other hemp pet products with similar virtues. Natural conditioners can join grooming time, natural toys can bounce through playtime, and natural foods can fill the dog bowl at dinnertime. You and your dog have a wealth of great options to explore together. 
---
Uncle Bud's Hemp has built its reputation on creating and selling high-quality, pure, premium Hemp-derived products. Our Hemp and CBD products are lab tested to ensure purity, potency, and quality.
The CBD content in milligrams is listed on every product label. While we can ensure the purity and maximum-strength potency of our proprietary CBD oil, we make no medical or therapeutic claims on any CBD product. Uncle Bud's avoids medical or therapeutic claims in order to maintain complete integrity, transparency, and trust with our customers.
All Uncle Bud's Hemp products are proudly made in the USA.
---
Disclaimer:
UncleBudsHemp.com articles are intended to provide helpful and informative content about the benefits of Hemp Seed Oil and CBD products.  Readers are advised to do their own research and make decisions in partnership with their health care provider. Nothing you read here should be relied upon to determine a course of treatment for any medical issue. All content found on the UncleBudsHemp.com Website, including text, images, audio, or other formats were created for informational purposes only. Uncle Buds makes no claims as to the medical efficacy of any products. The site and its content are provided on an "as is" basis.