What is Hemp and how is that related to CBD?
Hemp is a variety of Cannabis sativa, an ancient plant species that has been used over centuries for medicinal purposes.  The cannabis Sativa plant consists of two varieties: cannabis, which contains high levels of THC, and hemp, which contains high levels of CBD.  
Hemp oil contains high levels of CBD, while hemp seed oil contains slightly lower levels. Both hemp and hemp seed oil contain negligible amounts of THC.
While THC has long been recognized for its recreational use as marijuana, the role of CBD for medical purposes has become more clear as the stigma around CBD, hemp, and THC have been reduced and scientific study has been encouraged. Further research on the role of CBD will continue to help in understanding its role in the skin. 
What role does CBD play in the skin?
The human body makes several cannabinoids or cannabis-related molecules, and skin cells, in particular, have a high number of cannabinoid receptors. The body's naturally-produced cannabinoids are termed endocannabinoids, and these molecules are able to activate cannabinoid receptors and lead to many different processes in the skin. Cannabinoid receptors can be found in skin cells, oil glands, and nerve cells in the skin. CBD is infused into many skin care products, such as CBD lip balm and CBD face masks. 
Is hemp the way to achieve clear skin?
Hemp and hemp oil should not have any mood-altering effects due to negligible amounts of THC found in these products. Hemp and hemp formulations vary and may contain additional ingredients to enhance the stability or potency of the product. Any new hemp or hemp-based product should be tested on a small area of skin before use on larger areas. This can help determine if there are any sensitivities or allergies to the product. 
Dry skin
For individuals specifically with dry skin conditions such as eczema or sensitive skin, it is very important to perform this skin test prior to general use. For most adult individuals without significant skin disease, hemp and hemp-based products are likely safe for topical use in non-sensitive areas of the skin.
Most individuals consider the use of hemp oil when they notice dry skin. Dry skin is caused by aging, lack of moisturizer, overuse of drying products, use of harsh soaps, and more.  Many individuals suffer from dry skin in combination with eczema, which is an inflammatory skin condition that produces red, flaking patches that are often extremely itchy. 
Hemp skin care products can reduce dryness in the skin by reducing inflammation and normalizing oil production for skin hydration, along with reducing itch caused by dry, flaking skin.  
For individuals with dry skin, eczema, or even psoriasis, hemp-based products may offer a complement to standard therapies or a potential stand-alone therapy in mild cases. Individuals with these conditions who are considering using hemp-based topical products should consult with a board-certified dermatologist prior to starting a new product. 
Certain prescription topical creams used to treat dermatitis may interact with hemp-based products so consultation with a dermatologist can be helpful.
---

Acne
Hemp-based products are also often used by individuals struggling with acne. Hemp acne cream can normalize oil secretion and reduce pimple formation. Acne is caused by excess oil production in the sebaceous gland, which then clogs the pores with oil and skin cells which build up and cause acne. Acne is also caused by skin inflammation which can worsen with hormones, medications or supplements. 
There is evidence that oil glands contain cannabinoid receptors and that products such as hemp and hemp-based products can improve skin oil production. Hemp products may reduce skin inflammation and normalize oil production to reduce acne formation and improve the tone and texture of the skin.  
Individuals with acne who are considering using hemp-based topical products should consult with a board certified dermatologist prior to starting a new product. Certain prescription topical creams used to treat dermatitis may interact with hemp-based products so consultation with a dermatologist can be helpful.  Further, some hemp formulations may be heavy and worsen acne, rather than improving it.
---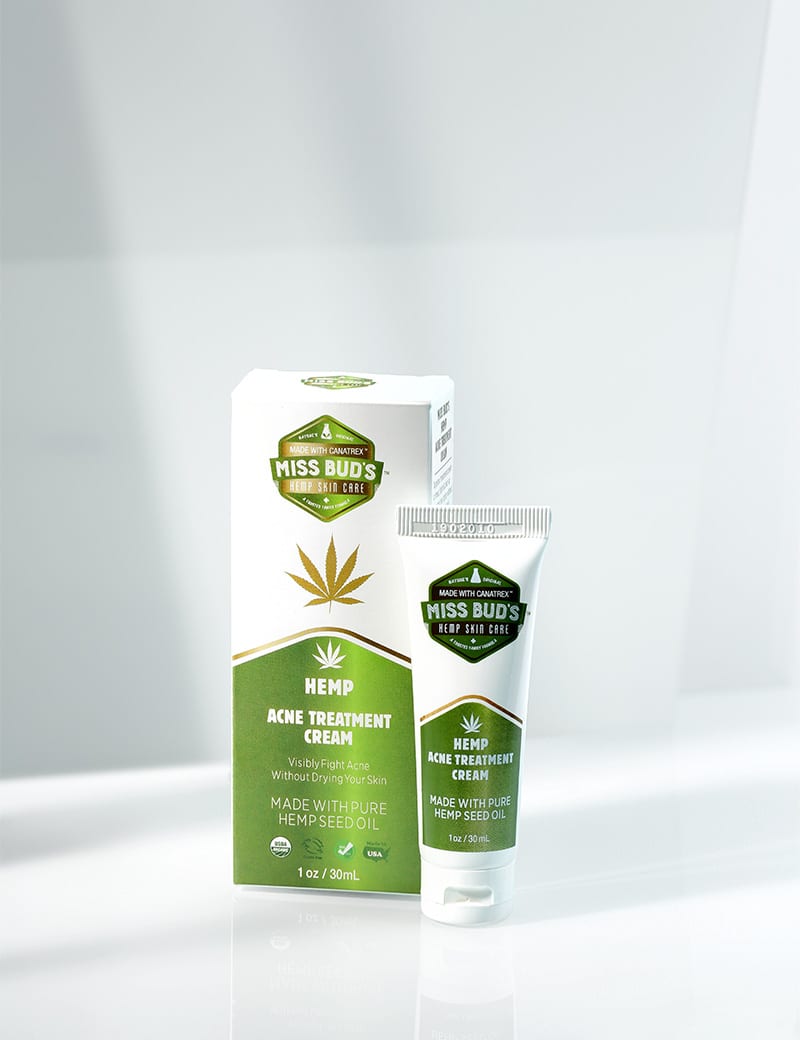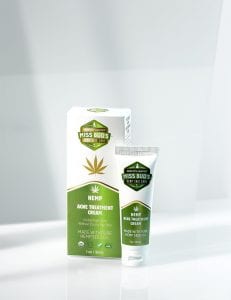 ---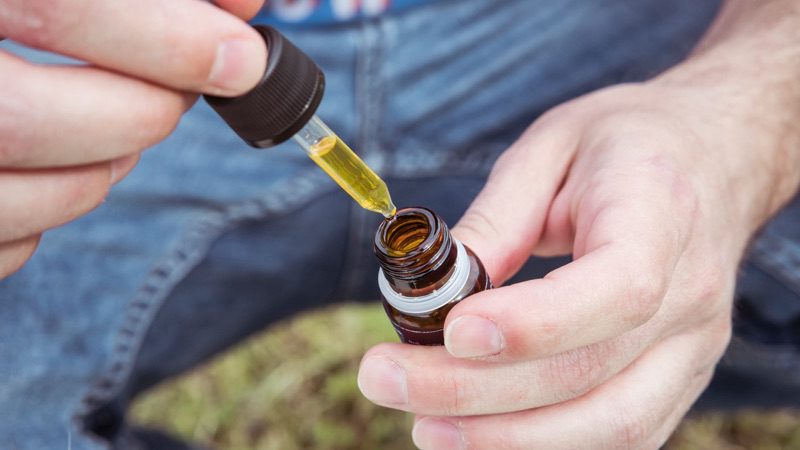 Anti-aging
Hemp and hemp-based formulations have also been evaluated for their anti-aging properties.  The science behind aging is evolving and it is believed that hemp products may reduce wrinkles and inflammation in the skin. 
Skin inflammation can lead to degradation of collagen, which causes a sunken appearance and signs of aging. By reducing this inflammation, hemp and hemp formulations may promote more youthful, supple skin. Hemp also contains numerous antioxidants due to the presence of terpenes and other compounds in these plants.  
Antioxidants can neutralize free radicals in the skin, which are caused by pollution, photodamage and product use. Antioxidants ultimately lead to signs of skin aging such as fine lines, wrinkles and dark spots. It is possible that the antioxidant properties of hemp may help improve the appearance of aging skin. As discussed before, any new anti-aging product should be evaluated with a dermatologist who can recommend use based on individual skin factors.
---

---
What is the future of hemp and hemp-based skin products?
The future is exciting for hemp and hemp-based products, particularly in skin care.  As the stigma around hemp is reduced, and research increases, there will likely be much more to learn about how hemp promotes skin health. There have been very small studies suggesting that hemp may decrease the risks of sun damage and promote more clear, even skin. 
The role of hemp in inflammatory conditions such as eczema and psoriasis will continue to evolve and it is likely that cannabinoid based topical therapies tested in clinical trials will become available in the future for these conditions. Hemp-based products are a growing area of skin care and the future will bring more insight into the use of these products to achieve clear, healthy skin.
About the Author
Sheila Krishna MD is a board certified dermatologist. She practices general dermatology and has an interest in inflammatory skin conditions and skin cancer treatment. 
This Content is not intended to be a substitute for professional medical advice, diagnosis, or treatment. Always seek the advice of your physician or other qualified health provider with any questions you may have regarding a medical condition.  No information contained in this website should be used by any reader to disregard medical and/or health related advice or provide a basis to delay consultation with a physician or a qualified healthcare provider.  You should not use any information contained in this website to initiate use of dietary supplements, vitamins, herbal and nutritional products or homeopathic medicine, and other described products prior to consulting first with a physician or healthcare provider.
This Content is not intended to endorse or recommend any particular type of product. 
This Content does not provide medical advice and none should be inferred from any ideas in this website, nor does this Content establish a doctor-patient relationship.  
The FDA has not evaluated the product claims in this Content and Uncle Bud's Hemp products are not intended to diagnose, treat, cure or prevent any disease.
---
Uncle Bud's Hemp has built its reputation on creating and selling high-quality, pure, premium Hemp-derived products. Our Hemp and CBD products are lab tested to ensure purity, potency, and quality.
The CBD content in milligrams is listed on every product label. While we can ensure the purity and maximum-strength potency of our proprietary CBD oil, we make no medical or therapeutic claims on any CBD product. Uncle Bud's avoids medical or therapeutic claims in order to maintain complete integrity, transparency, and trust with our customers.
All Uncle Bud's Hemp products are proudly made in the USA.
---
Disclaimer:
UncleBudsHemp.com articles are intended to provide helpful and informative content about the benefits of Hemp Seed Oil and CBD products.  Readers are advised to do their own research and make decisions in partnership with their health care provider. Nothing you read here should be relied upon to determine a course of treatment for any medical issue. All content found on the UncleBudsHemp.com Website, including text, images, audio, or other formats were created for informational purposes only. Uncle Buds makes no claims as to the medical efficacy of any products. The site and its content are provided on an "as is" basis.